Last night's Teen Choice Awards [1] brought out plenty of handsome men onto the blue carpet in LA. The guys of Glee [2], like Cory Monteith [3] and Mark Salling [4], arrived ready to host the show, while Chace Crawford [5] was there representing Gossip Girl [6]. Joshua Jackson [7] looked dapper in a suit and tie — click through to see who else struck a pose and don't forget to vote on some of these guys more stripped down in our shirtless bracket [8]!
Gossip Worthy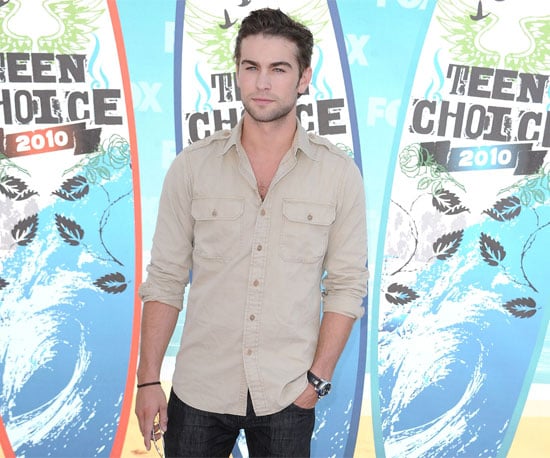 Gossip Girl [9] star Chace Crawford [10] represented the cast on the blue carpet.
Extreme Smile
Skateboarder Ryan Sheckler accessorized with a diamond necklace.
Full of Glee
Glee [11]'s Kevin McHale [12] was on hand to host the show with his male costars and Katy Perry [13].
Fringe Benefit
Fringe [14]'s Joshua Jackson [15] arrived solo.
Too Cool For School
Cory Monteith [16] looked tall, dark, and handsome in his suit.
High Note
Chris Colfer kept it casual.
Total Eclipse
One of Twilight [17]'s youngest stars, BooBoo Stewart, was an early arrival on the blue carpet.
Teen Dream
Daren Kagsoff, from The Secret Life of the American Teenager [18], arrived in a casual tee and black leather jacket.
High Five
Jimmy Fallon [19] waved to fans.
Going For It
Going the Distance [20] star Justin Long [21] walked the carpet.
Slam Dunk
Lamar Odom escorted his wife, Khloe Kardashian, and her sisters.
Smooth Salling
Mark Salling [22] skipped a jacket and opted for a vest.
New Kid on the Block
Wizards of Waverly Place [23] star David Henrie played up his baby blue eyes in a matching shirt.
Feeling Blue
Controversial reality star Levi Johnston arrived with a date.
Catching the Wave
Miles Heizer took a break from filming Parenthood [24] to make an appearance at the show.