The Oscars are almost here! We're gearing up for the star-studded night by taking a look back at some of the Academy Awards' most iconic moments. Way back in 1998, Ben Affleck [1] and Matt Damon [2] won their first statues for Good Will Hunting and showed off their excitement in the press room, Adrien Brody [3] laid a big kiss on Halle Berry [4] in 2003, Angelina Jolie [5]'s right leg became famous when she posed with Brad Pitt [6] for the 2012 show, and Jennifer Lawrence [7] made the audience gasp when she tripped up the stairs en route to accept her 2013 best actress award for Silver Linings Playbook. For these moments and many more, keep scrolling through the historic photos, and then gear up for the Academy Awards by voting in our Oscars ballot [8].
Lady Gaga [9] performed an incredible Sound of Music medley and brought Julie Andrews to tears in 2015.
Lupita Nyong'o not only stole the spotlight with her gorgeous Prada gown, but she nabbed the 2014 Oscar for best actress.
Kate Hudson [10] was at the 2003 award show to present, but her dress stole the show, landing her on multiple best dressed lists.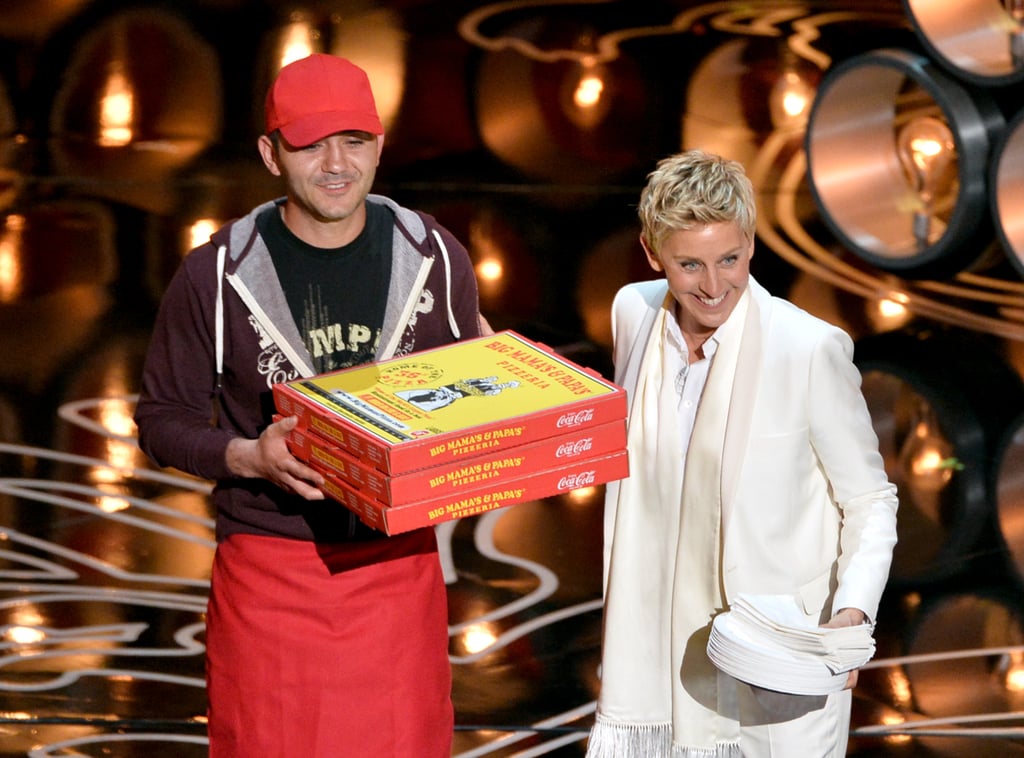 Ellen DeGeneres [11] totally had an impromptu pizza party when she hosted the 2014 Oscars.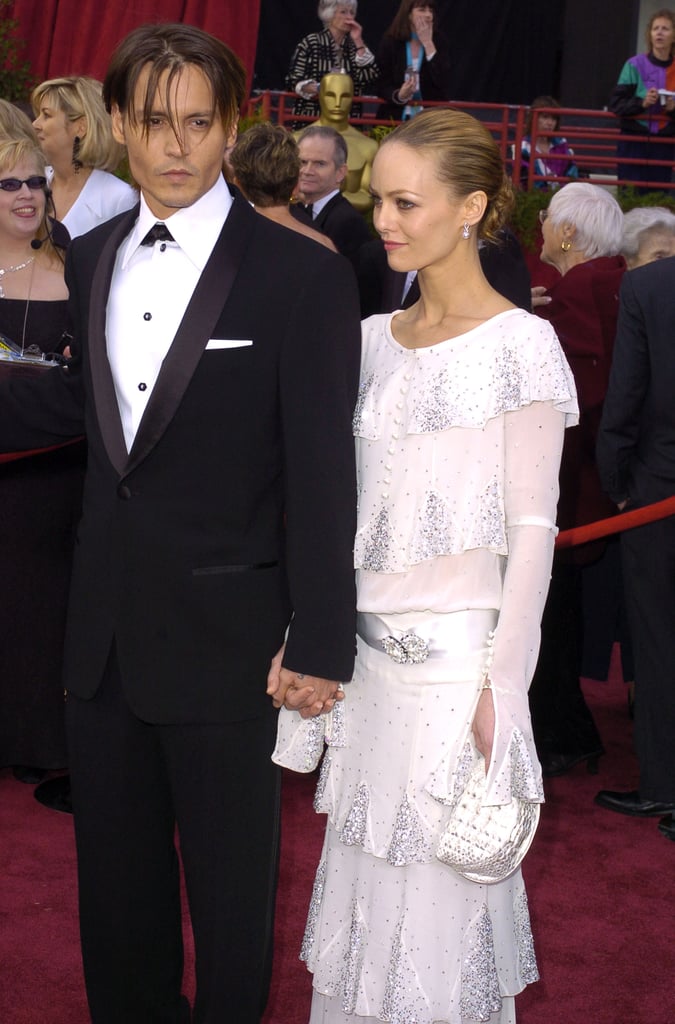 Johnny Depp [12] brought Vanessa Paradis to the 2004 awards, at which he was a nominee for his work in Pirates of the Caribbean: The Curse of the Black Pearl. It was the first of his three nominations, though he has yet to win.
Neil Patrick Harris [13] hosted the 2015 Oscars in nothing but his briefs and socks.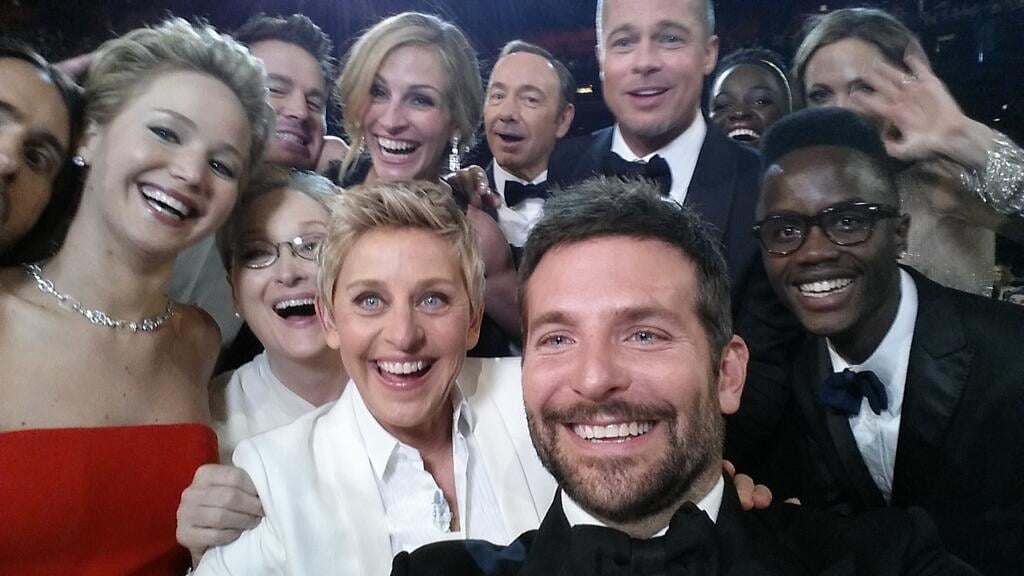 Ellen DeGeneres [14] enlisted Bradley Cooper [15]'s long arm to help shoot this iconic selfie in 2014. Not only did it become the most tweeted photo of all time, but it actually shut down Twitter.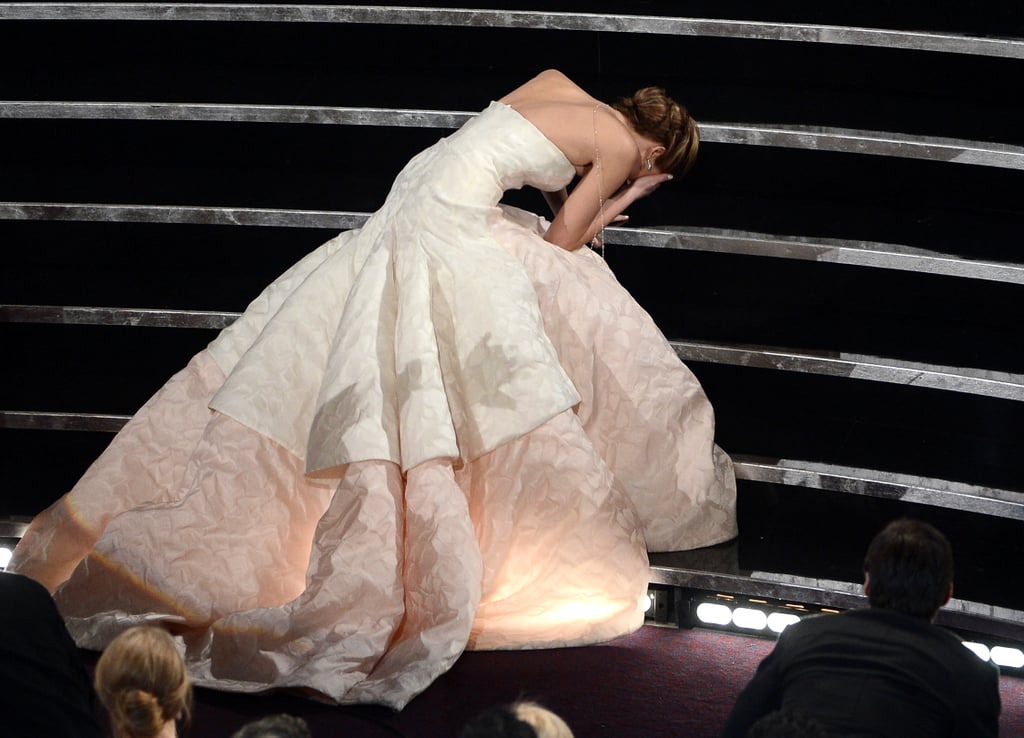 On the way up the steps to accept her best actress award for Silver Linings Playbook, Jennifer Lawrence [16] tripped on her dress in 2013.
Idina Menzel and John Travolta [17] had an awkward reunion on stage after his infamous Adele Dazeem flop in 2015.
Michael J. Fox and Rebecca De Mornay were excited in 1986.
Robert Pattinson [18] was well suited at the 81st Academy Awards in 2009.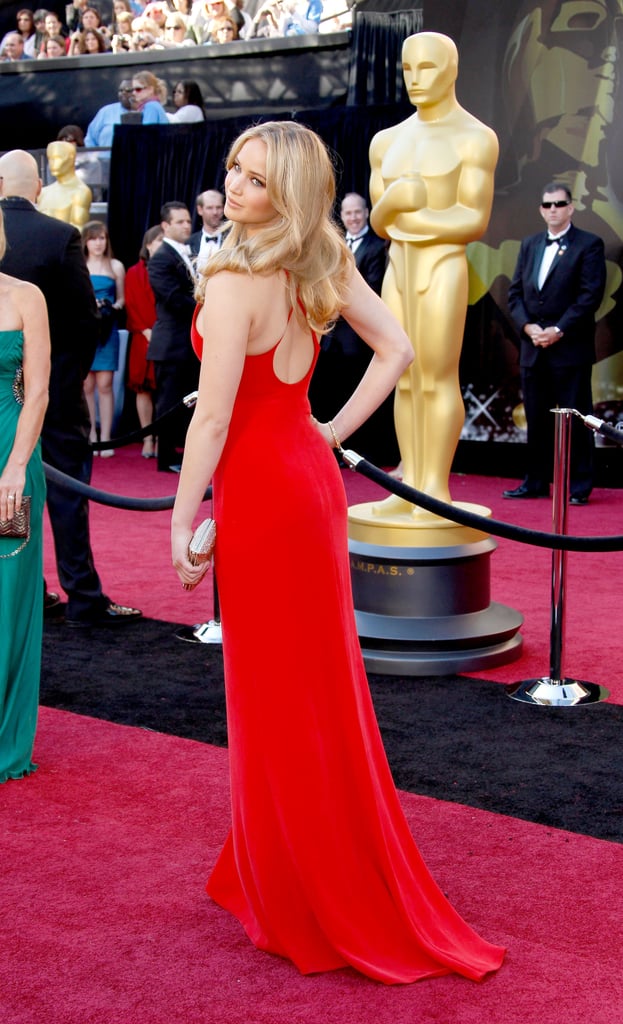 Jennifer Lawrence [19] looked flawless in a casual red Calvin Klein dress in 2011.
Cuba Gooding Jr [20]. got playful with his statue in the press room after winning best supporting actor for Jerry Maguire in 1997.
Heath Ledger [21] walked the red carpet with Michelle Williams [22] at the 2006 Oscars, where they were each nominated for their work in Brokeback Mountain.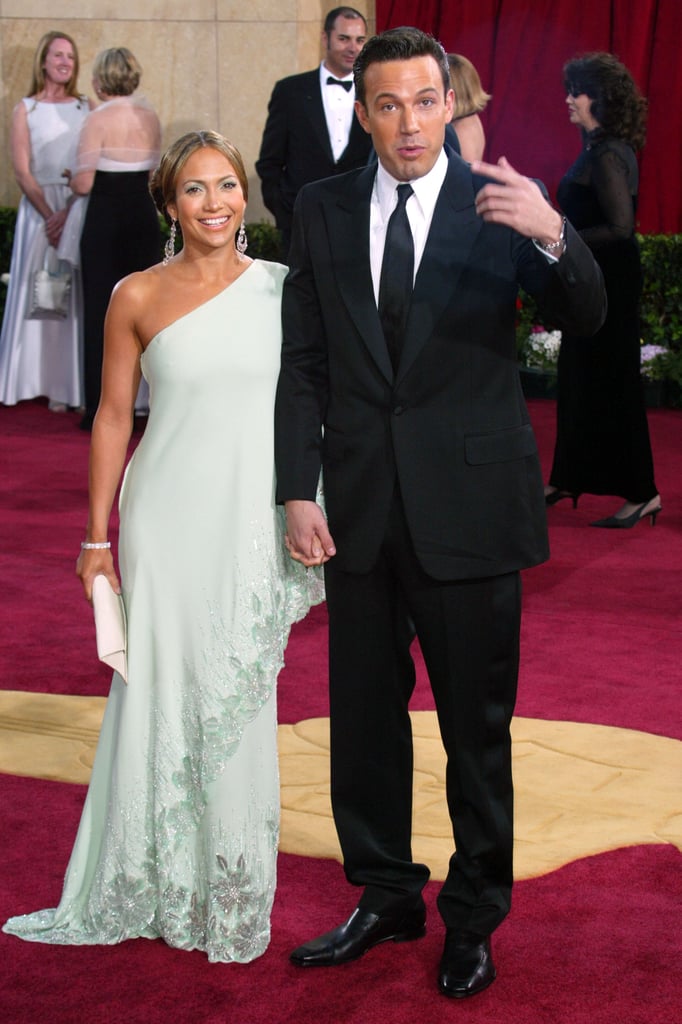 Ben Affleck [23] and Jennifer Lopez [24] walked the red carpet hand in hand at the 2003 show, but the couple called it quits a year later.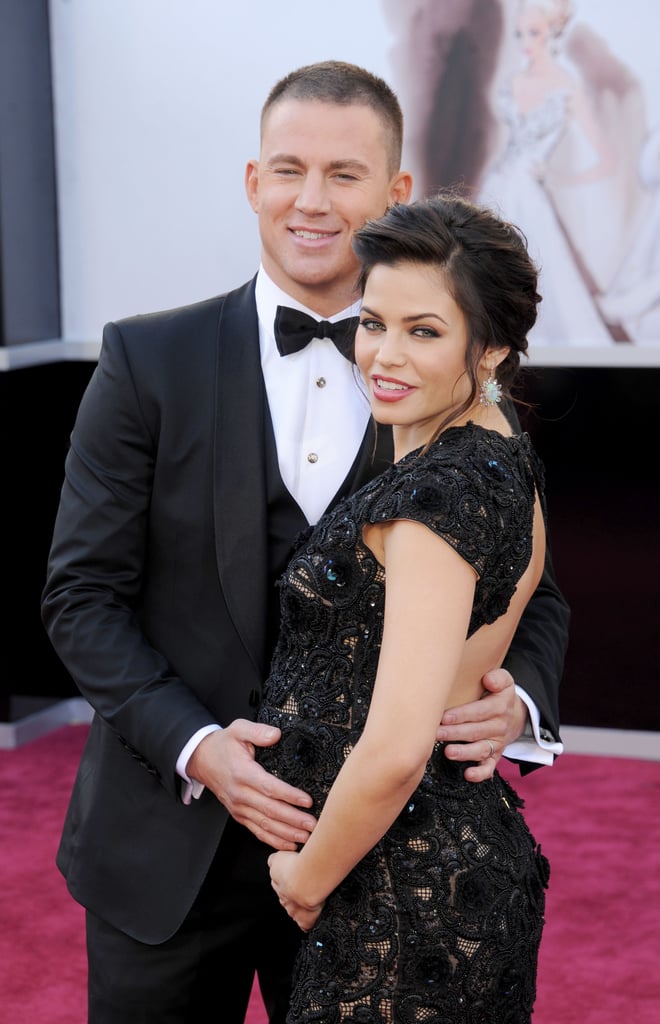 Channing Tatum [25] held wife Jenna Dewan-Tatum's pregnant stomach on the red carpet in 2013.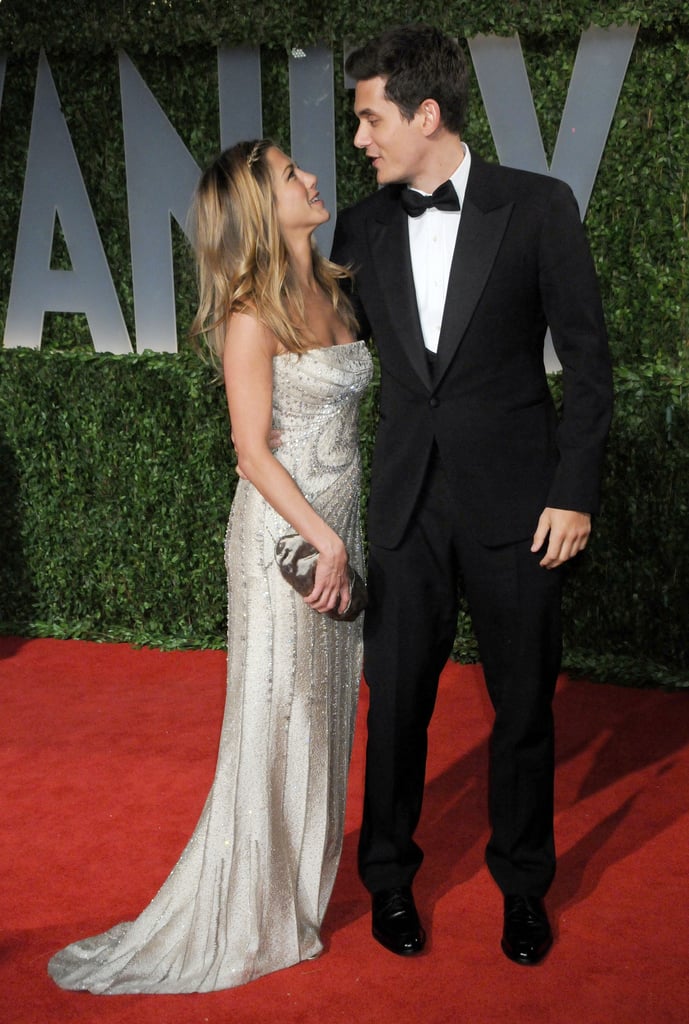 Jennifer Aniston [26] was a welcome addition to the 2009 show, to which she brought then-boyfriend John Mayer [27] as her date.
Michael Jackson [28] and Madonna [29] attended an Academy Awards afterparty together in 1991.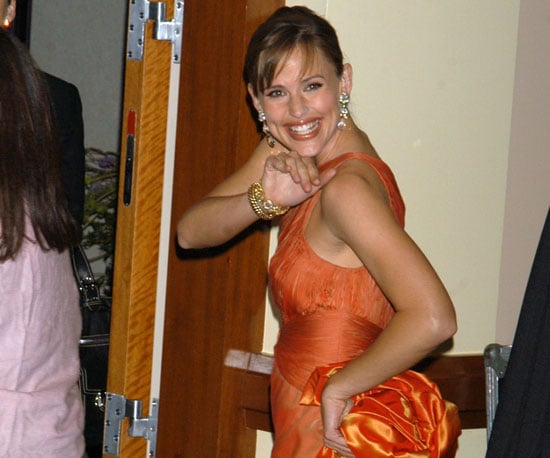 Presenter Jennifer Garner [30] was all smiles backstage in 2004.
Goldie Hawn [31] and Liza Minnelli debuted their primetime variety special in 1980 and stuck together at the Oscars that year.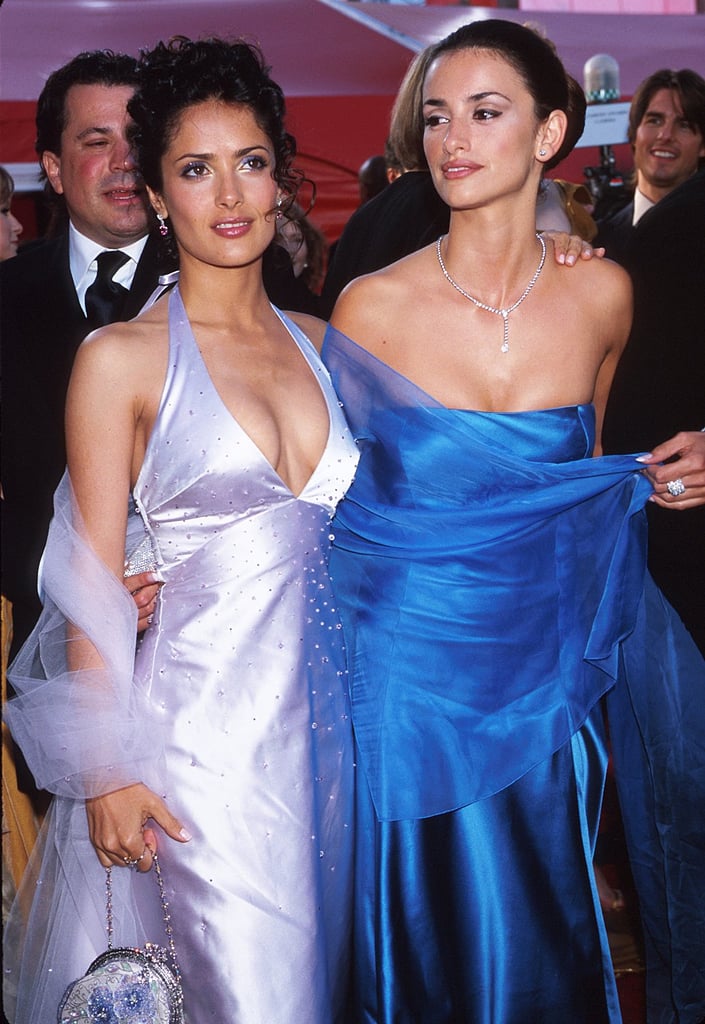 Penélope Cruz and Salma Hayek [32] have been close friends for over a decade and arrived together at the 2002 Oscars. Three years later, Salma was nominated for her work in Frida while Penelope won an Academy Award in 2009 for Vicky Cristina Barcelona.
Diane Keaton [33] supported boyfriend Warren Beatty at the award show in 1979, when he was nominated for best picture, actor, directing, and writing for Heaven Can Wait, though he didn't take home any wins.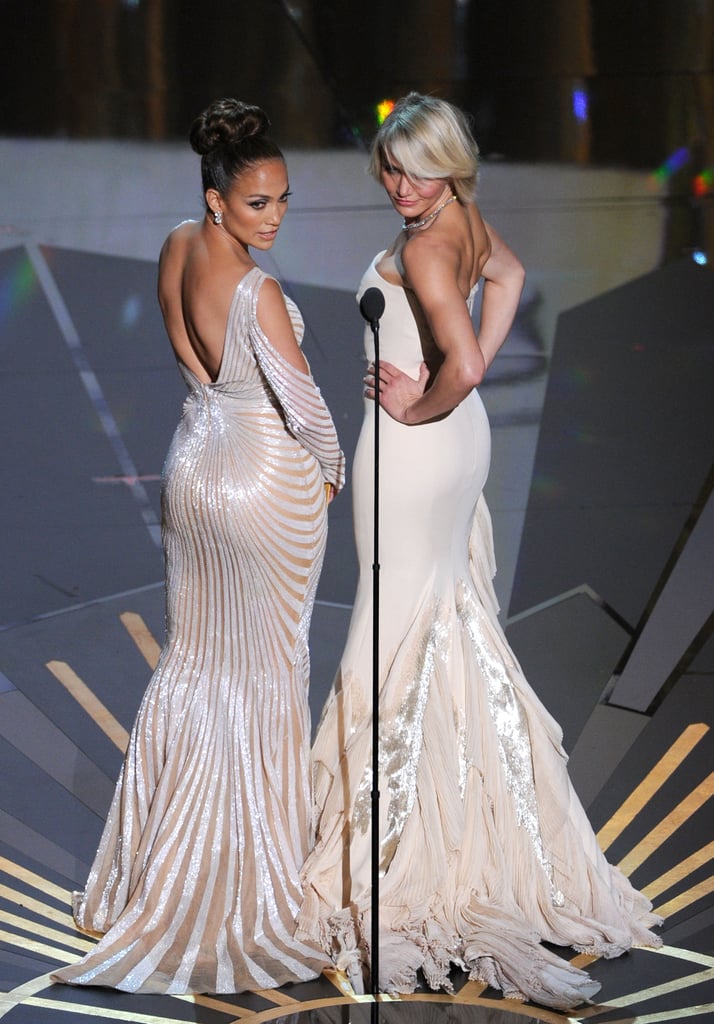 Jennifer Lopez [34] and Cameron Diaz [35] flaunted their figures on stage during the 2012 show.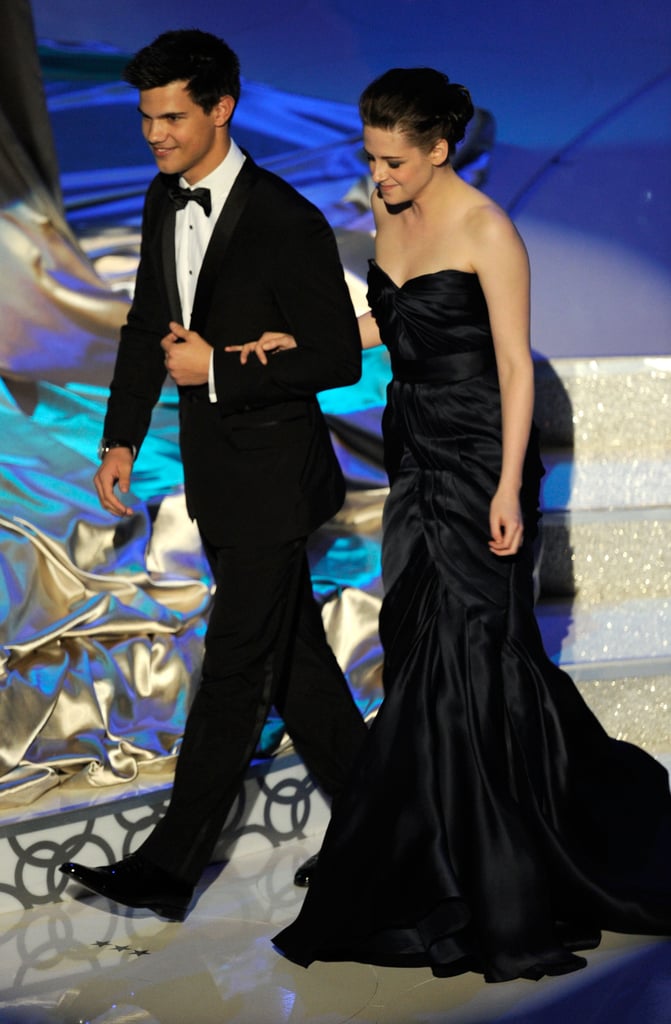 Kristen Stewart [36] and Taylor Lautner [37] presented at the 2010 show.
Best actress winner Elizabeth Taylor smiled big with her Oscar in hand in 1961.
Joanne Woodward showed off her Oscar statue with husband Paul Newman by her side at the Governor's Ball in 1958.
Audrey Hepburn clutched her best actress statue for her work in Roman Holiday in 1954, only the second year that the award show was broadcast on TV.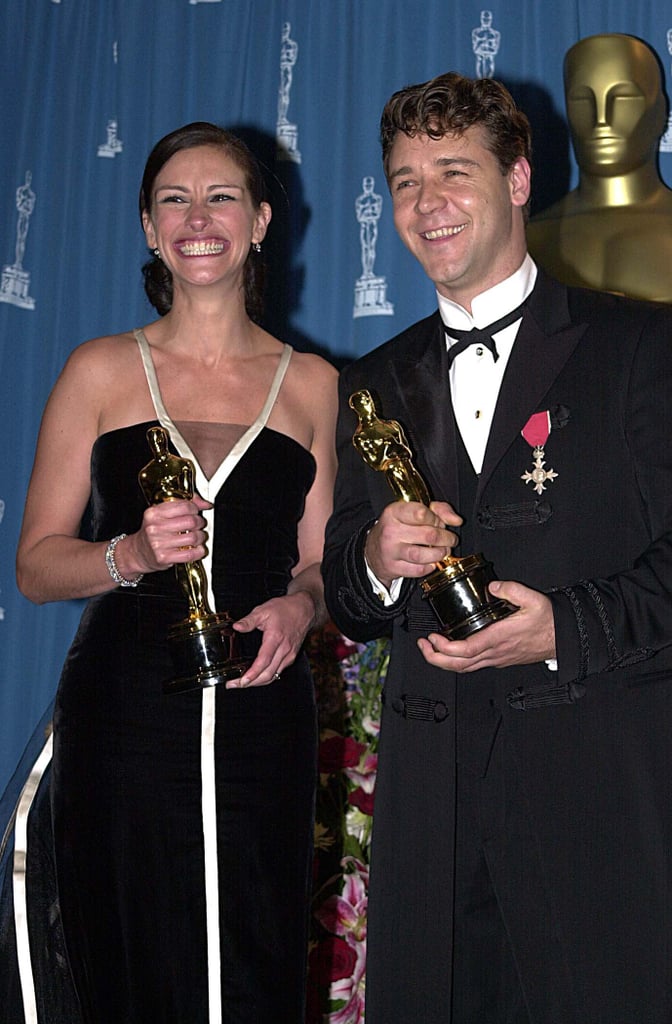 Julia Roberts [38] won for Erin Brockovich the same year Russell Crowe [39] did for Gladiator, and the two met up in the press room during the 2001 show. He was nominated both the year before and the year after, as well.
Cher and Michael Douglas smiled with their Oscars backstage in 1988. She won for best actress in Moonstruck while Michael won for best actor in Wall Street.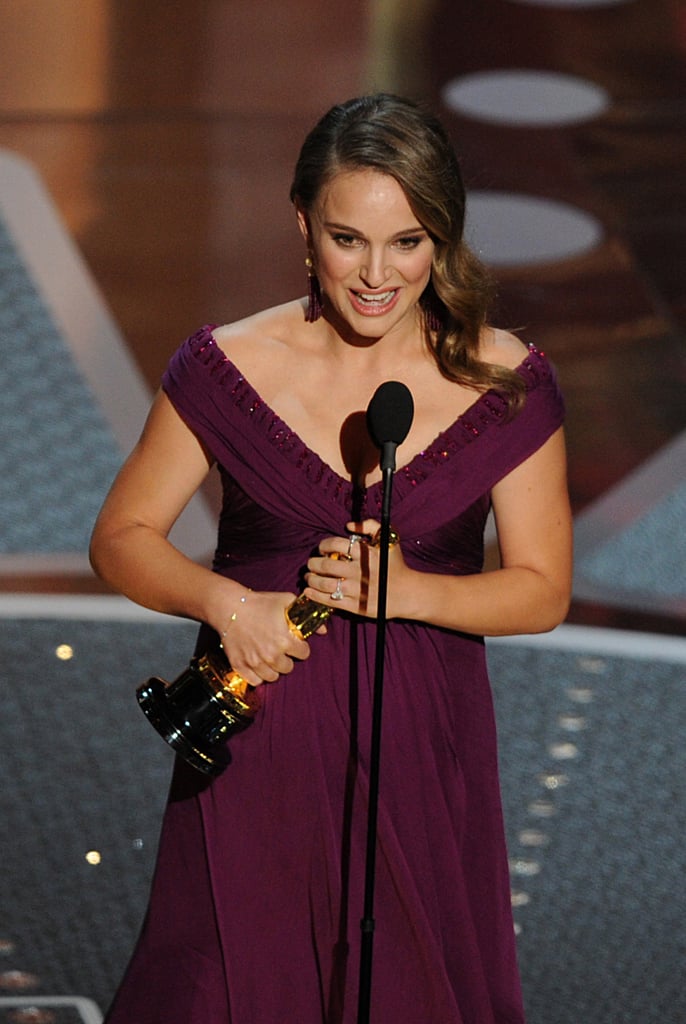 A pregnant Natalie Portman [40] accepted her best actress award for Black Swan in 2011.
Kurt Russell and Goldie Hawn [41] held onto their wine with Meryl Streep [42] right behind in 1989. Goldie won in 1989 for her role in Cactus Flower.
Leonardo DiCaprio [43] gave Martin Scorsese [44] a congratulatory hug as he went up to accept the best director Oscar for The Departed in 2007.
Jennifer Grey and Patrick Swayze struck a pose at the 1988 Oscars. Dirty Dancing's "(I've Had) The Time of My Life" won best original song at the Academy Awards that year.
Oscar winners Kate Winslet [45], Sean Penn [46], and Penélope Cruz let their little gold men share an intimate moment in the press room in 2009.
In 1988, Angelina Jolie [47], Jon Voight, and James Haven walked the red carpet together as a family.
Adrien Brody [48] celebrated being named best actor for The Pianist by planting a now-famous kiss on Halle Berry [49] in 2003.
Javier Bardem [50] brought his mom, Pilar, to the 2008 Oscars, where he won best supporting actor for his role in No Country For Old Men.
Lucy Liu [51], Cameron Diaz [52], and Drew Barrymore [53] took the stage in 2000 to present the costume design award. Their film Charlie's Angels came out later that year.
Bruce Willis [54] and Demi Moore [55] looked like they were dressed for the times in 1989, though neither has ever been nominated for an Academy Award.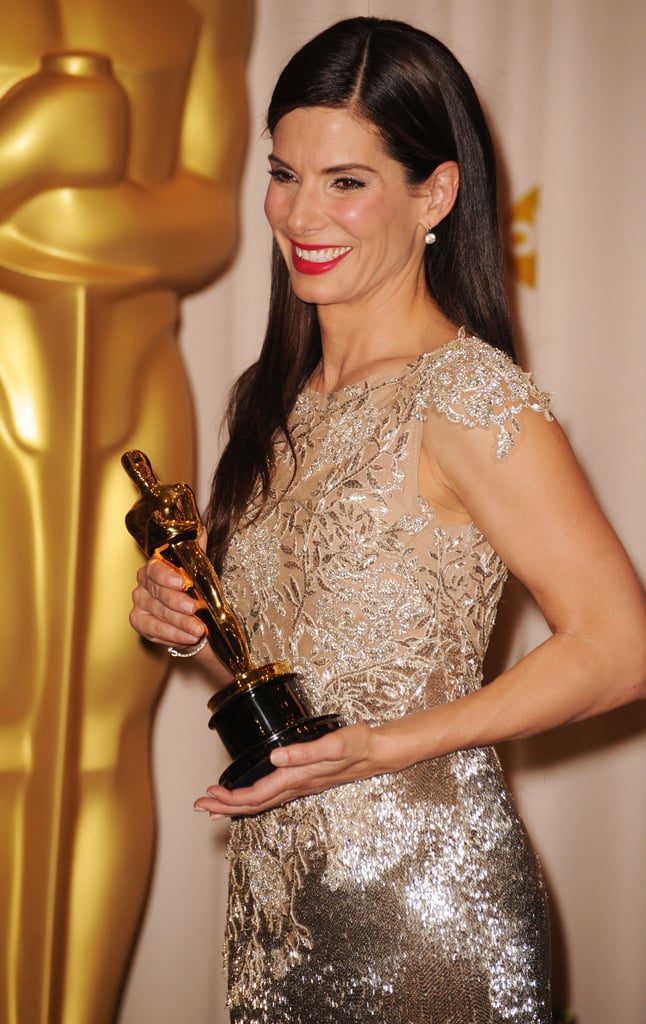 Sandra Bullock [56] couldn't contain her excitement after winning the best actress award in 2010.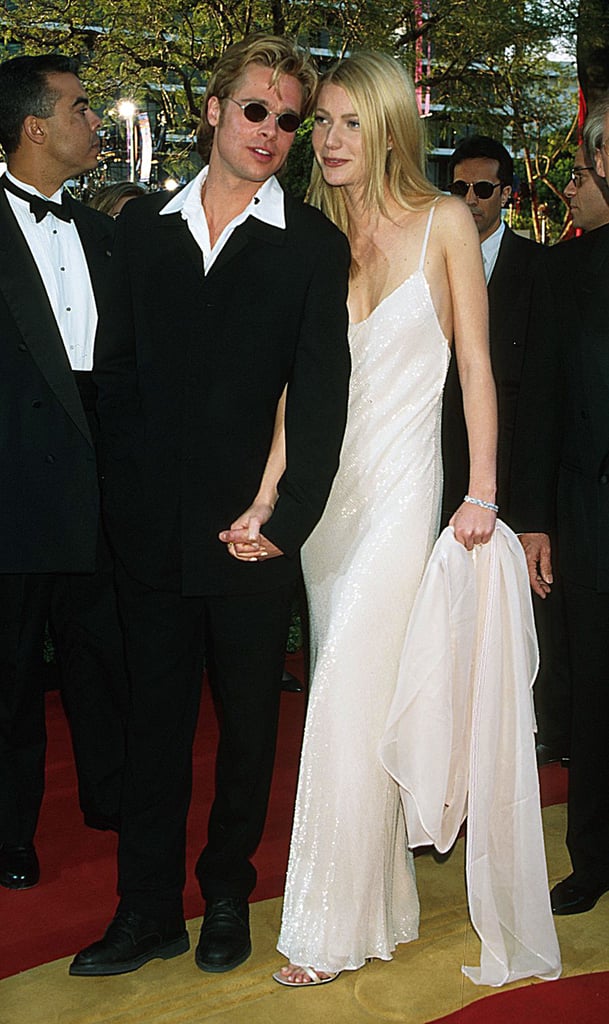 Brad Pitt [57] walked the red carpet with then-girlfriend Gwyneth Paltrow [58] in 1996.
Gwyneth Paltrow [59] shared a special moment with her dad, Bruce, after her 1999 best actress win for Shakespeare in Love.
Jack Nicholson [60] and Barbra Streisand posed with Clint Eastwood [61] and his two Oscars in 1993. Clint took home the statues for best director and best picture for Unforgiven.
Dustin Hoffman [62] posed with the Oscar he won for Rain Man in 1989 along with his costar Tom Cruise [63].
Both Brad Pitt [64] and Angelina Jolie [65] were nominated for Oscars in 2009, but neither took home the honors.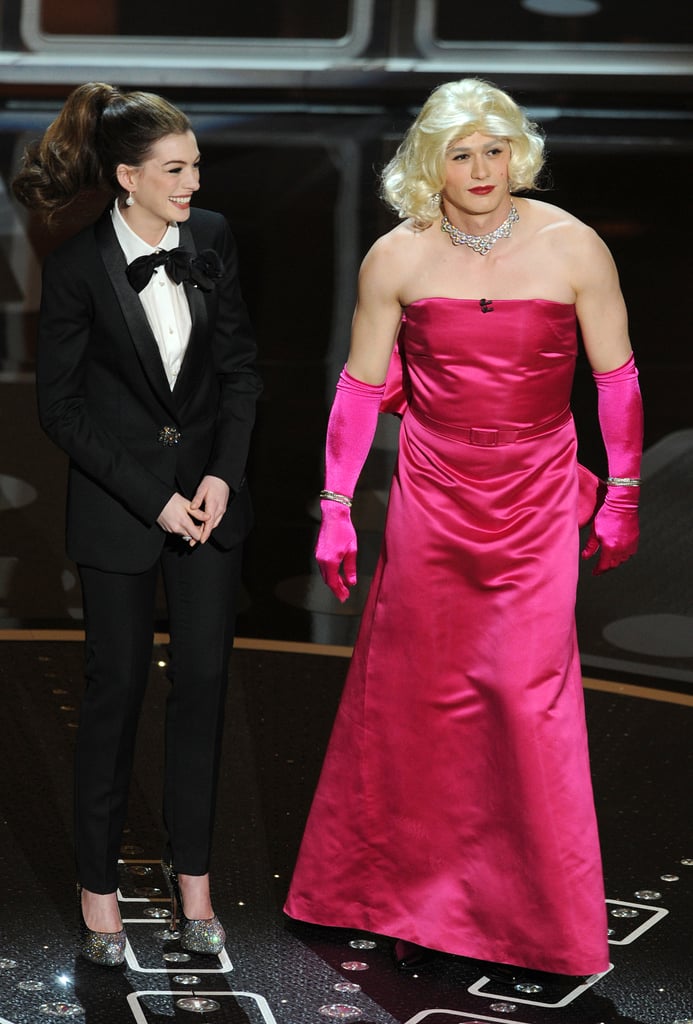 Hosts Anne Hathaway [66] and James Franco [67] channeled a Gentlemen Prefer Blondes moment in 2011.
Then-8-year-old Drew Barrymore [68] walked the Academy Awards red carpet in 1983 with her mother.
James Haven, Jon Voight and then-11-year-old Angelina Jolie [69] attended the Oscars together in 1986.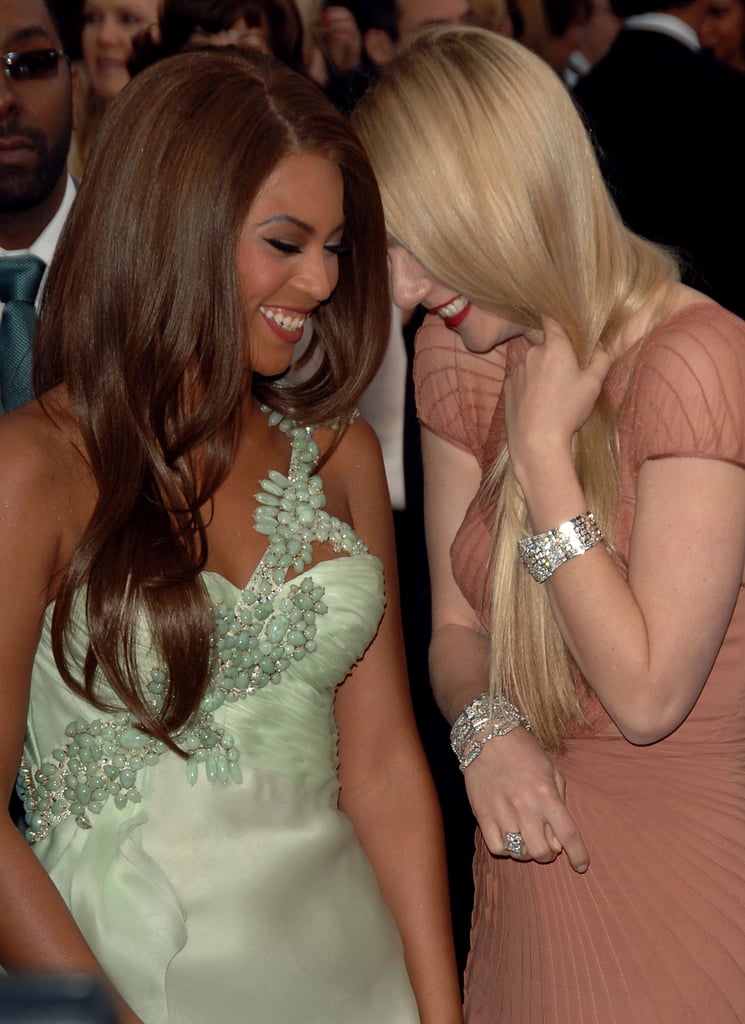 Gwyneth Paltrow [70] and Beyoncé shared a moment on the red carpet in 2007.
Will Smith [71], who was nominated for best actor in The Pursuit of Happyness, stopped to take a photo with a fan before the 2007 show.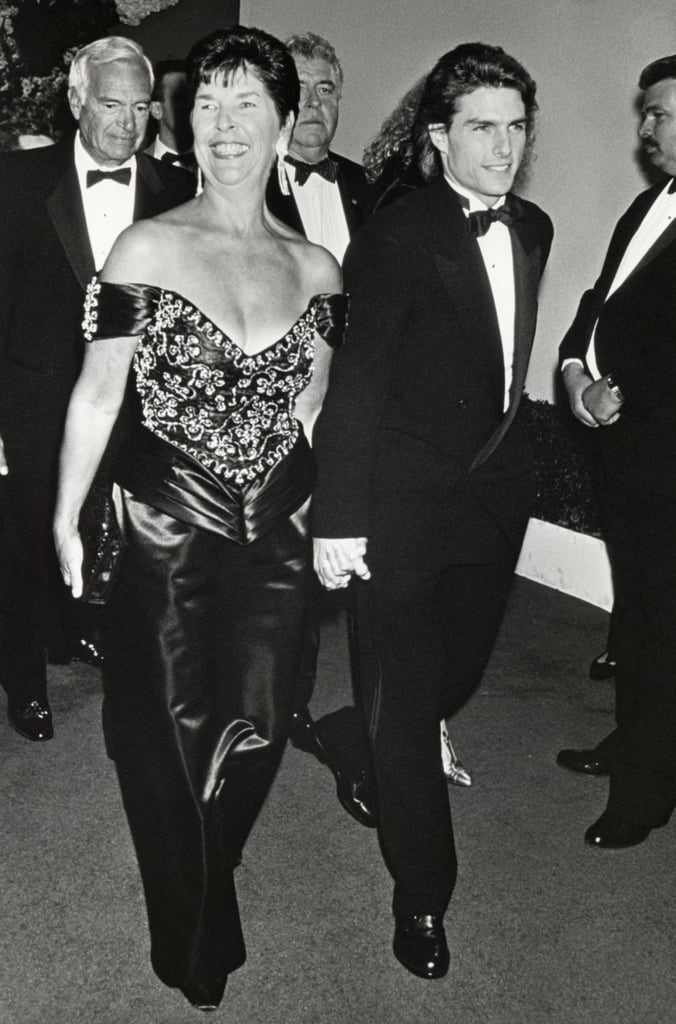 Tom Cruise [72] brought his mom as his date in 1990.
It couple Steve Martin [73] and Bernadette Peters arrived together in 1981.
Halle Berry [74] had an emotional win for best actress for Monster's Ball at the 2002 Academy Awards. She's the first black woman to win an Oscar in the category.
Matt Damon [75] and Ben Affleck [76] celebrated their big win for Good Will Hunting in the press room during the 1998 show. Matt was nominated for best actor, too, but was happy to take home the win for best original screenplay alongside Ben instead.
Angelina Jolie [77] showed off her now-infamous leg on the red carpet with Brad Pitt [78] at the 2012 Oscars.
Ryan Phillippe [79] celebrated then-wife Reese Witherspoon [80]'s 2006 best actress win for Walk the Line at the Vanity Fair afterparty.
George Clooney [81] and Jake Gyllenhaal [82] chatted before the show in 2006. That year, they were both nominated for best supporting actor, and George walked away with the Oscar for his work in Syriana.
Meryl Streep [83] and Christopher Walken [84] each took home an award in 1979, him for The Deer Hunter and her for Kramer vs. Kramer.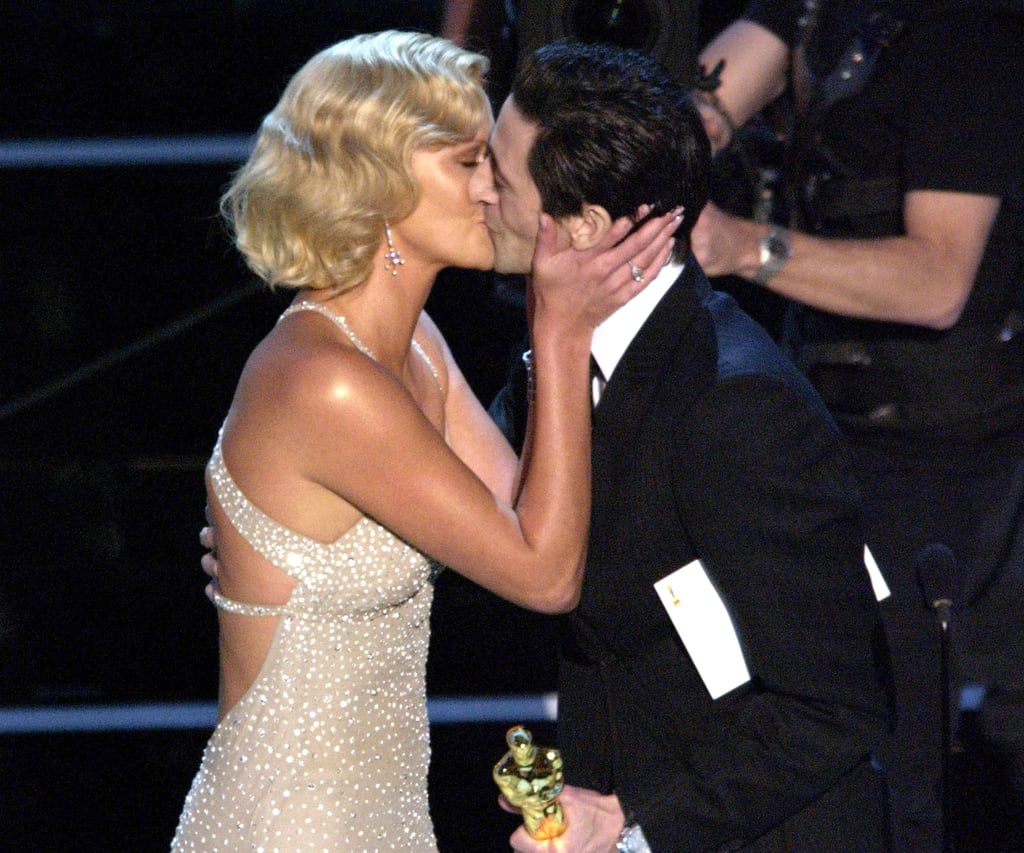 Charlize Theron [85] planted a big kiss on Adrien Brody [86] at the 2004 show.
Kate Winslet [87] attended the award show in 1998, when she was nominated for best actress. In 2009, she became the youngest actor to receive six Oscar nominations.
Robert Redford [88] won a best director statue for Ordinary People in 1981.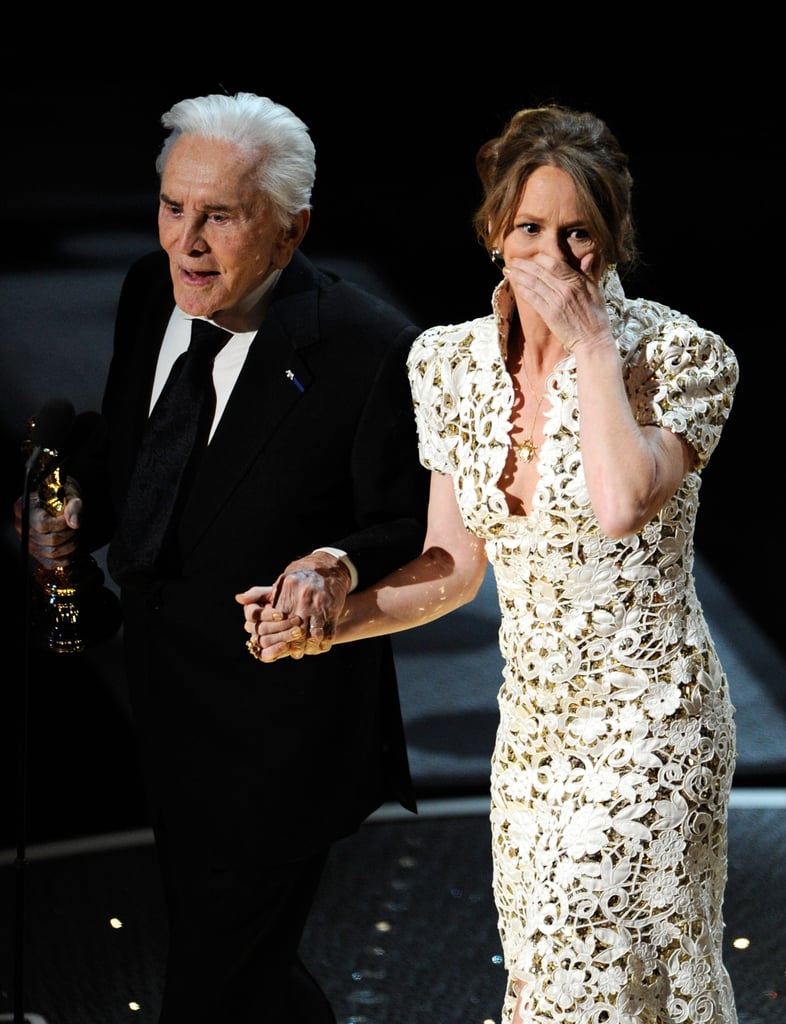 Melissa Leo was feeling overwhelmed after being presented with her best supporting actress award by Kirk Douglas.
Steven Spielberg [89] and Tom Hanks [90] attended Elton John's Oscar party in 1993. Tom took home his statue for best actor in Philadelphia that year while Steven won best director for Schindler's List.