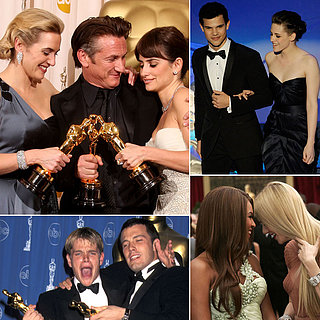 Feb 24 2013 - 6:04am
The Oscars are fast approaching — they're this Sunday, Feb. 24! We are gearing up for the big night by taking a look back at some of the show's most iconic moments. Angelina Jolie's right leg became famous when she posed with Brad Pitt for the 2012 show, while eight-year-old Drew Barrymore walked the Academy Award red carpet in 1983. Ben Affleck brought Jennifer Lopez as his Oscar date in 2003, and Dustin Hoffman celebrated his win for Rain Man with costar Tom Cruise back in 1989.
Click through to see these moments, and more!