Prince Harry is reportedly single once again after he ended things with his girlfriend [1] of two years, Cressida Bonas. While it's sad we have to wait longer for the excitement of another royal wedding [2], we have a feeling that a lot of women out there are excited that hot Harry is back on the market once again. Over the years, the young royal has turned into something of an international heartthrob, even inspiring the reality show I Wanna Marry "Harry" [3] in the United States. To help prepare the world for another dose of single Harry, we've rounded up a few of the redheaded stud's best moments from over the years — from sporting his fatigues to getting dressed up for royal events!
Harry joined hands with a little boy during a visit to a children's center in Semonkong, Lesotho, in June 2010.
Harry looked pretty buff in May 2013, when he played a bit of baseball in NYC.
Professional polo player Nacho Figueras and Prince Harry attended the award ceremony following the Veuve Clicquot Manhattan Polo Classic in NYC in May 2009.
In January 2010, Prince Harry visited 2-year-old Tyrell Richards in the pediatric ward at the Queen Elizabeth II hospital in Bridgetown, Barbados.
Harry hung out with an 8-week-old puppy during a visit to an animal charity in the Summer of 2010.
Prince Harry prepared for a championship rugby match between England and France in London on Feb. 26, 2011.
Harry attended a friend's wedding [4] in July 2010.
Harry looked handsome in his fatigues during his announcement for the Invictus Games in London in March 2014.
Prince Harry and Prince William held an African rock python during a 2010 visit to Botswana.
Harry caught a rugby ball in October 2013 during a royal event in London.
Harry participated in the Golden Jubilee Trophy polo tournament as "Harry Wales" in the Summer of 2003.
Harry grew a beard when he trekked to the South Pole with Walking With the Wounded in December 2013.
Harry chatted with an adorable young boy during a charity event in London in 2013.
Harry and his brother arrived at the world premiere of the James Bond film Quantum of Solace in October 2008.
Harry attended a parade in Hyde Park in May 2006.
Prince Harry attended the launch of the Soldier Challenge 2011 in London.
Prince Harry took his gear off upon arriving home after a 10-week tour of duty in Afghanistan in 2008.
Prince Harry charmed local children after competing in a charity polo match in 2008.
Prince Harry looked smokin' while attending a military helicopter training course in June 2009 in Shawbury, England.
In August 2013, Harry looked very fit after playing a game of polo in Ascot, Berkshire, England.
Best man Harry presumably cracked a joke to an unamused maid of honor, Pippa [5] Middleton, at Prince William and Kate Middleton's wedding [6] in April 2011.
In 2005, Prince Harry, his uncle the Duke of York, and Queen Elizabeth II watched a flyover commemorating the 60th anniversary of the end of World War II.
Harry smiled while holding a baby at the University Hospital of Wales in June 2008.
The royal brothers greeted guests as they arrived for the Service of Thanksgiving for the life of Princess Diana in London in August 2007.
Harry met military personnel taking part in the British Legion March For Honour in November 2010.
Prince Harry and Prince Charles shared a joke at a 2005 polo match.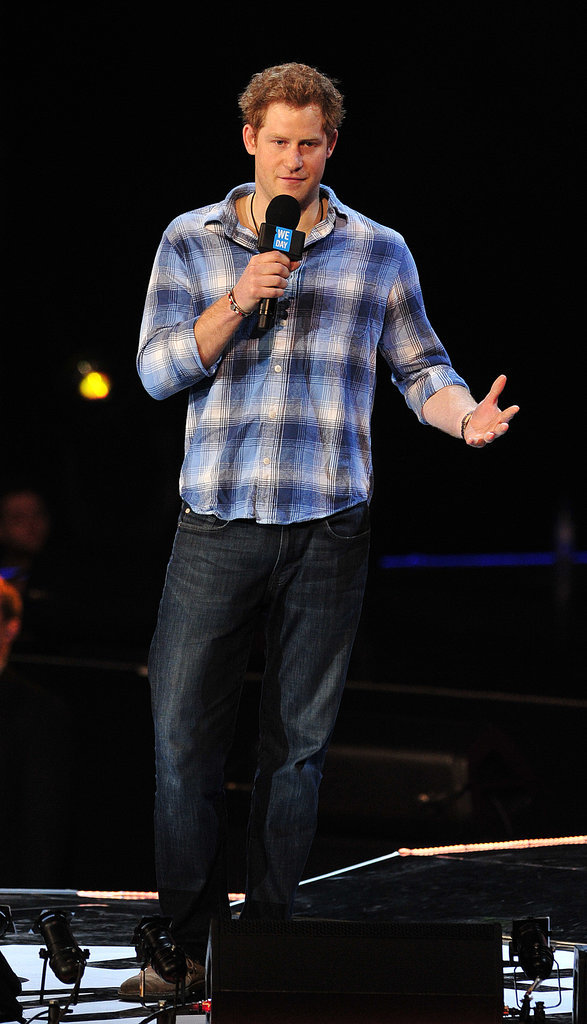 In March 2014, Harry wore a plaid shirt and jeans at We Day in London.
Then-girlfriend Chelsy Davy supported Harry at his graduation from the Army Air Corps pilots course in May 2010.
On a chilly December day, Harry visited a former section of the Berlin Wall in 2010.
The prince threw the opening pitch before the New York Mets played the Minnesota Twins in New York in June 2010.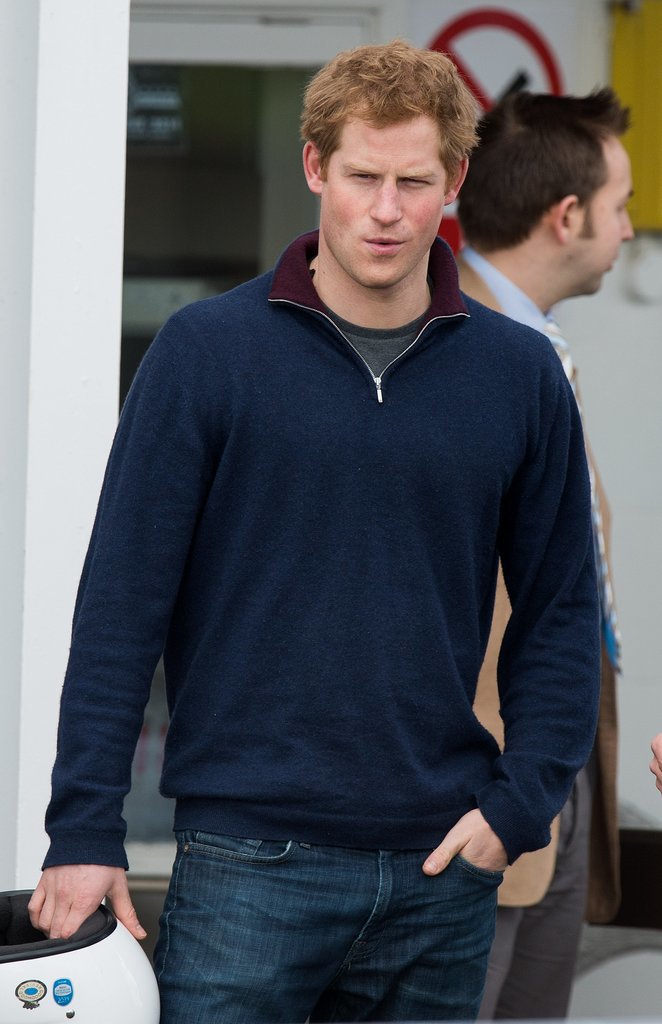 In February 2014, Harry looked smoldering while attending a royal event in Goodwood, England.