Pita Pizza with Butternut Squash, Kale, Feta, and Walnuts
Contrary to popular belief, pizza can be healthy. A whole wheat crust, olive oil, a little cheese, tons of veggies, and maybe some lean meat, and you're set. It also doesn't have to be difficult to make yourself at home. In fact, you don't even have to make the dough yourself. You can use a bagel, a tortilla, an English muffin, or in this case, pita bread. By simplifying the crust, at least in my experience, you'll be more likely to dream up creative toppings. I see a lot of recipes on food blogs this time of year using butternut squash and kale together. They seem to make a nice pairing. Not to mention, the color combination is gorgeous. So, I went for it. First order of business...kale.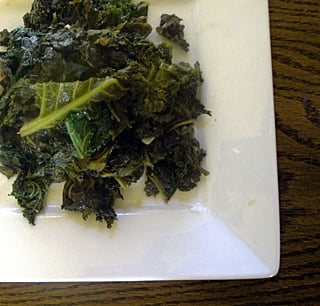 Kale. I was very skeptical about it, until I just sucked it up and tried it. I had heard all of the hoopla about how healthy it is, how it's considered the most nutritionally dense food in the world, etc. I had also heard that it's extremely bitter, almost to the point where it's unpalatable. I decided to try it for myself and prepare it the way I normally prepare any leafy green. And I fell in love! I have never been so pleasantly surprised after trying a new food for the first time. It's also extremely addicting, which I had also heard around the food blogosphere.
Before getting to the pizza, here's how I prepared the kale:
Sauteed Garlicky, Vinegary Kale
1 head of kale
1 tablespoon extra virgin olive oil
1 tablespoon vinegar (any kind would work, I usually choose balsamic)
2 large cloves of garlic
Dash of nutmeg
Salt and pepper
Pour the olive oil into a large pan and put it on medium-high heat. Rinse and dry off the kale, and rip the leaves off of the thick stems. Chop up the kale leaves and place them in a large bowl while you chop up the garlic. I like to slice the garlic into discs rather than mincing it, but you can finely mince it if you're not a fan of biting into pieces of garlic. Put the kale and garlic into the hot pan, and add the vinegar, nutmeg, salt, and pepper. Sautee until the kale wilts down and darkens in color.
This makes more than you'll need to top the pizza, so save the rest for another use. If you end up loving it as much as I do, you'll find plenty of other uses for it. In the meantime, it adds tons of flavor, nutrition, and vibrant color to this:
Pita Pizza with Butternut Squash, Kale, Feta, and Walnuts
1 whole wheat pita bread round
1 teaspoon extra virgin olive oil
2 tablespoons reduced fat feta cheese
1/2 cup butternut squash, cubed
1/2 cup garlicky vinegary kale
1 tablespoon walnuts, chopped
First, get a pot of salted water boiling for the butternut squash. You can either steam it or boil it for 5-8 minutes until you can easily pierce it with a fork. Next, to make the pita bread a little bit crispy, use this old trick from Mexican home cooking:

Just place it right above the burner flame, moving it around the flame with tongs and being careful not to let it burn (I suggest flipping it often to check). This only takes a couple of minutes. Once it's crispy and warmed up, place it on a baking sheet, drizzle it with a teaspoon of olive oil, and sprinkle on a tablespoon of the feta cheese. Then add the kale and dot it with the cubes of butternut squash. Top it with another tablespoon of feta and the walnuts, and it's ready for the oven.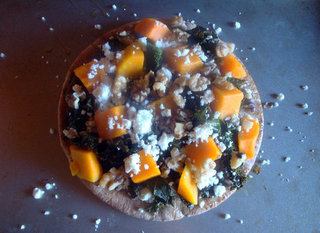 Place the baking sheet on the top shelf of your oven, and broil the pizza for 2 or 3 minutes or so - just long enough to warm up the toppings and slightly melt the cheese. If your oven doesn't have a broil setting, you can bake it at 450 degrees for 5 minutes.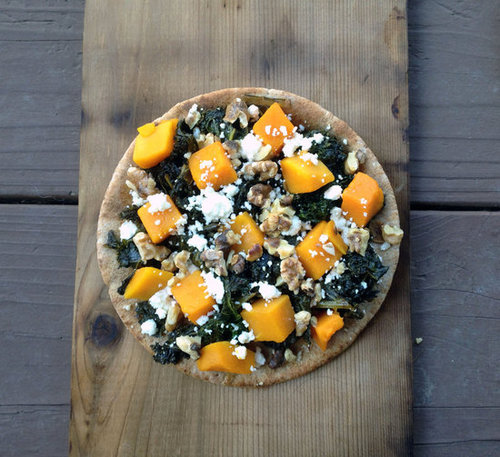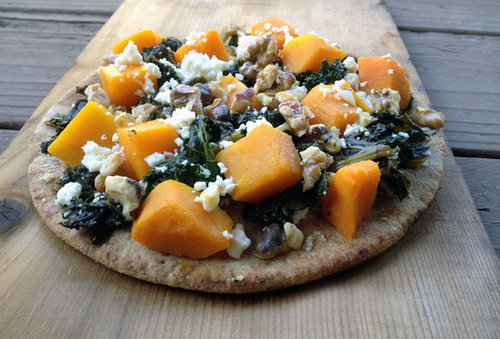 Not only is this extremely flavorful, but look at that color! It warms you up and brightens a crisp Fall day. If the old adage that you "eat with your eyes first" is true...your eyes are probably drooling right about now.