Ellen DeGeneres [1] wasn't kidding when she said she would order pizza for A-listers at the Oscars on Sunday night. After joking about ordering a snack, Ellen eventually brought out what looked like a very real and very confused pizza delivery guy with several different pies. She then started to dish out slices to a slew of A-listers, with Brad Pitt [2] handing out paper plates to everyone. (Isn't he helpful?) Ellen gave a whole box to Kevin Spacey [3], who was a few rows behind Brad, and also handed out slices to Jared Leto [4], who gallantly gave his to his mom. Jamie Foxx [5], Channing Tatum [6], and Jenna Dewan also got bites, with Jamie giving his to his daughter, Corinne. Don't worry, Jennifer Lawrence [7] and Kerry Washington got slices too! Don't forget to check out more pictures from the Oscars [8] and the best red carpet photos [9].
Source: AP [10]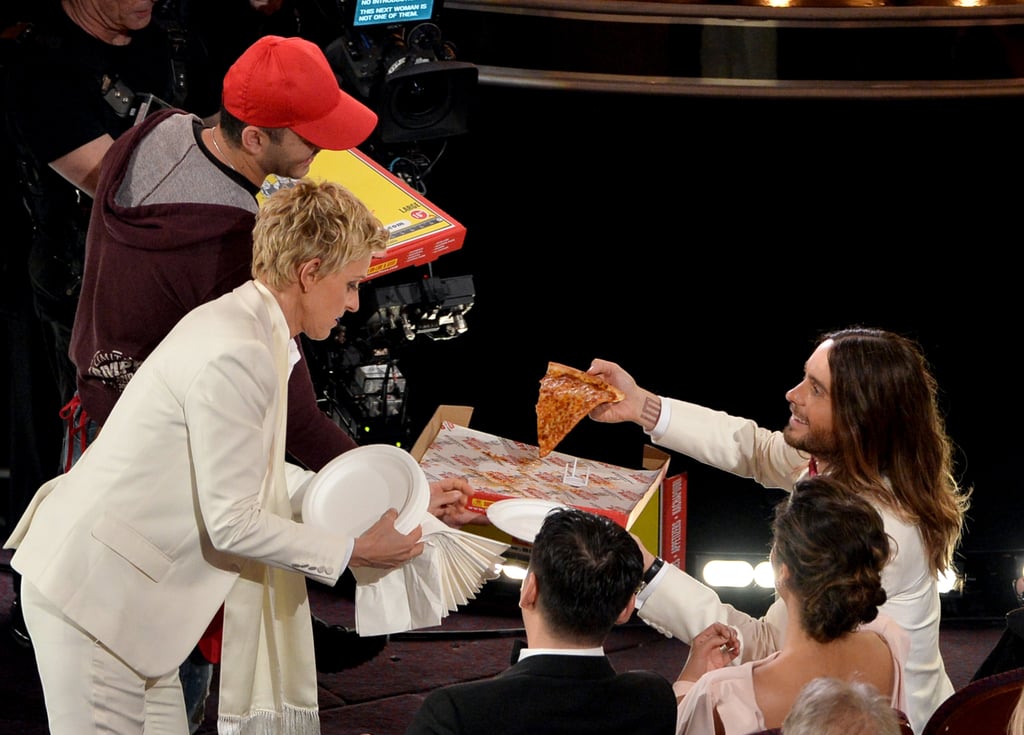 Ellen DeGeneres [11] handed out pizza to Jared Leto [12].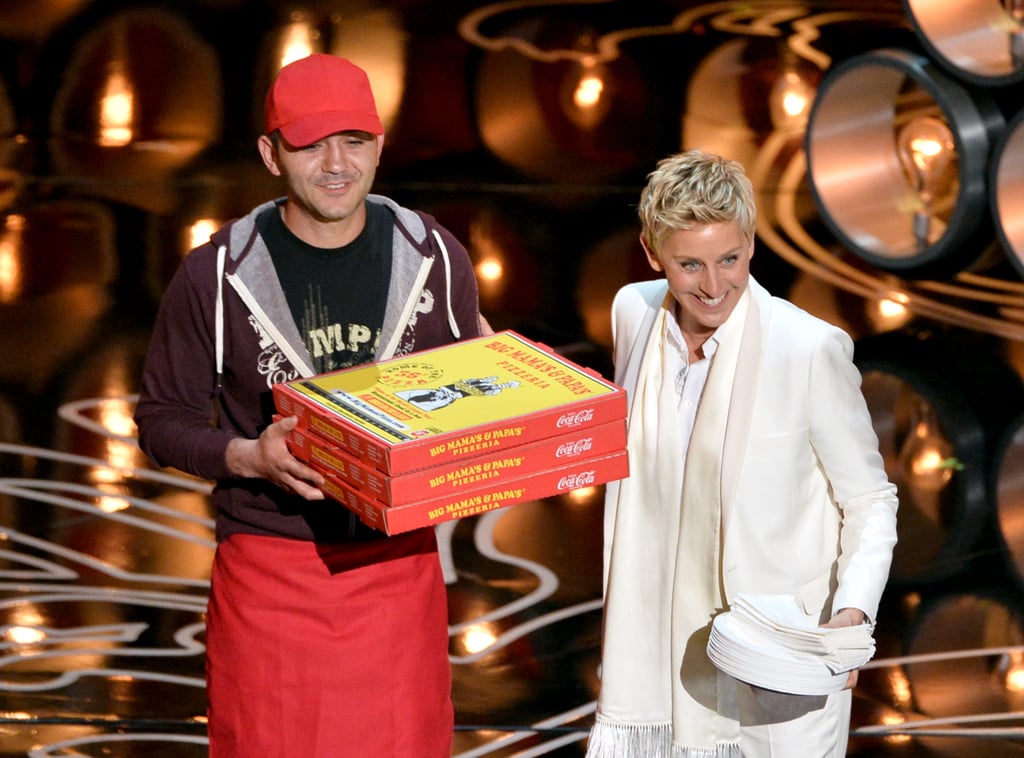 Ellen DeGeneres [13] brought the pizza guy out on the stage.
Kerry Washington and Harrison Ford [14] got their pizza.
Source: Vine user Mike Hayes [15]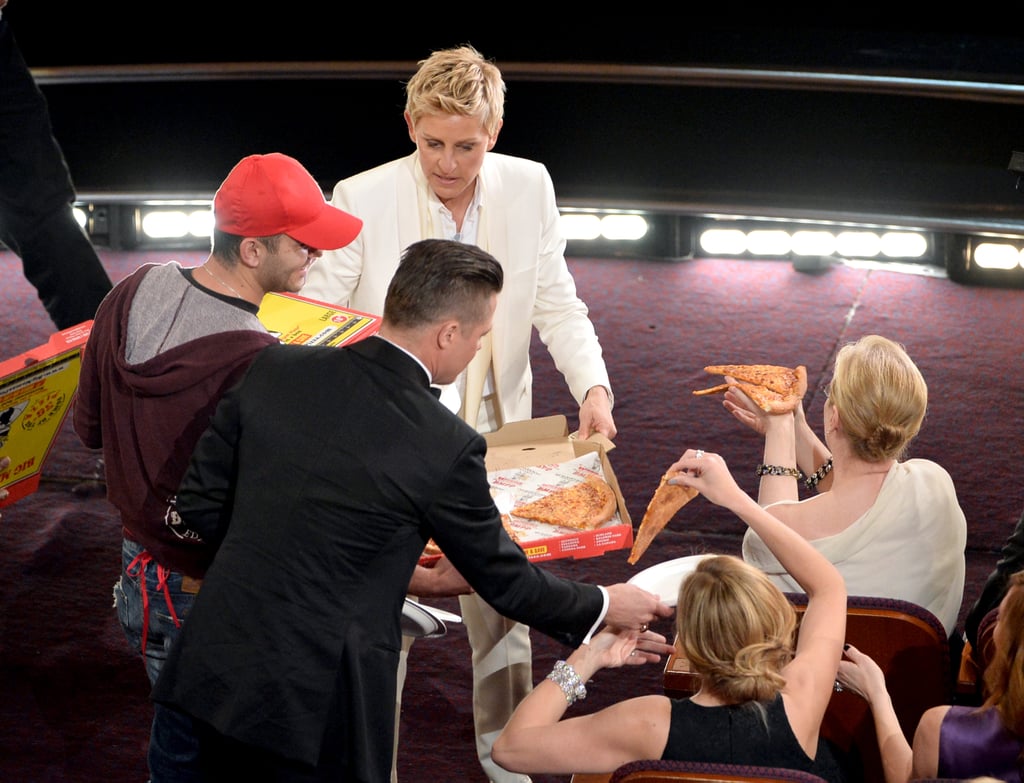 Brad Pitt [16] handed a plate to Julia Roberts [17].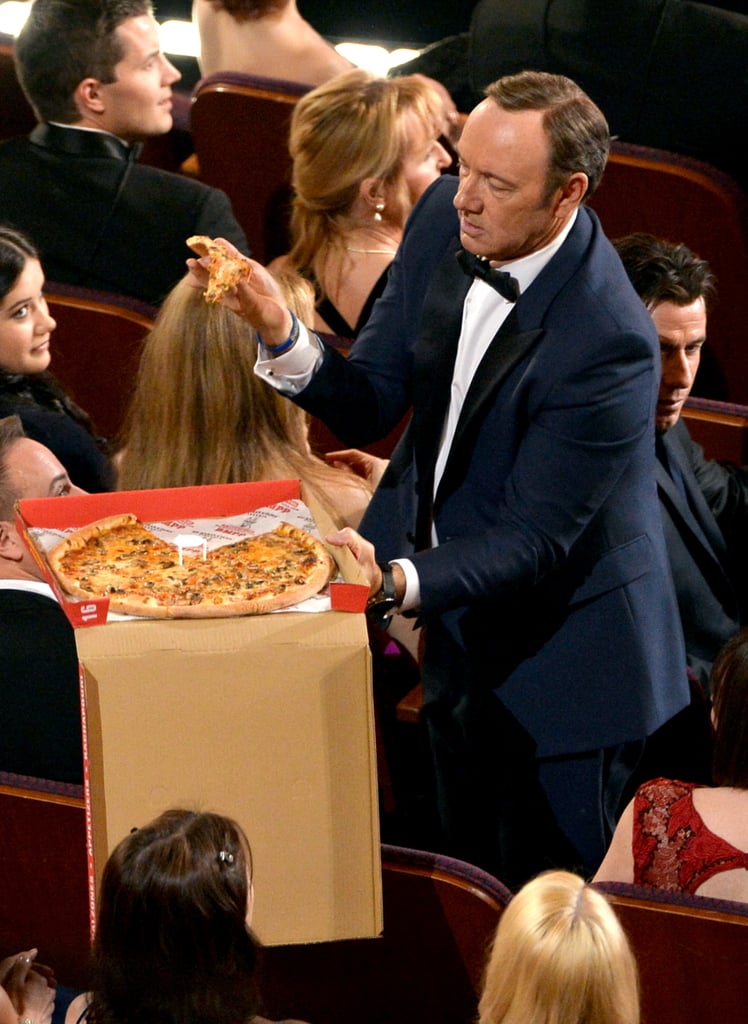 Kevin Spacey [18] got his own box of pizza.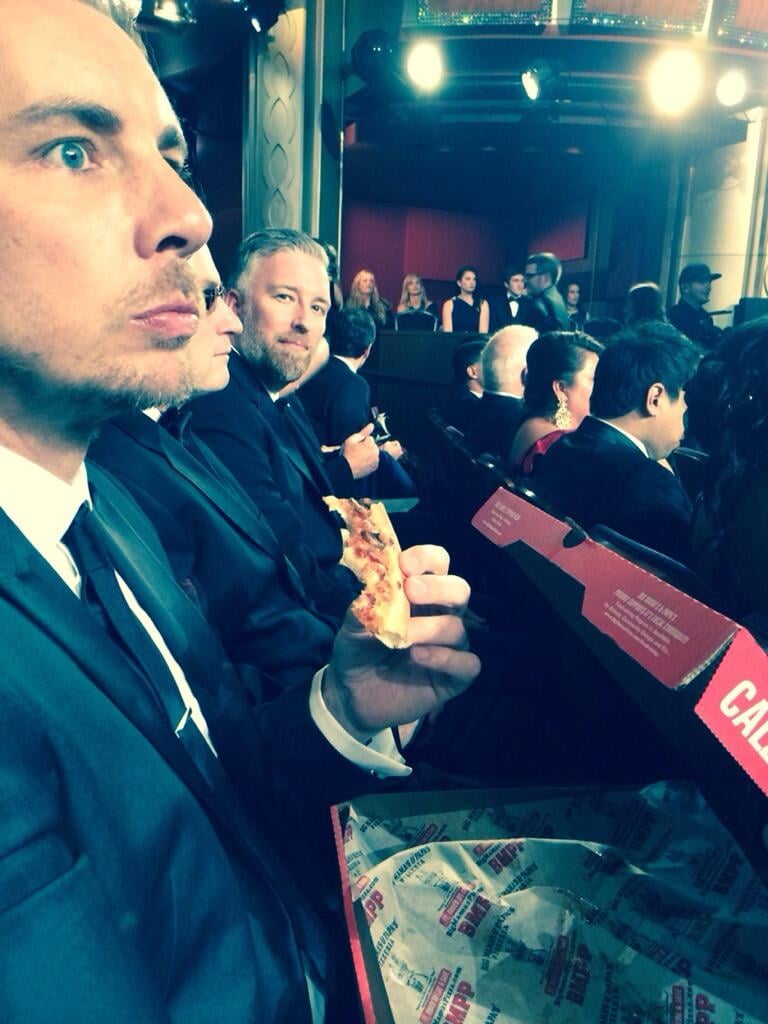 Dax Shepard snacked on pizza while Kristen Bell [19] snapped a picture.
Source: Twitter user IMKristenBell [20]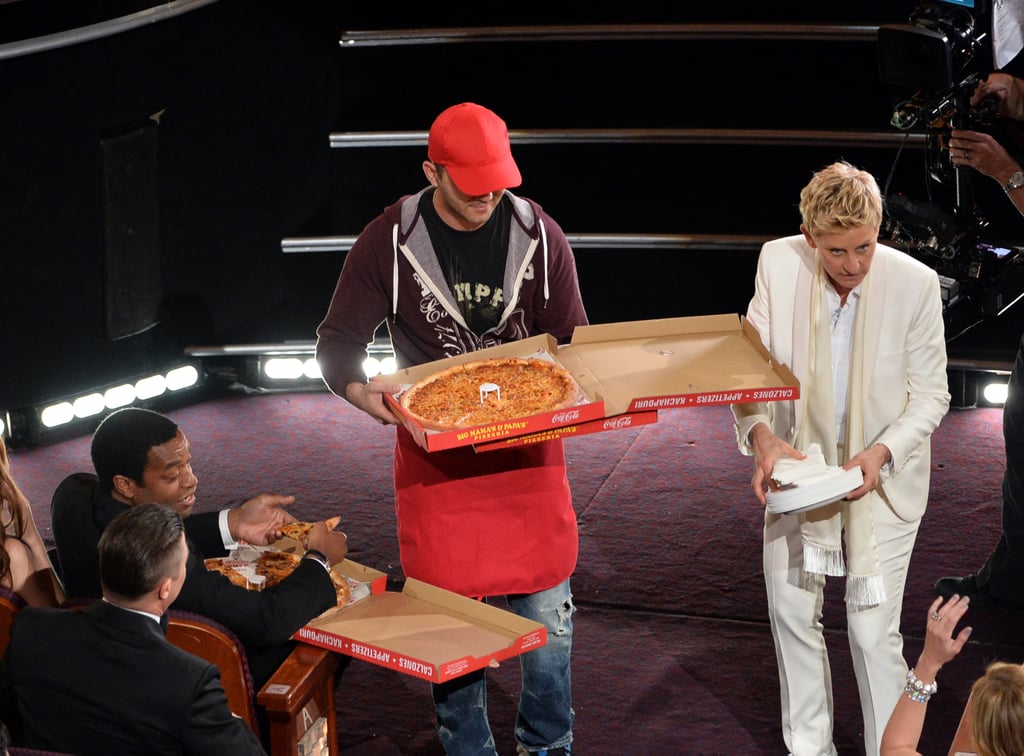 Ellen DeGeneres [21] asked stars if they wanted pizza.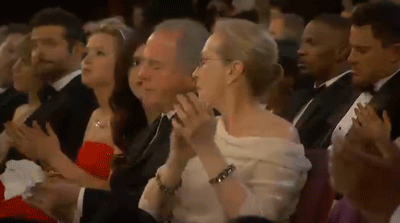 Jennifer Lawrence [22] munched on pizza while Meryl Streep [23] clapped.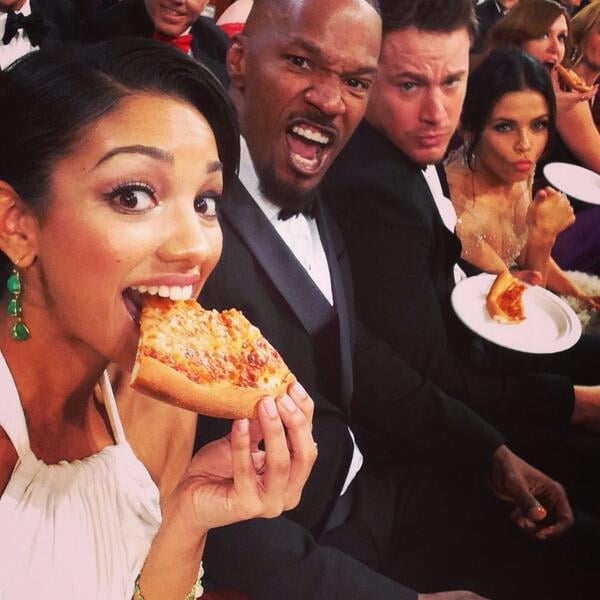 Jamie Foxx [24]'s daughter Corinne Foxx munched on pizza with her dad, Channing Tatum [25], and Jenna Dewan.
Source: Twitter user corinnefoxx [26]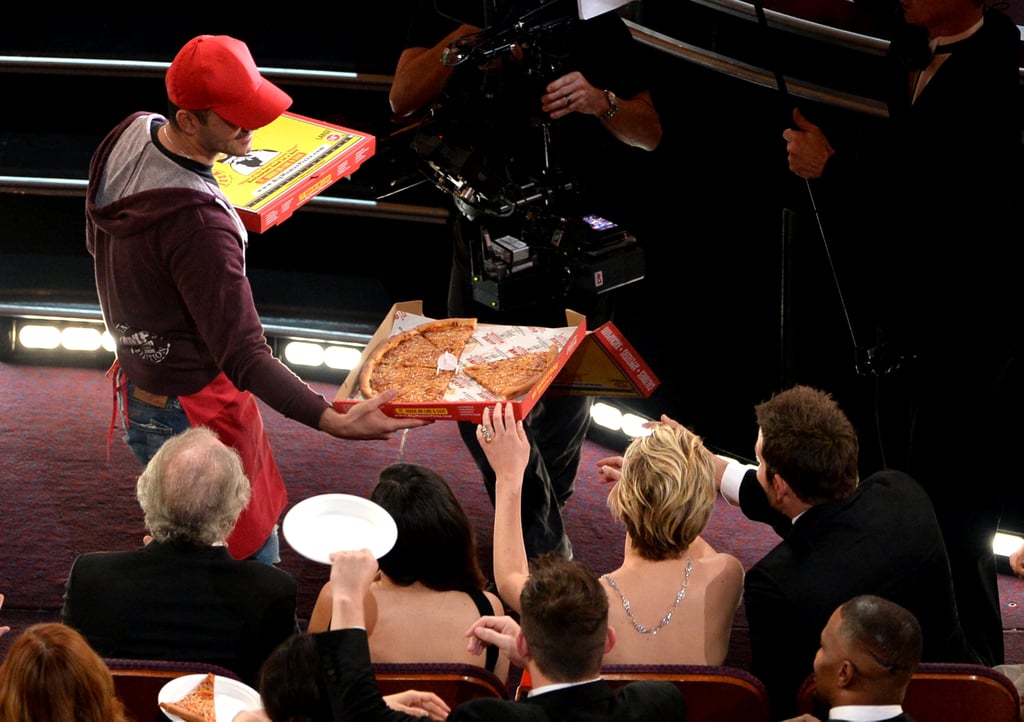 The pizza guy gave Jennifer Lawrence [27] a pizza.
Brad Pitt [28] chowed down on a slice while Angelina Jolie [29] looked on.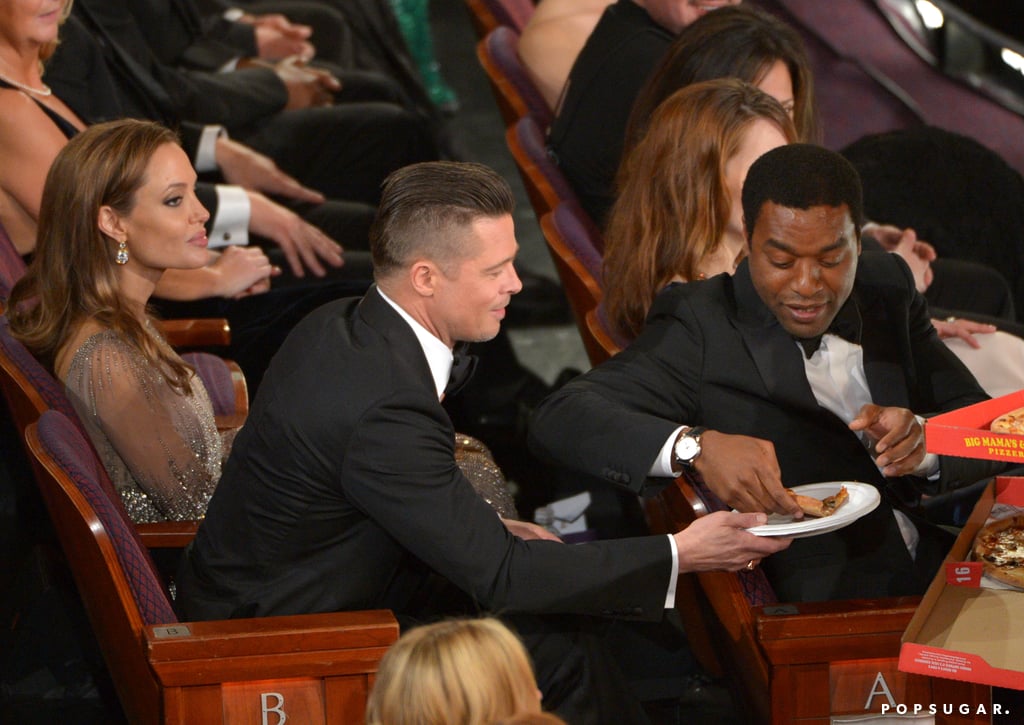 Brad Pitt [30] got a pizza from Chiwetel Ejiofor.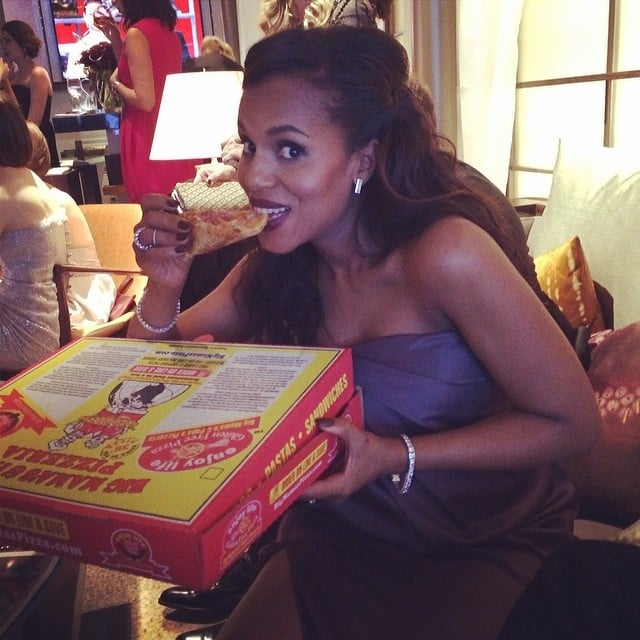 Kerry Washington finally got her gluten-free pizza fix in the Oscars green room.
Source: Instagram user kerrywashington [31]