Pumpkin Cranberry Pecan Cider Bread
Yield: 12 servings | Prep Time: 20 min | Cook Time: 1 hour
Pumpkin Cranberry Pecan Cider Bread that is OUT OF THIS WORLD. Pick up some local cider and get baking!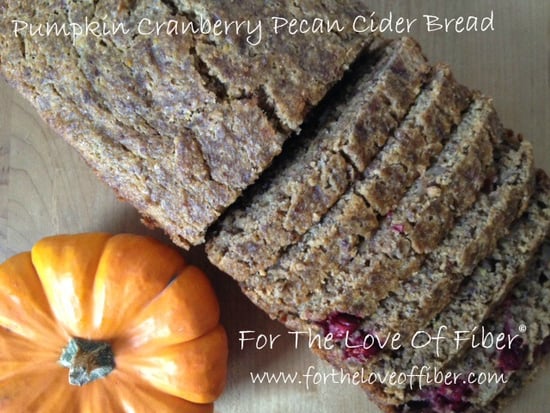 INGREDIENTS
* = good source of fiber
Use organic ingredients when possible
PREP
2. Preheat oven to 350 degrees. Grease 8 ½ x 4 ½ inch loaf pan with coconut oil and set aside.
3. In a large bowl, whisk together the pumpkin puree, eggs, coconut oil, maple syrup, orange zest, vanilla, and reduced cider.
4. Add the flour, flax, baking powder, salt, baking soda, and spices. Mix well and add the pecans and cranberries until just combined.
5. Transfer batter into greased loaf pan and baked in the middle of the oven for one hour, or until tester comes out clean. Let the bread cool in the pan and then slice.
Dig this recipe? Sign up for updates…it's FREE! Sign me up! 
Nutrition Facts
Serving Size: 1 slice
Calories: 198
Total Fat: 10 g
Saturated Fat: 4 g
Cholesterol: 30 mg
Sodium: 162 mg
Total Carbohydrate: 23 g
Dietary Fiber: 4 g
Sugars: 7 g
Protein: 5 g
Follow For The Love Of Fiber on Facebook and Twitter!