Pumpkin Recipes for Weight Loss
Pumpkin Power! Lose weight & reduce fine lines with this seasonal favorite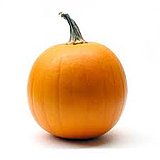 Just because Halloween is over doesn't mean you should forget about pumpkins! This power food is a fall nutritional superstar that you should be eating all year round.
Not only does pumpkin contain plenty of weight-loss inducing potassium, but it can also help you keep your skin looking younger! Pumpkin is rich in beta-carotene, which is converted into retinol (a form of vitamin A) in your body. Retinol (as you may know from many of your skin cream bottles) helps improve skin cell renewal and with the production of collagen. So skip the botox - research shows that with regular intake, you can reduce facial lines by up the 75 percent in only two weeks!*
Here are 5 ways to enjoy this seasonal favorite:
1) Cut the fat and calories from your favorite cake/cupcake mix: replace the oil, eggs and water with 1 16 oz. can of 100% pumpkin puree.
2) Keep the creaminess, without the added fat, in macaroni and cheese. We love this delicious Pumpkin Mac & Cheese recipe from Healthy Food for Living.com.
3) Add color and flavor to your next stir-fry dish. Try this quick and easy chicken & pumpkin stir fry recipe for dinner.
4) Satisfy your sweet tooth with a low fat, creamy pumpkin shake.
5) Whip up a hearty, filling low fat cream of pumpkin soup.
Still need more ideas? Check out Endless Simmer's 100 Ways to Cook a Pumpkin.
What's your favorite way to enjoy pumpkin? Please share with us and post your ideas and recipes below!