Quinoa Sweet Potato Cakes - 164 Calories Each!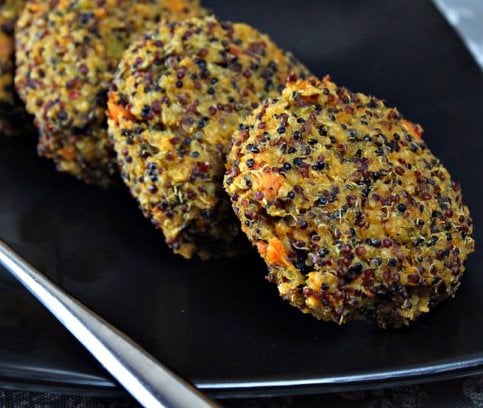 I LOVE healthy, filling quinoa. That's why I enjoyed making these healthy quinoa sweet potato cakes so much. This recipe is SO SIMPLE and will make a huge batch. The leftovers can be frozen or will keep in the fridge for 3 days.
I forgot the best part! Each quinoa cake has only 164 calories each. So not only do these make a great dinner, but they can be enjoyed as a healthy post-workout snack as well.
Get the full recipe at: Gen Y Foodie 
Ingredients:
1 medium onion, finely diced
2 cloves of garlic, minced
2 stalks of celery, finely diced
2 medium carrots, peeled and finely diced
1 tbsp extra virgin olive oil
1¾ cups quinoa
3 cups of water
2 medium sweet potatoes, peeled and chopped into 1″ chunks
2 eggs, lightly beaten
½ cup whole wheat breadcrumbs
1 tsp paprika
salt & pepper, to taste