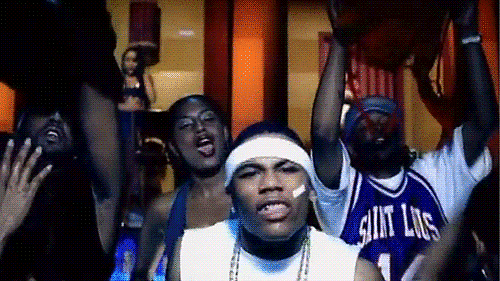 Source:
Universal Music Group
[1]
A San Francisco radio station made headlines over the weekend [2] when it made the important decision to play Nelly's 2002 hit "Hot in Herre" on a loop for two days straight. Latino Mix 105.7 began playing the song around 3 p.m. on Friday and soon inspired a #Nelly1057 hashtag dedicated to the enigma: Was there a technical difficulty? Had the station been hijacked? Was this an early April Fools' Day prank?
Despite the fact that Northern California experienced a string of gorgeous Spring weather over the weekend — and people were, in fact, taking off all their clothes — it was later revealed that Latino 105.7 was playing the jam on repeat to herald in a relaunch; the Univision-owned station is planning a switch [3] to an English-language contemporary rhythmic brand, Hot 105.7. (Get it? Hot? Hot in here?) So, the mystery was solved, but not before listeners had the pleasure of hearing one of the decade's most popular party songs for 48 hours. If you missed any of the hubbub, you can put a Band-Aid under your eye and watch the video for "Hot in Herre" below now.
Front Page Image Source: Getty / Mike Coppola [4]