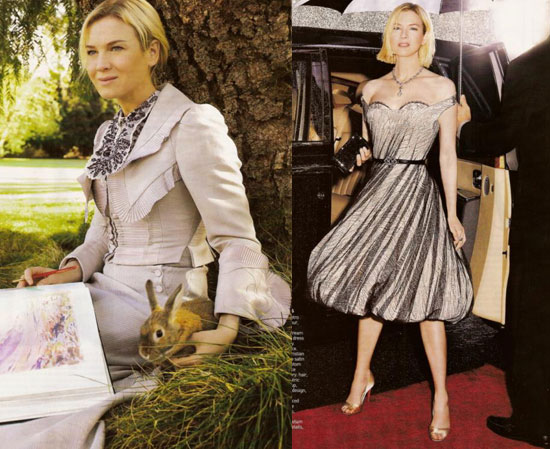 Renée's been getting lots of press for her new movie Miss Potter; she scored a Golden Globe nod and will grace the cover of February's Vogue. She dishes about her intrigue for Beatrix Potter's life, her love for animals, and her desire for adventure. Renée emphasizes how important it is to know who you are and to love yourself. Here's more:

She is grateful that she doesn't see her work as being "contingent on the way people define beauty." And although she knows it is easy for her to say now, she doesn't think that growing older will trouble her, either.

"I don't care. I don't want to spend my life not liking who I am. I want to become more of a person as I get older and not more disapproving of the person that I am."

Is this, I ask, a good moment in her life?

"Oh, yeah! I mean, they're all good. Even when they're bad. I'm perpetually learning."
Sounds like Renée is a wise woman with a good head on her shoulders. It's always nice to see a celebrity who seems down to earth. To see the full article with Renée dressed up as a Victorian lady, just read more
Latest