Being a public figure with a somewhat racy image, Rihanna [1] has come under fire quite a bit from critics, some of whom happen to be celebrities. However, unlike most stars who ignore all the hate, Ri has no qualms with speaking her mind [2] and hitting back at people who publicly dis her. Maybe that's why the Barbadian singer has racked up so many feuds with famous folks — from Amanda Bynes [3] to Charlie Sheen [4]. Keep scrolling to see the history of Rihanna's war of words with her haters.
TLC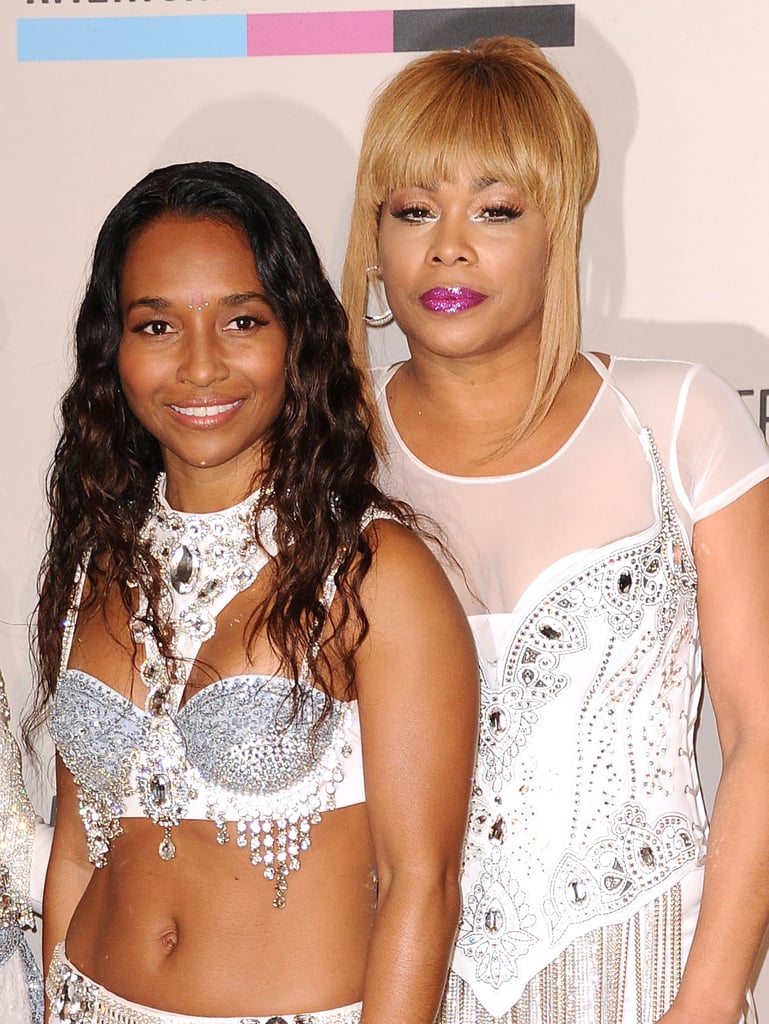 What Was Said: Earlier this week, TLC's T-Boz and Chilli slammed Rihanna [5] during an interview on an Australian TV show, saying that she shows too much skin. T-Boz explained: "Every time I see you, you don't have to be naked. We became the biggest selling girl group with our clothes on, and that says a lot. It's easy to sell sex. We could go around with boobie cakes all day long."
How Ri Responded: Rihanna [6] shot back at the girl group by posting a picture of herself with her tongue out on Twitter [7] and writing, "When there's no changing that fact that I'm me, and they're well . . . they're them." She also changed her Twitter header photo to a throwback shot of T-Boz and Chilli posing topless.
Charlie Sheen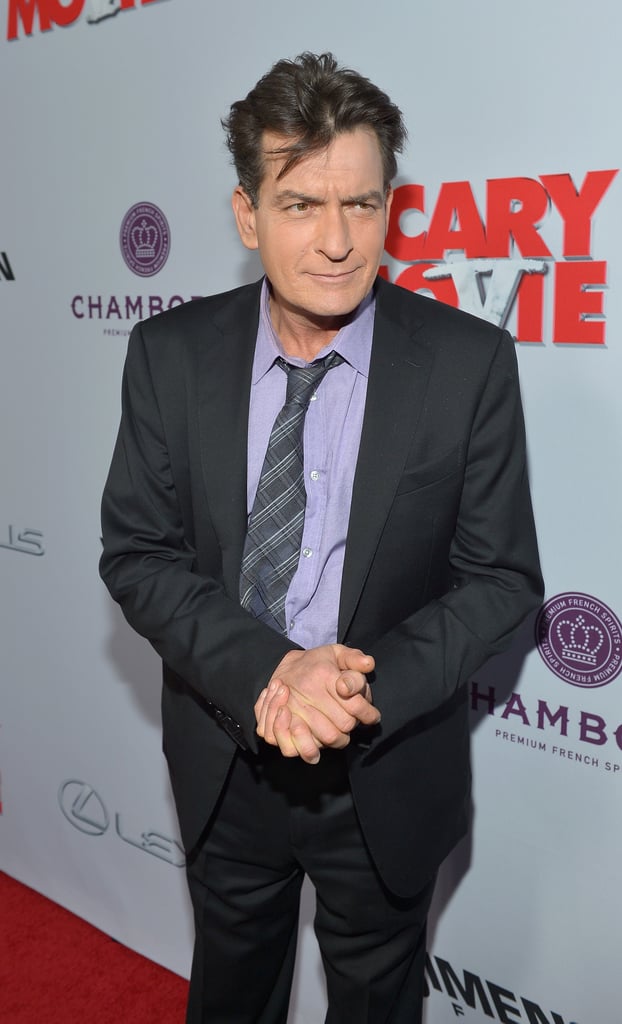 What Was Said: In May, Charlie Sheen [8] kicked things off by posting one of his infamous "Twitter poems" about an alleged negative encounter he had with the singer [9]. Apparently, Charlie had asked Rihanna [10] to meet him and his fiancée, who was celebrating her birthday. When Rihanna [11]'s team said that the meeting wouldn't be possible because of photographers, Charlie was not pleased. He wrote: "Sorry we're not KOOL enough to warrant a blessing from the Princess (or in this case, the village idiot)." Charlie added, "Here's a tip from a real vet of this terrain; If ya don't wanna get bothered, DON'T LEAVE YOUR HOUSE!"
How Ri Responded: While never naming Charlie outright, Rihanna referenced the actor's rant on Twitter [12], writing, "If that old queen don't get ha diapers out of a bunch." She also changed her Twitter header photo to a Photoshop of herself signing autographs for Charlie. The actor later responded [13] by saying that "clearly English is NOT your primary language" and called her a "doosh."
Teyana Taylor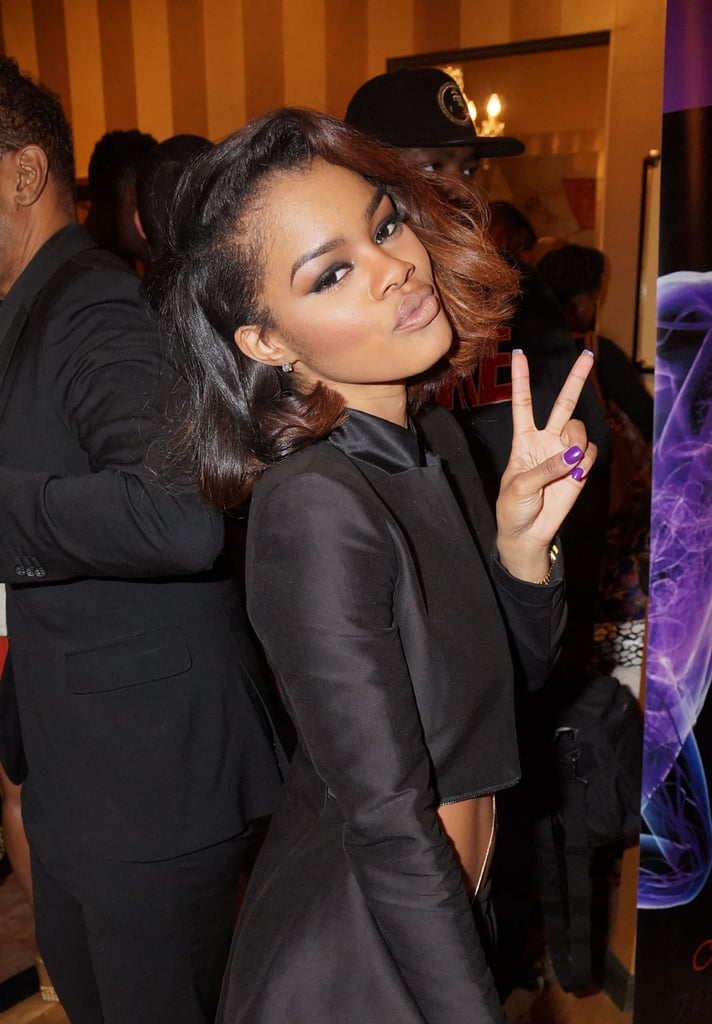 What Was Said: Rihanna [14] kicked things off this time around when she and her hairstylist spoofed a video that Teyana had posted of herself singing back in September. Teyana was not pleased [15], and sent out a barrage of since-deleted tweets to the pop star, writing, "F*ck all this industry sh*t, YOU and I know each other VERY well. Throwing subs 4 wat? You got my #, don't show off." After getting hit back by Rihanna [16]'s fan navy, Teyana continued, "Y'all could bully everybody else and get away wit that sh*t but that sh* ain't one work ova here. So y'all could miss me with that NAVY sh*t."
How Ri Responded: The "Diamonds" singer shot back at Teyana, writing on Twitter, "You will NOT get an @ from me! Not till you pay me! #nomorefreepromo #irefuse." More scandalously, Rihanna changed her Twitter background to a screenshot of Teyana's estimated net worth ($500,000) and hers ($90 million). She also tweeted a veiled reference to Teyana, writing, "I hate broke b*tches."
Liz Jones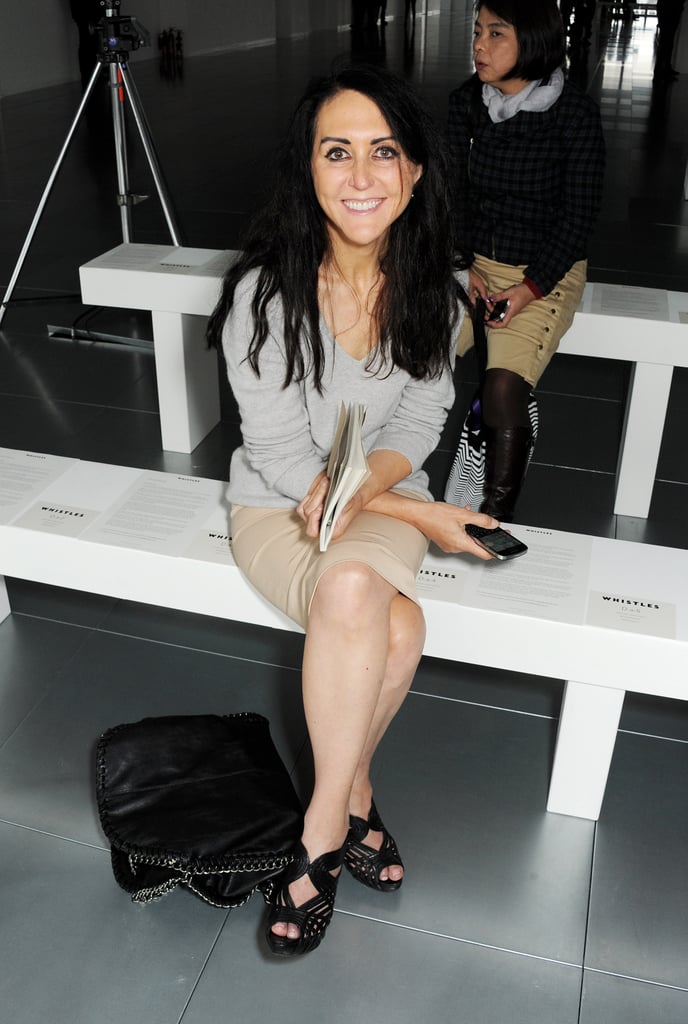 What Was Said: In June 2013, Liz Jones, a journalist for the Daily Mail, wrote a scathing op-ed on Rihanna [17], calling her "pop's poisonous princess," saying that she was a poor influence for promoting "drug-taking and drinking," and claiming that her revealing sense of style "invites rape." She also slammed the singer for having gun tattoos, false nails, and fake hair.
How Ri Responded: Rihanna [18] shot back at Liz directly, posting an unflattering photo of the writer on Instagram [19] and writing, "My money got a bad habit of pissing people off! If you sincerely wanna help little girls more than their own parents do, here's a toxic tip: don't be amateur with your articles, you sound bitter!" Rihanna also added that she has got her own "f*ck*d up sh*t to work on" and that she never portrays herself as "perfect."
Amanda Bynes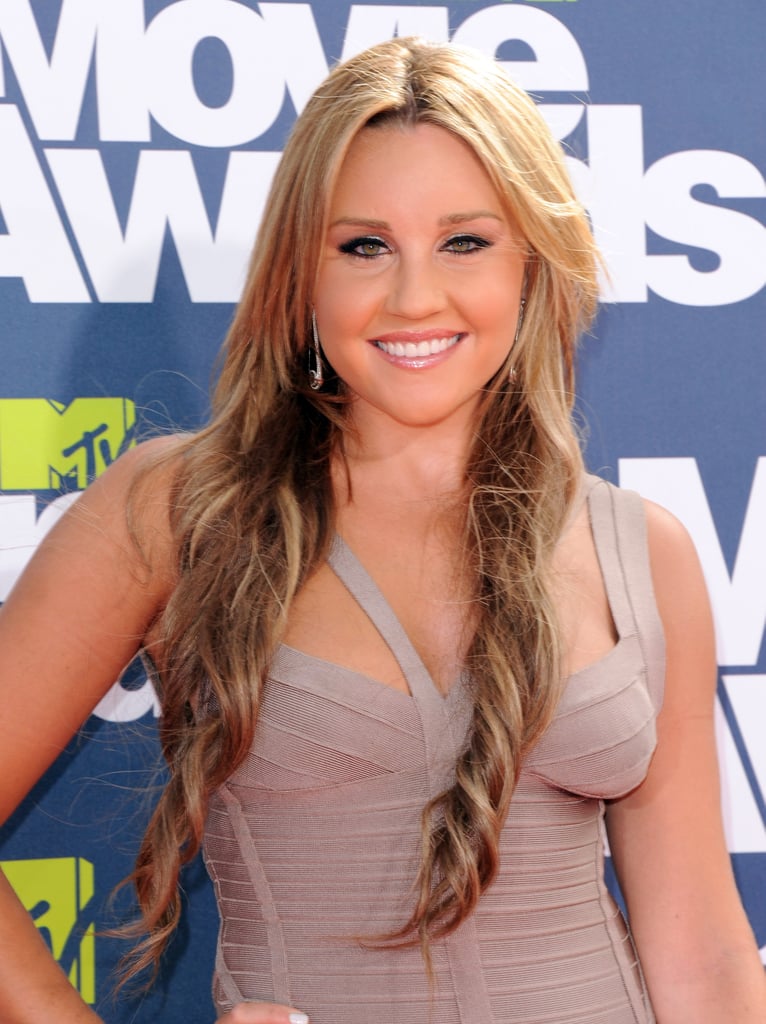 What Was Said: During one of her low points in May 2013, Amanda Bynes tweeted to Rihanna [20], saying, "Chris Brown [21] beat you because you're no pretty enough," and "I almost named my new dog Rihanna [22]."
How Ri Responded: The Barbadian singer didn't reference Amanda directly but tweeted, "Ya see what happens when they cancel Intervention?" Amanda responded with more insults, writing, "Unlike your fugly faced-self I don't do drugs! U need the intervention dog! I met ur ugly face in person! U aren't pretty and u know it!"
Ciara
What Was Said: When Ciara appeared on Fashion Police in February 2011, she trashed Rihanna [23] for being rude, saying, "I ran into Rihanna [24] recently at a party. She wasn't the nicest. It's crazy because I've always loved and respected what she's done in fashion. It wasn't the most pleasant run-in."
How Ri Responded: Rihanna was not happy that Ciara had trashed her on national TV and tweeted, "My bad Ci, did I forget 2 tip u? #howrudeofme." After some more social media back and forth, Rihanna decided to call a truce, tweeting, "Ciara baby, I love u girl! U hurt my feelings real bad on TV! I'm heartbroken! That's y I retaliated this way! So sorry! #letsmakeup." However, the truce did not last long as Ciara said in April 2013 [25] that she doesn't know what Rihanna's problem is and called her "nuts." Ciara's fiancé, Future, also hinted that Ciara's public beef with Rihanna may have hurt his career [26] as he never got to release his collaboration with Rihanna, "Loveeeeeee Song."
Karrueche Tran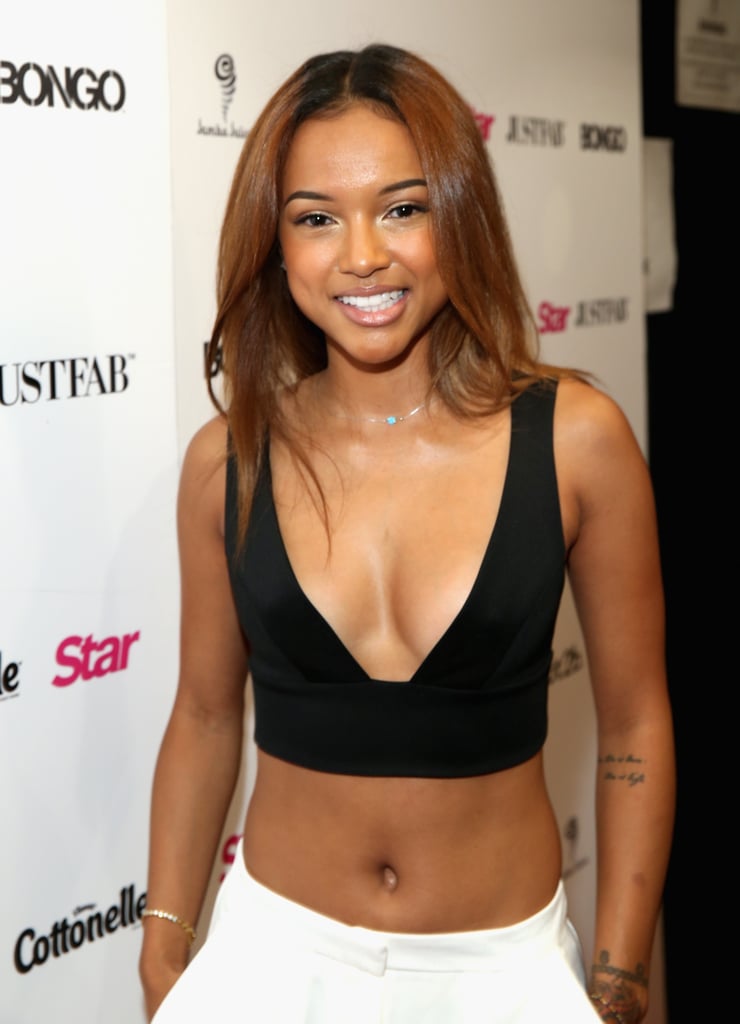 What Was Said: Back in March 2012, Chris Brown [27]'s on-again, off-again girlfriend, Karrueche Tran, took a jab at Rihanna [28] on Facebook, writing, "I'm Angelina, you're Jen. C'mon you see where Brad is at." This was supposedly in response to an alleged jab from Rihanna after she uploaded an Instagram photo of a pack of rice cakes and wrote, "Ima make u my b*tch." (Karrueche is half-Vietnamese, so the rice cakes allegedly referenced her ethnicity.)
How Ri Responded: Rihanna shot back by taking a jab at Karrueche's self-proclaimed modeling career, writing, "I'm a leader y'all on some following' sh*t . . . coming in dis game on some modeling sh*t!"