Roasted Cauliflower, Butternut Squash, and Cranberry Quinoa Salad
Yield: 6 servings | Prep Time: 20 min | Cook Time: 45 min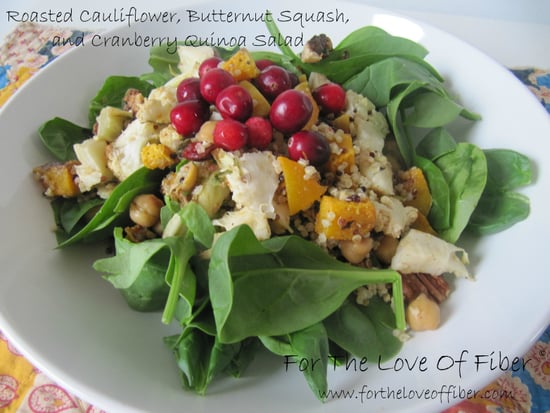 Wipe the slate clean with all of that holiday indulgence with this detoxifying Roasted Cauliflower, Butternut Squash, and Cranberry Quinoa Salad. Or at least make up for that piece of cheesecake you had for breakfast with this healthy lunch.
INGREDIENTS
Use organic ingredients when possible
* = good source of fiber

Note: If you're as nutty as I am, you like to soak your whole grains before cooking them to remove the phytic acid that has been known to bind up minerals and enzymes that can (for some people) make the whole grain difficult to digest as well as improve the assimilation of nutrients in the grain (the reason we EAT them). I aim for a 24 hour soak, if time allows, but 8 hours will suffice.
Salad
2 cups fresh butternut squash, peeled and cut into 1-in. cubes *
2 cups of fresh cauliflower, cut into 1-in. pieces *
1 cup fresh cauliflower greens, chopped *
2 cups chick peas *
1 cup quinoa *
2 cups water or vegetable broth (adds flavor)
½ cup fresh cranberries or unsweetened dried cranberries *
½ cup chopped pecans *
1 tbsp. virgin coconut oil, melted
8 cups fresh spinach *
Dressing

6 tbsp. extra virgin olive oil
3 tbsp. raw and organic apple cider vinegar
¼  organic apple juice or apple cider
2 tsp. Grade B maple syrup (note: omit this if you're detoxing)
Celtic sea salt and fresh ground pepper to taste
PREP

If soaking your quinoa, allow an 8-24 hour soak in filtered water. Drain, rinse, and decrease the water/broth you are using by about ½ cup (using 1 ½ cups instead of 2) and simmer time to about 10 minutes.
1. Preheat the oven to 375 degrees. Toss the butternut squash and cauliflower pieces and greens in coconut oil and arrange in one layer on a baking sheet. Roast for about 45 minutes.
2. Cook the soaked quinoa by placing it in a small saucepan with the water and salt and simmer for 20 minutes, or until the water has been absorbed. Allow it to cool.
3. Whisk together vinegar and apple juice/cider until well mixed. Gradually add the olive oil and maple syrup until completely combined.
4. Combine roasted butternut squash, cauliflower, chick peas, quinoa, cranberries, and pecans in a large bowl and set aside.
5. Place 1 cup of spinach on each plate and top with vegetable/chick pea/quinoa mixture. Spoon dressing over each salad and serve.

Dig this recipe? Sign up for updates…it's FREE! Sign me up! 

Nutrition Facts
Serving Size: 1/8 of recipe
Calories: 361
Total Fat: 19 g
Saturated Fat: 3 g
Cholesterol:  0 mg
Sodium: 217 mg
Total Carbohydrate: 41 g
Dietary Fiber: 8 g
Sugars: 3 g
Protein: 9 g
Follow For The Love Of Fiber on Facebook and Twitter!