Robert Pattinson Celeb Sighting! (AKA The Saddest Celeb Sighting Story Ever Told)
In September of 2008, I was still resistant to the Twilight phenomenon. It was idiotic, I know, but the movie hadn't come out yet and the books seemed a little too young for me (again...no need to say it, I KNOW). Considering what percentage of my day and job — PopSugar.com — is taken up by Robert Pattinson, Kristen Stewart and all the rest of the cast now, it feels so silly. And thus begins the story of my biggest professional, nay...life, regret. My colleague and friend Becky and I were set to attend the 2008 MTV VMAs in LA. We were so excited for our first big red carpet together and got all gussied up for the event. During the red carpet the celebrities' publicists would come over to offer interviews for their clients "Would you like Kid Rock? Would you like Chris Brown?" Then, one came over and said, "Hey, would you ladies like to chat with Robert Pattinson? He's from the upcoming Twilight movie?"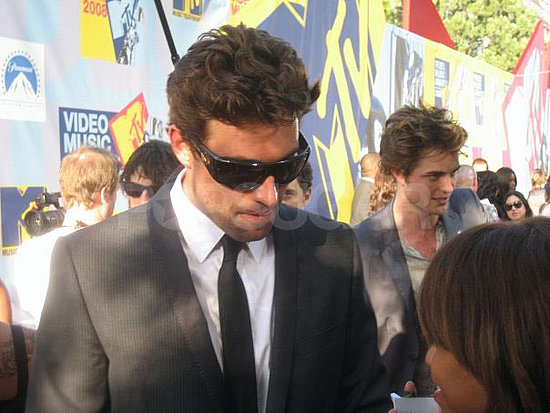 I answered, "Is Kristen Stewart available?" since at that point, she was more famous to me (Panic Room being a classic, in my eyes, plus she had worked with Adam Brody...). The publicist said no, we gave a tepid "Sure, we could maybe talk to Robert..."
Right as Robert was making his way down the red carpet, closer and closer to us who did we see but Brody Jenner! Believe me, this hurts me to even talk about, but we let Robert walk right by. We were trying to talk to Brody. As you can see from this photo — we were SOCLOSE. Sigh, how much would I love to have that moment back? Since then, Robert has obviously blown up into one of the biggest stars in the world. There will be chances to talk to Rob on red carpets to come, but nothing like catching him right before the storm, right before everything changed in his quiet life. My celebrity sighting of Robert Pattinson is a sad, sad tale.
Lesson learned: Believe the hype and never question millions of teens. They're usually right.
Epilogue: At the InTouch Icons and Idols afterparty that night at the Chateau Marmont, Robert was alone smoking in the corner all night. Not even talking to anyone. I was busy making small talk with one of the kids from Greek. FML.