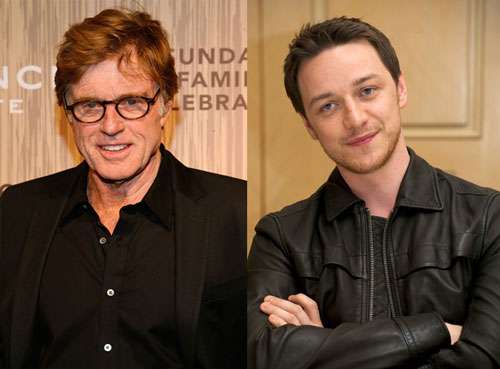 Can there ever be too much James McAvoy news in one day? I think not. Especially when one news item pairs the adorable actor up with Seth Rogen and another item has him possibly acting in a movie directed by Robert Redford. Titled The Conspirator, Redford's film is described as an indie historical drama about the assassination of Abraham Lincoln. Interestingly, though, the project will be focused on a woman: Mary Surratt, the alleged conspirator of assassin John Wilkes Booth. Here's more on the woman's story:
Surratt's is a compelling story. A Washington D.C. boardinghouse owner who sympathized with the Confederates, she was allegedly part of the plot to kill Lincoln, supplying Wilkes Booth and his accomplice David Herold weapons at her tavern after the assassin had shot the president at Ford's Theater.

Surratt's son John was also alleged to be part of the conspiracy. Mary Surratt was eventually convicted and hanged for conspiring to kill the president; her son went on the lam and eventually was put on trial but was never convicted, living until 1916.

The pic will also center on a young Union hero named Frederick Aiken who was appointed to defend Mary Surratt, and who comes to believe that the widow is innocent.
McAvoy is reportedly at the top of a list of potential actors for one of the lead roles, though no news yet on who will play the conspiratorial leading lady. I have loved seeing McAvoy in period pieces (Atonement and Becoming Jane, particularly) so this should be good. Now we just need to know who will take the main female role — any suggestions on who should play Mary Surratt?