Today Prince George's christening [1] took place at St. James's Palace, marking another special milestone in the little royal's first year. The palace veered from tradition when it announced the christening date on social media, showing yet another way that the monarchy has adjusted to changing times. In late August, Prince William and Kate Middleton shared their own snapshots of Prince George [2] for his official portrait rather than looking to a photographer, but the couple hired an official christening photographer for today's events.
Since Prince George was born [3], we've been growing more excited for future milestones, diving into all the details of what to look forward to in the royal baby's first year. Taking the monarch's traditions and Prince William's upbringing into account, we've compiled a short guide filled with the fun events, special dates, and adorable photo ops we may be seeing in the coming months. Get excited with a glimpse into the future heir's first year!
The Official Birth Announcement
Deviating from tradition, the world first found out about the royal baby's birth following a press release, which stated the baby's gender and weight. Next, a formal announcement was placed on a special easel at the gates of Buckingham Palace — a simple piece of paper signed by the medical staff that assisted Kate Middleton with the birth. Just like when Prince William was born, hundreds of well-wishers crowded outside the palace gates so they could be the first people to see the announcement of the baby's arrival. Meanwhile, other babies born in the UK on July 22 received silver coins [4] from The Royal Mint.
The Hospital Photo Op
Traditionally, newborn royals are introduced to the world when the parents leave the hospital, and the world met Prince George just one day after his birth when Prince William and Kate Middleton left the hospital [5]. Referring to the media frenzy surrounding the hospital, Prince William joked, "You guys can all go back to normal now."
The First Portrait
The Palace released Prince George's first official portrait [6] on Aug. 20, with the Duke and Duchess of Cambridge breaking from royal tradition by sharing their own personal snapshots. The sweet pictures were taken by Kate's dad, Michael Middleton, at the Middletons' home in Bucklebury, England, and the couple's dog Tilly also made an appearance.
The Christening and Choosing of Godparents
Prince George's christening [7] took place on Oct. 23 in the Chapel Royal at St. James's Palace, where he was christened by the Archbishop of Canterbury. Prince William, Prince Charles, and Queen Elizabeth II were all christened at Buckingham Palace, and it's thought that William picked the Chapel Royal as a tribute to Princess Diana, since that's where her coffin was kept before her burial.
Although William and Kate shared their own snapshot for Prince George's first portrait, they hired Jason Bell as the official christening photographer. As far as the little one's christening gown, the couple kept with tradition. Since 1841, most members of the royal family have worn the same christening gown — a garment made for Queen Victoria's daughter Victoria. Here you can see Prince William sporting the family heirloom, and since the original deteriorated, Prince George wore a replica of the lace and satin gown.
The 45-minute ceremony included only 22 guests, and the prince's seven godparents were announced a few hours before it took place. The group includes Zara Tindall, William's cousin, plus one of the couple's college friends, Oliver Baker, and one of Princess diana's close friends, Julia Samuel.
Home Life
In May, Kate Middleton shopped at a home store [8] in London, perhaps for their new place, Apartment 1A at Kensington Palace, where she and Prince William are set to move in the coming weeks. Queen Elizabeth II's former housekeeper, Antonella Fresolone, will help them run the new household, and Prince Harry will also be sharing the palace, so he may be taking on some babysitting duties.
Adorable Uncle Harry
Known for his sense of humor and prank-loving ways, we're betting that Prince Harry will be one fun uncle to his newborn nephew. He has plenty of experience with kids, as we've already seen him playing with children as part of his charity work. Although he hasn't been pictured with his nephew yet, in the weeks following Prince George's birth Prince Harry said he'd teach his nephew how to have fun [9].
The Nanny Situation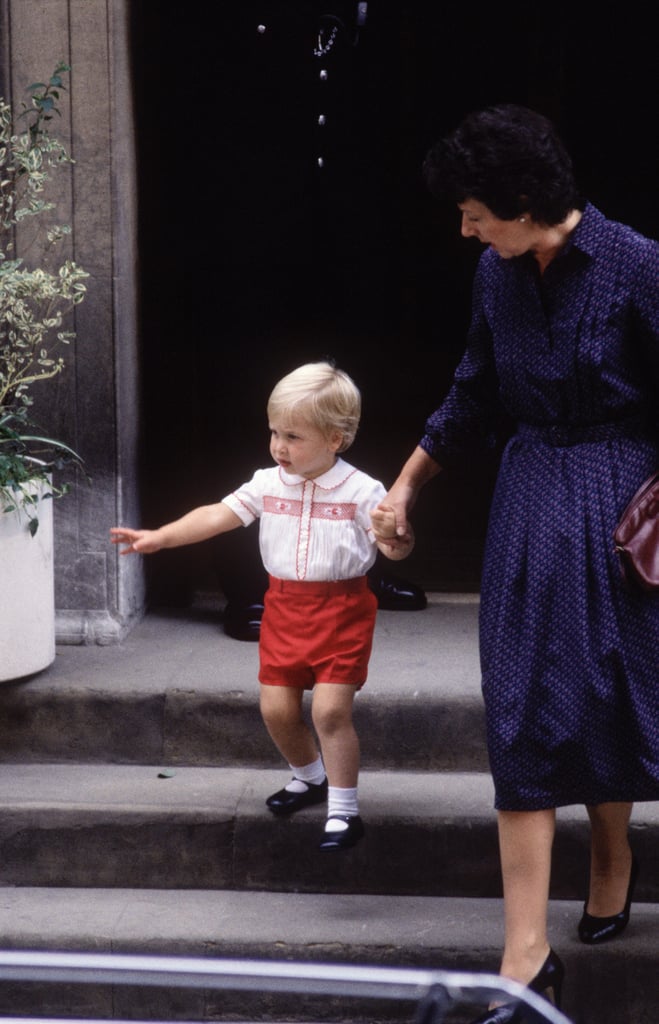 Prince William and Prince Harry spent time with nannies growing up, and one of their childhood nannies, Jessie Webb, is now taking care of Prince George part-time. The 71-year-old nanny is set to help them out during trips and overseas tours, and she reportedly came out of retirement to watch the little one.
Prince William's Job Status
Prince William took two weeks for paternity leave after Prince George was born — the first time a senior royal has received statutory paternity leave since the practice was adopted by Britain in 2003. Since then, he's left his position with the Royal Air Force, and Prince William has been named the president of United for Wildlife [10], a new collaboration which is described in a statement by the Palace as a "long-term commitment to tackle the global challenges to the world's natural resources so they can be safeguarded for future generations."
Official Visits and Tours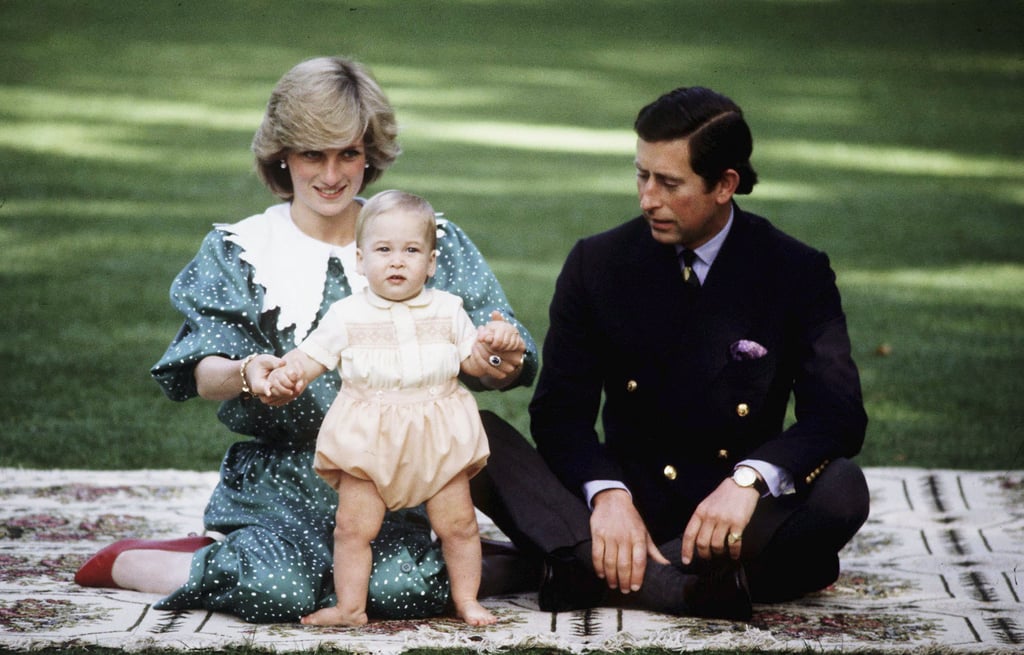 During his first year, Prince William went to New Zealand as part of an official visit with his parents, and his baby boy will be doing the same. The Duke and Duchess of Cambridge will reportedly take a Spring 2014 tour [11] to Australia and New Zealand with the royal baby.
More Major Milestones
We can't predict which milestones will be reached in the first year, but we hope to hear stories about the baby's sweet "firsts," including the first steps and first word.