The Screen Actors Guild Awards are this Sunday, and we're gearing up with a look back at some of the most memorable highlights from shows past. The SAG Awards started back in 1995, and have since become one of the most prestigious ceremonies of award season [1]. They bring out the best actors from both film and television, including favorites like Brad Pitt [2], Leonardo DiCaprio [3], and Emma Stone [4]. Over the years, the ceremony has grown wilder and wilder, which means this year could be the biggest yet. So, from the ladies of Sex and the City in the early 2000s to Matthew McConaughey [5] and Lupita Nyong'o's big wins in 2014, we're looking back at our favorite moments from the past.
Leonardo DiCaprio [7] and Kate Winslet [8] shared a tender moment in 2016.
Idris Elba and Jacob Tremblay showed off their cute bromance backstage in 2016.
Viola Davis teared up while accepting her trophy in 2015.
Jennifer Aniston [9] and Justin Theroux were all smiles on the red carpet in 2015.
Uzo Aduba was ecstatic after winning big at the show in 2015.
Felicity Huffman [10] and William H. Macy cuddled up at the 2015 ceremony.
In 2015, Sofia Vergara and Joe Manganiello shared a sweet kiss on the red carpet.
Tina Fey [11], Kristen Wiig, and Amy Poehler [12] sat together in the audience in 2016.
Ryan Gosling [13] and Julianne Moore got silly backstage in 2016.
The cast of Orange Is the New Black took home the award for outstanding ensemble in a comedy series in 2016.
In 2016, Keith Urban [14] and Nicole Kidman [15] had the look of love on the red carpet.
Rami Malek and Bryan Cranston met up on the 2016 red carpet.
In 2016, Rooney and Kate Mara gave us tunnel vision on the red carpet.
Eddie Redmayne could not believe he won in 2015.
Helen Mirren [16] snapped a selfie with fans on the red carpet in 2016.
Jared Leto [17] could not take his eyes off of Lupita Nyong'o in 2015.
Emma Stone [18] and Maisie Williams linked up for a photo in 2015.
Susan Sarandon brought along son Jack Robbins and daughter Eva Amurri in 2016.
Eddie Redmayne and Alicia Vikander shared a sweet hug in 2016.
Amanda Peet [19], Kate Mara, Rooney Mara, Sarah Paulson, and Carrie Brownstein all posed for a fun group photo inside the 2016 show.
Susan Sarandon photobombed the cast of Straight Outta Compton on the 2016 red carpet.
Sofia Vergara and Joe Manganiello steamed up the ceremony in 2016.
The cast of Orange Is the New Black happily posed with their trophies in 2015.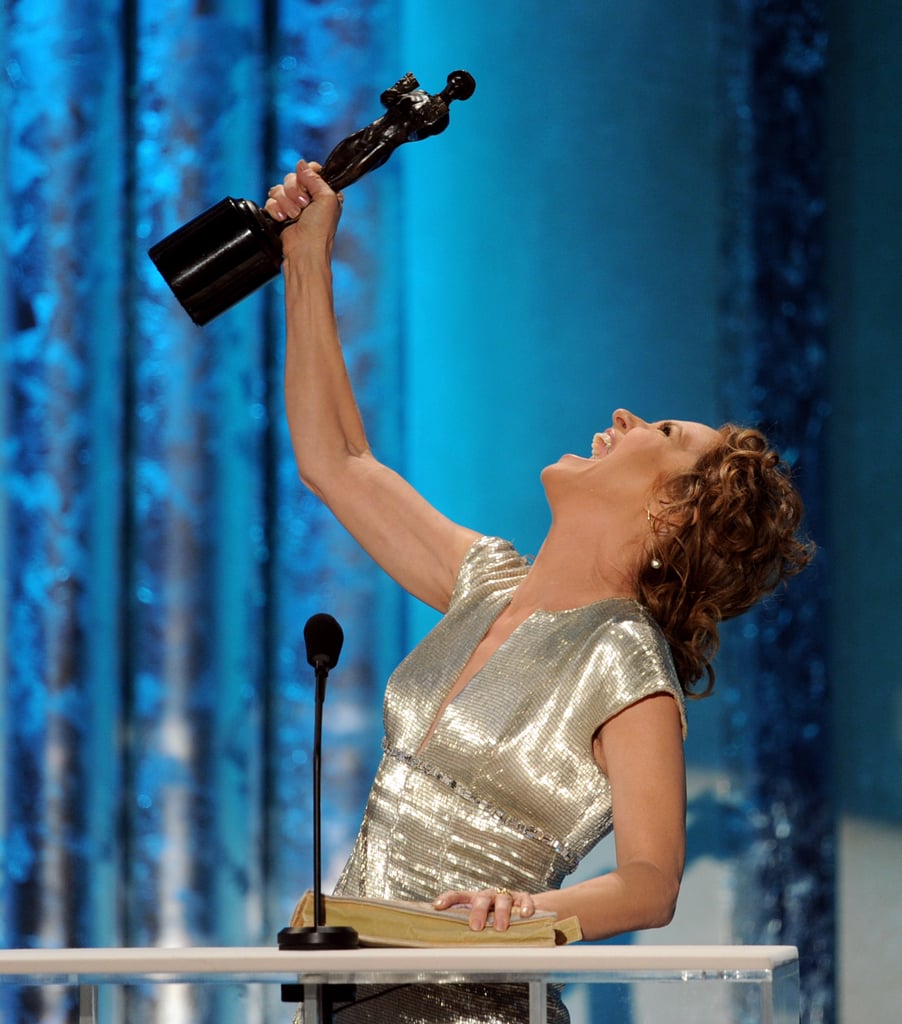 In 2011, Melissa Leo won an award for her role in The Fighter and was overjoyed while making her acceptance speech.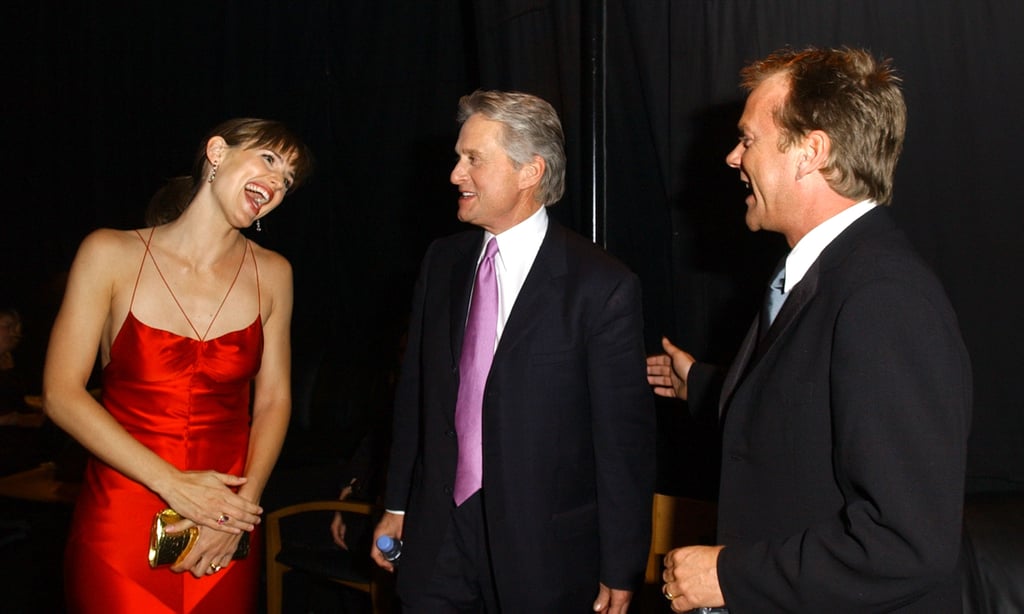 Jennifer Garner [20], Michael Douglas, and Kiefer Sutherland [21] shared a moment backstage in 2004.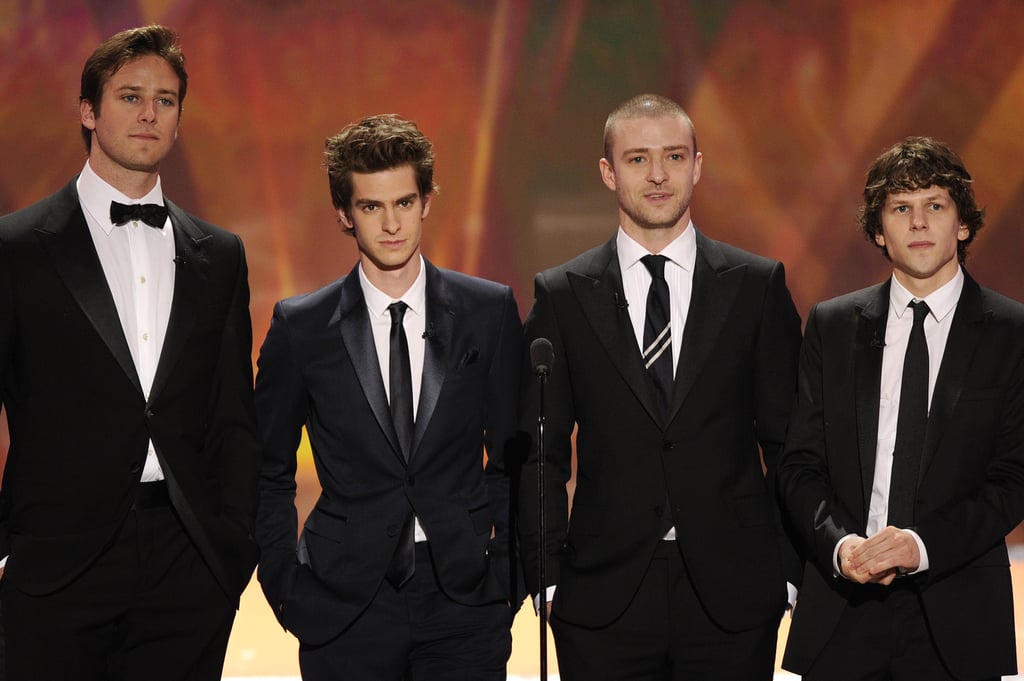 The handsome boys of The Social Network presented an award together during the 2011 show.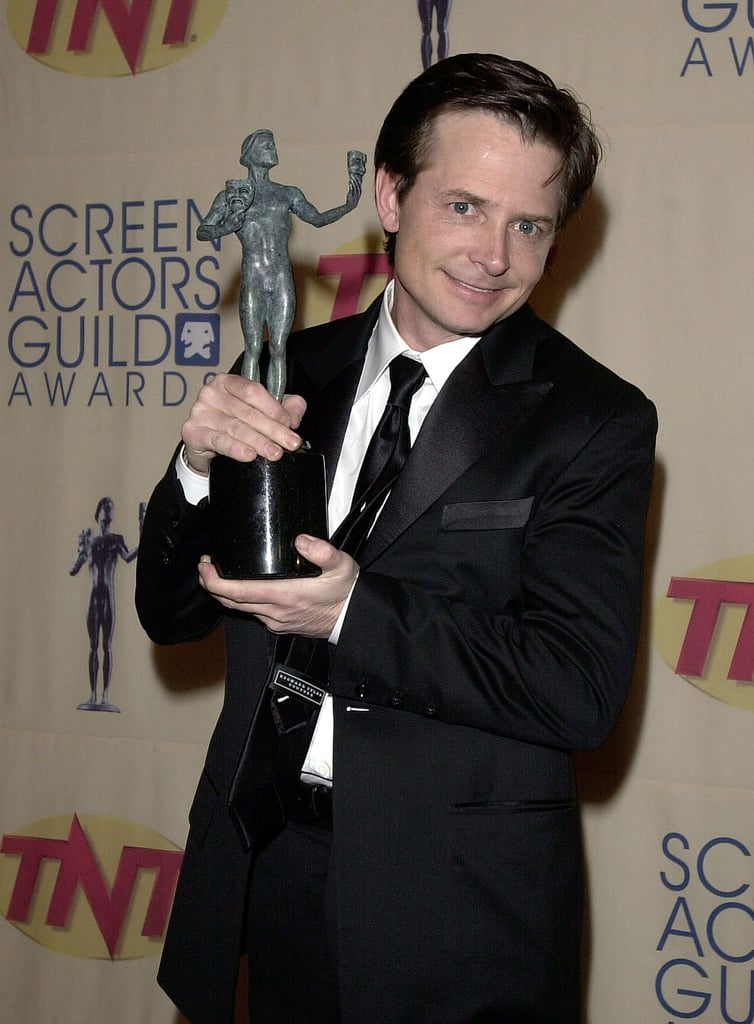 Michael J. Fox posed with his Spin City statue in 2000.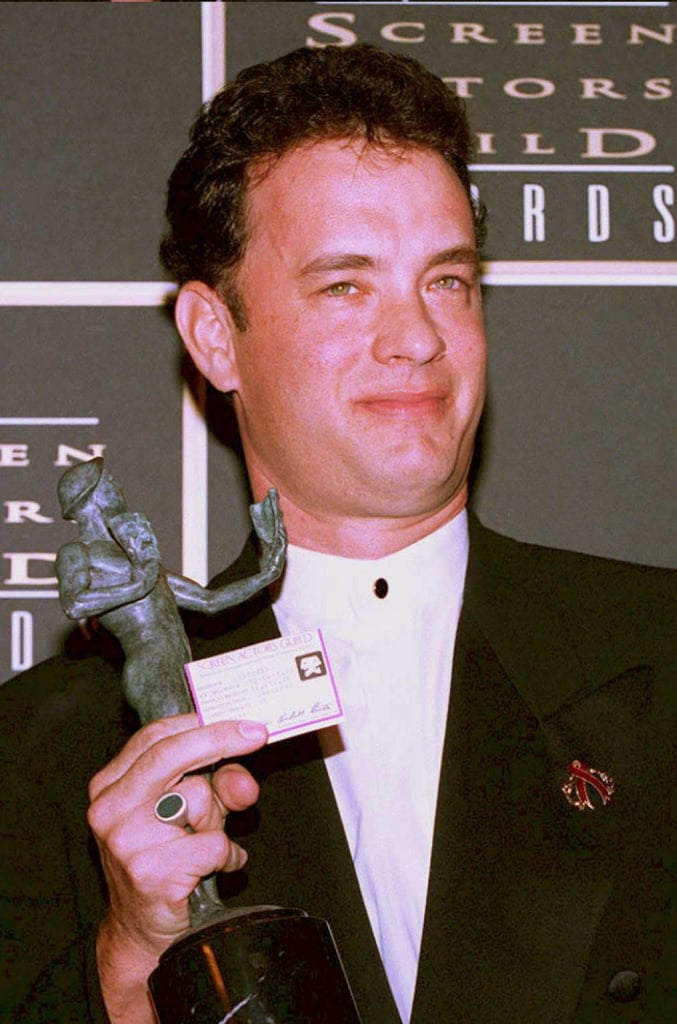 Tom Hanks [22] won for Forrest Gump at the first ever Screen Actors Guild Awards in 1995.
Emma Stone [23] shared a precious moment with her mom on the red carpet in 2012.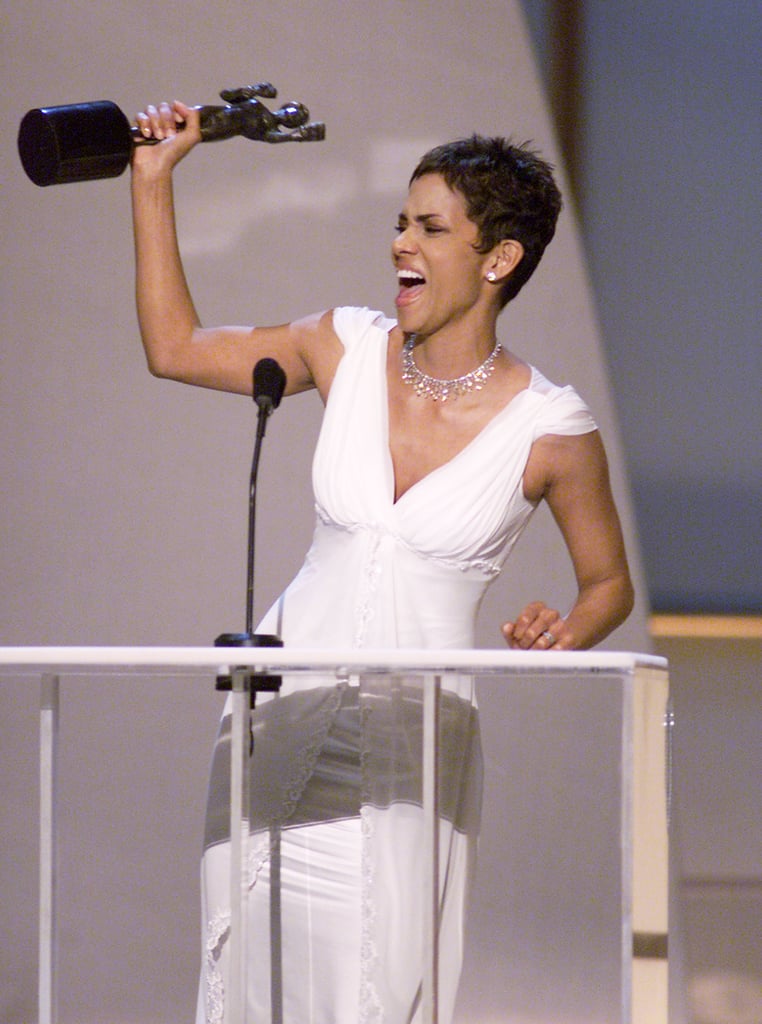 Halle Berry [24] accepted the 2003 SAG award for outstanding performance by a female actor in a leading role for Monster's Ball.
Cynthia Nixon, Kim Cattrall [25], Kristin Davis, and Sarah Jessica Parker [26] wore some interesting getups at the 2001 ceremony.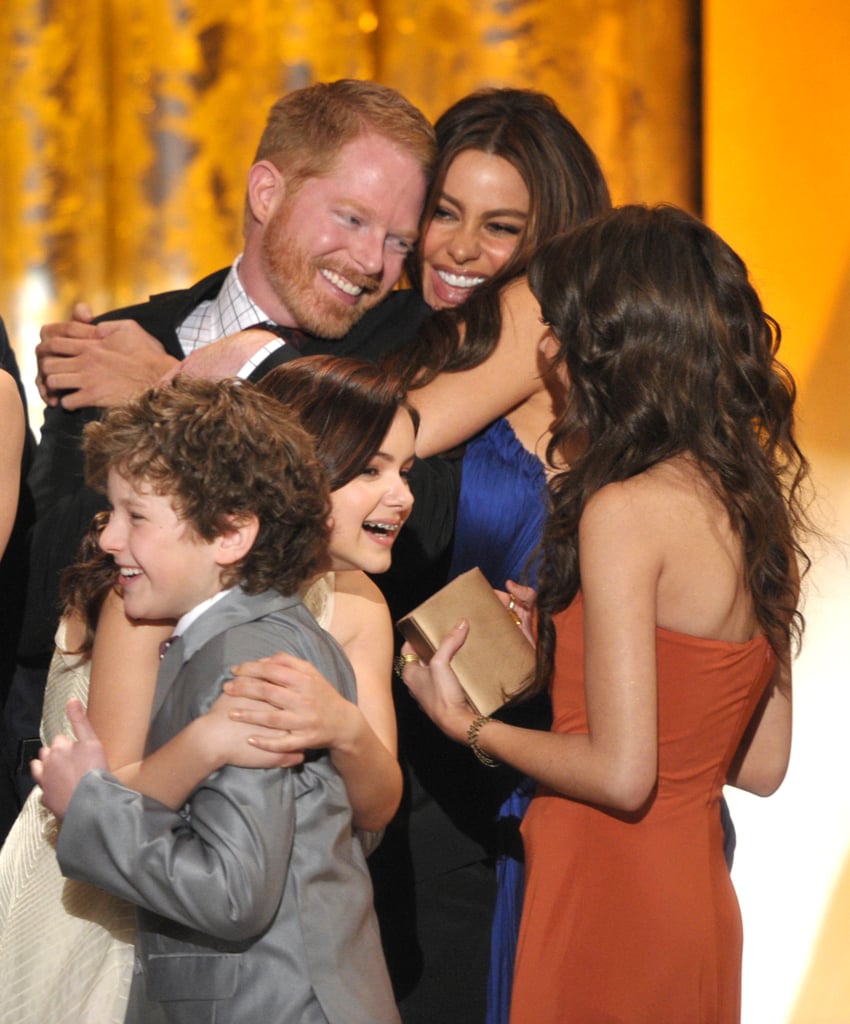 The cast of Modern Family celebrated their win for outstanding performance by an ensemble in a comedy series in 2011.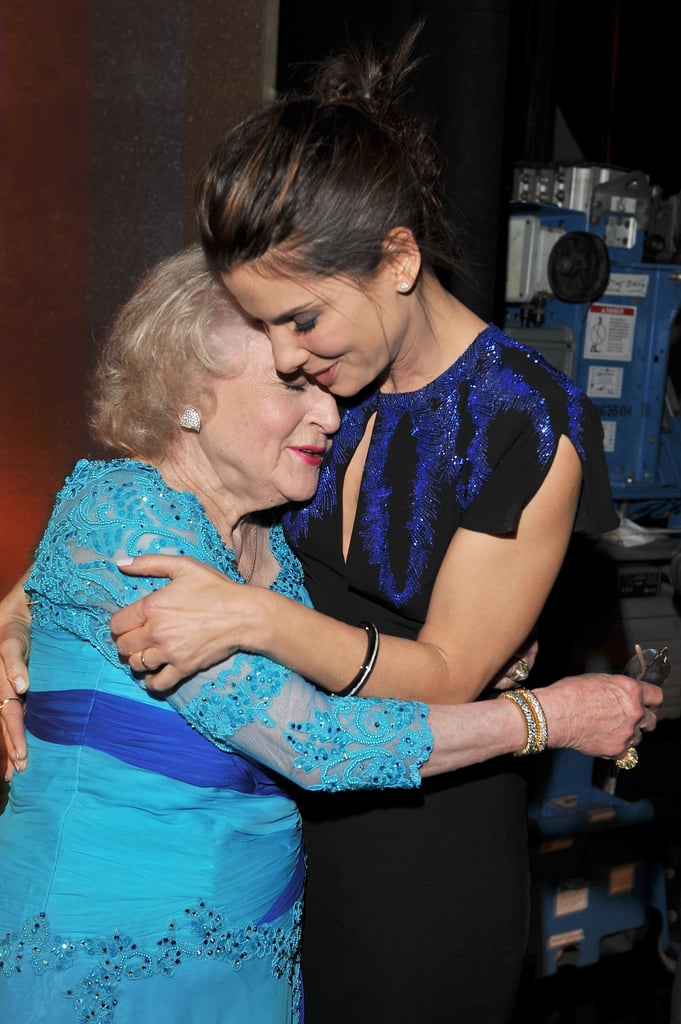 Sandra Bullock [27] presented Betty White with a lifetime achievement award in 2010.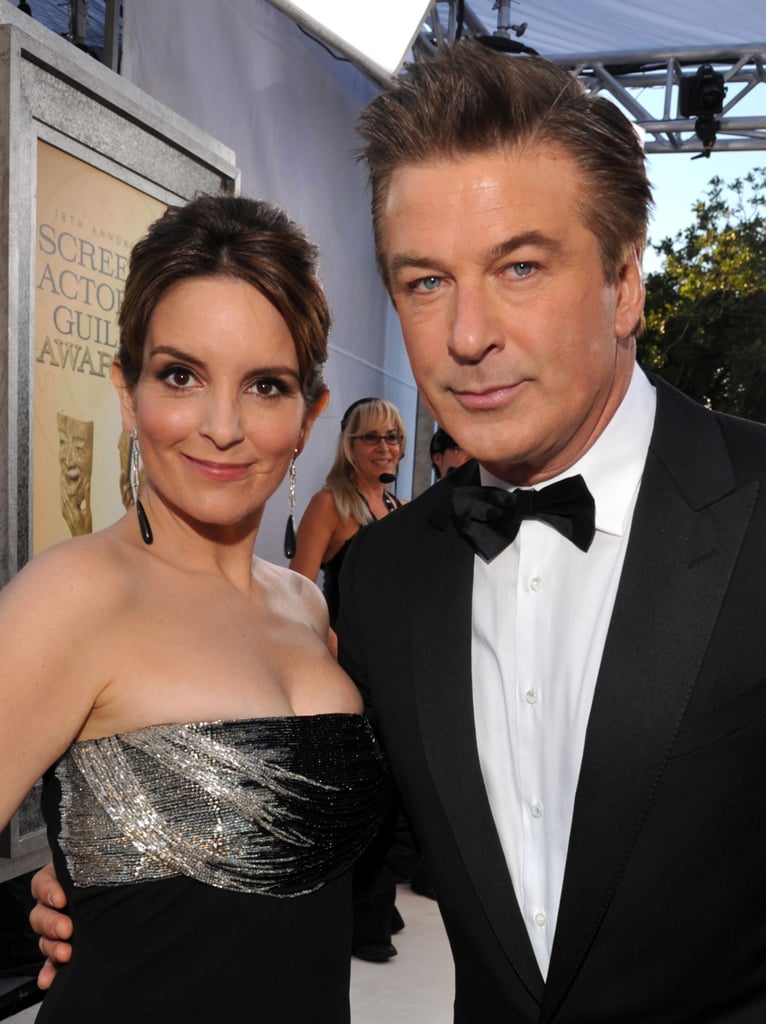 Tina Fey [28] and Alec Baldwin [29] arrived at the 2012 SAG Awards.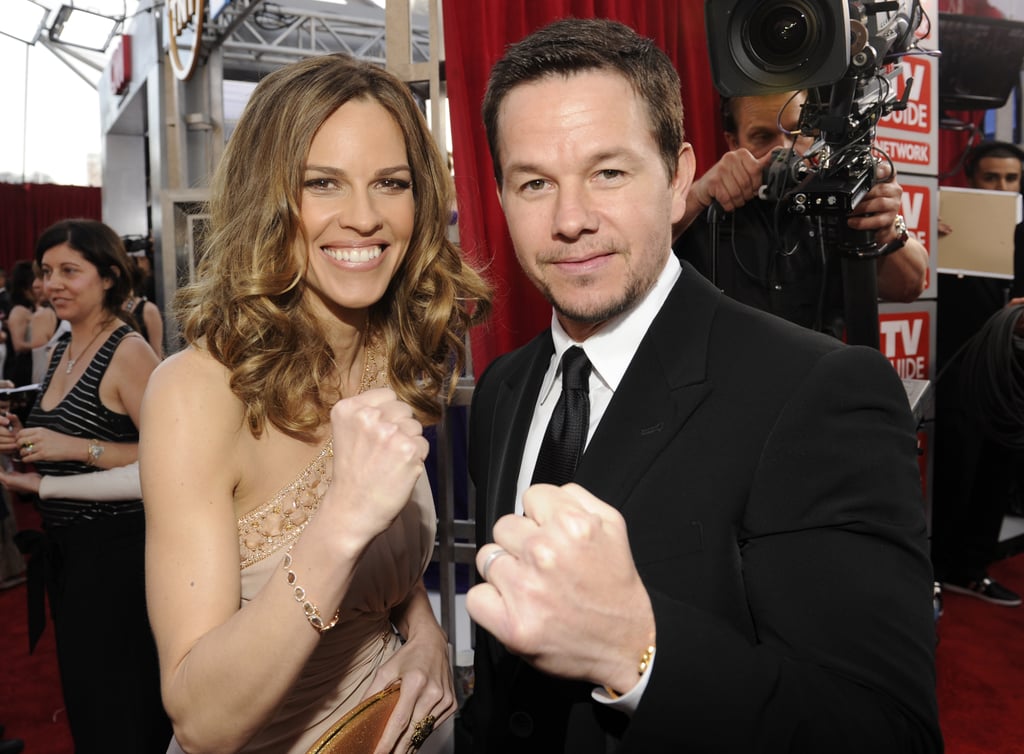 Onscreen fighters Hilary Swank [30] and Mark Wahlberg [31] threw their fists up for photographers on the SAG Awards red carpet in 2011.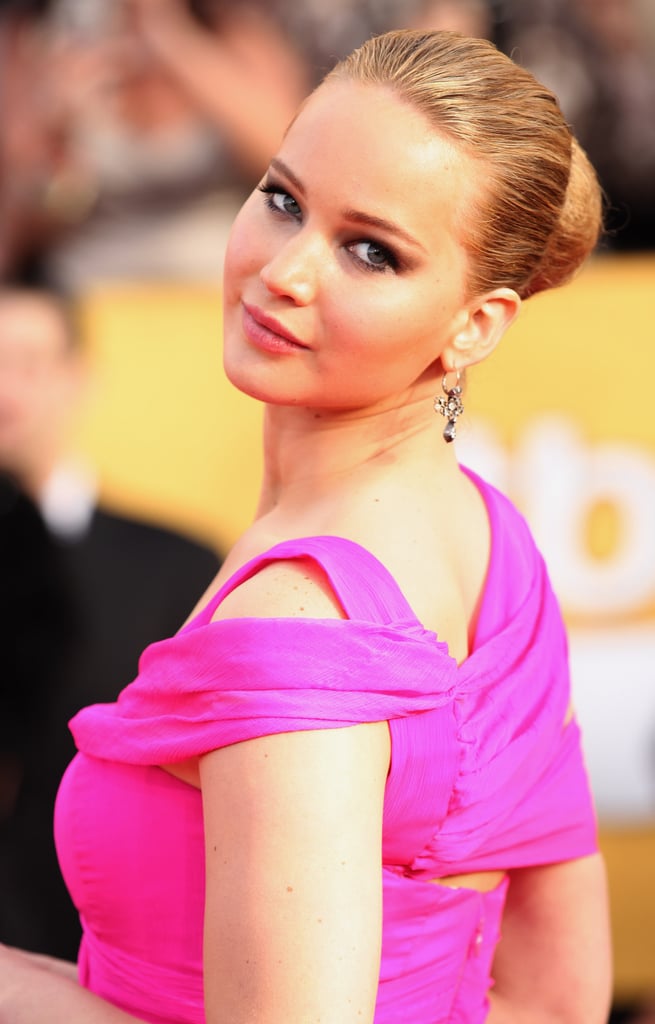 Jennifer Lawrence [32] lit up the red carpet in 2011.
Brad Pitt [33], Angelina Jolie [34], George Clooney [35], and Stacy Keibler made a double date out of the award show in 2012.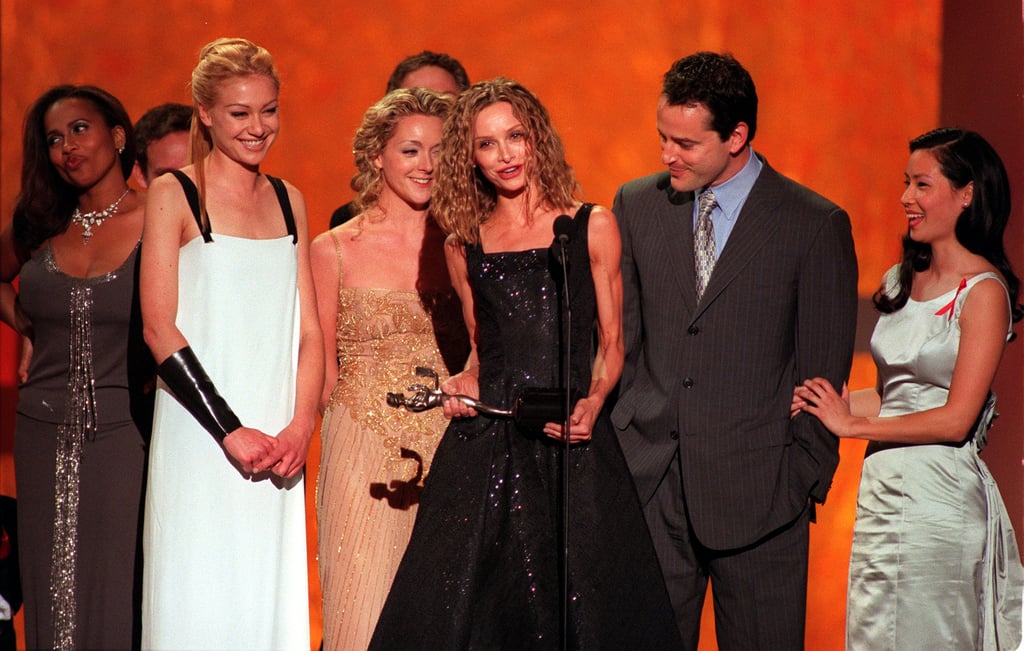 Portia de Rossi [36], Jane Krakowski, Calista Flockhart [37], and Lucy Liu [38] took the stage together in 1999 to accept an award for Ally McBeal.
Kerry Washington and Julia Roberts [39] were pretty in pink at the 2014 show.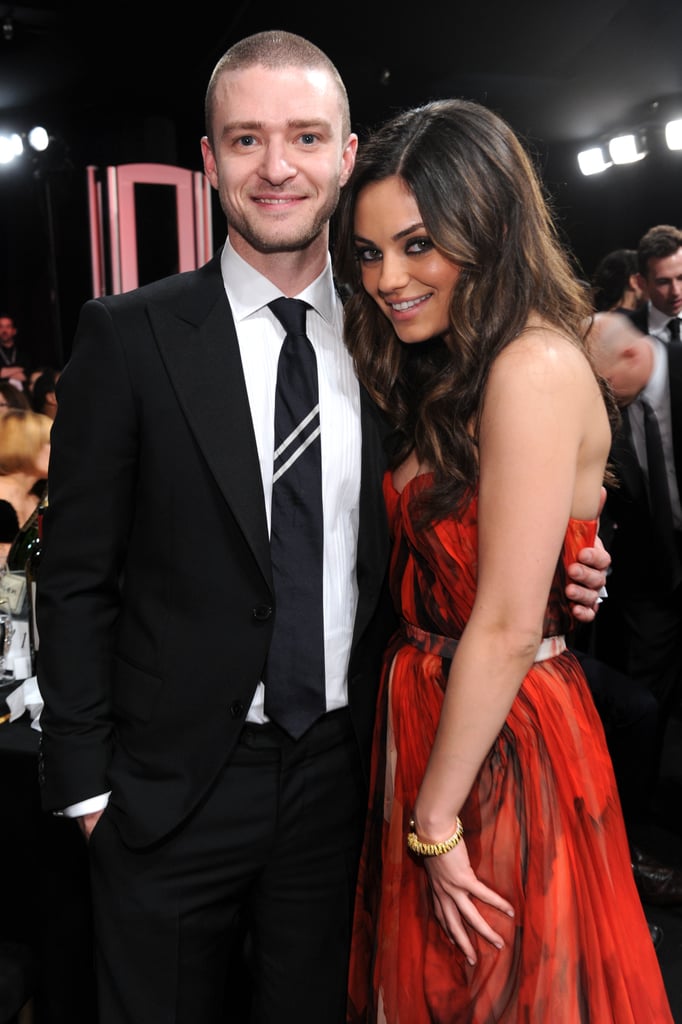 Justin Timberlake [40] and Mila Kunis [41] shared a sweet moment during the 2011 show.
Michael Richards, Julia Louis-Dreyfus [42], and Jason Alexander were among the Seinfeld cast winners in 1998.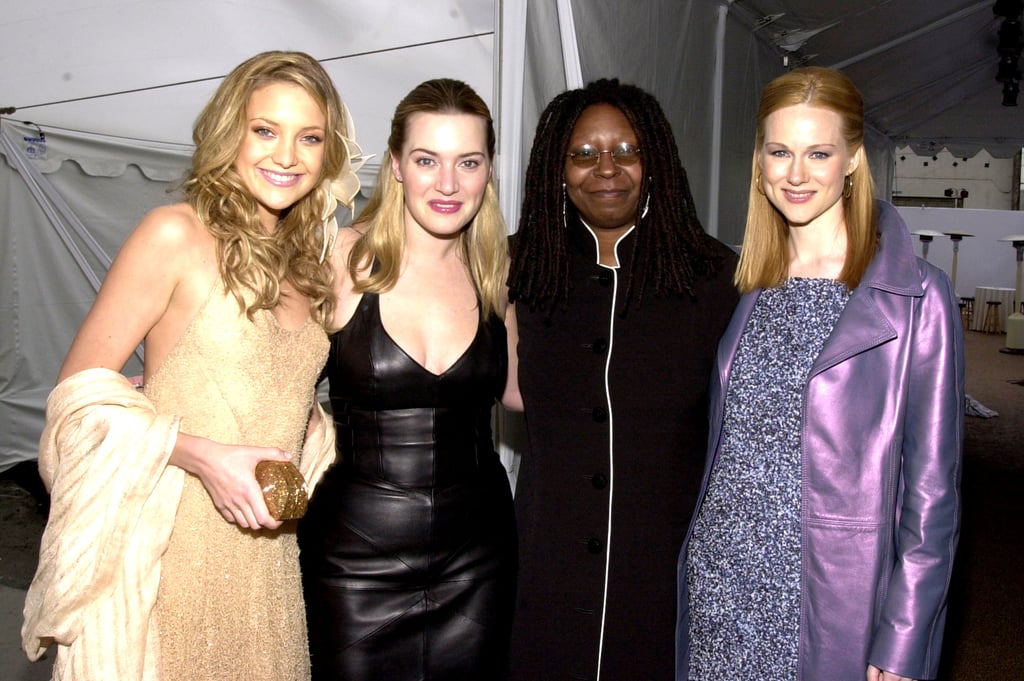 Kate Hudson [43] and Kate Winslet [44] posed with Whoopi Goldberg and Laura Linney [45] in 2001.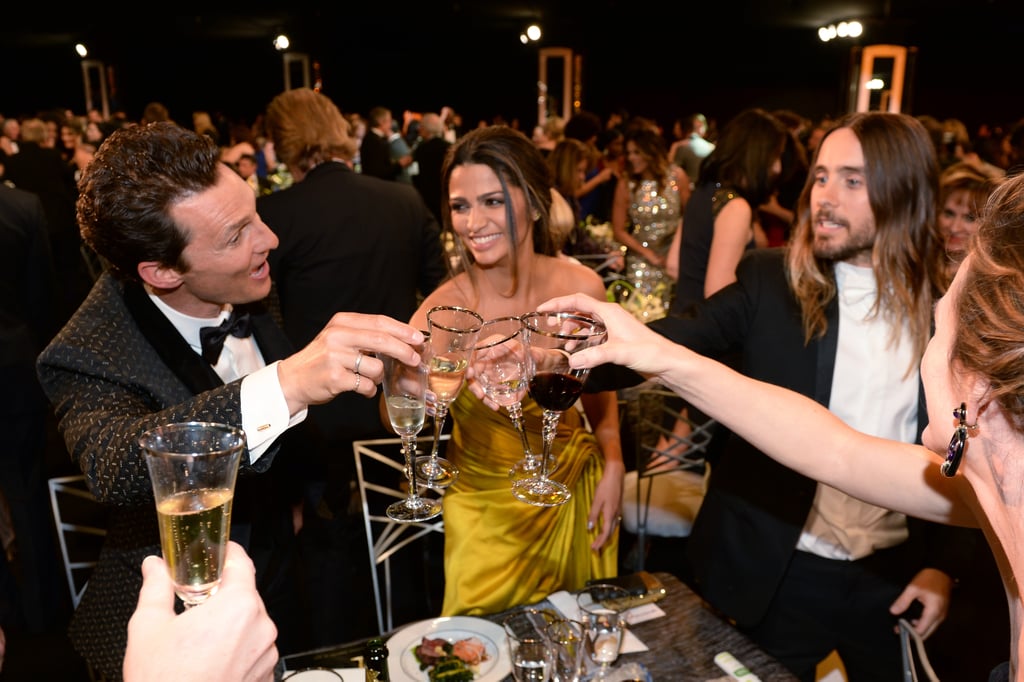 Cheers! Matthew McConaughey [46], Camila Alves, Jared Leto [47], and Jennifer Garner [48] clinked glasses in 2014.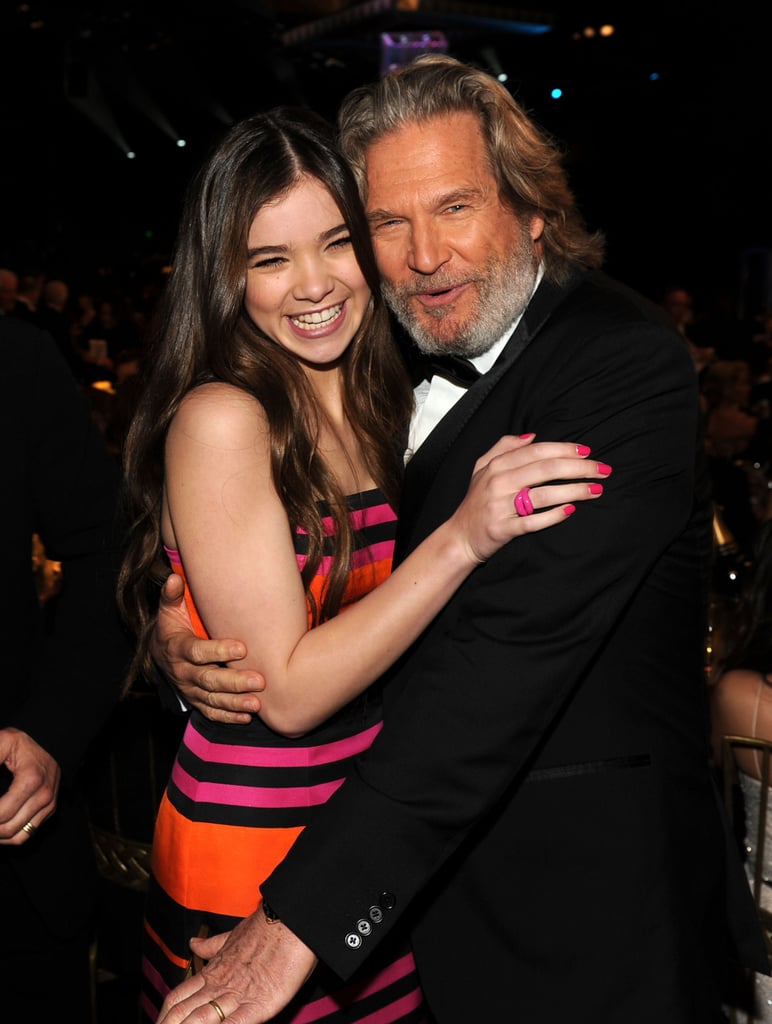 True Grit costars Hailee Steinfeld and Jeff Bridges [49] posed together in 2011.
Jennifer Lawrence [50] couldn't contain her excitement for Lupita Nyong'o on the red carpet in 2014.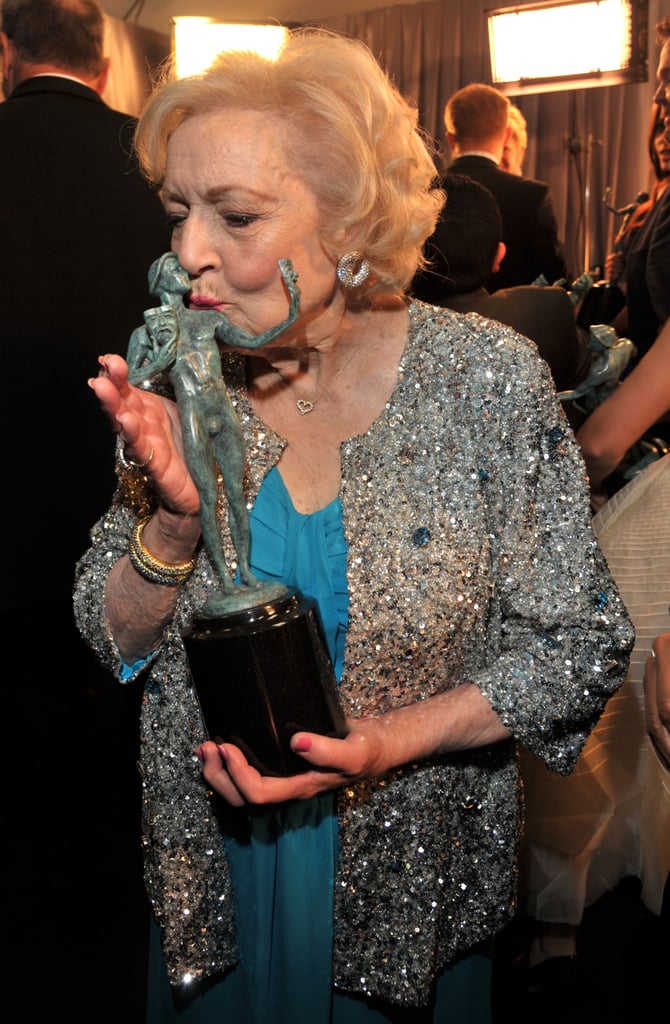 Betty White gave her statue a smooch in 2011.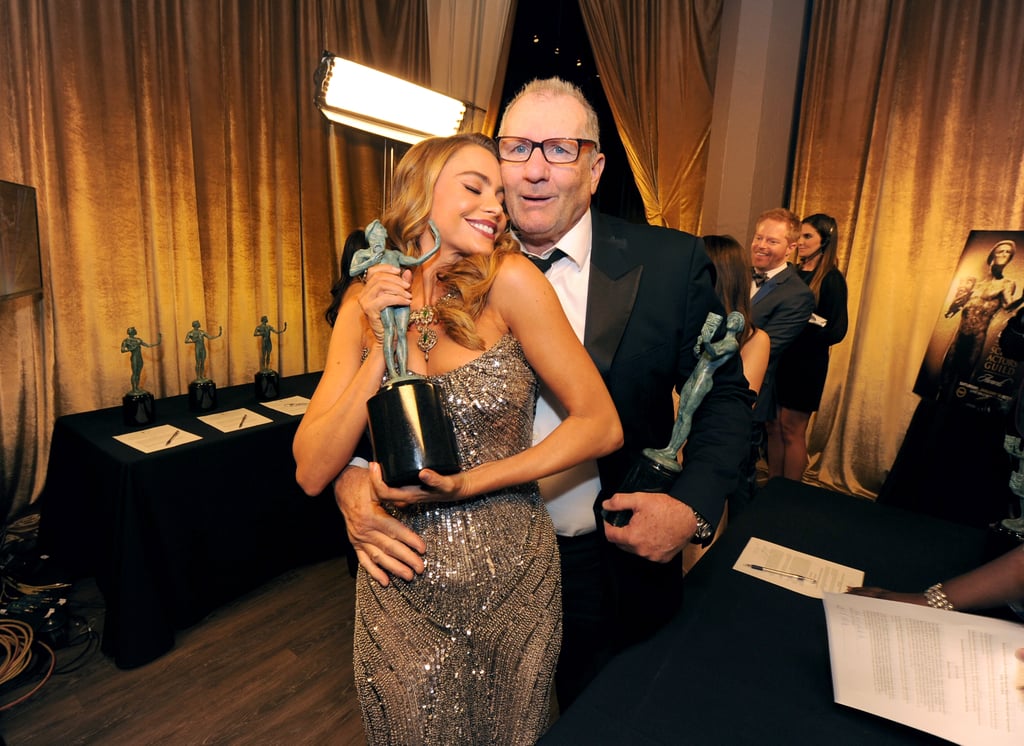 Sofia Vergara celebrated her Modern Family win with Ed O'Neill in 2014.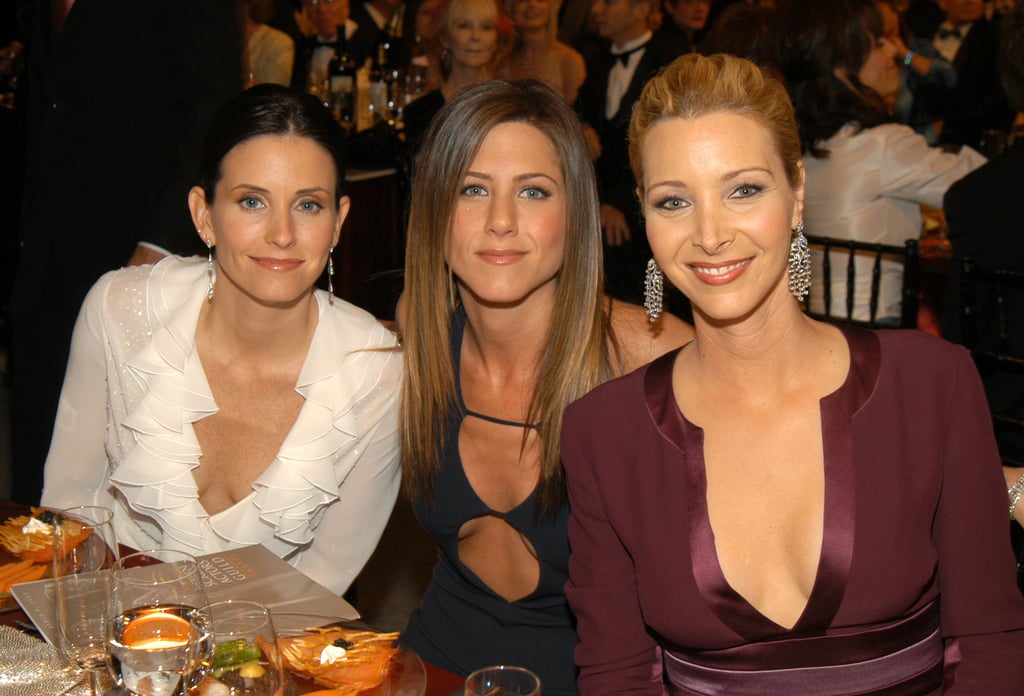 Courteney Cox [51], Jennifer Aniston [52], and Lisa Kudrow came out to support their series Friends in 2003.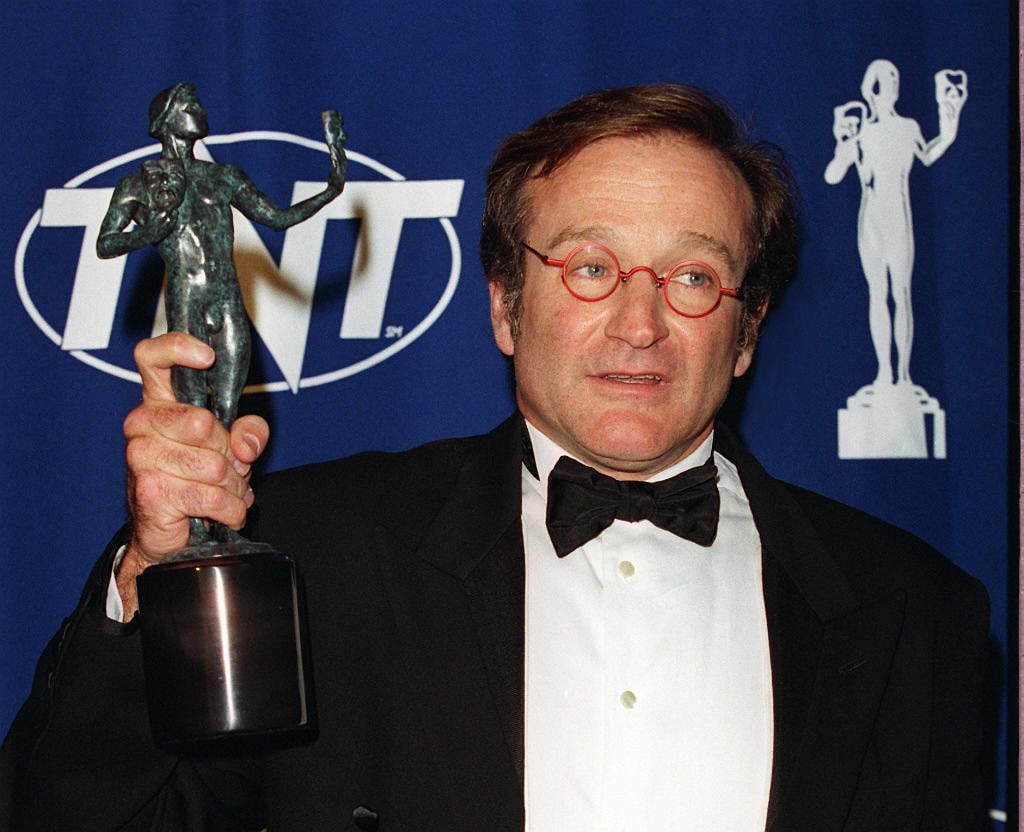 The late Robin Williams [53] took home a best supporting actor award in 1998 for his role in Good Will Hunting.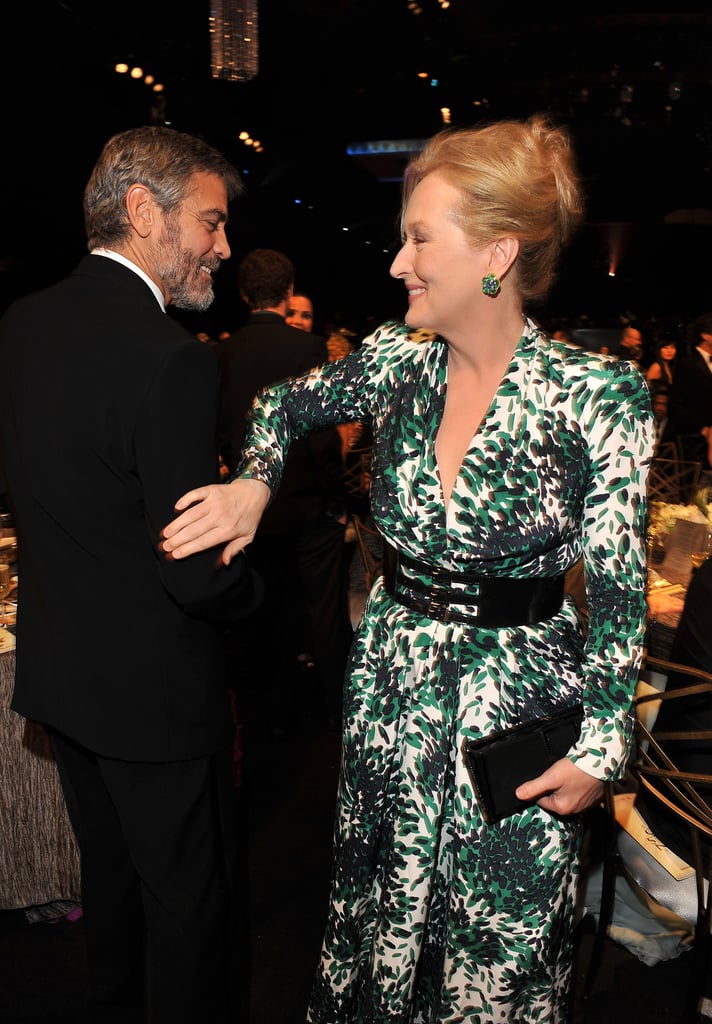 George Clooney [54] and Meryl Streep [55] had a cute moment in passing during the 2010 show.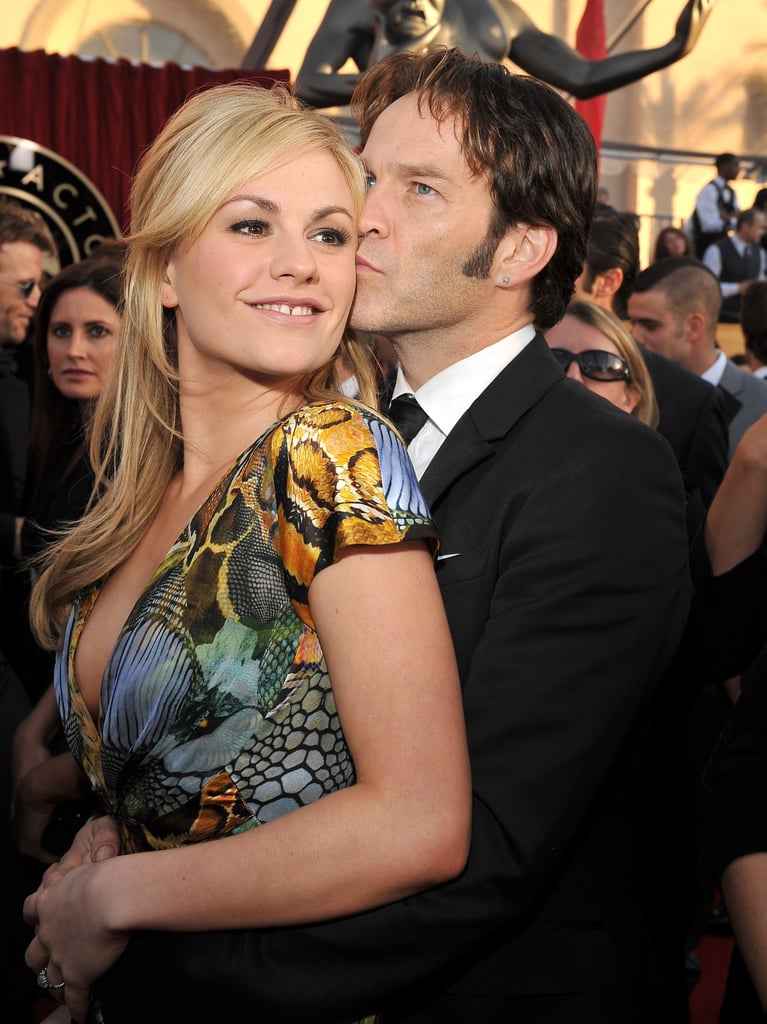 Real-life couple and True Blood costars Anna Paquin [56] and Stephen Moyer [57] shared a kiss before the 2010 show.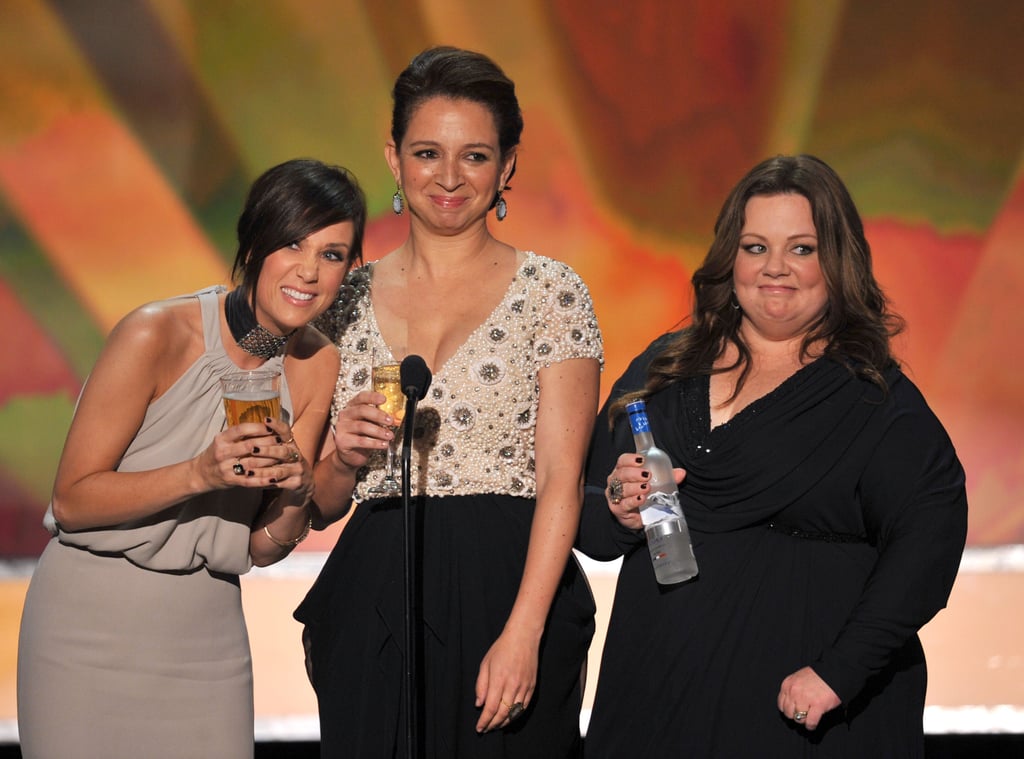 Bridesmaids actresses Kristen Wiig, Maya Rudolph, and Melissa McCarthy were the rowdiest presenters in 2012.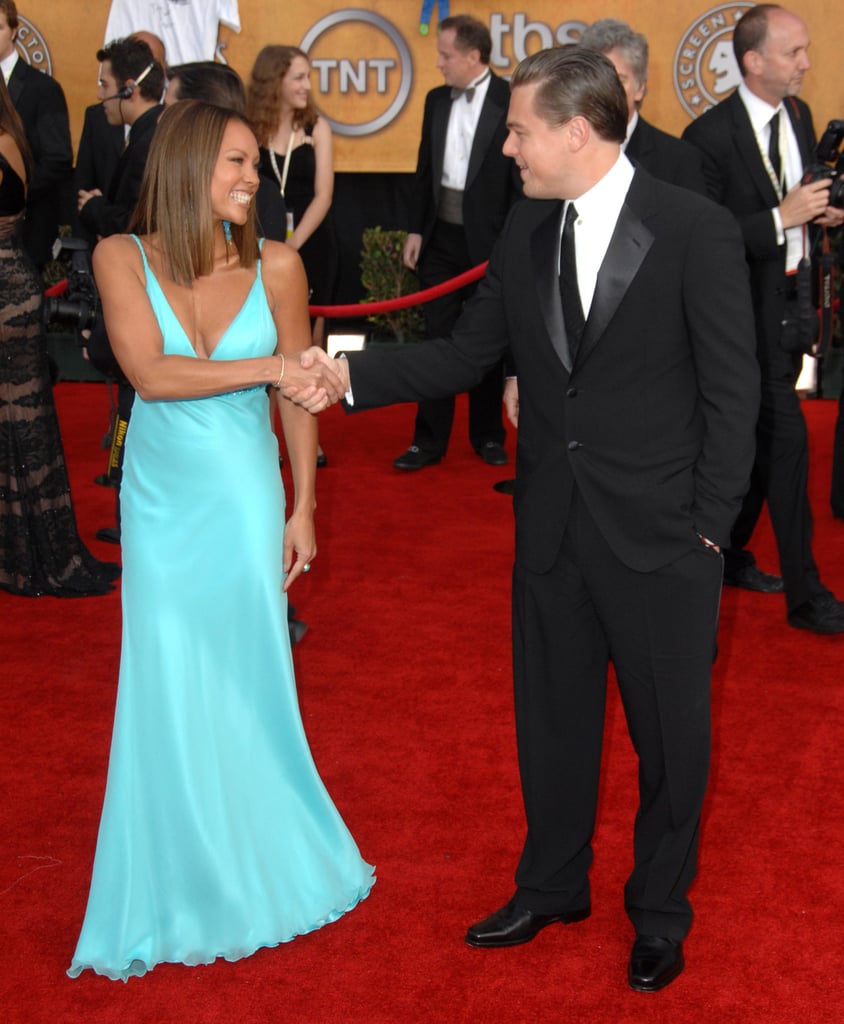 Vanessa Williams got charmed by Leonardo DiCaprio [58] on the red carpet before the 2007 show.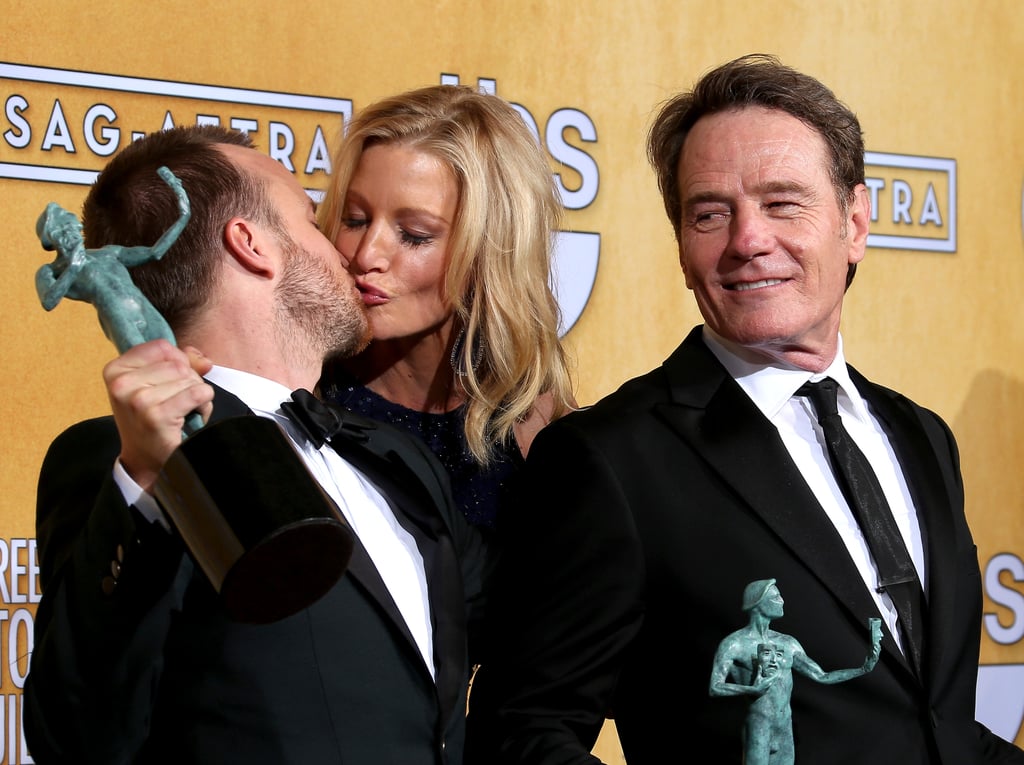 Anna Gunn and Aaron Paul celebrated their Breaking Bad win in the press room with Bryan Cranston.
The Help actress Viola Davis posed moments before her win for best female actor in 2012.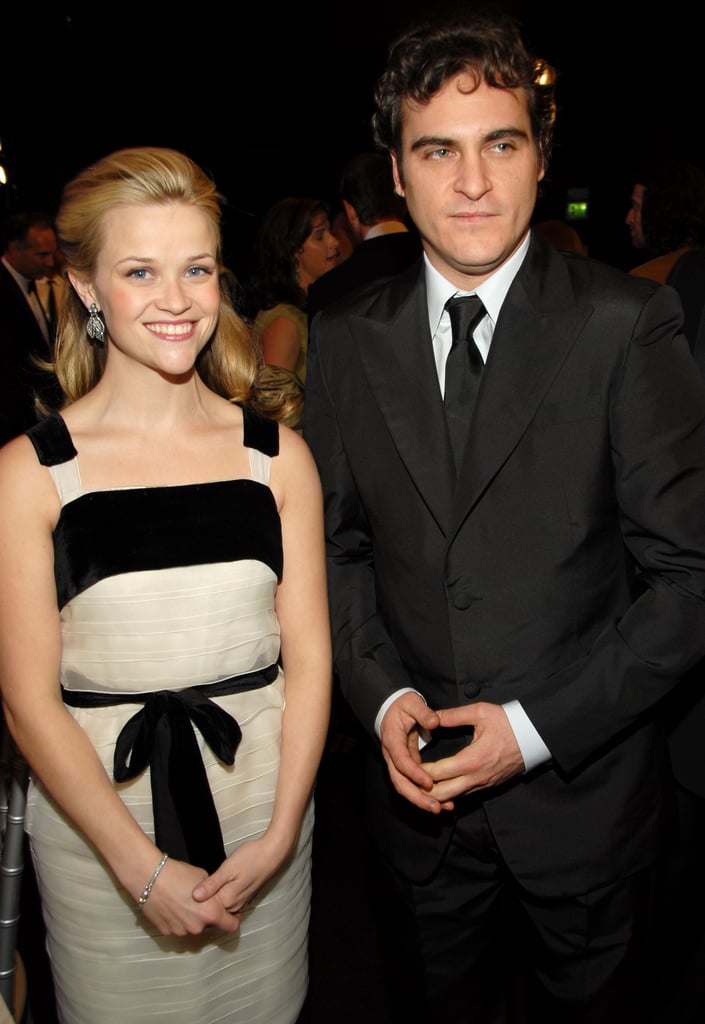 Onscreen couple Reese Witherspoon [59] and Joaquin Phoenix [60] were side by side at the 2006 awards.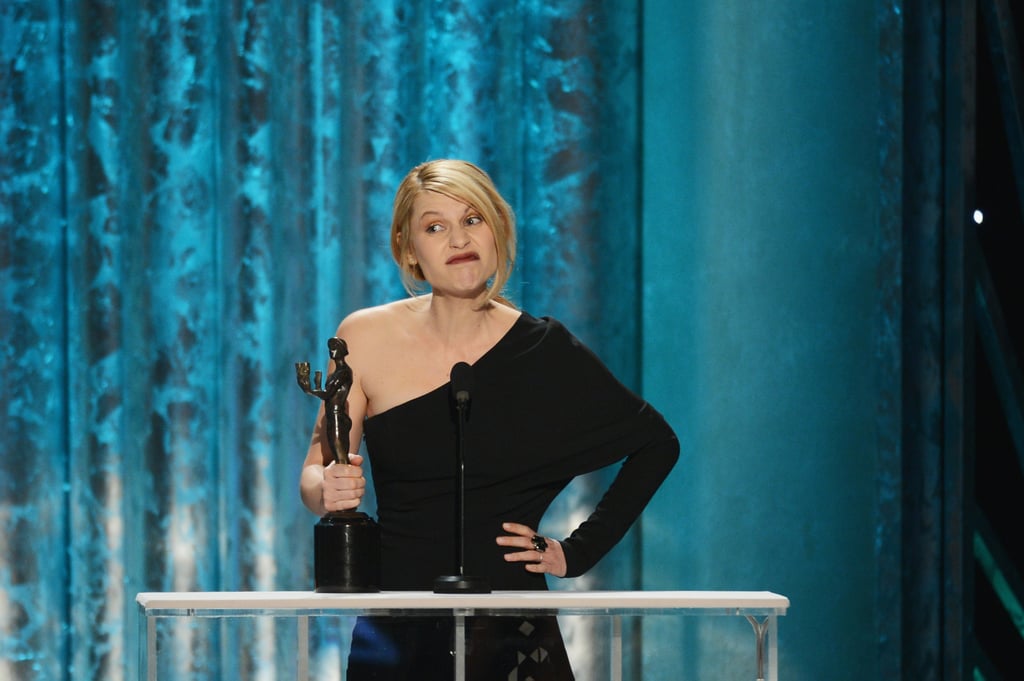 Claire Danes [61] got a few laughs during her 2013 acceptance speech for Homeland.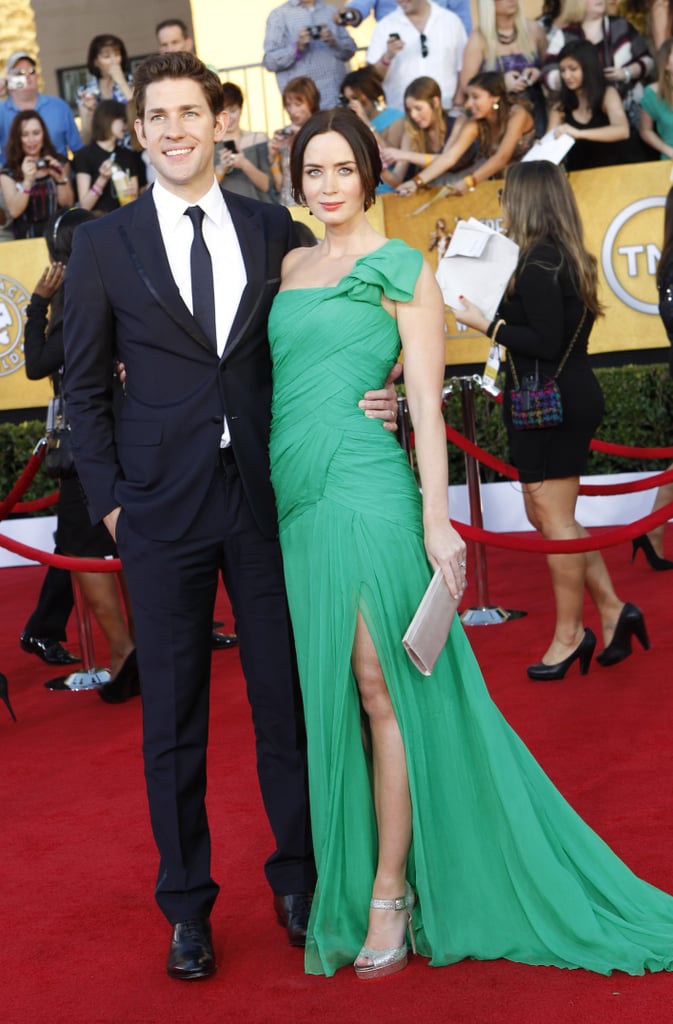 John Krasinski [62] and Emily Blunt [63] looked flawless on the red carpet together in LA in 2012.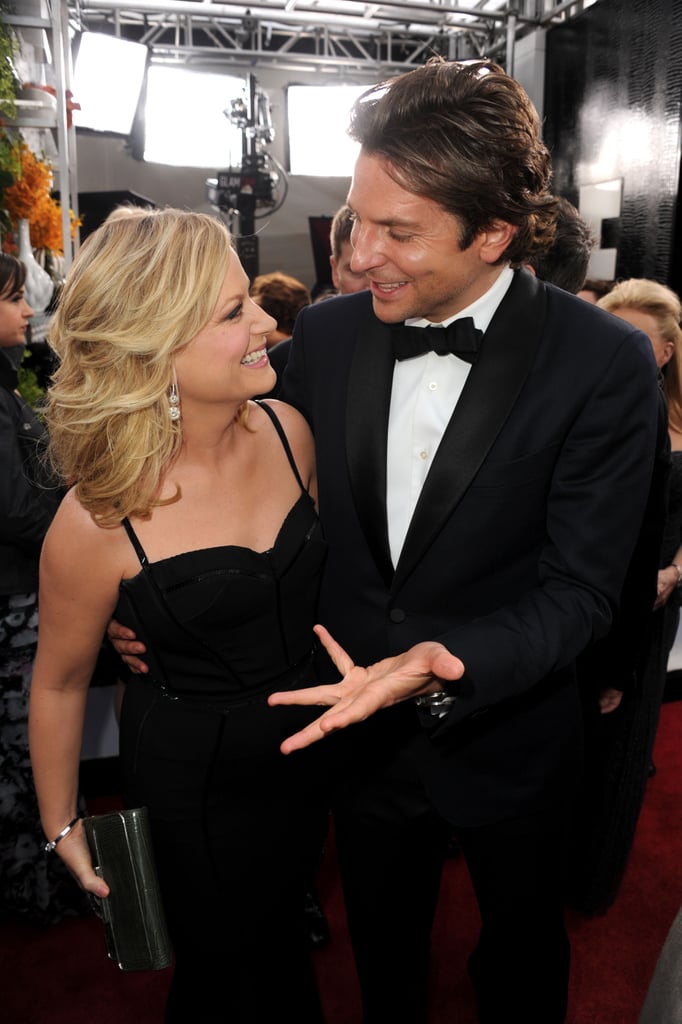 Amy Poehler [64] and Bradley Cooper [65] laughed it up on their way into the 2013 SAGs.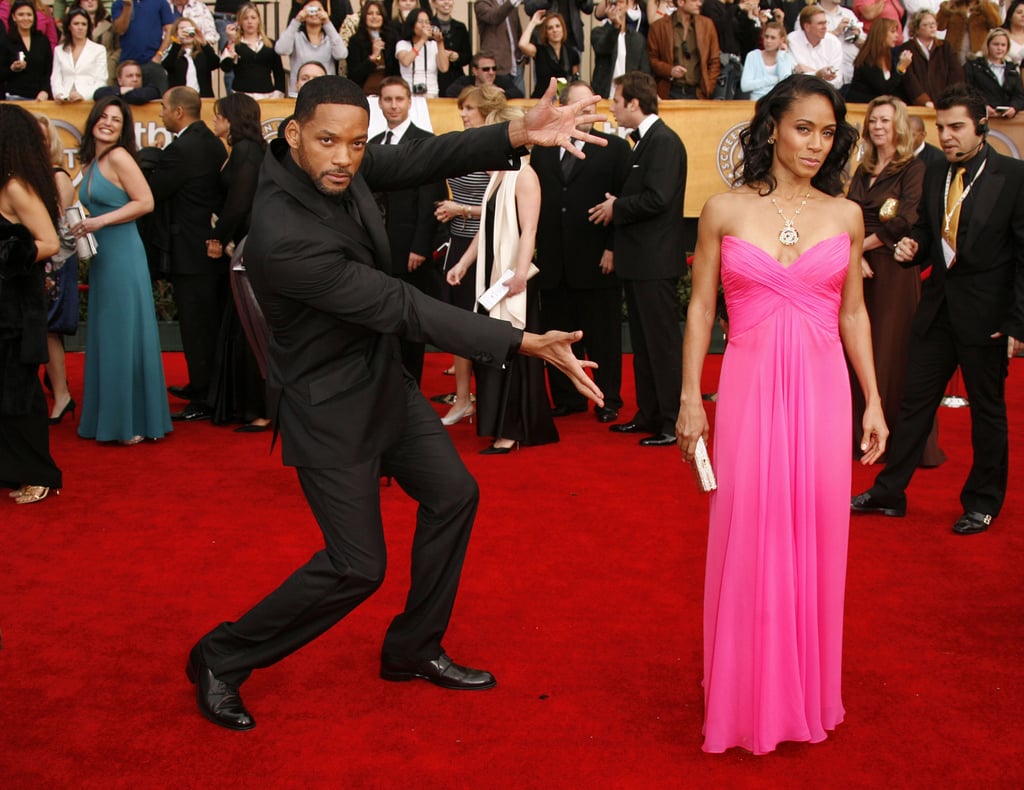 Will Smith [66] let his wife, Jada, have the spotlight in 2007.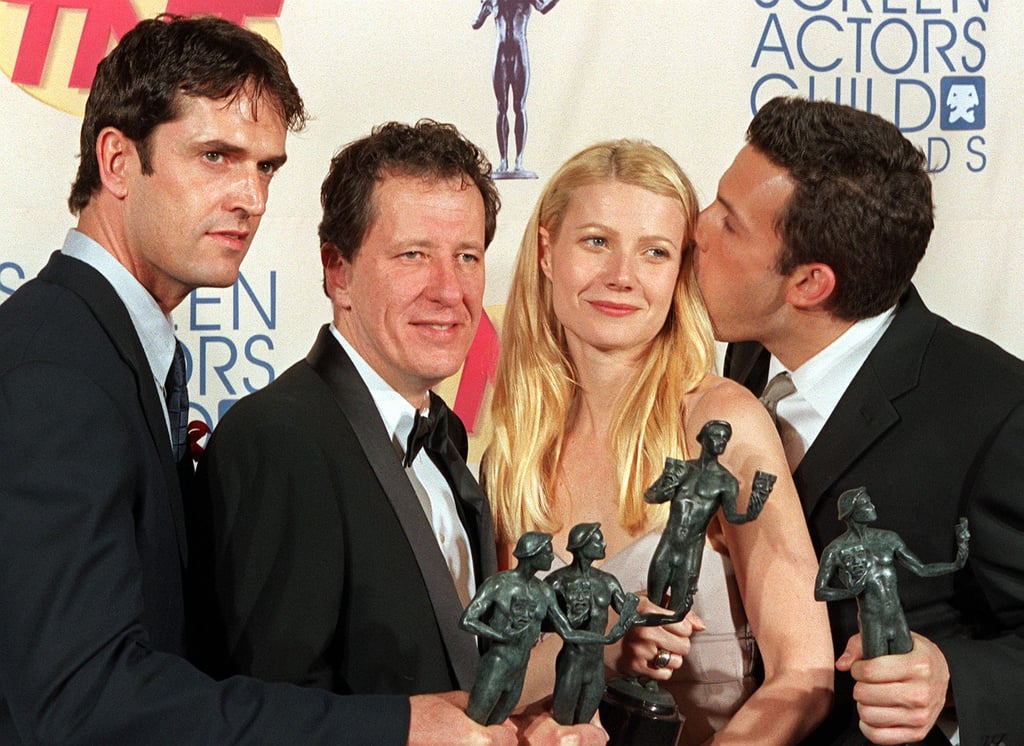 Gwyneth Paltrow [67] and Ben Affleck [68] both won at the 1999 awards, and posed in the press room with Geoffrey Rush and Rupert Everett.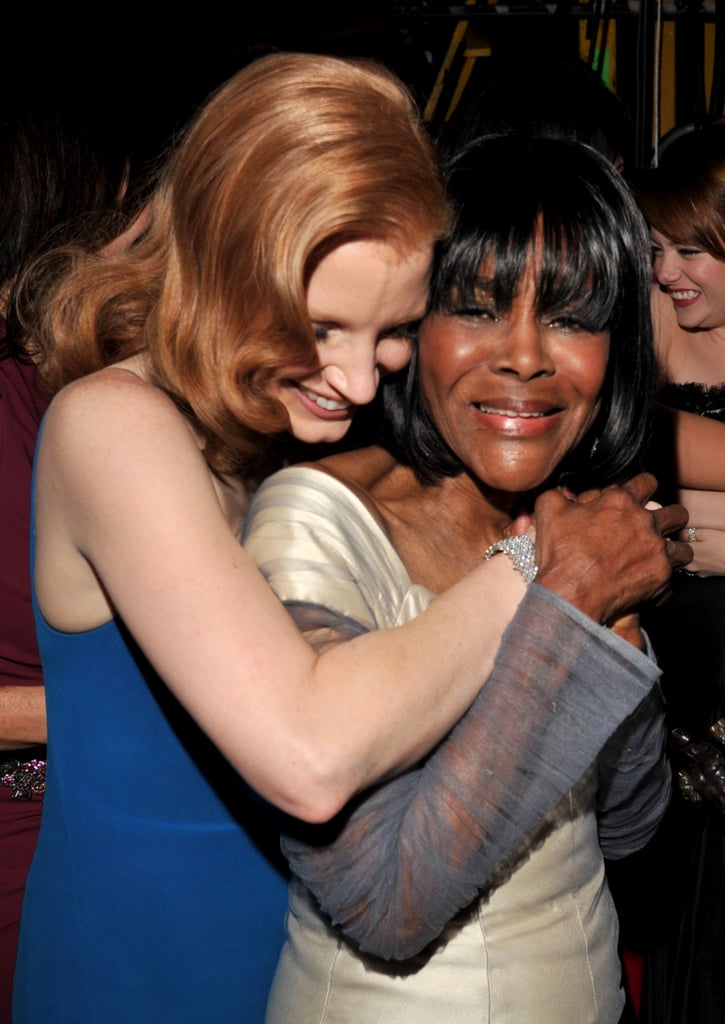 Actresses Jessica Chastain and Cicely Tyson hugged backstage at the 2012 SAG Awards.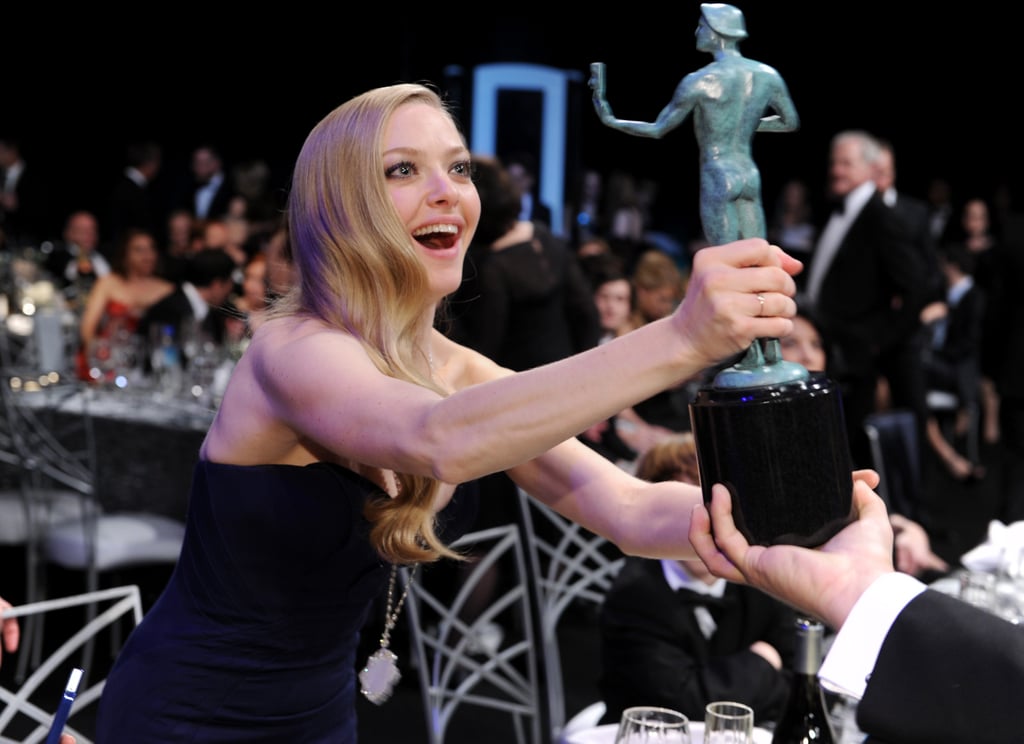 Amanda Seyfried [69] was mesmerized by a SAG in 2013.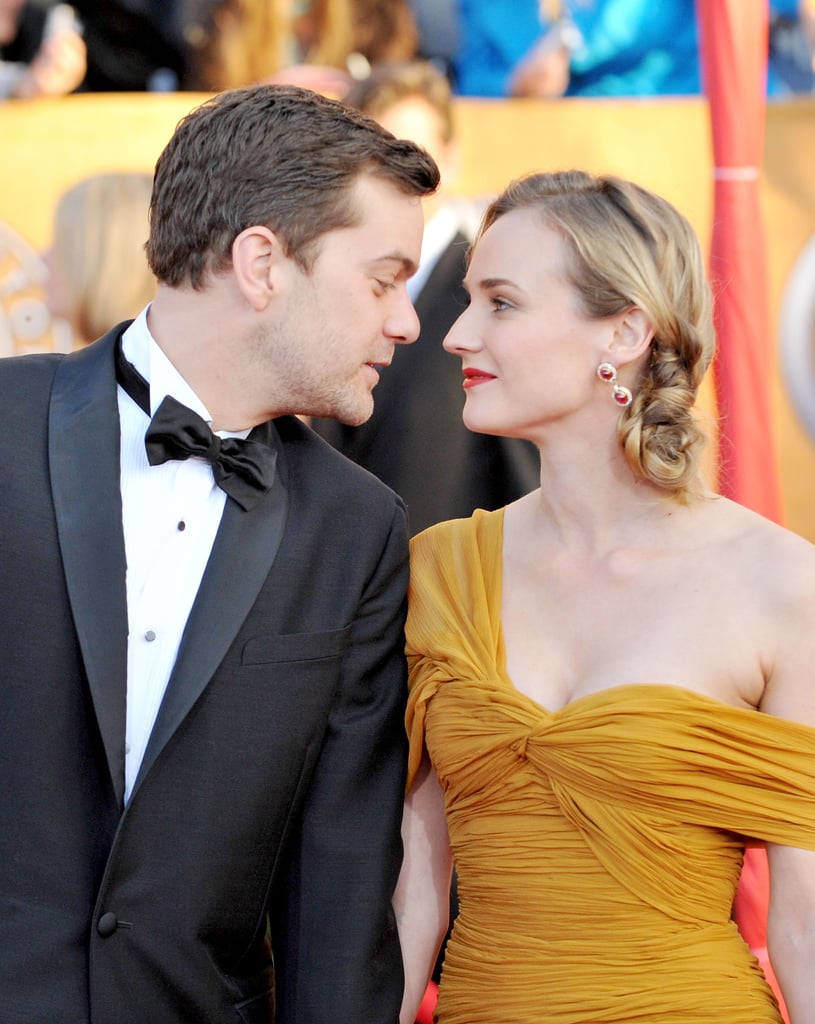 Inglourious Basterds star Diane Kruger [70] was escorted to the 2010 awards by her then-boyfriend, Joshua Jackson [71].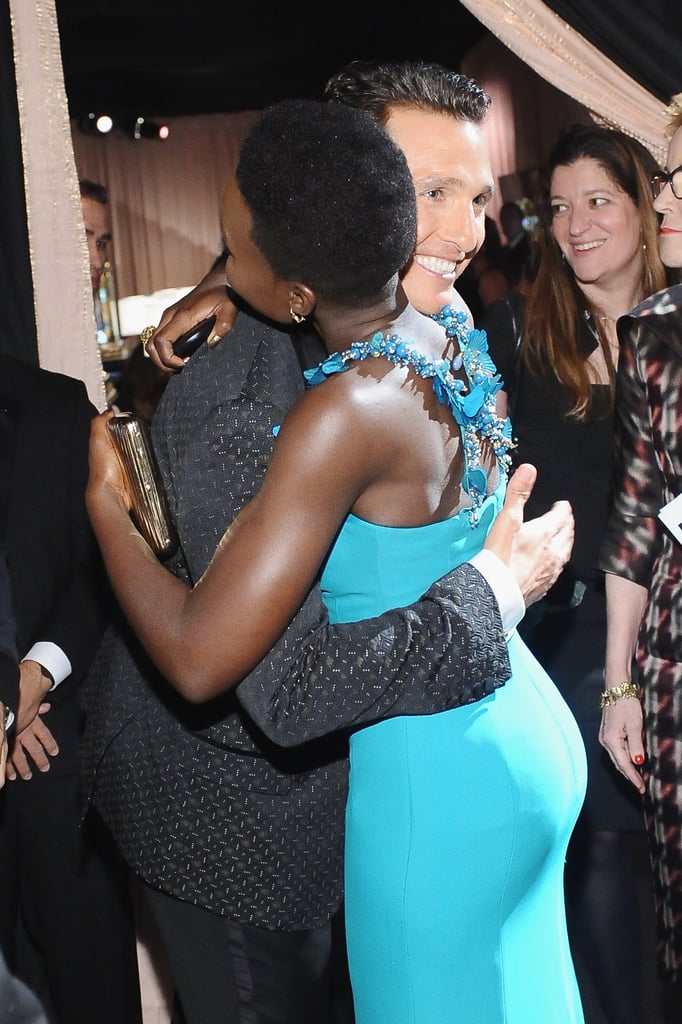 Matthew McConaughey [72] gave Lupita Nyong'o a huge hug during the show in 2014.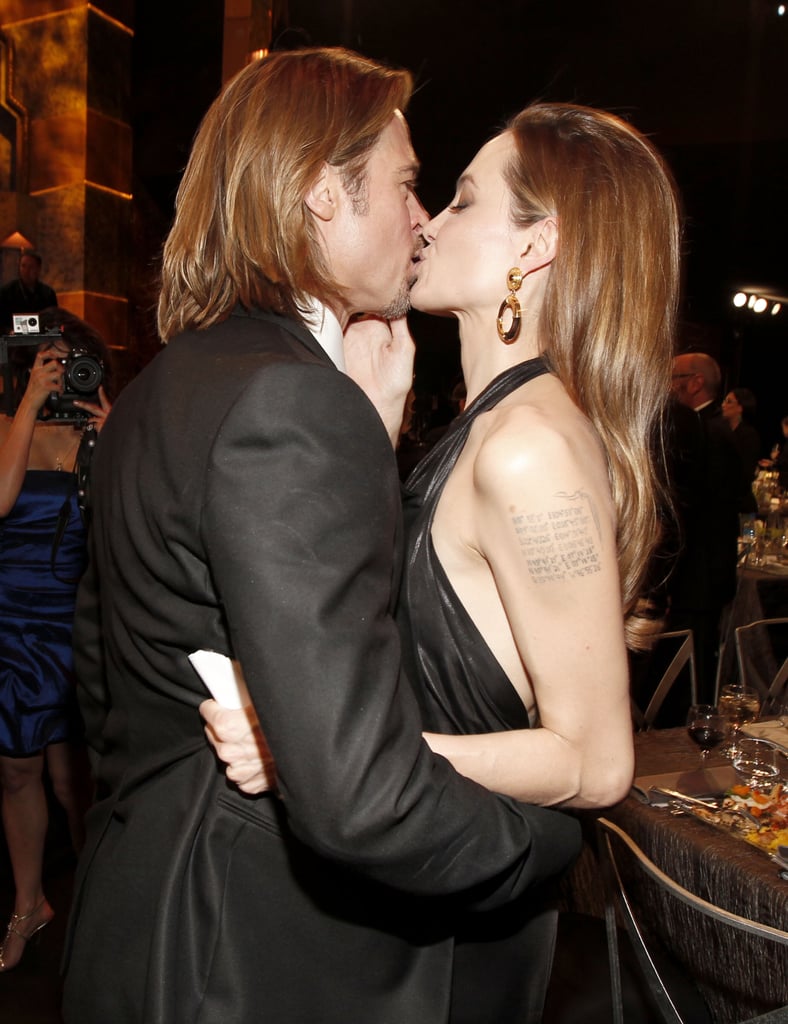 Brad Pitt [73] and Angelina Jolie [74] locked lips inside the 2012 SAG Awards.