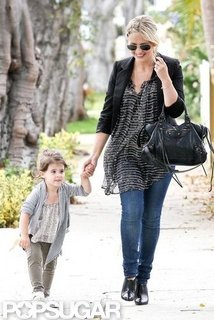 Jun 21 2012 - 3:08pm
Sarah Michelle Gellar held hands with Charlotte Prinze while out and about in LA yesterday. The girls were full of laughs and smiles on their midday stroll. Charlotte seems to be taking after her mom in the beauty department — the pair wore matching braids.
SMG is counting down to the arrival of her second child and, following the cancellation of her primetime series Ringer, she'll have more time to spend with family. While prepping for baby number two, Freddie Prinze Jr. and SMG are also focusing on Charlotte and recently treated her to a special afternoon at the LA Zoo. Animal lover Sarah Michelle was recognized by the zoo just last week and honored with this year's Tom Mankiewicz Leadership Award.