Snow White and the Huntsman Movie Review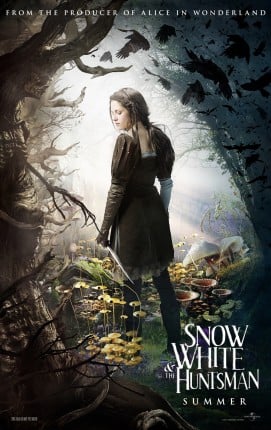 Plot: 7/10
E Value: 8.5/10
Acting: 8(Kristen Stewart & Charlize Theron); 7 (Chris Hemsworth); 6.5(other cast)
Set in Middle Ages somewhere in England, Queen Eleanor (Liberty Ross) whilst walking through winter, she is drawn to a beautifully blooming red rose outside of her castle. The Queen touches it and accidentally pricked on her finger with three drops of blood dripped onto white snowy ground. At that moment, she makes a wish to have a daughter with beautiful red lips like blood color, skin as purest white as snow and shiny black hair like ravens wings and also strong spirited just like the red rose blooming despite of coldness in winter.
Soon Queen Eleanor's wish granted and gives birth to a daughter. Queen Eleanor with her husband, King Magnus (Noah Huntley) names their child as Snow White; the three live blissfully since but good things never last. The royal family is soon sheered into state of distress after the demise of the Queen.
On one fateful day, King Magnus with his army are led to a mysterious phantom army's manifestation in form of convergence in middle of his kingdom woods. Upon the arrival, King Magnus and his soldiers slaughter their enemies but only to find the unknown entities shattered into dust of glasses.
King Magnus peers into a horse carriage which appears at the scene. A rag-hooded lady, Ravenna (Charlize Theron) who is apparently a prisoner comes into his glint. Enthralled by her beauty, the King takes in Ravenna to his castle.
Not long then, the two ties the knot. But little the King knows, Ravenna is in fact a powerful witch with insidiously sinister plots hatches on her way that will soon lead the damnation to his kingdom.
Everything is too late for the King to find out despite with Ravenna's true color shown at the night of their wedding. In just over a night, Ravenna with her allied brother named Finn (Sam Spruell) overthrows Magnus and takes over his kingdom. The young Snow White is locked down as a prisoner in a dungeon. Her life is spared but someday after fifteen years later, Ravenna learns from the Magic Mirror which dubs 'the fairest of them all' to the grown-up Snow White. The Magic Mirror also reveals that Snow White can be Ravenna's salvation that she will turn immortal if she consumes Snow White's heart.
Knowing her spell for her youthfulness will be undone by 'the fairest of them all', Ravenna orders Finn to bring the girl's heart to her that ends up with Snow White's escape. Finn and his men chase after Snow White into Dark Forest that eventually they lose her trail.
Due to Snow White's hideout, Dark Forest is an off limit zone to her power, Ravenna recruits Eric, the Huntsman (Chris Hemsworth), who is known by locals a drunken widower and also the only survivor of a hunting expedition to the Dark Forest sometime before, and orders him to lead Finn and his men to track down Snow White….
This film serves right up to the alley for moviegoers who prefer their fairy tale narrated in larger scale (ala Lord of the Rings). As for this reason, you may find yourself wander at wrong path if you're expecting that this is some kind of light fairy tale. It isn't clichés bedtime stories for sure, it is dark and twisted all the time and as scary as it will chill your bones at night.
An exceptionally good epic ride with the stunning visual effects but yet there are certain points a little bit glossed over. Scenes and platforms of Snow White with Huntsman are under developed resulted their chemistry bond far from fetch. However, it is understandable to wrap whole into two hours flick is not an easy task, so I'll get pass with this loophole and probably I'll cross my fingers for the sequel on this element.
Apart from that, it also holds me back a little of why Ravenna waited that long to kill Snow White but instead locking her up in a dungeon. It is the wait for Snow White's maturity I guess for Ravenna to reap her essence, but I think with some clarity in script lines, it could have been better.
Soundtrack of this movie from the band Florence and the Machine is decent choice for heroic theme, war good versus evil.
In term casting, honestly I don't think Stewart of hers being a limelight as Bella gave her the leverage to be dubbed for the role of 'the fairest of them all'. Back there in audition, I bet there were plenty fair girls came for audition, but what makes this Stewart so special is because of her edgy streak and strong determination to take on the whole new level engineered 'Snow White'. By the way, seeing her jumped off the cliff was kind of breathtaking in relativity with her suicidal mission in New Moon.
This movie is eventually wrapped up with hints of sequel. Um.. probably the movie producer is saving the best for the last – more of compelling scenes between Snow White with The Huntsman? Whatever it is, I'm counting the days to the upcoming sequel!
What a tale of the dark, and I love it!
The saga continues....
http://movie-reviews.buzzsugar.com/Snow-White-Huntsman-Saga-Continues-Ri...