It was sunny and gorgeous in LA this weekend and some of our favorite celebrity families headed out for Easter egg hunts [1] and bunny-eared festivities. California didn't have all the fun — no one had a more eventful weekend than the Obamas, who welcomed their highly anticipated puppy to the White House! As we recover from yesterday's sugar high, check out this slideshow of stars celebrating Spring!
Bunny Hop
Kate Beckinsale accompanied her daughter Lily and some friends to celebrate the holiday complete with bunny ears.
Family Love
After sharing a sweet kiss with her husband Ben Affleck [2], Jennifer Garner led Violet out of an Easter party where she scored a basket of goodies.
New Addition
The Obama family welcomed their newest member — a six-month-old Portuguese Water Dog puppy named Bo [3]!
Egg-cellent Weekend
The Stefani-Rossdale family never misses a chance to celebrate together — Gwen and Gavin brought their sons for Easter with her parents.
Sunday Best
Nicole Kidman and Keith Urban celebrated Sunday's first Easter home in Australia with Nicole's sister and family.
Suit Up
Kate Hudson's son Ryder got decked out in a white suit on their way to an Easter celebration in Malibu.
Party of Three
Courteney Cox and David Arquette brought Coco to spend Easter afternoon with friends in Malibu.
Easter Livin'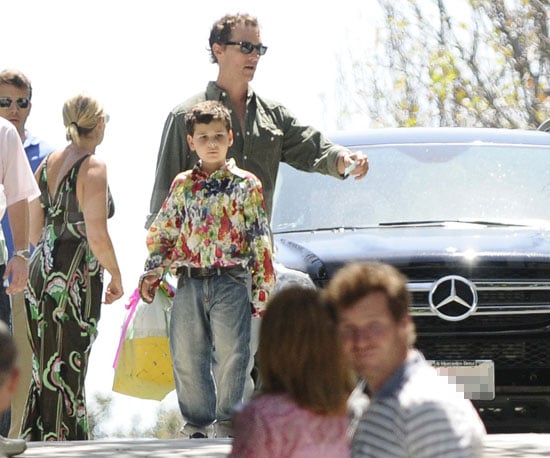 Matthew McConaughey joined friends like Kate Hudson — and Kurt Russell, who he greeted with a big hug — in Malibu.
Double the Fun
Gwyneth Paltrow and Chris Martin threw Moses a birthday party on Saturday and then kept the festive weekend going spending Sunday with friends like Steven Spielberg and Martin Short.
Peep Show
Hilary and Haylie Duff had an armload of Peeps after a pre-Easter dinner with their parents in LA on Saturday night.