Steele Left Speechless by 'Very Haunting And Very Disturbing' NRA Press Conference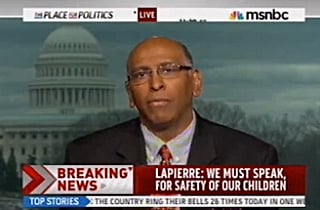 Following the National Rifle Association CEO Wayne LaPierre's press conference about last week's Sandy Hook school shooting, MSNBC conservative contributor Michael Steele was left literally speechless at first before expressing his dismay at the pro-gun lobbying organization's suggestion that the government arm police officers in all schools.
When asked for his thoughts on the presser by host Thomas Roberts, a seemingly exasperated Steele struggled to find words.
When he recovered, he explained: "I don't know where to begin."
"As a supporter of the Second Amendment and a supporter of the NRA," he continued, "even though I am not a member of the NRA, I just found it very haunting and very disturbing that we are country talking about arming our teachers and principals in classrooms. What does that say about us? I do not believe that's where the american people want to go. I do not believe that is the response that should be coming out of the tragedy in Newtown."
The former Republican National Committee chairman then blasted LaPierre for his chosen message:
"I just think that this was a missed opportunity to create another conversation at a higher level where the American people are right now. This incident cut to the bone. This is unlike anything that's come before it because it did involve such precious young people and it really starkly called us to think about our society, those issues, not just gun control laws but mental health and a whole bunch of other things I think the NRA could have brought to the table, the idea that the message, the top line message out of this press conference is let's put a gun in the hands of teachers in our classroom and I do not think that's where rank-and-file NRA members expected this to go to."
http://www.mediaite.com/tv/michael-steele-left-speechless-by-very-haunti...