Steele Points Out Reince Priebus a Failure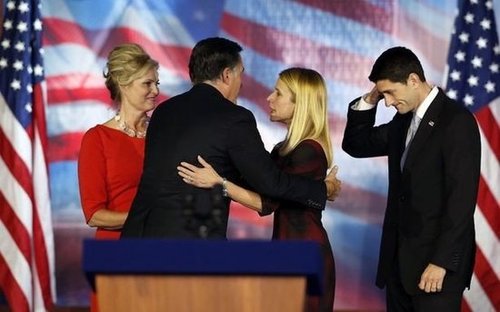 With the 2012 election in the history books, Michael Steele may be having the last laugh.
The former Republican National Committee chairman, who lost his job to the current chair, Reince Priebus, despite a 2010 midterm election he oversaw in which Republicans picked up 63 seats in the House to take over the majority from Democrats, feels that he has been vindicated by the results this year. Not only did Mitt Romney lose the presidential race, with Barack Obama becoming only the fourth president in 100 years to win the White House twice with more than 50 percent of the vote (the other three: FDR, Dwight Eisenhower and Ronald Reagan), Democrats picked up seats in the Senate and House.
Back in 2010, which may seem like a decade ago to many Republicans after last Tuesday's drubbing, 52 Democrats were defeated in the House versus just two Republicans, and Republicans picked up 14 open seats. Republicans won the popular vote 51 percent to 44 percent. And while they failed to retake the Senate, in large part due to problematic candidates like Sharron Angle in Nevada and Christine O'Donnell in Delaware, Republicans did pick up five Senate seats, along with a number of key governorships – including in Wisconsin, Pennsylvania, Michigan, Ohio, Florida, Iowa, Maine and New Mexico.
And while there's plenty of blame to go around for the 2012 election (just ask Karl Rove), Steele is unsparing in his criticism of his successor at the RNC.
"His term has been an absolute failure," Steele says of Priebus. "Mine was an absolute success in historic terms."
And yet, he expects Priebus to be treated differently than he was after 2010. "The difference is that the [Republican] establishment, they're not bucking to get rid of him because that's their boy. They're perfectly comfortable with the way things are."
Steele, who became the GOP's first African-American chairman in the wake of the election of the nation's first black president in 2008, faults his party for not taking their demographic deficit more seriously. In the recent election, Republicans lost 72 percent of Hispanics, 94 percent of African-Americans and even eight in ten Asian-Americans.
"They genuinely believe this is something that's not going to be a problem for them," Steele says. "They say, look, we lost in '06, we lost in '08 and we got it back in 2010." He cites talk radio host Laura Ingraham, who has counseled conservatives not to overreact to the 2012 loss, as emblematic of the GOP's belief that "we don't need to change a thing. We just need to nominate more conservatives. I thought that's what we've been doing!"
Steele says Republicans have missed the mark on diversity, and have failed to reign in the more extreme elements of their base.
"When you look at the [Todd] Akin situation," referring to the failed Senate nominee in Missouri, who lost to Democratic incumbent Claire McCaskill last Tuesday, "they picked him, he said what he said [about rape victims being able to somehow stop themselves from becoming pregnant], they abandoned him, and then they saw the numbers that showed he could actually win this thing," says Steele, noting that the national party eventually got back behind Akin's losing effort.
"They believed the polls they wanted to believe, not the polls that actually reflected what was going on," Steele said of Republican insiders' view of the election overall. "That's why Obama was never really concerned [about losing] certain states."
But Steele thinks the party should be concerned.
"Now that it's clear we've lost the I-4 corridor," he said, referring to the central vein of Florida, where Democrats won in part by winning the growing Puerto Rican vote overwhelmingly, "how do we plan to win Florida in the future? When you look at the numbers, the demographics…?"
Steele is derisive when speaking of the GOP's failed, purportedly high tech get-out-the-vote program, dubbed "ORCA," calling it a waste of money. And he says the 2012 race lacked a coherent theme, like his "fire Pelosi" message in 2010, which included a bus tour aimed at the then-Democratic House speaker. Steele says the national theme "galvanized" Republicans, and allowed candidates up and down the ticket to communicate a single, coherent thought, whatever their specific, local issues were: "you want to change congress: fire Pelosi."
"Whether you were at the bottom of the political totem pole or at the top, you could pull a piece of that and weave it into your campaign," Steele says. "It fed into the ideas of size of government, spending, all of that."
It's clear that Steele, now a political analyst with MSNBC, still smarts over the criticism he received during his tenure, including a March 2020 uproar over nearly $2,000 spent by members at a bondage-themed strip club in West Hollywood, California, something Steele himself lambasted at the time. He faced a constant drumbeat of criticism from GOP donors for lavish spending, including on private jets, expensive hotels, and a party retreat in Hawaii in 2010, and saw much of the party's fundraising flee to outside groups.
"When I was chairman, everybody was like, Steele spends wildly. But no ones' ever told you what I spend the money on: candidates who can win, infrastructure that would help those candidates win, and GOTV that could support that infrastructure to help those candidates win," he says. "So if I spent this money wildly, how could you in the next breath say, oh he can't raise money? Either I did raise the money that I'm 'spending wildly,' or I can't raise the money."
What Steele contends he did most successfully with the RNC's money was to build a GOTV ("get out the vote") program that he credits for the party's success in the 2010 midterm elections. He cites a turf war between centralized spending at the top and his preference for letting state parties control their own dollars and campaigns, something he says comes from his having been a former local Republican committee chair.
"The RNC establishment vehemently criticized me because I took our GOTV program and put it into each individual state based on their capacity, their need and their ability to turn out the vote," Steele said. "The Washington crowd excoriated me, including Gentry Collins," (who very publicly resigned as Steele's RNC political director in 2010 and then ran against him for RNC chair).
"The way it worked before me, was when it was time to do the 72 hour program" to turn out Republican voters in the closing days of an election; "they would go to Capitol Hill staffers and say, 'how would you like to go to Florida or Ohio?' People who, one, had not worked on the campaign up to that point, two, knew nothing about the state they were going into and three, who got in the way of everything that was going on, on the ground."
"Fast forward to my tenure. We took the GOTV and put it back in the states," Steele says. "We took the money that would have been spent housing, feeding and transporting Capitol Hill staff and we said, here's a block grant of cash – I thought republicans liked block grants – and said here's a grant that you can use for GOTV in your states."
The former chairman says the current RNC establishment, under Mr. Priebus, threw out that successful playbook. He derides his successor's efforts as akin to "massive plans to nowhere."
"Instead of doing what was successful in 2010, they created this ORCA program, and I talked to state parties, and they had no idea what it was," he says. "They didn't see the people and more importantly they didn't see the resources. … The cash didn't get on the ground to where we needed it most. You had state parties that didn't even have the cash to build an infrastructure after the fact, because the ORCA program wasn't working. So when you have the political director of the RNC quoted on CNN a couple of days before the election saying we're going to wipe the floor with Obama's GOTV effort because ours is so superior … are you kidding me? All of this was part of the RNC's plan to win the election and it fell flat."
Steele on current GOP: 'where's the diversity?'
"If the RNC members want to go back and pat Priebus on the back, they're going to have to go back to the activists and say, wait: the guy you fired managed to get African-Americans elected, Latinos elected." Steele cities Nevada governor Brian Sandovol and New Mexico governor Susana Martinez, both Hispanic Republicans, South Carolina governor Nikki Haley, who is Indian-American, New Hampshire Senator Kelly Ayotte, and Tim Scott of South Carolina, and Florida's Allen West, both African-Americans elected to the U.S. House of Representatives, as proof that his efforts to expand the party's diversity paid off. (West recently lost his seat to a Democratic newcomer, Patrick Murphy.)
"Look at the diversity," Steele insists. "That was the party that I created in two years. And they couldn't even get poor Mia Love – a black, conservative Mormon from Utah — elected to congress." Love, who had been a party star, lost a close race to the Democratic incumbent last week.
Steele's efforts at reaching out to minority voters were sometimes derided, including when he pledged to give the party a "hip-hop makeover." Still, the face of the party did become more multicultural during his tenure.
Whether that was because of his efforts, a backdraft from Obama's historic election, or in the case of Scott, West and Haley, deliberate efforts by the tea party to recruit black candidates, is a murkier question.
Meanwhile, Republicans clearly faced a more favorable electoral environment in 2010 than they did in 2008. In midterm elections, black, Hispanic and younger voters tend to vote in smaller numbers. And the total number of voters who participate is both smaller (40 percent total turnout versus better than 60 percent) and older. Still, Steele insists that he made genuine attempts to reach out to voters who may not normally be open to the GOP's message.
"The American public is not crazy," Steele says. "There's been a movement on a number of fronts [and] issues, like the DREAM Act, that have cultural and personal aspects to them. The American people have been driving that, and putting markers in place since we've gone from the Reagan era to the present day."
"I've always said the Republican Party needs to recognize those mile markers and adapt our understanding to reflect those changes," says Steele. "I categorically reject that idea that as a pro-life Republican, the only thing I can talk to a pro-choice woman about is abortion. I reject that, or that I have to dumb down my principals or my values. That's insulting to the individual I'm talking to. There's a way you can continue to be authentic without being brutish and offensive, which I submit we have been, particularly when talking to women about their bodies. No political party has a place there."
Steele says that a party like the GOP, that "espouses Libertarian freedom" should exit social issues altogether. "We don't want the government in your personal business, unless of course we approve," he says of the party's current stance on issues like abortion.
"I think we just need to get out of that business altogether and let people work that out with their priests and their rabbis," he says. "Where there is crossover, then you take your guidance from the people. You don't presume and inject your own personal perspective on the matter. And I say that as someone who's very pro-life." Steele, who is Catholic, says he has learned from his own church "how you have these conversations with people. You don't have this conversation by preaching at people because they stop listening."
Steele insists that despite the harsh rhetoric that has come from some in the party over the last four years, that the GOP's door is still open to black and Hispanics.
"They are still open to what we have to say, but they reject categorically the way we say it," he says. "We can't be the party that is about allowing people to access the American dream and then shut up" when it comes to talking to black Americans.
"If we can't talk to African-Americans about recognizing the historic link between our people and our party, and how we fought back against the segregationists of the South and the North and created the legacy of the NAACP and the civil rights movements of the 1960s…" says Steele, trailing off, before adding that in making that statement, " I didn't compromise one principle or value that the Republican party holds true. But if a third party is listening to us, then they might ask, what is this guy talking about? You always want them to want to find out more, not go running away screaming."
In the end, Steele, who has hinted he may want to run for the job again, sees his past tenure at the RNC as a success.
"You can criticize my tenure and say Steele is 'buck wild,' or 'we don't like his style and he's gaffe prone,'" he says. "But the mission that they gave me when they hired me was two things: raise money — over $190 million in two years — and win elections. And in the process, we grew the party."
http://thegrio.com/2012/11/13/michael-steele-current-rnc-chairmans-tenur...