Super Omega-3 Strawberry Rhubarb Crisp
Yield: 6 servings | Prep Time: 30 min | Cook Time: 30 min
A new twist on a classic late June dessert that is...wait for it...healthy! Rejoice!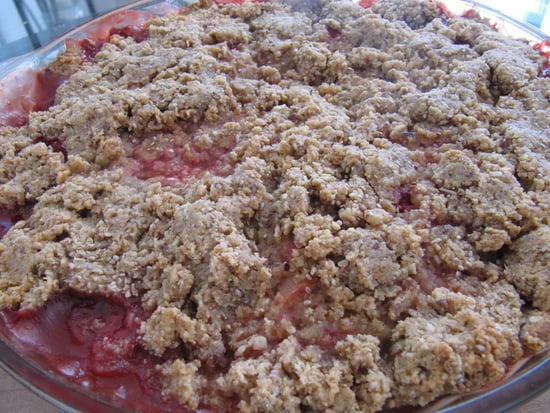 INGREDIENTS
Filling
1 quart strawberries,
stemmed and quartered
6 stalks rhubarb, cut into 1/2-inch lengths
¼  cup maple syrup
2 tbsp.  arrowroot (or organic cornstarch)
2 tbsp. white chia seed (or black)
1 orange, zested and juiced
2 tbsp. balsamic vinegar
Topping
PREP
1.  Preheat oven to 350 degrees. Grease wide, shallow baking dish with butter. Combine all of the filling ingredients in a large bowl and stir to be sure everything is well combined. Spoon the filling into the baking dish.
2.  In a food processor, combine the flour, oats, chia seed, and brown sugar and pulse to combine. Add the butter, vanilla and salt and pulse until the mixture looks dry and crumbly. Add 1 tablespoon of water and pulse until the mixture starts to come together and look crumbly. If the mixture still seems dry, add 1 more tablespoon of water and pulse to combine.
3. Crumble the topping over the filling. Bake in the preheated oven until the filling is hot and bubbly all the way through and the topping is crispy and light brown, about 30 minutes.
For this and other fiberlicious recipes, visit www.fortheloveoffiber.com.
Nutrition Facts
Serving Size: 1/6 recipe
Calories: 390
Total Fat: 18 g
Saturated Fat: 10 g
Cholesterol: 41 mg
Sodium: 10 mg
Total Carbohydrate: 60 g
Dietary Fiber: 11 g
Sugars: 16 g
Protein: 8 g