Supernatural Season 8 (All Heavens Break Loose...)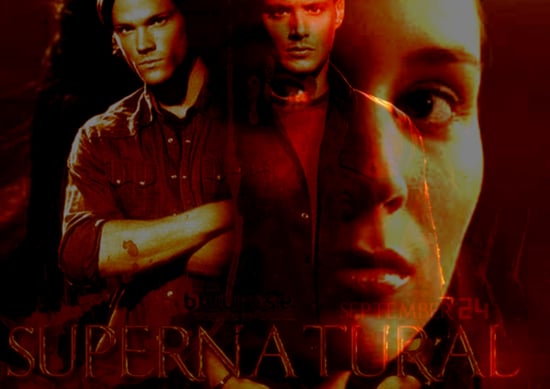 (Warning! what you're about to read is an UNOFFICIAL piece of storyline of Supernatural Season 8, or by other means -everything as written below here merely reflects my box of imagination and just for fun-fiction purpose only)
Also comes along with my tag- words -
'All Heavens Break Loose....'
Dean and Sam woke up in disorientation after finding themselves stranded in an unknown bedroom which located somewhere in secluded Oregon. Last thing they could remember was the fight against Michael where at one crucial point, some mysterious white light snapped in and they eventually passed out.
Were they practically dead? Or was it Michael playing some mind-game with them..?
The door creaked in…
And they stayed hidden at one corner. It was Michael whom they thought the one who was making the entrance but one stranger lady (Rooney Mara; A Nightmare on the Elmstreet) turned up instead. Her name was Paige Matthew; also a single mum to her ten-year old son, Bryan Matthew.
Paige was the one who took them in after finding them lying outside her yard – unconsciously.
Dean and Sam were offered by Paige, a ride returning to their hometown. On their road trip, all of a sudden crows appeared out of no where and tapped repetitively on the windshield of Paige's truck. As for the result, Paige lost control of her truck and they plunged into river.
But they survive and swam across to the ground. Sam peered across his surrounding, he saw a cornfield at just in a short distance and made a wild guess that probably someone resides there.
It was almost dark as the sunset closing in; Sam suggested finding a place to stay for a night. They all agreed and walked through the thick and dotted cornfield. Not long then, they stumbled upon a barn where one couple pre-occupying with their harvested crops.
While putting on friendly smiles, the couple agreed to let them stay in their house for a night. The couple was with their eight year-old daughter, a quiet and eccentric one. Dean felt a little bit uneasy and wanted to leave the place as it reminded him about Stephen King's - Children of the Corn – the crows that hit their car, the cornfield they passed through and an eccentric kid. However Sam said there was not much option left but to endure just one night.
But yet, the Winchesters couldn't kicked themselves out of their nature, they eventually sneaked out and prying on the kid with their assumption that she might join her other allied children for a massacre on adults. However, they were baffled soon when they found the kid was tied up at the center of some supernatural cult. The adults watched in callousness while the kid being slaughtered to death and burnt with her ashes scattered onto cornfield.
Each year, during harvest time, two kids, one boy and one girl would be slaughtered and burnt for their ashes as offering to what the locals worshipped for, Rhaul, the almightiest 'Demi-God' as what they believed in.
Dean and Sam somehow suspected that Rhaul might not be as what the locals think he is. Rhaul might be just some ghoul that grows an insatiable taste on children. Feared for Paige's son, Bryan could be the next victim, Dean and Sam set a trap to catch Rhaul. They eventually pulled off their plan and held Rhaul for interrogation that linked them to another shocking discovery. Rhaul was with a cross-allies, the archangel, Michael, a part of the conspiracy in their deal to destroy Paige's son. But what literally riddled the Winchesters, why would an antagonist archangel Michael interested in ridding a small boy…?
Both Paige and her son seek refuge from Dean and Sam against Michael's threat while the brothers trying to connect all the dots behind the mystery.
But soon, Dean and Paige mutually fell for each other and started dating. One night, they had a sex that he eventually found out that Paige in fact was still a virgin before having sex with him. Dean knew that Paige was hiding something about her child and insisted her to spill out the truth that probably linked to the reason behind plots hatched by Michael to kill her son.
Paige was reluctant at first, but then she eventually confessed that she was still a virgin when conceiving Bryan. She added that Bryan wasn't practically a human but Son of God. When the boy reaches his eighteen, he would be destined for baptism at Sacred Lake in order to purify humanity. That was why Michael wanted the 'boy' dead.
But there was one more little secret that Dean has yet to discover about her. Paige isn't who Dean thinks she is. In fact, she was a vessel of one long-lost soul who was resurrected by God.
The one who was sent back to earth for a mission to protect Son of God till the day of the baptism.
And at one shot for redemption to all his sins, he must fulfill his destiny at whatever cost – Castiel…
Ten years ago, Castiel made his first contact with Paige when she was giving birth for her child. Paige who had been diagnosed with a tumor in her womb but she has chosen her baby instead of her lives as she forwent the surgery removal of the womb's tumor.
The baby survived through Caesarian but another lives lost. Before crossing over, Paige had her last words offered to Castiel to take over her body as a vessel. Bottom line, she knew it all what was coming, so that was why the deal was made to protect her child.
After taking over Paige's body as the vessel, Castiel with Paige's child after returning to her home at Oregon, he instantly sealed the whole house with some spell that worked like a radar-proof so that Michael couldn't track them down.
It was strong enough to hold but until Michael hatched one plot by using Dean and Sam as baits.
During the last fight, at one crucial point when Dean reaching his near-death experience, Cass in Paige's vessel discreetly appeared in white light and snapped Dean alongside Sam from Michael's fatal threat.
Once again, Cass has saved the Winchesters but one cost to pay, the spell that sealed their house for protection against Michael has broken and by any mean, he needs to be prepared for what's coming for him and Son of God….