Hollywood is a small town, but it's not like all the stars are best friends! That's what makes it fun when celebrities meet their favorite famous faces on red carpets, backstage at concerts, and even while catching flights at airports. With the popularity of the selfie [1], more and more stars are capturing their run-ins and sharing the special moments on social media. Keep reading to see the most surprising selfies we've seen so far, and then fill your feeds with follow-worthy celebrities [2].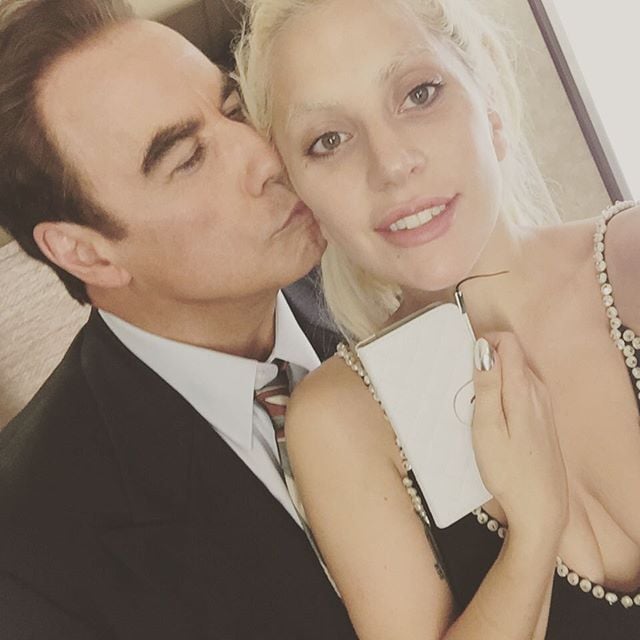 Lady Gaga [3] snapped a photo when John Travolta [4] came to visit her on the set of American Horror Story: Hotel in 2015.
"Winter came," Zach Braff [5] wrote alongside this 2015 selfie with Kit Harington.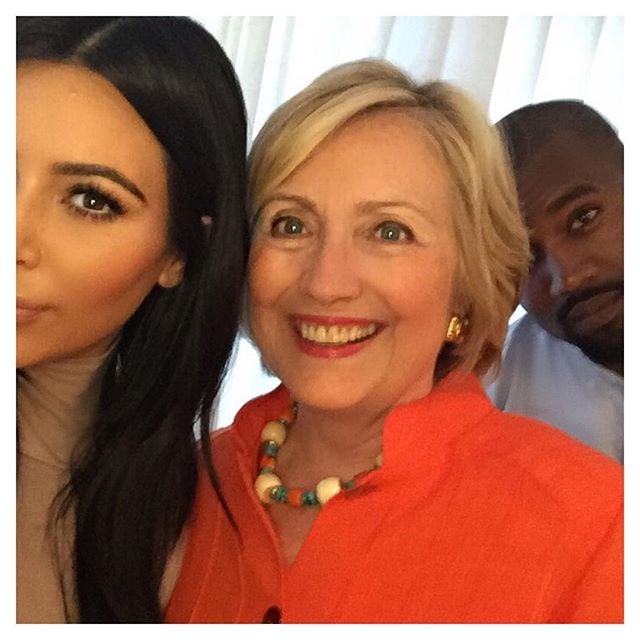 Hillary Clinton made Kanye West [6] crack a rare smile in this selfie in 2015.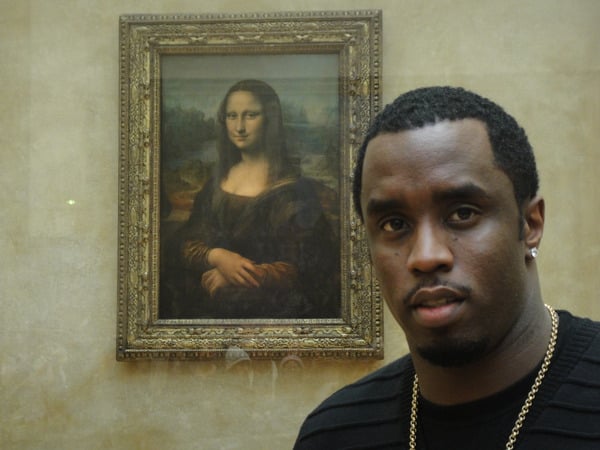 Diddy [7] hung out with Mona Lisa in 2010. (OK, maybe it only looks like she's aware he's taking a selfie).
Chris Hardwick had "REALLY GOOD SEATS" at the 2014 Emmys, making this this selfie with Bryan Cranston and Aaron Paul possible.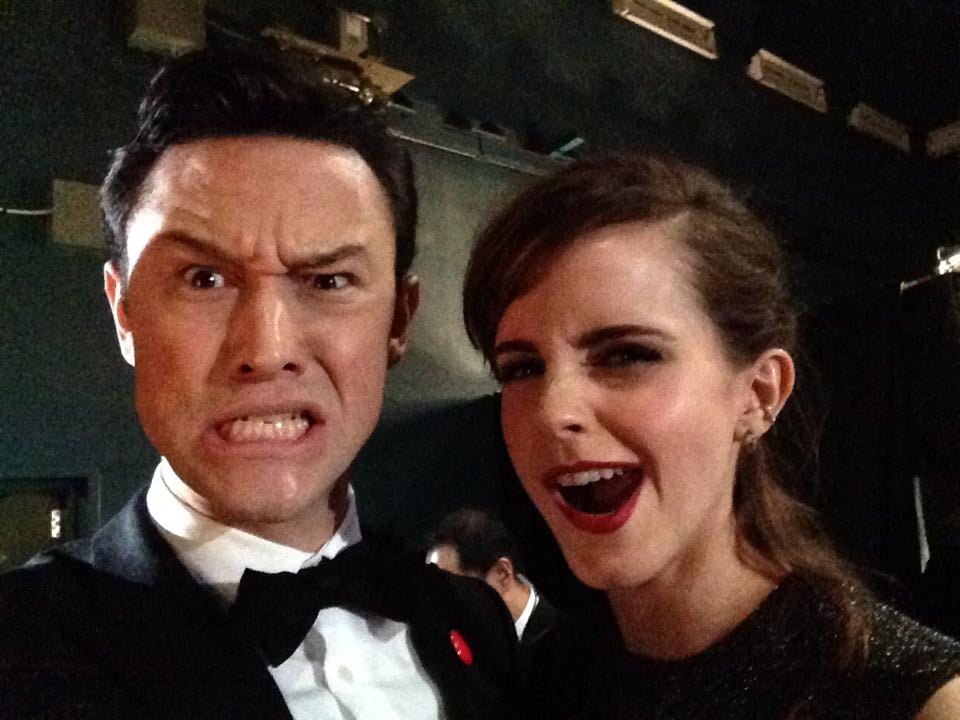 If it weren't for the 2014 Oscars, would Joseph Gordon-Levitt and Emma Watson [8] have ever had the chance to take an animated picture like this?
Sofia Vergara let all of her followers know she shared a moment with Lady Gaga [9] in 2014.
As the most retweeted picture ever [10], Ellen DeGeneres [11]'s 2014 Oscars selfie doesn't need to be explained.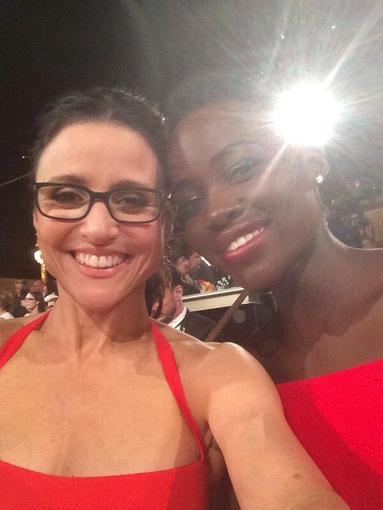 Comedy mainstay Julia Louis-Dreyfus [12] smiled wide with newcomer Lupita Nyong'o at the 2014 Golden Globes.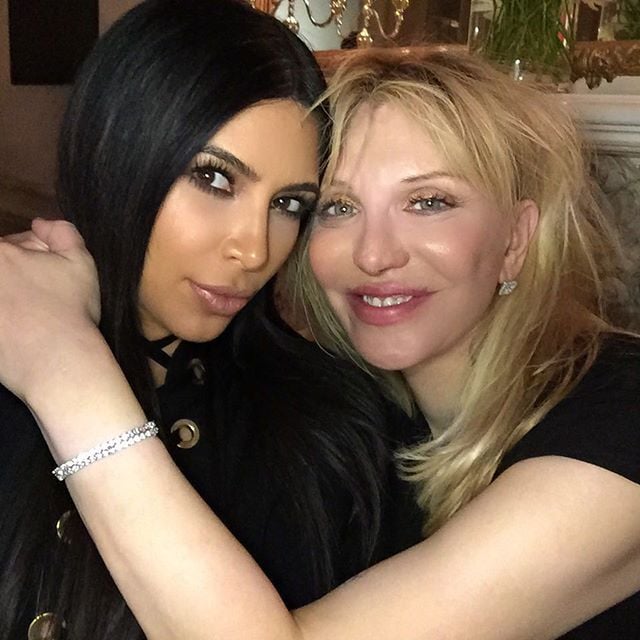 Who knew Kim Kardashian [13] and Courtney Love were so close? The pair posed together for this 2015 selfie.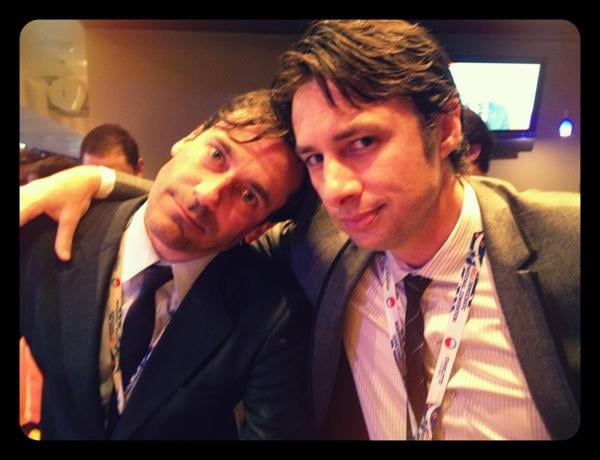 There's too much hotness in this 2012 snap of Jon Hamm [14] and Zach Braff [15], and Zach knows it. "Here's one for the ladies," he wrote in the caption.
Ellen DeGeneres famously dissed Liza Minnelli [16] at the 2014 Oscars, but it didn't stop the two from taking a picture together. "#Besties," Ellen tweeted.
Nicki Minaj pouted it up when she got Jennifer Lopez [17] to lean in for a picture at the 2014 MTV VMAs.
The power of the 2014 Emmys brought Minnie Driver [18], Jesse Tyler Ferguson, and Matt LeBlanc together, and they honored it with this selfie.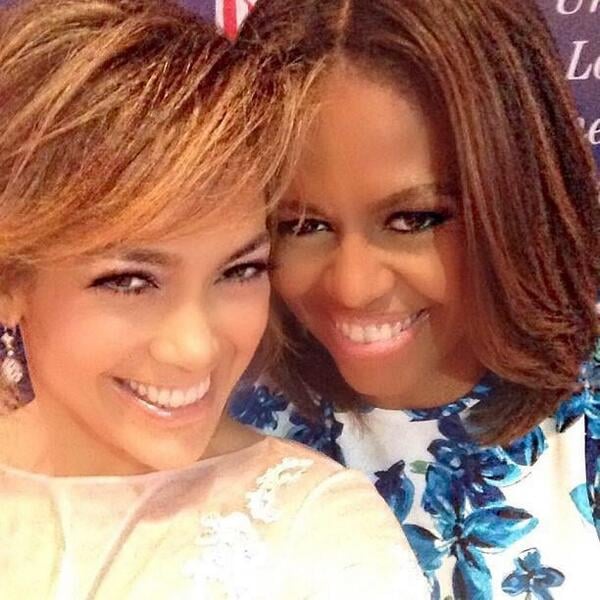 Jennifer Lopez and First Lady Michelle Obama huddled [19] for their smiley selfie at a charity luncheon in July 2015.
This kid nabbed a selfie with Paul McCartney and Warren Buffett when the unlikely pair grabbed dinner in Omaha, NE, in 2014.
Chris Hardwick is often in the right place for a star-studded selfie, like the time he was all-too-thrilled to nab one with Ben Affleck [20], Henry Cavill, and Gal Gadot at the Batman v Superman: Dawn of Justice panel at Comic-Con in 2014.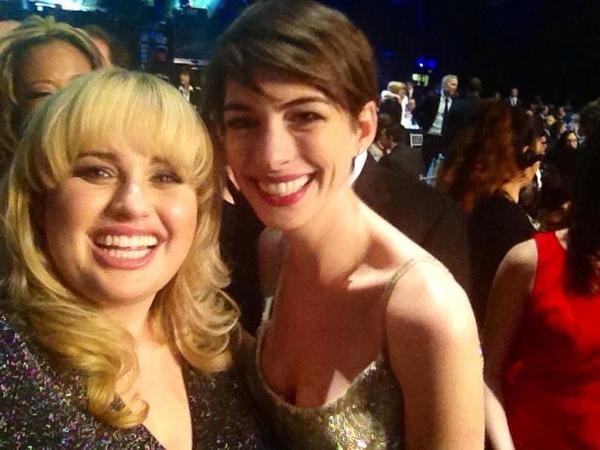 Rebel Wilson held her camera steady to score a picture with Anne Hathaway [21] at the 2013 Critics' Choice Awards.
For TV fans, it felt like two universes were colliding when Orange Is the New Black stars Uzo Aduba and Taylor Schilling hung out with Modern Family's Jesse Tyler Ferguson and his husband, Justin Mikita, during the White House Correspondents' Dinner weekend in May 2014.
Demi Lovato looked starstruck when she posed for a snap with former President Bill Clinton at the Unite4:Humanity Gala in February 2014. "Too excited to filter this... NO BIG DEAL - #Selfieswiththeprez.... Bill Clinton - so nice to meet you!!!!" she wrote in the caption.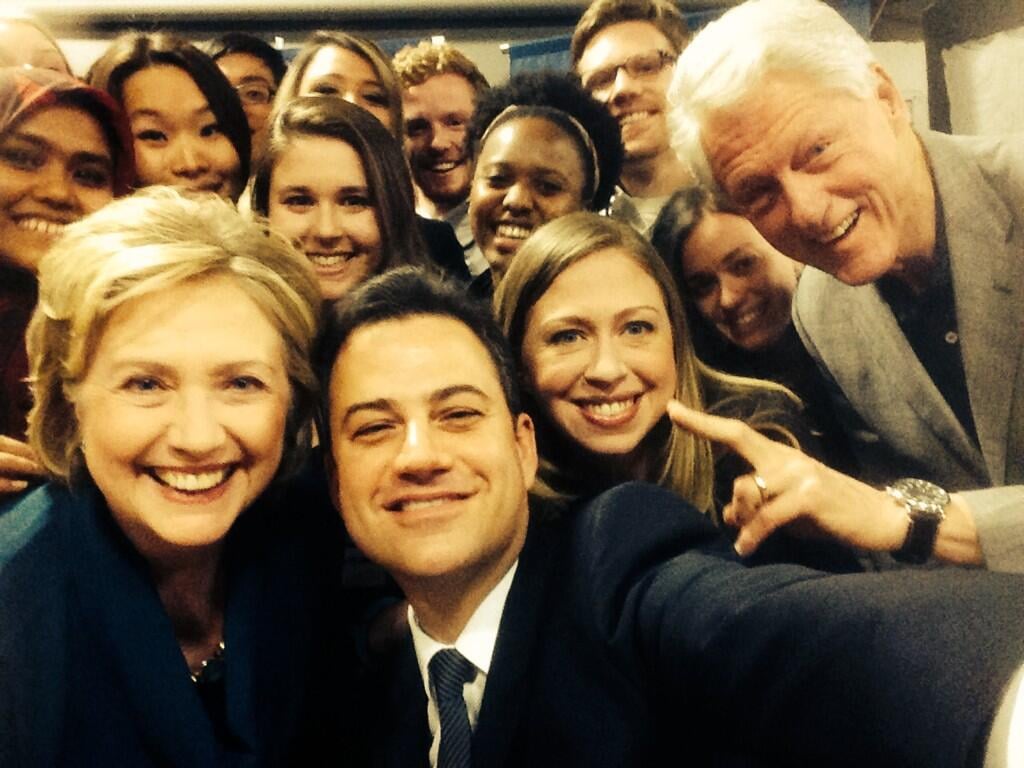 Inspired by Ellen DeGeneres [22]'s Oscars selfie, Jimmy Kimmel got the Clintons to show off their pearly whites during a Clinton Global Initiative University event in March 2014.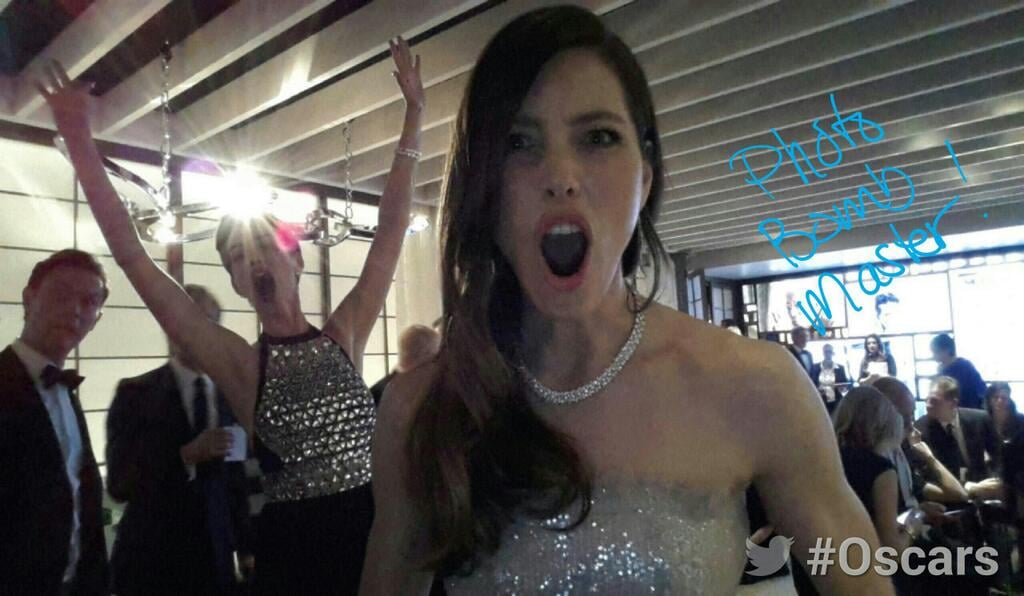 The only thing more surprising than Jessica Biel [23] and Anne Hathaway [24] sharing a selfie at the 2014 Oscars: their wild expression!
Gwyneth Paltrow [25]'s 2014 "#girlsnight" snap with Nicole Richie [26], Chelsea Handler, Naomi Watts [27], Gwen Stefani [28], and Stella McCartney proved the ladies are actually real-life pals.
Adele "graced" Katy Perry [29] with her presence at the "Dark Horse" singer's London concert in June 2014.
Emma Roberts and Liam Payne hit us with their picture-perfect looks in this adorable picture, which she took on the red carpet at the 2013 American Music Awards.
Katy Perry [30] brought her "pink pony to the White House to holler" at Vice President Joe Biden in June 2014.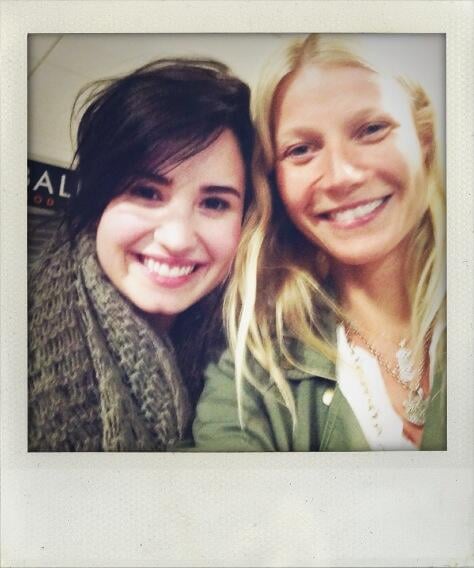 When Gwyneth Paltrow [31] saw Demi Lovato on her flight in 2013, she just had to take a selfie.
Hold up — did you know Emma Roberts and Zelda Williams are longtime pals?! "Can't believe I've known this gorgeous girl 10 years," Emma captioned this 2015 snap.
It's common knowledge that Kim Kardashian [32], Chrissy Teigen, and John Legend [33] are friends, but we didn't expect this reaction to Beck beating Beyoncé in the album of the year category at the 2015 Grammys. "This is the Beck won that award face?!?!?!" Kim captioned the moment.
We'd like to thank the people responsible for the seating arrangement at the 2015 Oscars. Without you, Meryl Streep [34] and Jennifer Lopez [35]'s epic moment would not have been possible.
Yep, that's Jaime King in Taylor Swift [36]'s bed and Ansel Elgort in her bedroom in 2014. This is one of those random moments that could only happen at a Taylor Swift party [37].
Kelly Osbourne was for real when she mentioned her friendship with Zendaya in the midst of the Fashion Police controversy [38]. This picture was snapped on Valentine's Day 2015, several days before Giuliana Rancic's comments about Zendaya's hair at the Oscars.
Britney Spears [39] and Steven Tyler popped up at the 2015 Super Bowl. It had been 14 years since we saw them perform at the 2001 halftime show.
Nope, 50 Cent and Leonardo DiCaprio [40] aren't too cool to take a selfie at a party [41]. The pair huddled together in this 2015 snap.
Oh hey, Beyoncé, Taylor Swift [42], Jay Z, and Justin Timberlake [43]. Out of all the stars at Taylor's 25th birthday party in 2014 [44], it looks like JT was the one wise enough to take a selfie. However, Taylor was the one who went public with it weeks later.
It's J. Lo and J. An! Jennifer Aniston [45] and Justin Theroux got in Jennifer Lopez [46]'s 2015 Oscars selfie.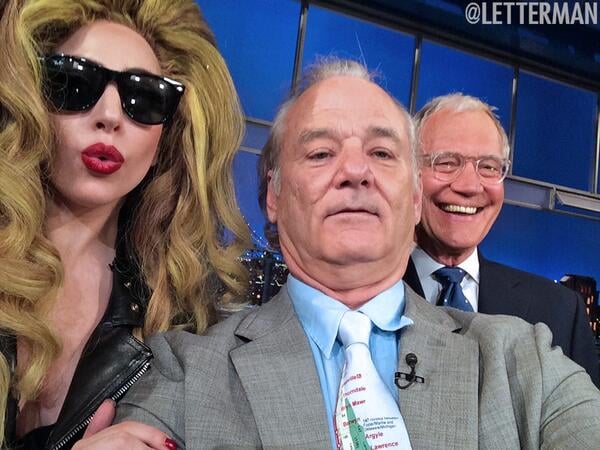 Here's what happened when Lady Gaga [47] and Bill Murray [48] visited Late Show With David Letterman in April 2014.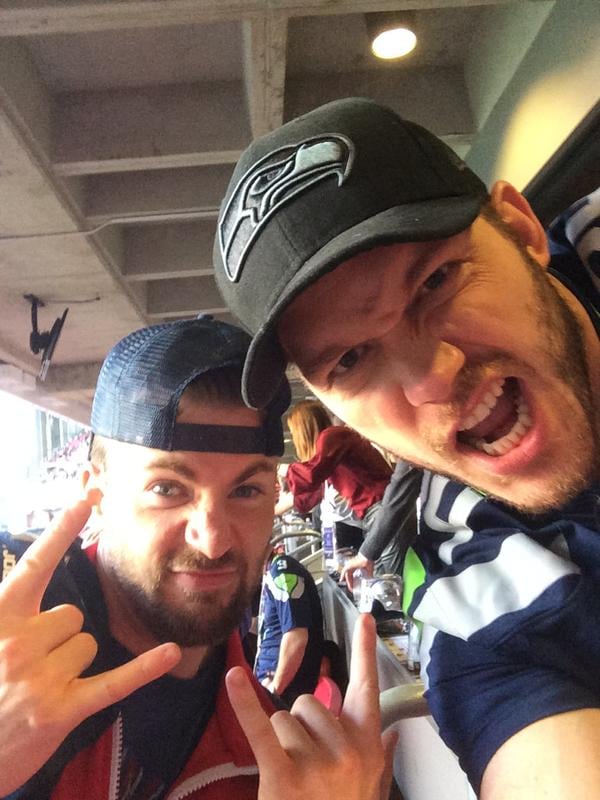 Even though Chris Pratt and Chris Evans root for different teams, the guys watched the 2015 Super Bowl together. Talk about good sports — they even had a charitable bet [49] going!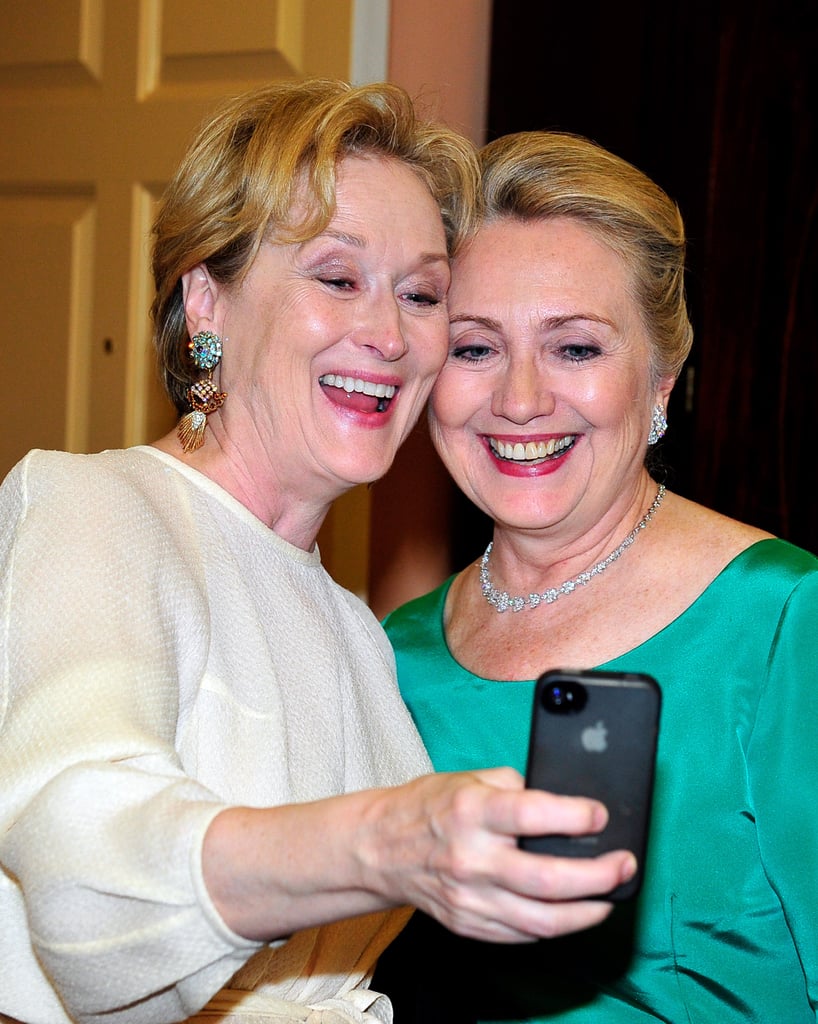 It's Meryl Steep and Hillary Clinton! The queen of Hollywood and the most powerful woman in Washington united for a smiley selfie at the Kennedy Center Honors in December 2012. Meryl donated her image to a charity. For $200, you can have a copy of the iconic selfie [50] and contribute to Shutter to Think's education efforts.