Swiss Chard Lasagna Recipe
Four Cheese Swiss Chard Lasagna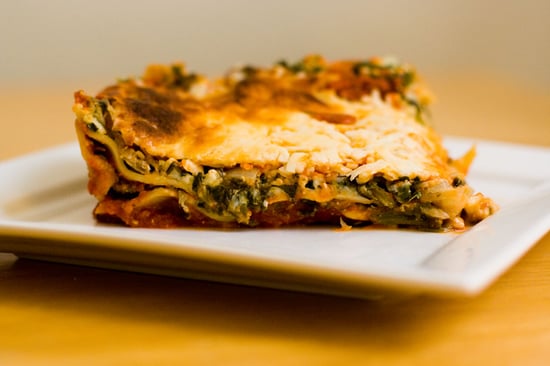 Forget spinach. It's all about the chard, baby. I had some remaining from my CSA share this weekend and figured there was no time like the present to make a kick-a$$ lasagna. And that it was. Wowza. Of course, I snuck in some goodness. No one could tell. 
Minus a couple of things, this dish was made entirely of local ingredients. Local pastured pork, local grass-fed ground beef, local chard, local tomatoes, local garlic, local eggs, fresh basil and parsley from my herb garden, and fresh tomato paste that I had made (from, you guessed it, local tomatoes) and stored in the freezer.  It can be done.
If you prefer to go meatless, just omit the sausage and ground beef. Easy peasy. Use organic ingredients when possible.
INGREDIENTS
* = good source of fiber
1 lb. sweet Italian pork sausage
1/2 lb. grass-fed ground beef
1/2 cup finely chopped onion *
4 cloves garlic, crushed
2 tsp. maple syrup
½ tsp. Celtic sea salt
¼ cup fresh, chopped basil leaves
½ tsp. fennel seed
¼ tsp. pepper
¼ cup fresh, chopped parsley
3 cups (or 1 large 28 oz can) crushed tomatoes *
1 ½ cup (or 2 6 oz. cans) tomato paste *
½ cup water
¼ cup chia seed (or golden flax seed) *
12 curly whole wheat lasagna noodles (¾ of 1 lb. package) *
1 bunch (1bout 1 lb) Swiss chard, stems removed and coarsely chopped *
1 container (15 oz.) ricotta cheese, drained
1 egg
¾ cup shredded mozzarella cheese
¾ cup shredded white cheddar cheese
¾ cup shredded Parmesan cheese
PREP
1.  Remove sausage meat from outer casings, chop the meat. In 5-quart Dutch oven, over medium heat, sauté sausage, beef (break up beef with wooden spoon), onion, and garlic, stirring frequently until well-browned, about 20 minutes.
2. Add maple syrup, salt, basil, fennel, pepper and half of parsley, mix well. Add tomatoes, tomato paste, water, and chia seed. Bring to boil; reduce heat; simmer, covered and stirring occasionally, until thick – about 1 ½ hours. In a small bowl, combine ricotta, egg, and remaining parsley. Set aside.
3.  In 8-quart kettle, bring 3 quarts water to boil. Add lasagna noodles, one at a time. Return to boiling, stirring occasionally, about 10 minutes. Drain in colander; rinse under cold water. Dry lasagna on paper towels. Preheat oven to 350 degrees.
4. In 13 x 9 baking dish, spread layer of sauce. Cover with 4 lasagna noodles, lengthwise and overlapping to cover. Spread 1/3 ricotta mixture over noodles. Spoon 1 ½ cups sauce over ricotta. Sprinkle 1/3 of chopped chard over sauce. Repeat with noodles, ricotta, sauce, and chard two more times, ending with sauce. Top with mozzarella, cheddar, and Parmesan.
5. Cover with foil. Bake 25 minutes; remove foil; bake, uncovered about 25 minutes longer or until bubbly. Cook 15 minutes before serving. With sharp knife, cut into squares and serve.
For this and other fiberlicous recipes, check out www.fortheloveoffiber.com.
Nutrition Facts
Serving Size: 1/10 recipe
Calories: 473
Total Fat: 21 g
Saturated Fat: 8 g
Cholesterol: 102 mg
Sodium: 1020 mg
Total Carbohydrate: 46 g
Dietary Fiber: 11 g
Sugars: 7 g
Protein: 33 g
 Image courtesy of JesseMenn