Tempeh Taco Bites
originally from my blog, www.une-vie-saine.com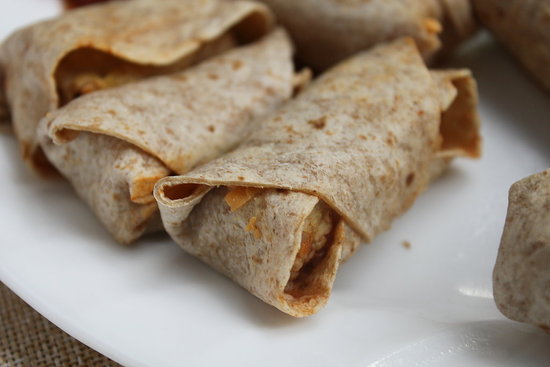 These tasty, healthy tempeh bites are packed with protein, but still taste fun and delicious. They make a great easy dinner for kids and adults alike, or a quick vegan party appetizer!
Ingredients (for one serving, or eight bites):
- 1/2 block of tempeh, cut into eight equal rectangles
- two whole-wheat flour tortillas, cut into quarters (I used 6" ones from Trader Joe's)
- 1/4 cup salsa
- 1/4 cup non-dairy cheddar shreds (I used Daiya, regular cheese would work as well)
Start by covering the tempeh with salsa and letting it marinate in the fridge for at least an hour. Preheat the oven to 400*F Next, I created the bites by placing a piece of tempeh and a pinch of cheese onto each tortilla triangle, then rolling them up as tightly as possible. Place them on a baking sheet lined with tinfoil and bake for 10-12 minutes, or until tortilla edges are slightly crisp. Remove and serve with salsa for dipping!