Turn Steel Cut Oats Into Quick Cook Oats
The importance of eating a healthy breakfast everyday is pretty well known in these parts, and having a bowl of steel cut oats definitely fulfills this requirement. Steel cut oats are a great way to fuel up in the morning because they are high in fiber, protein, and calcium. They also keep you full until lunch, which is helpful when trying to avoid that mid-morning crash.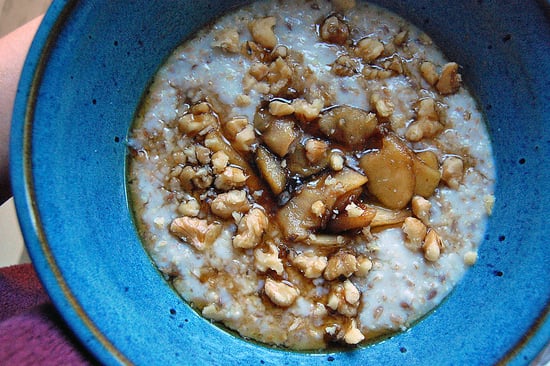 Good things don't come easy though, as steel cut oats take about 45 minutes to cook. This might be OK on a lazy Sunday, but many of us don't have extra time to spare when we're trying to get to work during the week.  But if you prep your oats the night before you can enjoy a warm satisfying bowl in about 10 minutes the next day. Learn how when you
.
In a medium to large saucepan, bring 4 cups of water to a boil.
Stir in 1 cup of steel cut oats and let cook for one minute.
Turn off heat, cover pot with lid, and forget about it until the next morning.
When you wake up turn the heat back on and bring the oatmeal up to a boil. Reduce heat, and let simmer for about 7-10 minutes, stirring often. At this point, you can also add any spices or sweeteners to your oatmeal like cinnamon, nutmeg, or brown sugar.
Spoon the oatmeal into a bowl and top it off with fresh or dried fruit and chopped nuts.
If you've never had steel cut oats, Winter is the time to try them since it's such a warm, comforting dish. I think steel cut oats are fuller in flavor than quick cook oats and have a better texture too. To save even more time in the morning, make a big batch of steel cut oats over the weekend, which you can store in the fridge for about a week. Then all you have to do is rewarm yourself a bowl before work.
Source: Flickr User sleepyneko