Turn Your Pineapple Into a Cocktail Glass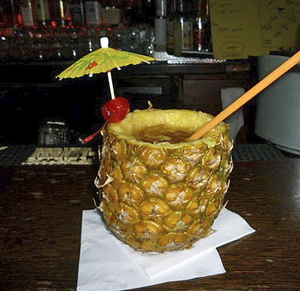 My mom sends me a lot of pineapple. Probably because I miss being in Hawaii with the fam so much. I took my most recent shipment to a bartender friend who hollowed them out so we could enjoy our rum cocktails in fresh pineapple cups. And since I love all things tiki, the novelty won me over. Though the picture might not do it justice, trust me in saying that a daiquiri and Hemingway never tasted as good than out of that cup!
Quick tip: If you try this at home make sure you don't cut too close to the edge. If you do, expect your cocktail to explode all over you!