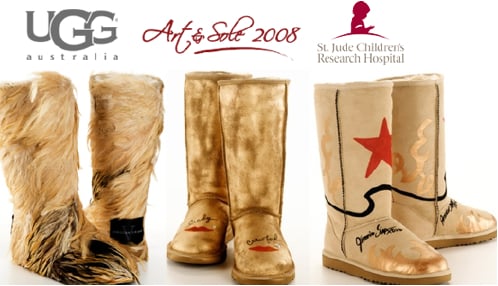 UGG boots have once again padded out of the loungeroom and on to the street in a celebrity-led revolt against teetering high heels.
Former Baywatch star Pamela Anderson has long been a fan, but now teen sensation Miley Cyrus has joined the parade.
Even Sarah Jessica Parker, whose character in Sex & the City was known for her love of Manolo Blahniks, has cast off the sexy heels in favour of the supersoft boot.
Angelina Jolie, Sienna Miller and Leonardo DiCaprio have also been wearing them.
Owner of Skinny's sheepskin stores Bruce Harlow has been supplying the woolly footwear since the mid-1970s. "I think I'm just about the only one in Queensland who's still making them," he said.
Skinny's stores stock about 45 styles in 10 colours.
And, if he doesn't have it in stock, Harlow isn't afraid to buck convention to give customers what they want.
"I've made a lot of freaky boots for people. I made ones that went right up to the crotch," he said.
"It took a lot of skin and they had zips in them but that was what she wanted."
Harlow has even replaced soles and inner soles on boots he made 20 years ago.
"I can't tell you how many times people have come into the shop and they've got their boots all taped up," he said.
"They do anything to keep them together for as long as possible."
Shopper Alice Dykes, 17, from Benowa on the Gold Coast said she would seriously consider getting a pair after trying them in Skinny's Myer Centre store this week.