Vegan King Ranch Casserole
Kelly at Vegan Thyme posted this recipe last week and knowing that the he-gans I live with love casseroles (especially of the Mexican kind), I figured this would be a winner over here. And no surprise, it was. The original recipe calls for Morning Star Vegan Chicken Strips, but I couldn't find those—at least not the vegan ones. They make vegetarian ones, however. So I opted for Boca Chick Patties instead.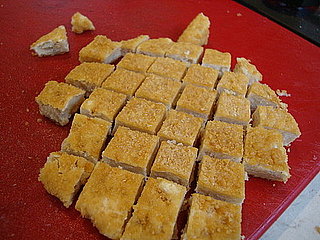 The great thing about this recipe that Kelly pointed out, is that you can use your favorite vegetables and seasonings—there's no right/wrong way to make this casserole. Next time, I'll add some guacamole or diced avocados on top, otherwise, it was perfect.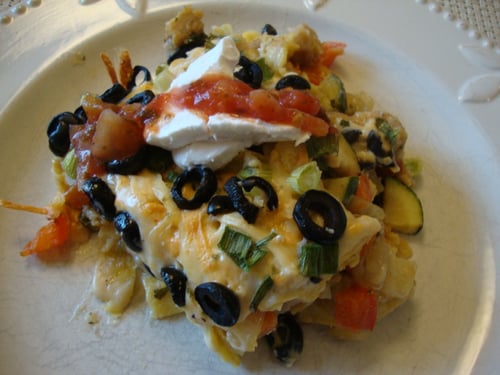 Vegan Thyme, adapted
Vegan King Ranch Casserole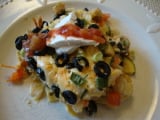 Ingredients
4 Boca Chicken Patties, slightly thawed and diced
1 large red bell pepper, diced
2 medium zucchini, sliced, then quartered
1 small onion, diced
2 tsp olive oil
12 corn tortillas, sliced into strips
1 C vegan shredded cheese (I used a mixture of pepper jack and cheddar)
1 C fresh cilantro, chopped
1 tsp cumin
1/2 tsp cayenne
Salt and pepper
4 scallions, sliced
1 C black olives, sliced
3 Tbs Earth Balance
3 Tbs flour
1-1/4 C almond milk
1/4 tsp nutmeg
Optional ingredients: Tofutti sour cream, salsa, avocados/guacamole
Directions
Preheat oven to 400. Lightly spray a 9×13 baking pan with cooking spray; set aside. I recommend having all the ingredients chopped, shredded and measured before you get started—it'll just make things easier on you. In a large skillet, heat the olive oil. Add the bell pepper, zucchini, onion, and chick patties; cook 10 minutes. Stir in the cumin, cayenne, and cilantro.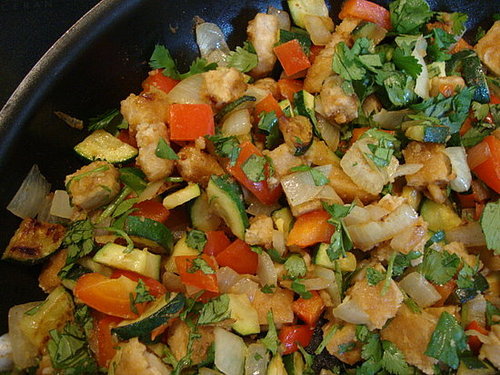 Meanwhile, in a small sauce pan, melt the margarine. Whisk in a tablespoon of flour to thicken it up. Gradually add the other two while whisking, forming a paste. Whisk in the milk and continue stirring over medium-high heat until it begins to thicken. Remove from heat and season with nutmeg, salt, and pepper.
Pour a third of the sauce onto the bottom of the baking pan and spread as evenly as you can. Next, add a layer of tortilla strips. There's no rhyme or reason to this step—you can layer them down willy-nilly, just as long they evenly cover the bottom.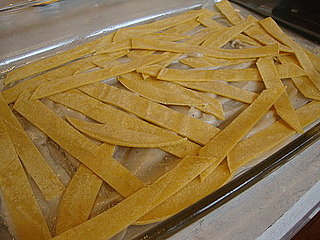 Pour half of the vegetable mixture on top of the tortilla strips, then another layer of tortilla strips. I then drizzled another third of the sauce on top.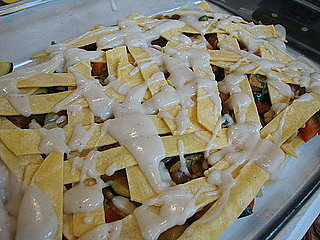 Repeat layers once more and then top with the vegan cheese, scallions, and black olives. Bake uncovered for 30 minutes. Let it cool 5 minutes before diving into it. Enjoy with sour cream, salsa, and/or guacamole on top.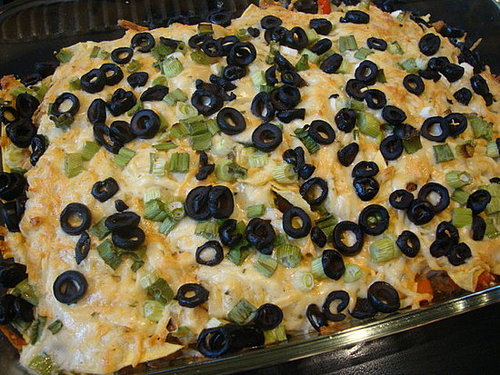 Information
Category

Other, Main Dishes