Vegan gluten free protein muffin
Vegan protein muffin (gluten free too)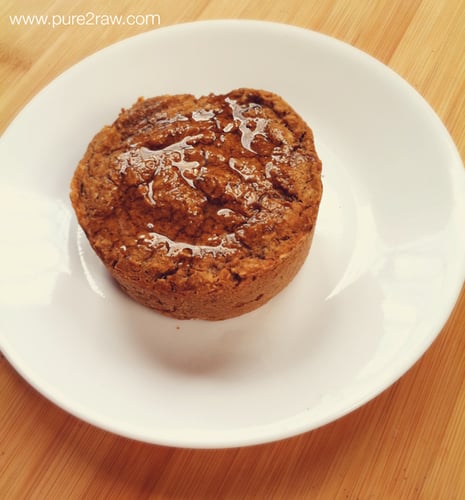 Summer time is here and you do want to be out enjoying yourself, right?
But you want to stay on track with your healthy eating, well today we got a healthy muffin that you can throw into your beach bag!
This muffin is vegan and gluten free. The recipe is simple to make and you can easily create fun flavors, check out our mint chip muffin recipe.
Vegan Protein Muffin by Lori and MIchelle of Pure2raw.com
makes 1 large muffin
bake in a large muffin pan or we used a ramekin to bake ours in.
bake 350 for about 20 minutes
1/4 cup protein powder (we used vanilla flavored brown rice protein)
1/4 cup flax meal ( just grind up flax seeds into a powder form)
1/4 teaspoon baking soda
1/2 teaspoon baking powder
1/4 teaspoon liquid stevia (adjust to taste, add in more if you want it more sweet)
5 tablespoons water
Directions:
Pre-heat your oven to 350 degrees.
Place protein powder and flax meal into a bowl. Next add in your baking soda and baking powder and stevia. Begin to stir. (if you do not want to use stevia in this recipe, use about 1-2 tablespoons of your favorite sugar)
Next add in your 5 tablespoons water. You can use a non-dairy milk alternative if you would like.
**Batter will be REALLY THICK.
Place muffin batter into a lightly coconut oiled pan. Bake for about 20 minutes.
Take out from warm oven let cool slightly and then enjoy. Drizzle with coconut oil!
Have a healthy fun summer!
Lori and Michelle