Vegetarian Recipe For Spicy Tofu and Veggies Over Quinoa
Spicy Tofu and Veggies Over Quinoa
This is a dish I've made several different ways, depending on the veggies and type of rice I have on hand. The sauce always has the three main elements — red chili paste, soy sauce, and sesame oil — but the measurements aren't exact, it depends on what you like. This was the first time I put the tofu/vegetables over quinoa (ran out of Calrose rice), and I have to say the grain paired nicely with the spicy dish. Thanks to some of the prepackaged elements, can't-screw-it-up tofu, and rice-cooker-made quinoa, this recipe is about as uncomplicated as it gets.
Here's the recipe!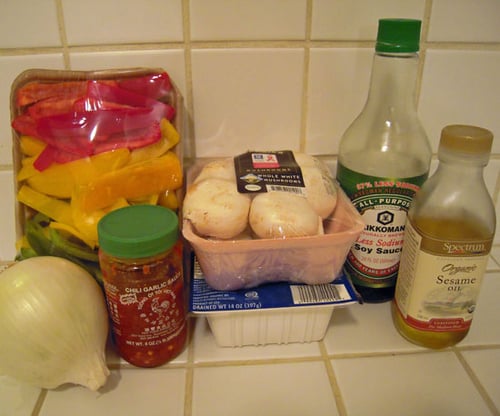 Spicy Tofu and Veggies Over Quinoa
Original recipe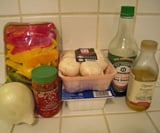 Ingredients
Sesame oil to taste
Soy sauce to taste
2-3 heaping spoonfuls chili garlic sauce
1 onion
1 package whole white mushrooms
1 package pre-cut red, yellow, and green bell peppers (or 2-3 whole bell peppers)
1 package extra firm tofu
1 cup quinoa
Directions
Add quinoa and 2 cups water to rice cooker and start.
Cut up bell peppers, mushrooms, onion, and tofu into 1-inch pieces and set aside.
Pour sesame oil, soy sauce, and chili sauce into large pan or wok on medium-high. Add tofu and vegetables and bring to a boil. Cook, stirring occasionally, for 20 or so minutes.
Once the onions are translucent and the veggies are cooked without being too soft, serve on top of the quinoa.
Serves 4.
Information
Category

Main Dishes, Tofu