"What?" or "What!"
"What?" or "What!"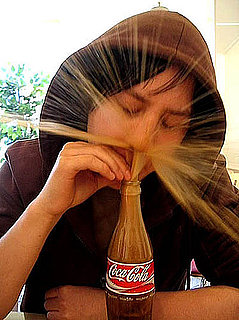 As a mom of three teenagers I sometimes wonder if they listen to half of what I say and find myself praying they at least allow some of what they are ignoring to seep into their subconscious.    Anyway that is my life day in and day out…listen to me…pay attention…this is important…. been there right?   
Kids seem to take on parts of our own personalities. When they do, seeing that little piece of yourself in a mannerism, a laugh, or perhaps that one trait you wish they hadn't grabbed onto and kept as their own; it can just drive you nuts.  On the other hand, it may just make you want to burst out in laughter.
I am going to step out of my comfort zone and admit that I routinely torment my kids.  Not in a painful- going to get arrested sort of way- but in an "OMG tell me you didn't just do that" kind of thing.  There is a sort of bizarre sort of satisfaction from watching them squirm a little.  I know I am not the only one that has done this to their kids.  Some of us have perfected this little game.  My sister feels it is payback for all the embarrassing things our kids have put us through but I prefer to think of it as simply humor on edge. 
How does one teach teenagers patience?  My father had a unique and exquisitely painful way.  He simply made you wait until the day before you absolutely positively had to have an answer and yes that is torture.   If you pestered him about it the answer was always "No" but if you were patient the answer was almost always "Yes" unless you did something to screw things up for yourself.
Unfortunately I never mastered that one skill regrettably.  Because of this I am tormented daily with all the "Have you decided yet?" pokes at my thin resolve.  It is okay because I have my own arsenal of tools which I use in other ways.  Perhaps my husband and I accidentally on purpose erase the "Robot Chicken" episodes the kids thought they were sneaking around recording behind our back.  The best part is that he and I watch them first and then discuss how funny they were while they are in ear-shot.  The groaning we hear when they discover they are gone is fabulous.
Today was my shining achievement and I am here to brag.  Yep- I am very proud of this one.  My son has this habit of always saying "What?" like he is innocent when it is obvious he isn't.  It sometimes wears us all thin because we know this is his way of rubbing it in.  He is very sneaky but not clever enough to cover his tracks.  Sometimes he revels in actually getting caught and of course he simply says his signature "What?"
Today he went around all day long saying "What?" only the tone was very different.  I started paying a little more attention and discovered he was following around my daughter insisting that she tell him "what" she had done.  Hmmmm….my Mom radar was going off so I had to know "what" was going on but I knew that with all good things one must wait.  Bedtime I hear him still asking her "what did she do" and all she would say is "You'll know, it is only a matter of time."  He groaned.
After about an hour I called my daughter on her cell phone and asked "So what did you do to your brother that has been tormenting him all day?"  She laughed and said, "Nothing.  I just figured if he was going to be going around saying 'What' all the time that I'd give him something to really say 'What' about."  Yes!  I love it!  She has been taught by the master.  That girl deserves chocolate.