Whole Wheat Greek Yogurt Pancakes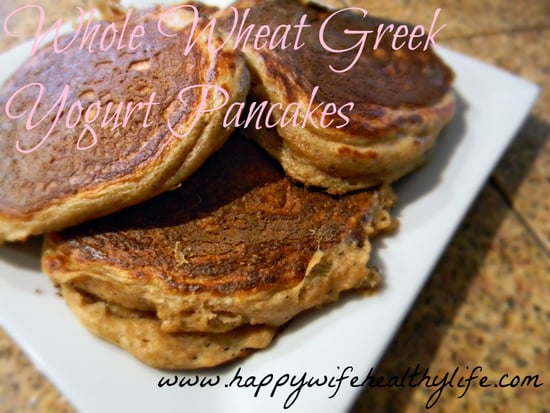 Pancakes are one of those recipes I look forward to having during a delicious weekend brunch.  Throughout the week, I tend to stick to quick breakfasts that I can prepare with little time and not much thought before work.  On Saturday mornings though, I prefer to take my time in the kitchen.  I like to whip up foods I don't usually get Monday-Friday and put a meal on the table that makes an ordinary, cold January day feel just a little bit more special.
When I do cook brunch I sometimes take classic favorites and try to make them a little more healthy.  Once you are on a sugar-rush at 10 a.m., it is hard to even out your blood sugar for the rest of the day.  I don't know about you, but if I have too much sugar, too many carbs, and a lot of unsaturated fats in the morning I struggle to get full the rest of the day.  However, with these Whole Wheat Greek Yogurt Pancakes, I was able to enjoy a classic pancake breakfast that tasted delicious, gave me proper fuel, and left me feeling satisfied without the sugar headaches!
Ingredients
1 cup Whole Wheat Flour
1 teaspoon Baking Soda
1/2 teaspoon Baking Powder
1 teaspoon Cinnamon
1 cup Low-Fat Greek Yogurt
1 Egg
Directions
Step 1

In a medium mixing bowl, whisk together flour, baking soda, baking powder, and cinnamon.
Step 2

In a separate bowl (I used my yogurt container since I only had about a cup of yogurt left), mix together yogurt and egg.
Step 3

Add flour mixture and yogurt mixture together. (Batter will be thick).
Step 4

Over medium-low heat, spray pan with oil or cooking spray and add about 1/4 cup batter to pan. Heat until batter is bubbling and then flip, cooking 2-3 minutes on the other side until fully cooked through.
Step 5

Serve with light syrup, peanut butter, powdered sugar, blueberries, or anything else that sounds delicious to you!