There are lots of ways to wear bangs [1], from the swoop, to the baby varieties, to the blunt straight-across-the-forehead assortments. So, let's take a trip back to days past, where all sorts of fringe styles — and lots of hairspray — ruled the looks of the moment.
Bobbed Bangs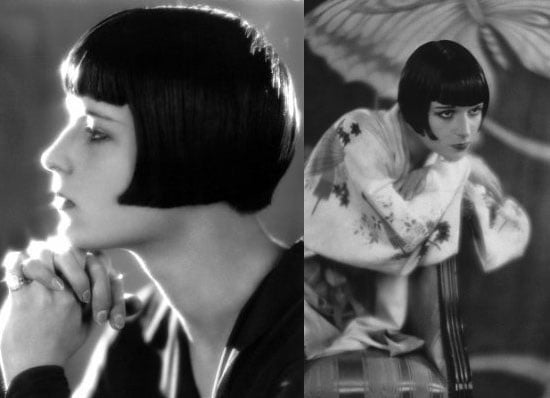 Silent film actress Louise Brooks [2]'s bob was the cat's pajamas. Her severe, straight bangs made this style all the more fashionable.
Fingerwaved and Spit-Curled
She was a little brash and a bit brazen. As for those bangs? Actress Mae West [3] was right on target, opting for stylish spit curls [4] and trendy fingerwaves.
Bettie Page Bangs
Simply put, 1950s pinup Bettie Page made short, blunt bangs synonymous with her name.
Source: Flickr User " rel="nofollow">surunnuage [5]
Beehived Bangs
In the 1960s, The Ronettes, led by Ronnie Spector [6], ruled the airwaves. In the meantime, it was beehived bangs that ruled the runways.
Birkin Bangs
Model Jane Birkin made both the Birkin bag and Birkin bangs tantamount to high fashion. Her long, eye-grazing bangs of the early '70s can still be seen in today's hairstyles.
Badass Bangs
Nobody does piecy, funky bangs quite like Joan Jett [7], pictured here in 1981.
Far Out Fringe
Blondie's frontwoman, Debbie Harry [8], possesses what you might call a certain can-do-no-wrong kind of allure, managing to make this slightly mohawk-y 1979 hairstyle all the more cool.
Farrah Fringe
During Farrah Fawcett [9]'s Charlie's Angels days, her hairstyle, complete with feathery bangs, was coveted by women everywhere.
Sleek and Shiny
Another "angel," Kate Jackson, opted for a smoother, sleeker look, parted down the middle for a face-framing effect.
Tamed-Down Tina
Pre-big hair, Tina Turner's early '80s bangs were long, straight, and fuss-free. It's a look that could translate nicely in today's rocker chic styles. (Think Taylor Momsen [10].)
Feathered Fringe
She's always been known for her long, brunette locks, and back at her 1982 high school graduation, Brooke Shields's feathery bangs were the precursor of the high-to-the-sky claw bangs that were soon to rear their ugly heads.
Sade: Sans Bangs
The great thing about singer Sade [11], besides her buttery voice and envious looks, was the fact that she opted for sleek, bangless looks, instead of the wildly teased locks that were so popular at that moment.
Teased Tina
In the mid-1980s, Tina Turner [12] rocked it yet again. This time, her spiked locks garnered lots of attention. Those long, shapely legs didn't hurt, either.
The Claw
In this 1987 photo, Alyssa Milano shows Corey Feldman who's the boss with her claw-like bangs. Admit it. You know you had them, too.
Winged Bangs
Nobody did the winged-out-on-the-side bang better than Linda Evans of Dynasty fame.
Meg Ryan
The big-on-top/curly-throughout look was a variation of the infamous claw bangs. Which pouffed-out style do you prefer?
Blunt Bangs
Back in the beginning of Shannen Doherty's Beverly Hills, 90210 years, she helped to bring tamed hair back into fashion. Whew! In fact, you'd easily find someone working this style today.
Baby Bangs
I love Audrey Tautou's hairstyle from Amélie [13] so much, that I've often contemplated requesting this stacked bob myself. I just wish I could actually pull off these close-to-the-hairline baby bangs, too.
Side-Swoop
In this picture from 2007, Nicole Richie achieved what I like to call side-swoop perfection.
Miss Piggy
When she's not batting her lashes at Kermie, Miss Piggy's undoubtedly perfecting those stylish swine locks of hers. How can you not love this flattering fringe?
Perfectly Pixied
Now that Halle Berry's pixie has returned [14], I'm loving her own unique twist on this classic style. A little pomade goes a long way to shape those baby bangs into a funky, modern style.