We know she's not actually Blair Waldorf, but we still love Leighton Meester [1]. She's always cute, loves to have fun with her makeup, and is fearless when it comes to her sense of style. Because she's usually wearing some pretty but attention-grabbing makeup or hair, lots of her red-carpet looks are perfect for the holidays. We've broken down eight of her most Waldorf-worthy looks, with tips for everything from her most gorgeous curls to her sassiest lipstick. So click through to get looks that are worth gossiping about.
Chrome-atherapy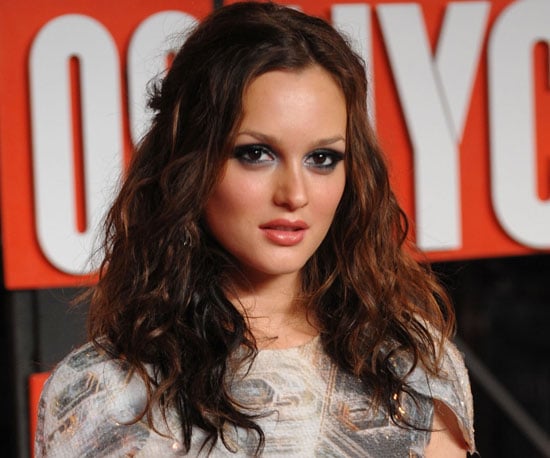 Big brown eyes can look amazing in slate and chrome shadow shades. Just make sure to keep the color from getting too dark, and never apply above your crease.
The Natural
How often do you see a celebrity let her freckles shine through? At the Teen Choice Awards, Leighton did just that, ditching the foundation for a sheer wash of color on her cheeks and a glossy raspberry lip. It's absolutely gorgeous in a wholesome way — perfect for family gatherings where your parents' cute neighbor might be invited.
Gray Gardens
A light gray shadow and nude lip is one of the most versatile combinations. If you're hair is a warm shade like Leighton's, but your clothes are a cool color or black like her dress, these shades are a good way to avoid color clashes and pull the look together.
Blond Bombshell
I loved Leighton as a dirty blonde, because she did it exactly right, mixing lighter strands in without abandoning her usual dark shade. If you're thinking of lightening up and you want a natural look like Leighton's, follow her lead and keep your highlights fine, not chunky.
Shirley Temple Redux
If you're trying to change up your hairstyle for the holidays, but don't want to do anything permanent, curls like these are adorable, totally festive, and, when created using hot rollers and a lot of hairspray, won't fry your tender tresses.
Bronze Beauty
If you love neutrals, Leighton's got the look for you. Substitute bronzer for your blush, use a nude lip gloss, and brush a shimmery bronze shadow from lash line to crease for a look that accentuates all the right things without any unnatural color.
The Classic Palette
Here, Leighton shows us why black eyeliner, white eye shadow, and the right red lipstick never go out of style. The look is such a staple that it's easy to forget just how much of an impact it has, but it's perfect for the season, and elegant no matter what you're wearing.
Lady in Red
This look is just so breathtaking. A deep-red lip with a hint of gloss and dark charcoal eyeliner stand out especially well on pale girls. Instead of self-tanning, why not accentuate the beautifully dramatic tone of your natural skin?