Reese Witherspoon is the quintessential American Beauty [0]. She has a bright smile topped with cherry pie lipstick, shiny gorgeous blond hair and clear as sky blue eyes. She is the type of gal women want to befriend and men fall head over heels in love with.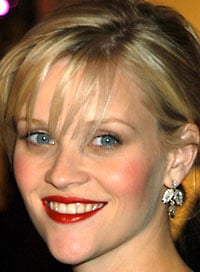 Not only does Reese have beauty, she also has brains, power and two kids! A self proclaimed, over-achiever with a Type A personality, she's a top Hollywood earner and also owns her own production company fittingly called, Type A Productions. Brava, Reese!
Here's a look at the beautiful face of this American Beauty. Despite her recent news of divorce, Reese still looks like a million bucks! In fact, her skin is so flawless that she doesn't even have to wear makeup if she chooses. Now, that's no fun for me. Here's a guide to help achieve her red carpet makeup look.
To find out how to recreate Reese's sweet face,
Begin with foundation and concealer on clean and exfoliated skin. Apply concealer to the inner corners of the eyes and underneath to cover dark circles. Also use a dab of concealer to the eyelid as an eye shadow base. Then apply a little bit more foundation to uneven areas of your face. Here, Reese is wearing Cover Girl Clean Liquid Makeup in Natural Ivory. [1]
As for blush, use a berry or rose blush on the apples of your cheeks and work your way upwards and outwards to the end of your cheekbones. Try this Cover Girl Cheekers Blush in Deep Plum [2] color that Reese is wearing, or something like these awesome and easy to use cheek sweeps [2].
On your eyes, opt for a pearly, light gold or beige shadow and sweep it from lid to crease. Also sweep a thin line of this shade right against the lower lash line. Reese is wearing Cover Girl Professional Eye Enhancers in Champagne [3]. Here are more fabulous eye shadow shades suitable for blue eyes [3].
For your crease, apply a deeper brown or taupe shadow from corner to corner and remember to blend! Reese is wearing Cover Girl Professional Eye Enhancers in Tapestry Taupe [4]. For eyeliner, use an even darker brown powder liner like Cover Girl Eye Enhancers Single Eye Shadow in Swiss Chocolate [5] and apply it with a wet eye liner brush, lining only the upper lashes.
To finish up your eyes, curl your upper lashes and then coat them with two coats of lengthening mascara. Apply just one coat to your lower lashes. Reese is wearing the new Lash Perfection Max Factor Mascara in Rich Black! [6]
Last but not least are the cherry pie lips. Begin by applying one coat of the lipstick to your lips and then blot them with tissue and apply a second coat for staying power. As a final touch line your lips lightly and blend the color into your lipstick. Reese has on a gorgeous L'Oreal Colour Riche Luminous Creme Lipcolor in Drumbeat Red [7] along with Ulta Contour Lip Liner in Beet [8].