Banish Worse-Than-Breakup Breakouts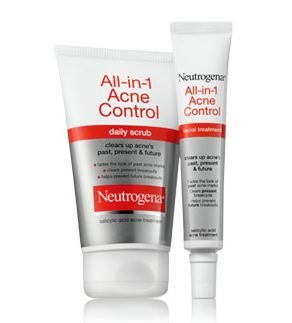 We all have tricks up our sleeve for outsmarting dating obstacles; we've picked them up from best friends, older sisters, and even our favorite movie characters. Take Legally Blonde's Elle Woods's dating rules for example: always leave him wanting more, wait at least seven minutes to respond to his text message, and cry to your manicurist — not your crush. When Elle wanted to win her ex-boyfriend back, she didn't just get even — she got ahead. Elle outsmarted her classmates by studying her toned butt off, the courtroom by utilizing her hair-care knowledge, and her ex by realizing she didn't need him to make her happy.
Channel your inner starlet by outsmarting acne with the confidence that comes from clearer skin. Try Neutrogena's new All-In-1 Acne Control line, which clears up past, present, and future breakouts. Made with naturally derived soy and vitamin A, All-in-1 Acne Control fades the look of past acne marks by evening skin tone and speeding up surface skin exfoliation. All-in-1 Acne Control also contains salcyclic acid, the dermatologist-recommended ingredient that powerfully clears present breakouts and helps prevent future blemishes. Genius.