While your Summer vacation might not match up to those of the stars (it's hard to compete with living it up on a yacht in the French Riviera!), you can easily replicate their warm-weather hairstyles. It's not just about the ponytail — these bikini-clad celebrities make wet hair look crazy chic. Steal their style no matter where you're headed! Braids, hats, and bun ideas abound when you scroll.
Anna Kendrick
Anna Kendrick [1] donned cutoff shorts and pigtails to accompany her striped bikini.
Emilia Clarke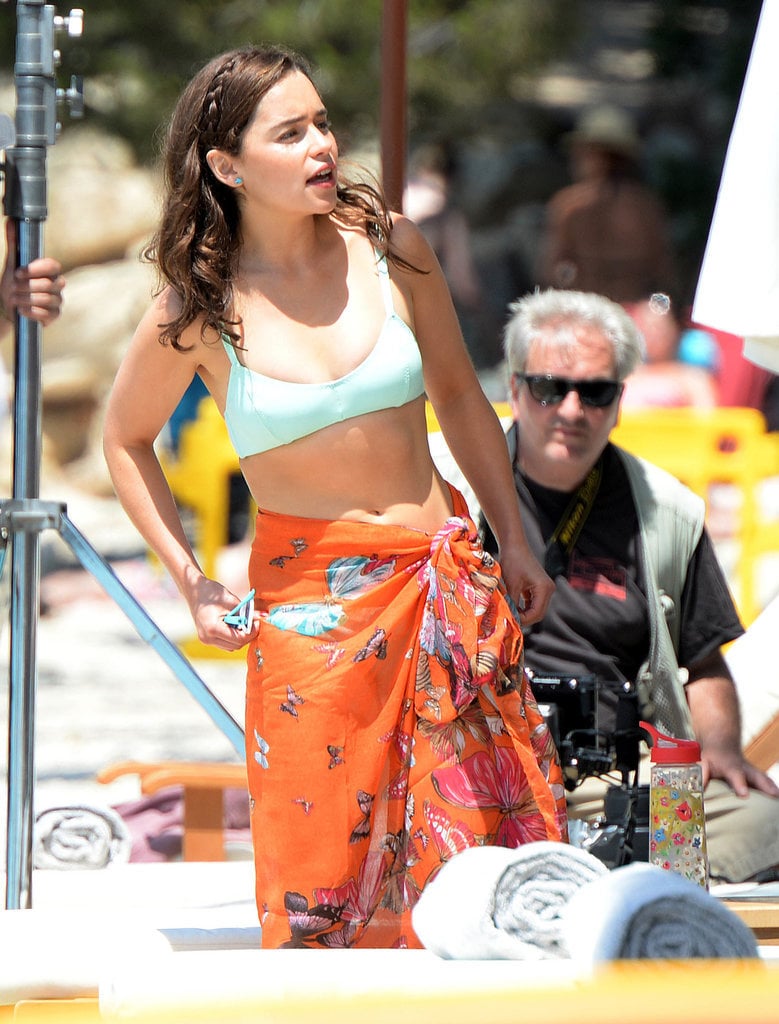 Need a bang solution for the beach? Copy Emilia's braided half-up hairstyle.
Gigi Hadid
Gigi's the current It model, so we'll definitely be taking her hair pointers on our next beach vacation. These effortless waves are her signature style.
Beyoncé
Queen Bey pulled her hair into a high braided look to show off her gorgeous Mara Hoffman bathing suit.
Selena Gomez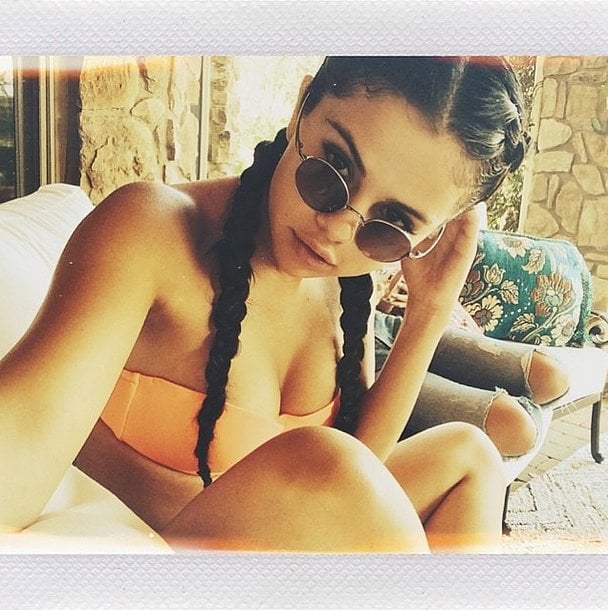 Selena divided her long brunette locks into two french braids while basking in the Summer sun.
Kim Kardashian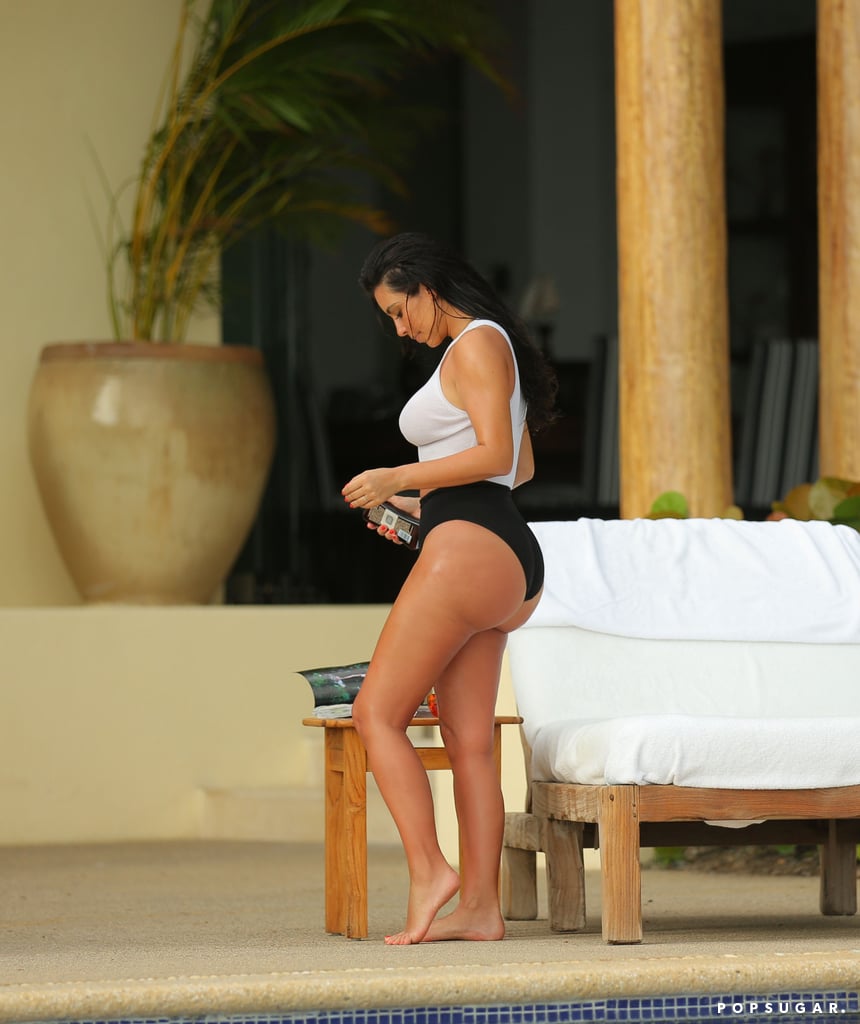 Kim knows that there's no sexier poolside selfie than one featuring a slicked-back mane.
Gisele Bündchen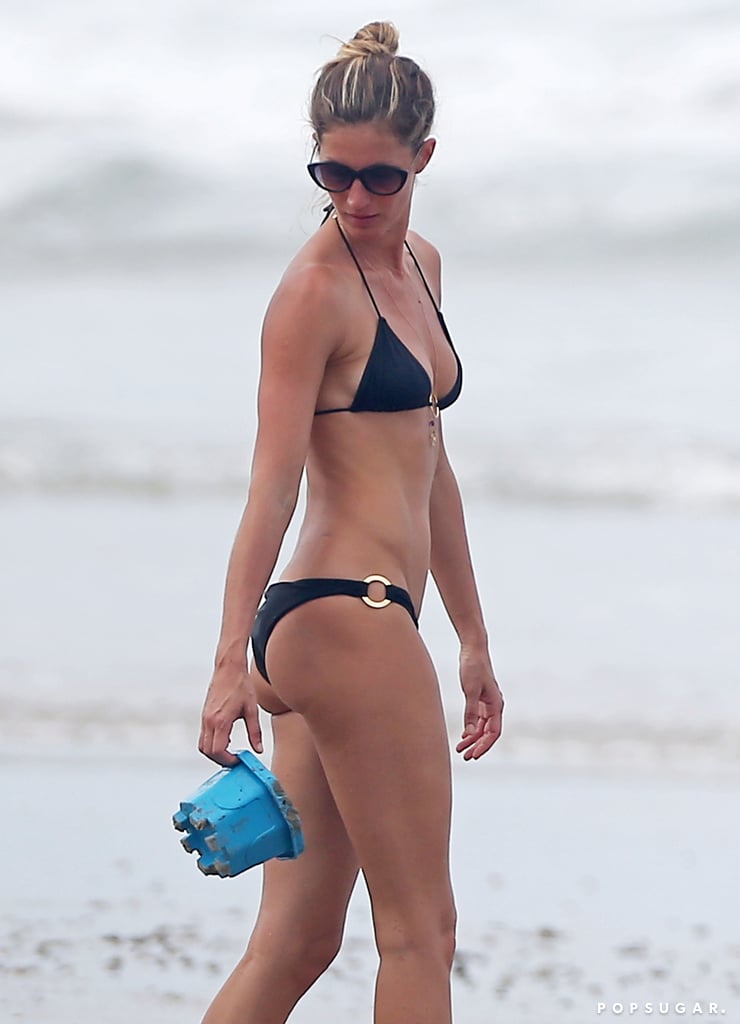 Gisele's topknot is perfect for any shoreside activity, including crafting a sandcastle or two.
Cameron Diaz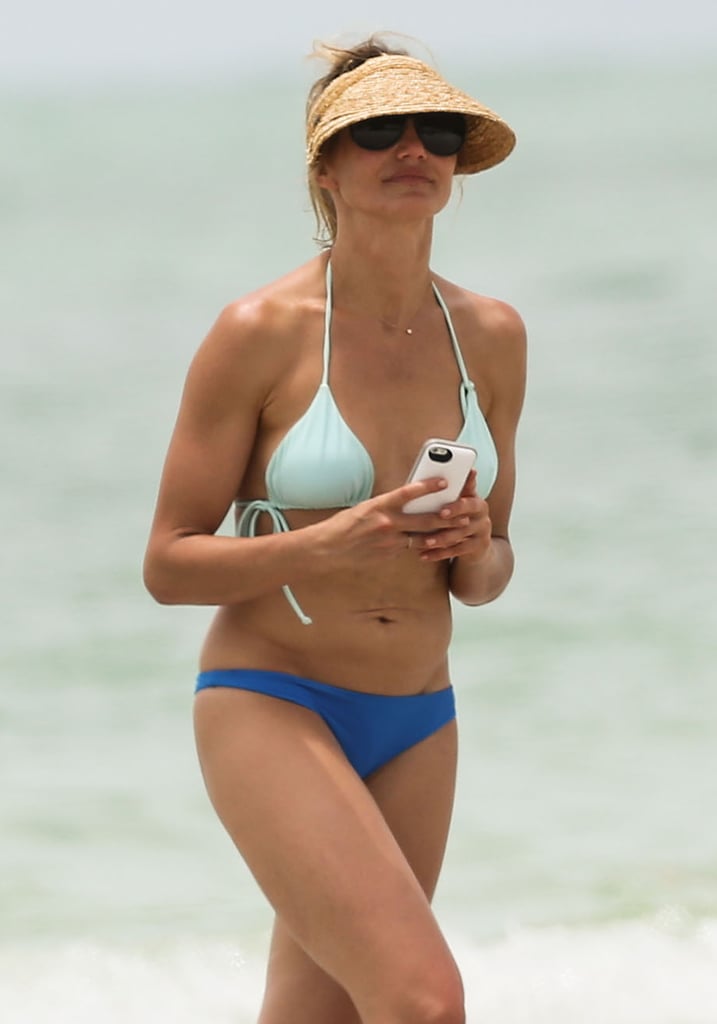 When all else fails, Cameron Diaz [2] knows that you'll still look chic on the beach with a ponytail-visor combo (plus, wearing a hat is good for your skin).
Kendall Jenner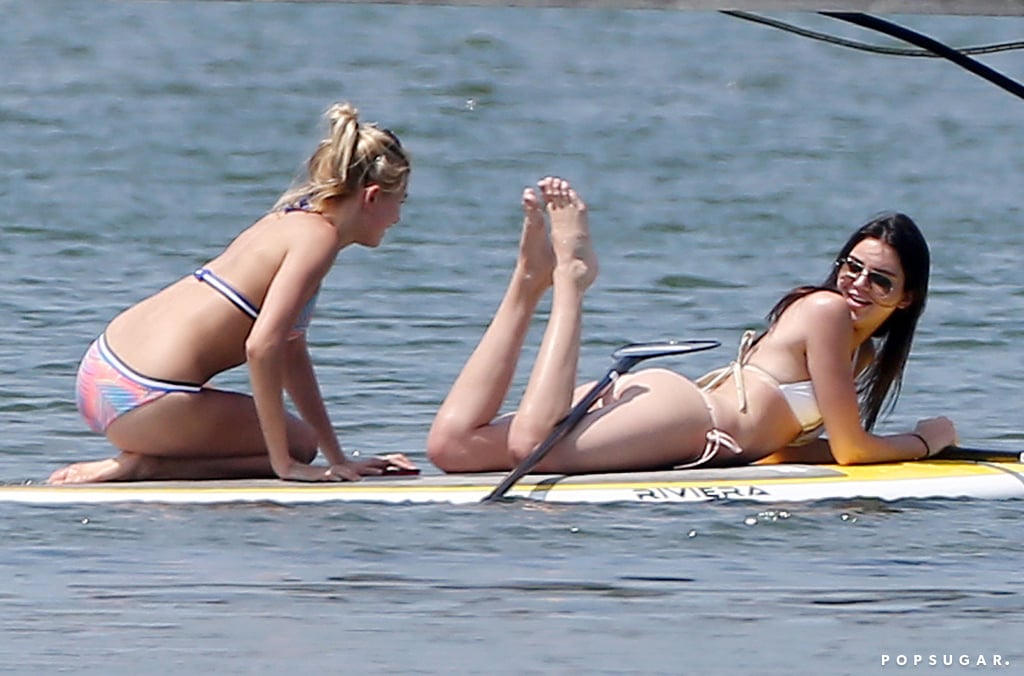 A center part like Kendall's is just as pretty on a paddleboard as it is on dry land.
Cara Delevingne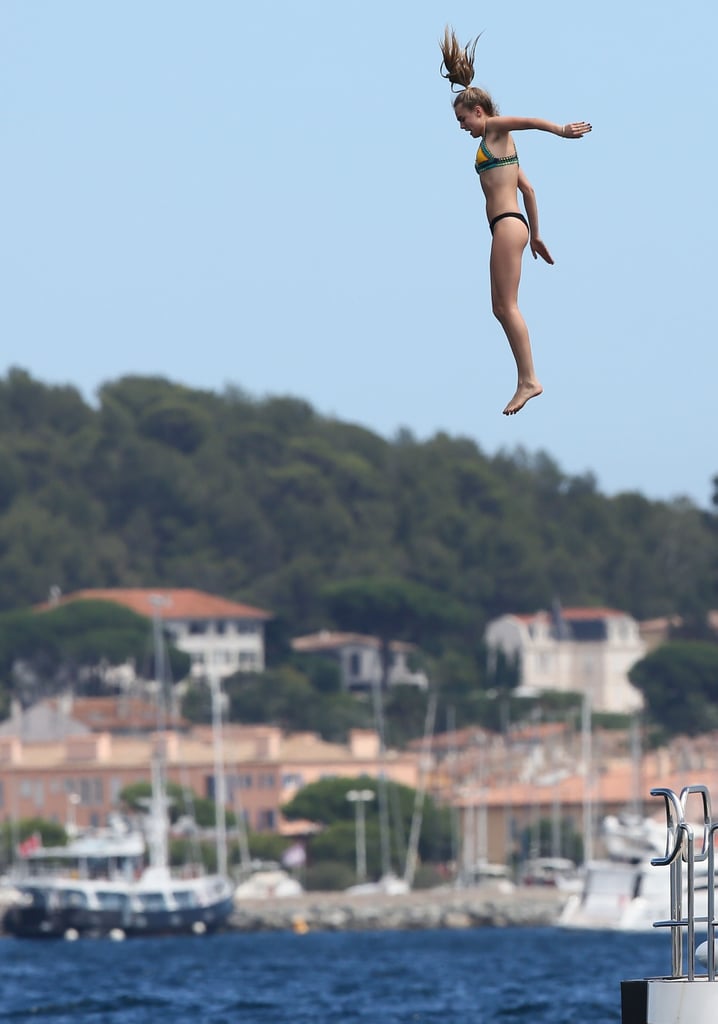 When you're frolicking on a yacht, look to a ponytail like Cara Delevingne's — it'll keep your hair out of your face so you get a perfect 10 on your big jump.
Elle Macpherson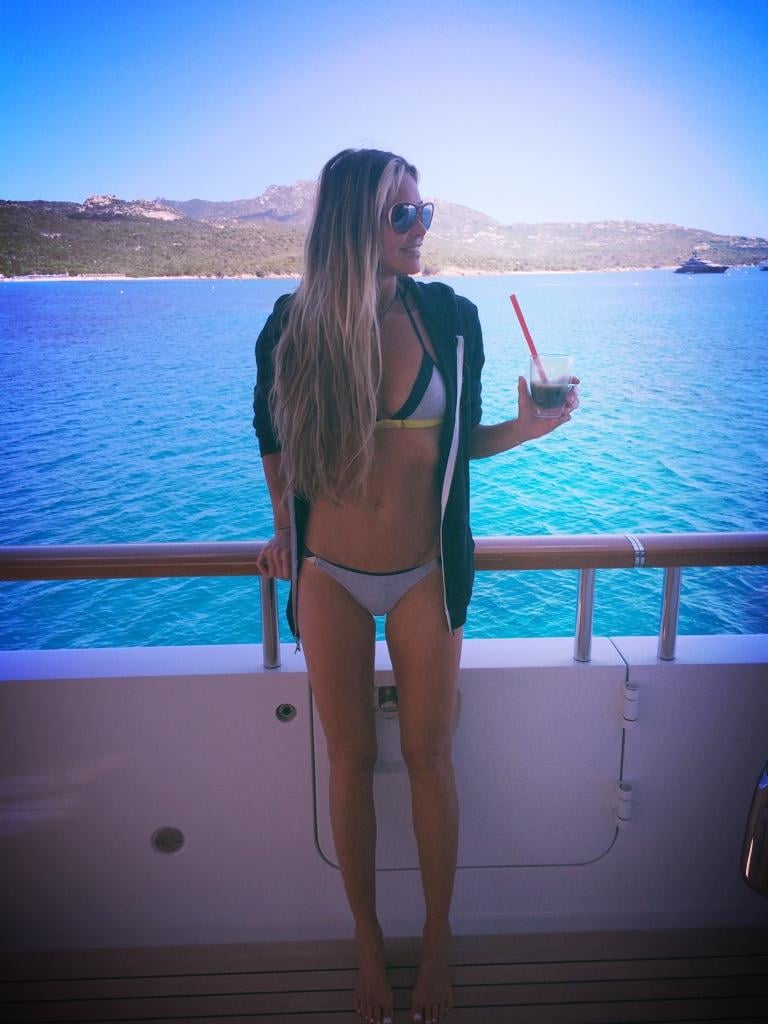 Even if you don't have Elle Macpherson's slamming beach body, you can still get her mermaid waves with a little conditioner and sea-salt spray.
Source: Twitter user ellemacpherson [3]
Alessandra Ambrosio and Behati Prinsloo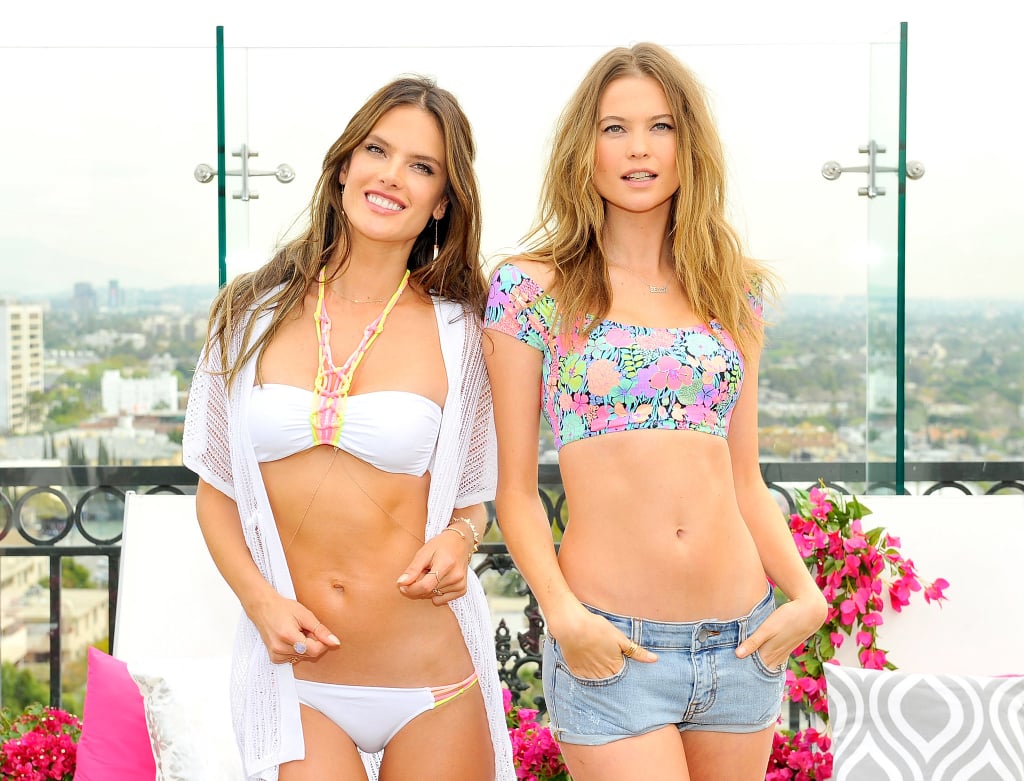 Alessandra and Behati both looked beach-waved and beautiful at a poolside event for Victoria's Secret.
Charlize Theron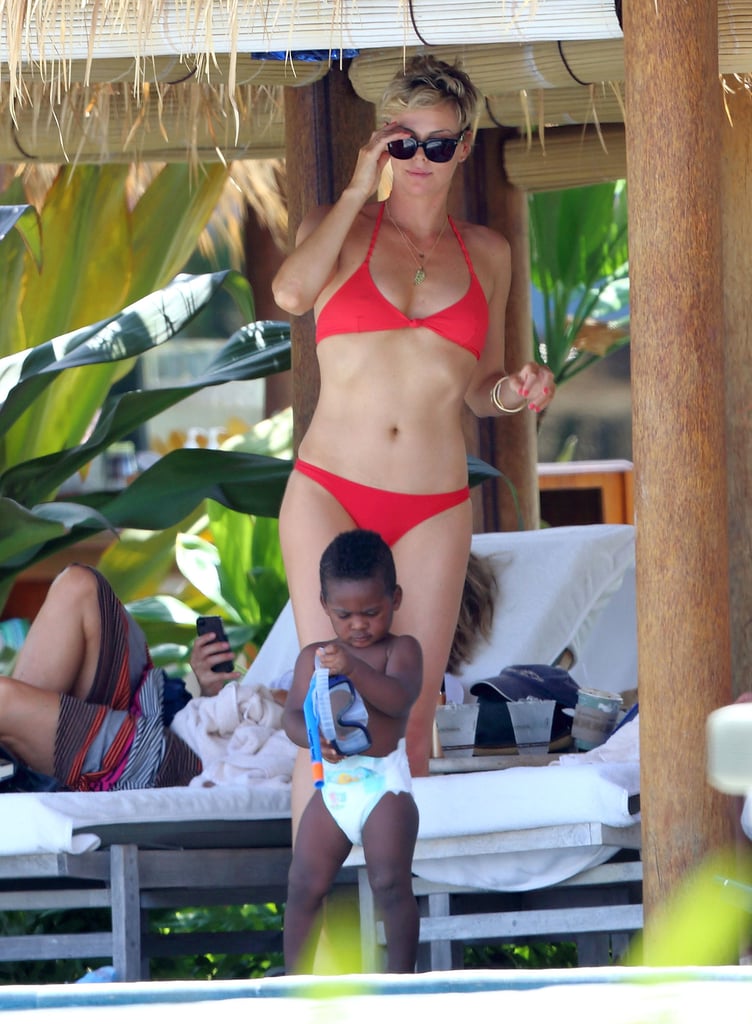 Charlize showed off how good a pixie cut can look beachside.
Bar Refaeli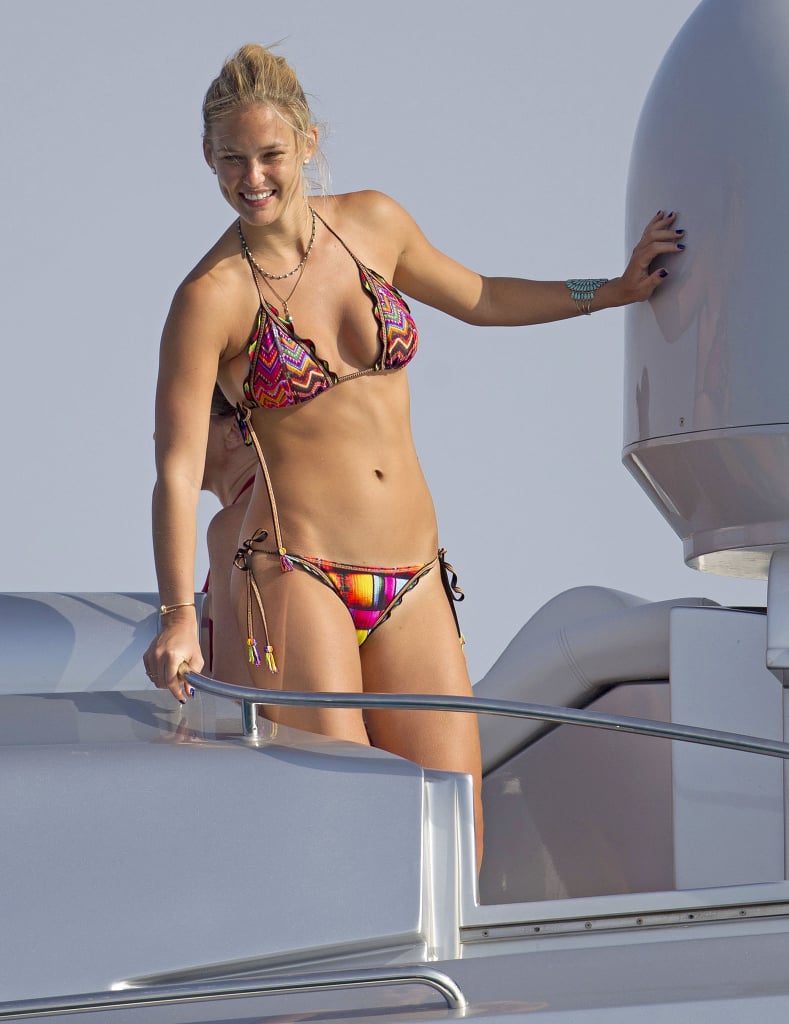 A mussy topknot looked darling on Bar.
Nina Dobrev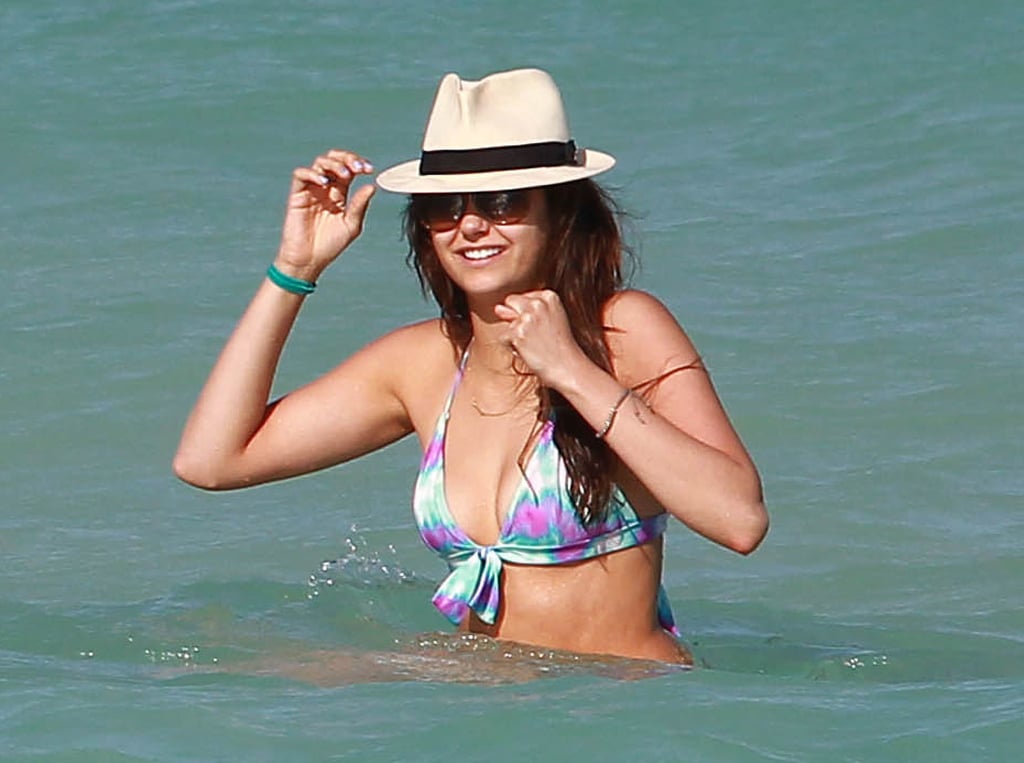 A fedora and waves were a winning combination on Nina at the beach.
Ashley Benson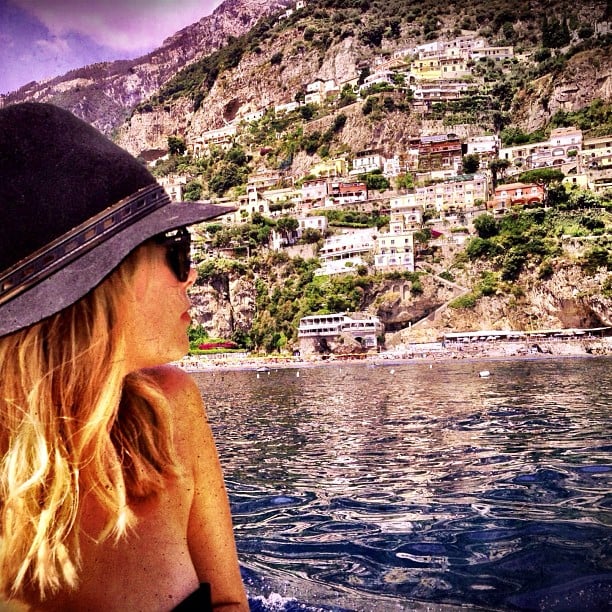 Ashley Benson covered her hair in a fedora cap to keep the sun at bay while seeing a few sights and sunbathing.
Source: Instagram user itsashbenzo [4]
Beyoncé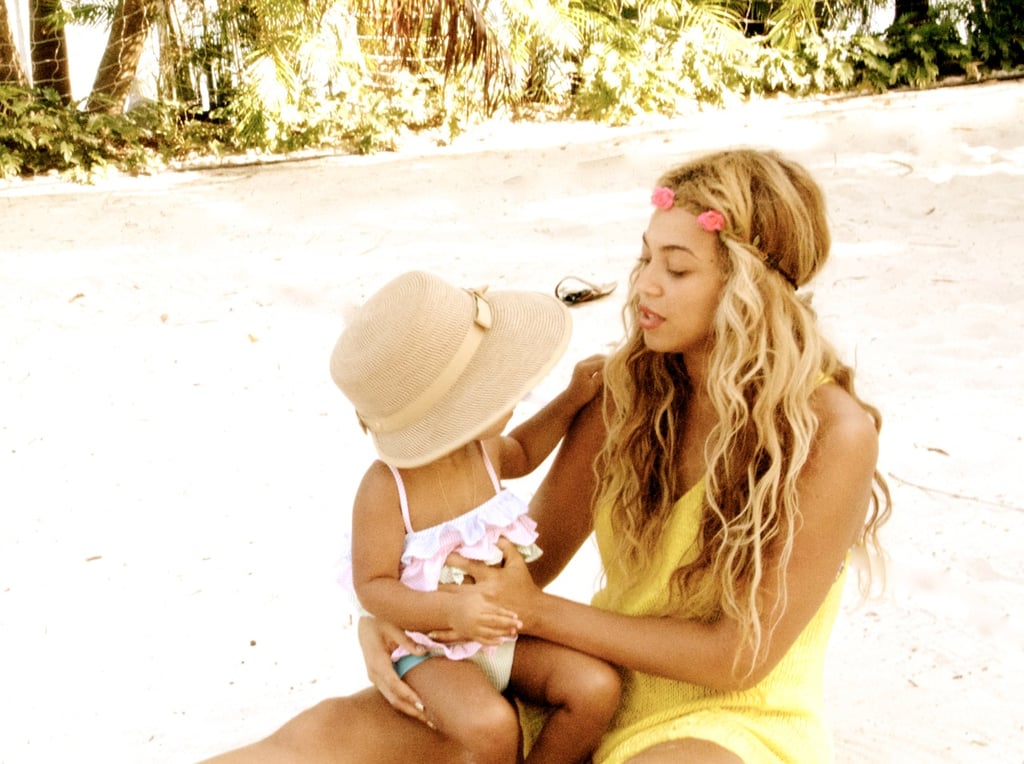 Beyoncé Knowles [5] kept daughter Blue Ivy entertained on the beach wearing a floral garland. We're loving baby Blue's hat, too.
Source: Tumblr user Beyoncé [6]
Nicole Richie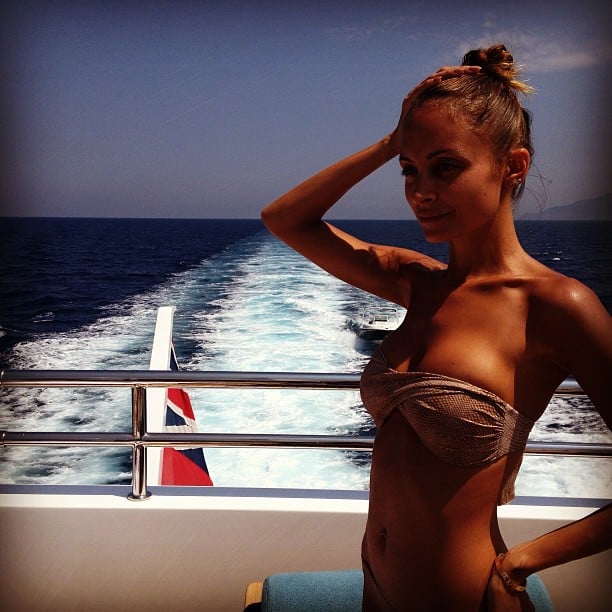 A topknot, bandeau bikini, and bronzed glow made Nicole Richie [7]'s boat ride more stylish than average.
Source: Instagram user nicolerichie [8]
Rita Ora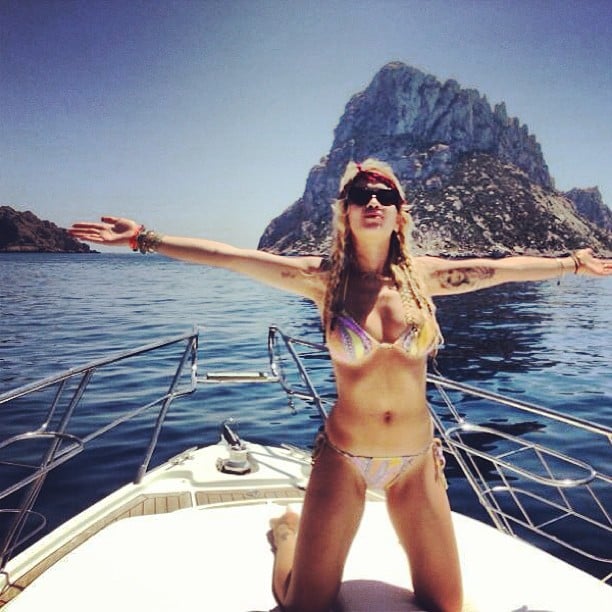 Bohemian braids were the style of choice for Rita Ora as she cruised on her Summer vacation.
Source: Instagram user ritaora [9]
Paris Hilton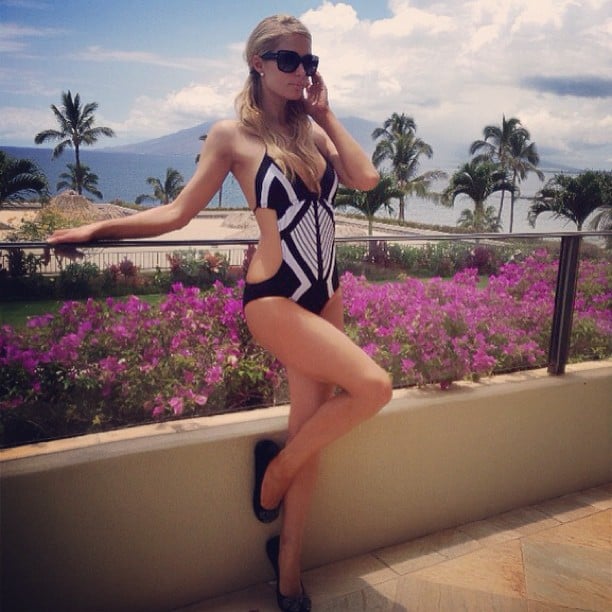 Paris Hilton [10] sported a half-up hairstyle for her impromptu poolside photoshoot.
Source: Instagram user parishilton [11]
Audrina Patridge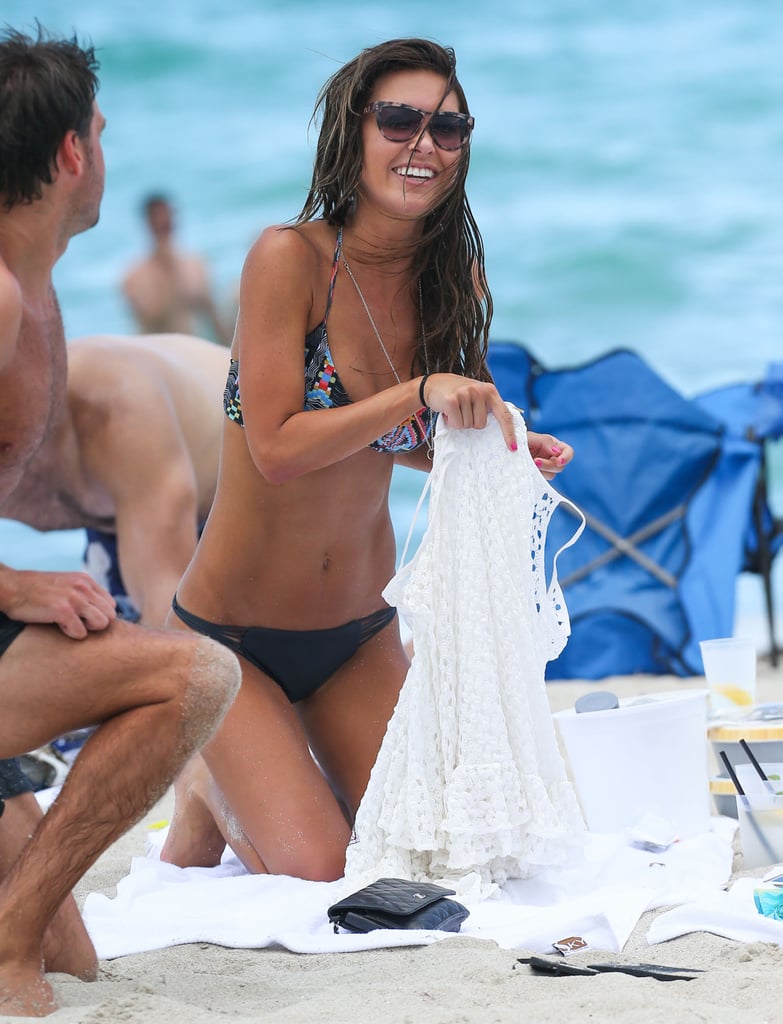 Seaside, a quick air-dry equals effortless waves à la Audrina Patridge [12].
Jennifer Lopez
For a day at the beach with her twins, Jennifer Lopez [13] styled her hair in a water-ready topknot.
Heidi Klum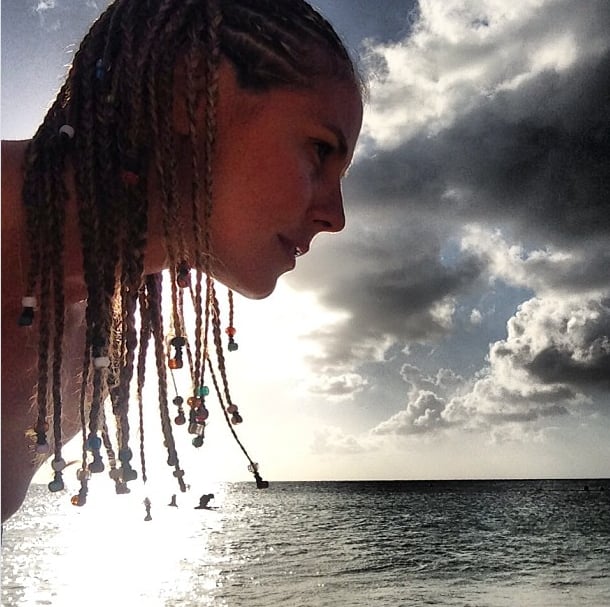 Is that Heidi Klum [14] or Bo Derek? Heidi wore tight cornrows with colorful beads at the ends for a trip to the beach.
Source: Instagram user heidiklum [15]
Vanessa Hudgens and Ashley Greene
Vanessa Hudgens [16] wore a backwards baseball cap while learning to surf with friend Ashley Greene [17] in Bali.
Lea Michele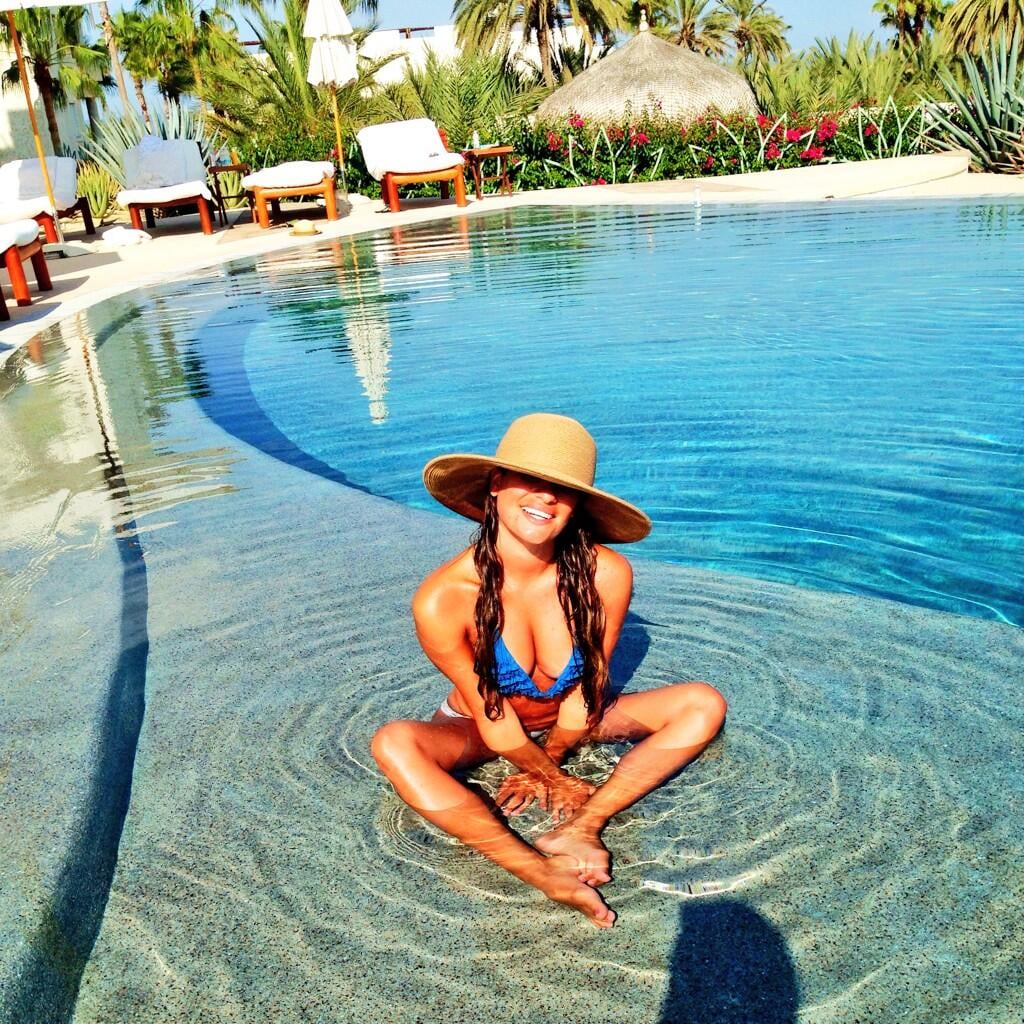 Lea Michele [18] carried a wide-brim hat poolside to protect her hair and skin from the sun.
Source: Twitter user msleamichele [19]
Christina Milian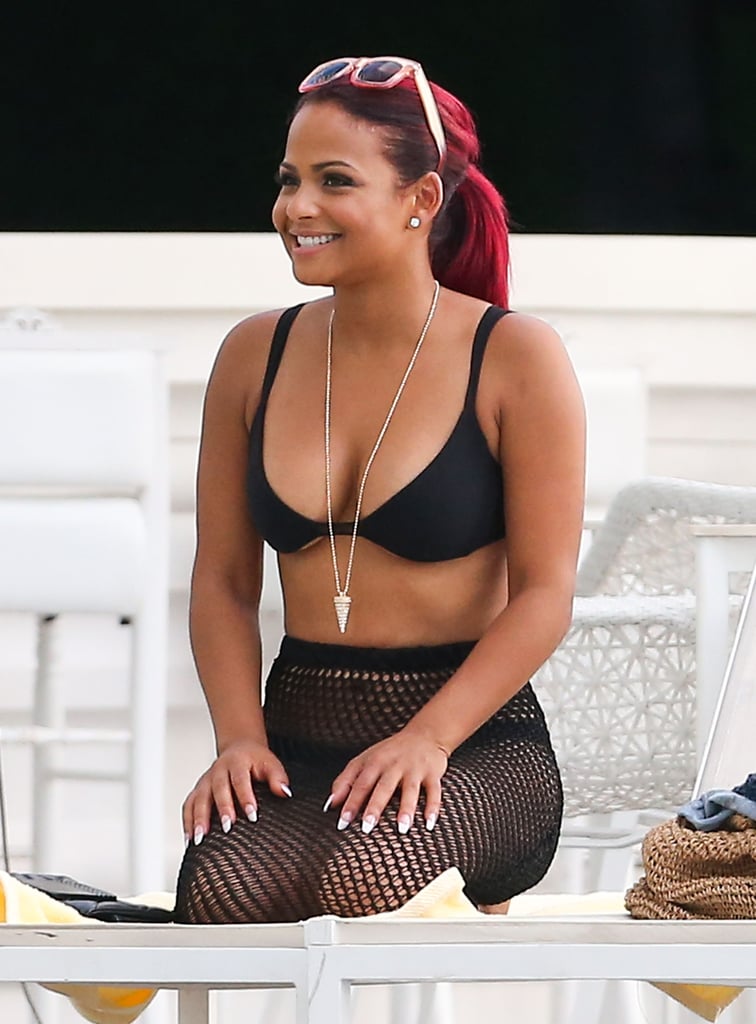 Using sunglasses as an impromptu headband à la Christina Milian is one quick solution, but we also advise keeping a few hair ties on hand for a quick low ponytail.
Nina Dobrev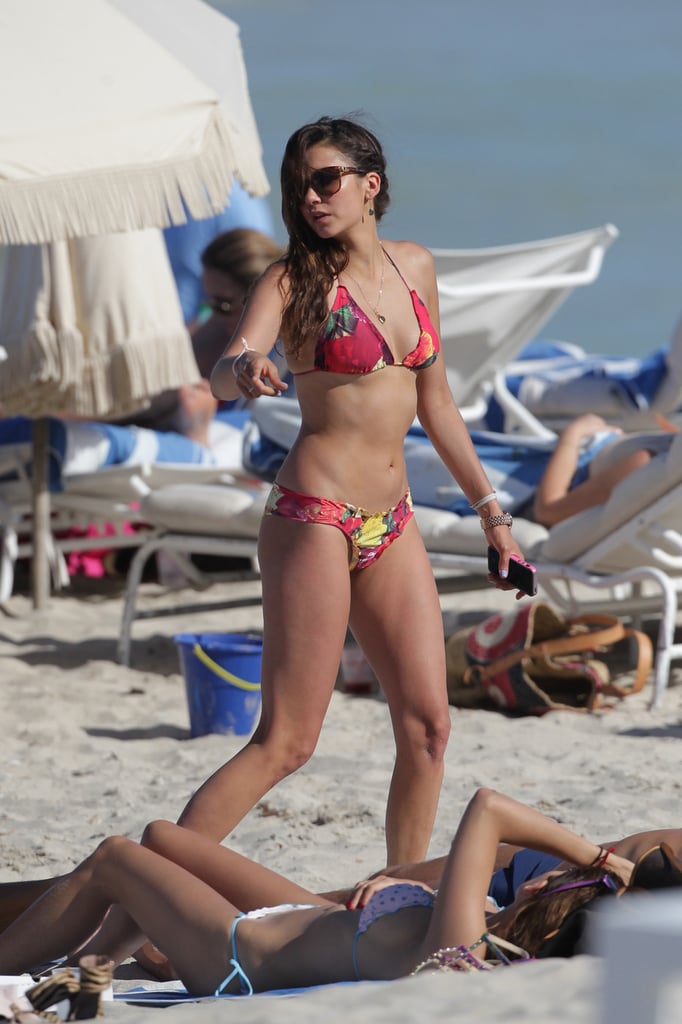 Nina Dobrev [20] wore an over-the-shoulder style with a plait to create an undercut effect while basking at the beach.
Julianne Hough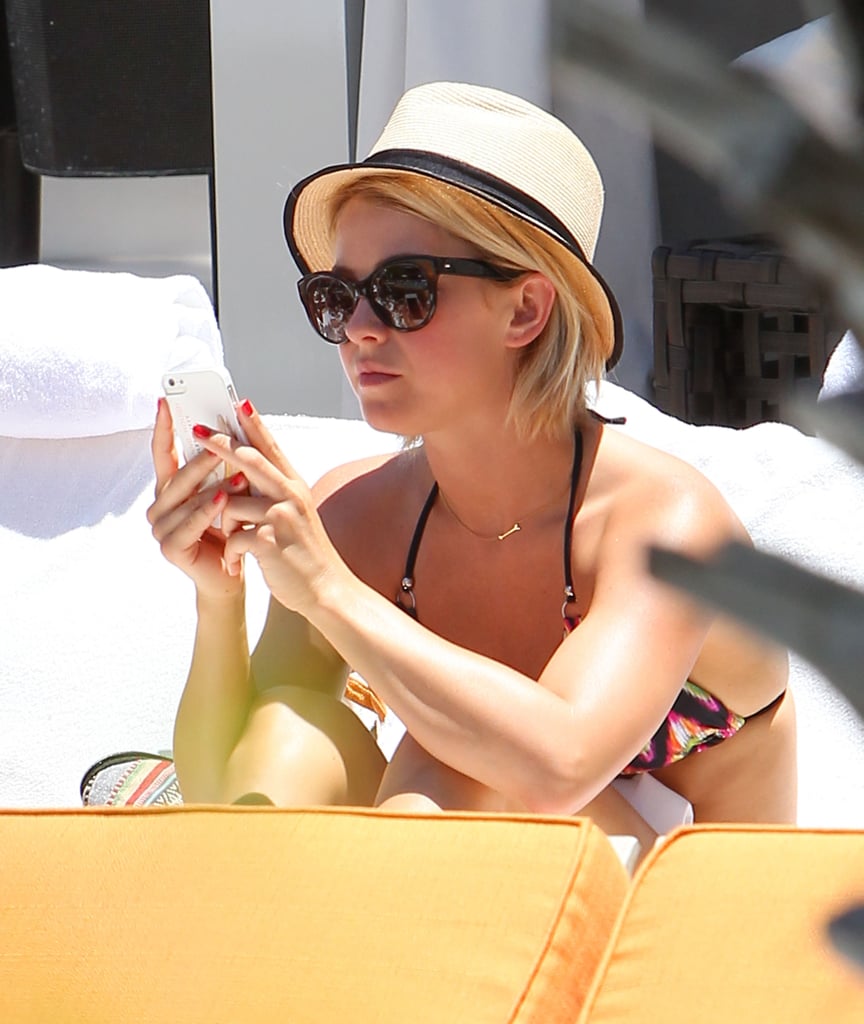 Nothing will keep you cooler poolside than a light fedora like Julianne Hough's. Plus, you don't have to worry about burning your ears or having great hair — always a score in our book.
Hayden Panettiere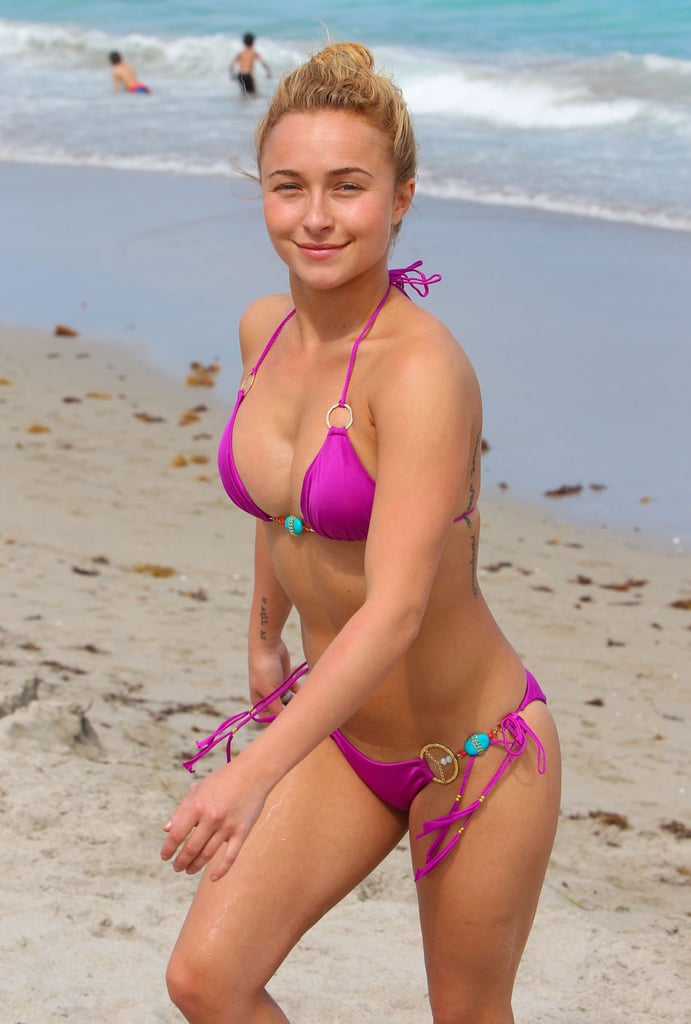 Hayden Panettiere [21] pulled her long blond locks back into a casual bun to keep them from getting soaked in the ocean water.
Lily Aldridge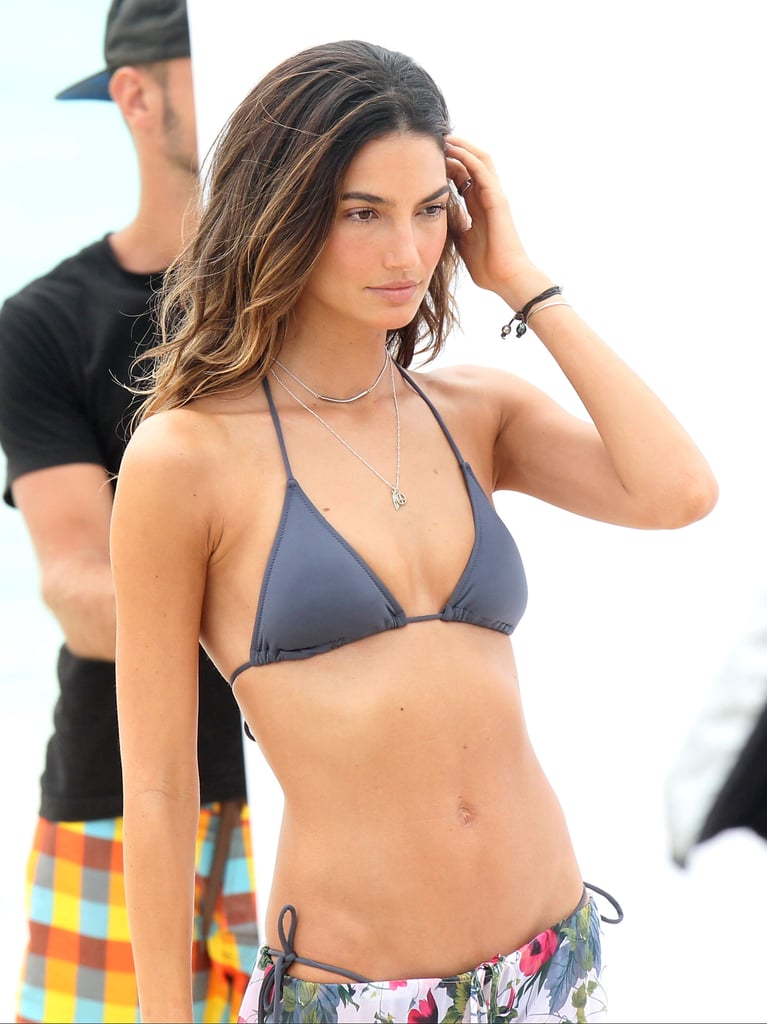 Lily Aldridge's ombré highlights are perfect for Summer; the technique ensures little to no root touch-up is required. Be sure to use SPF in your hair [22] to keep your style looking its best.
Miley Cyrus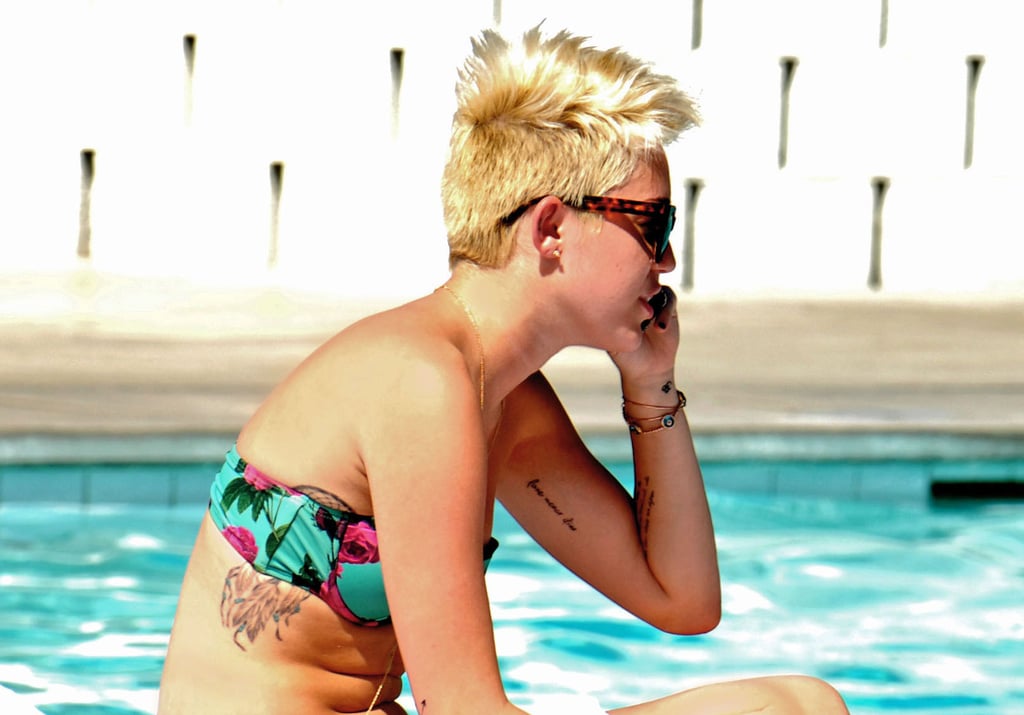 When you have a short pixie like Miley Cyrus [23]'s, you don't have to carry rubber bands or hats. It's easy to just let it fly.
Katy Perry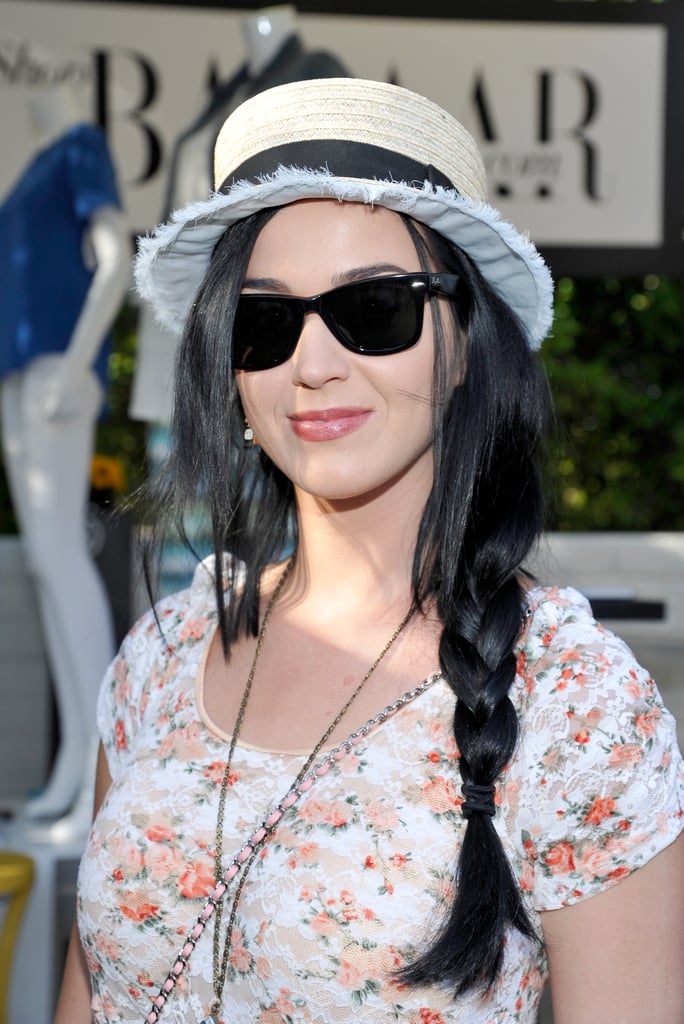 Katy Perry [24]'s side braid and bucket hat combined to create the ideal Coachella festival style at the Harper's Bazaar pool party in April.
Rihanna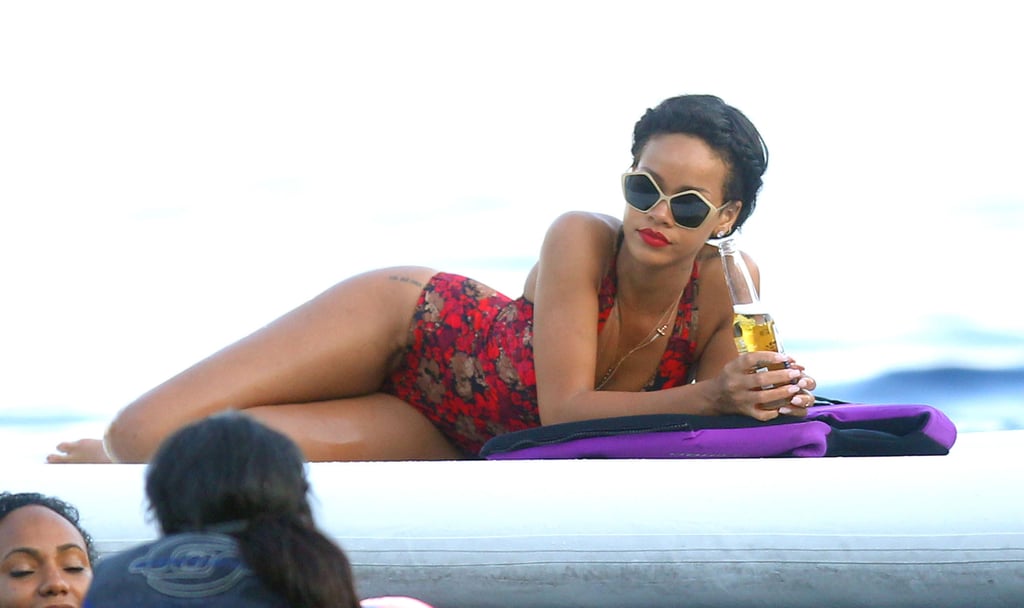 Red lipstick, geometric shades, and a milkmaid braid — Rihanna [25]'s look could easily transition from water games to a nighttime party on the beach.
Adriana Lima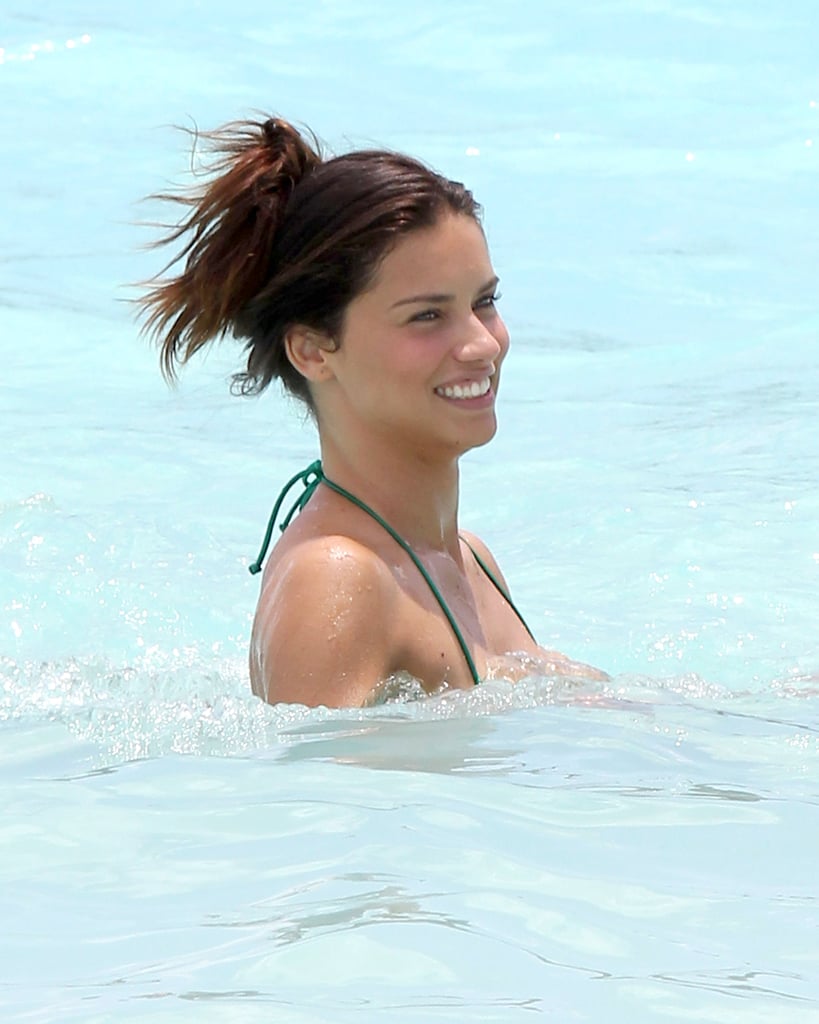 Adriana Lima has mastered the ideal beach style for long hair. Take note, and casually whip your hair up into a clip before you surf the waves.
Alessandra Ambrosio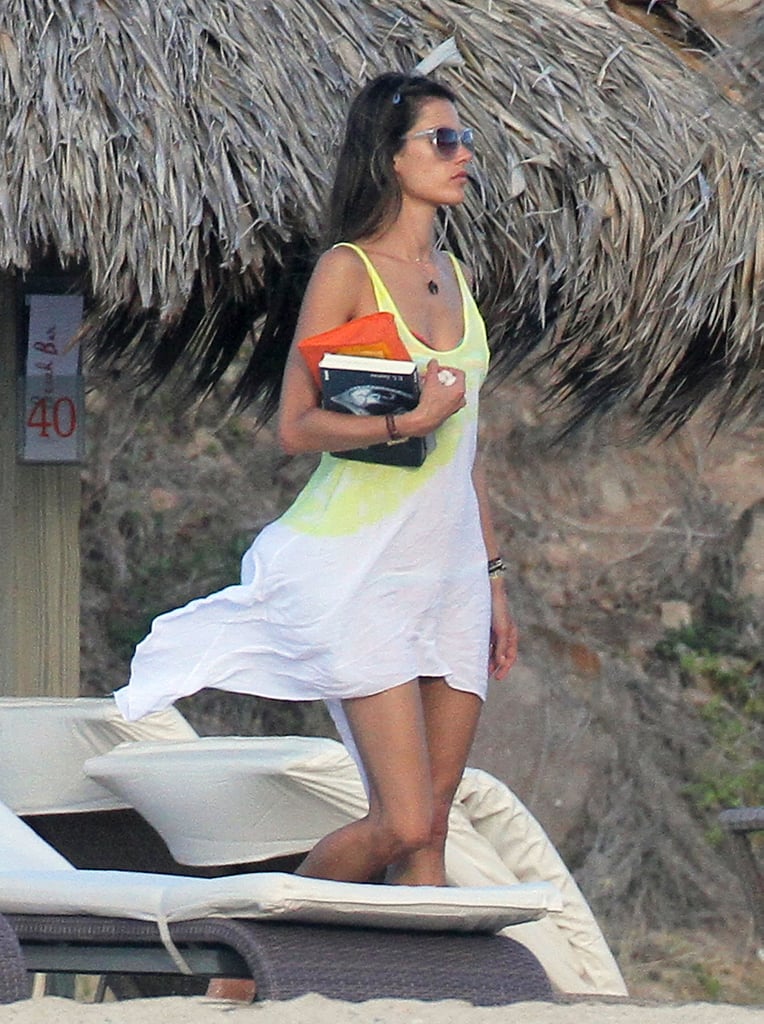 After a long photo shoot on the beach, Alessandra Ambrosio took in some sun with her copy of Fifty Shades of Grey, along with a clip to keep her bangs out of the way.
Candice Swanepoel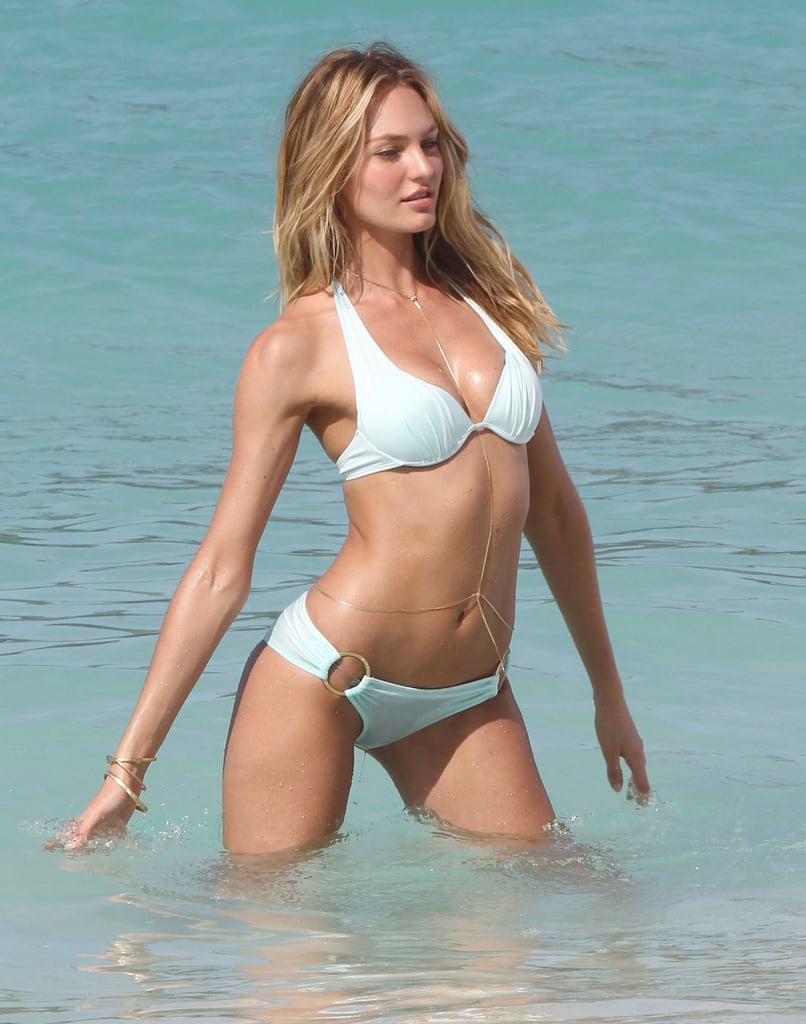 Candice Swanepoel sported windblown waves as she shot a bathing-suit campaign in beautiful blue waters.
Alexis Bledel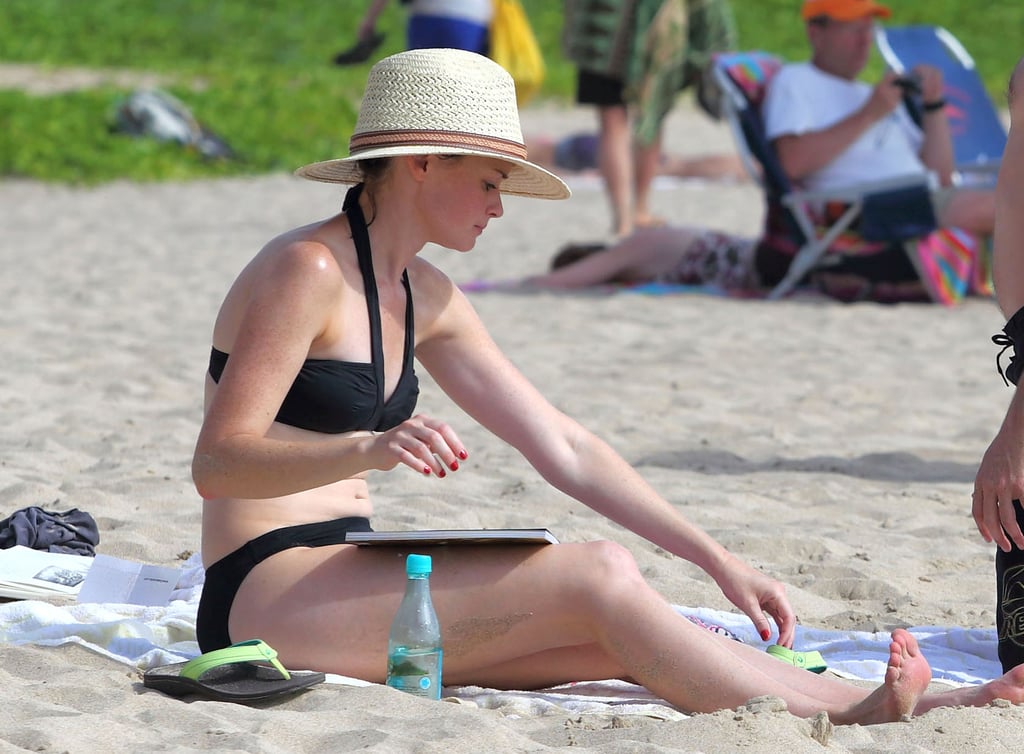 Alexis Bledel protected her fair skin and dark hair while on vacation with a stylish wide-brimmed hat.
Doutzen Kroes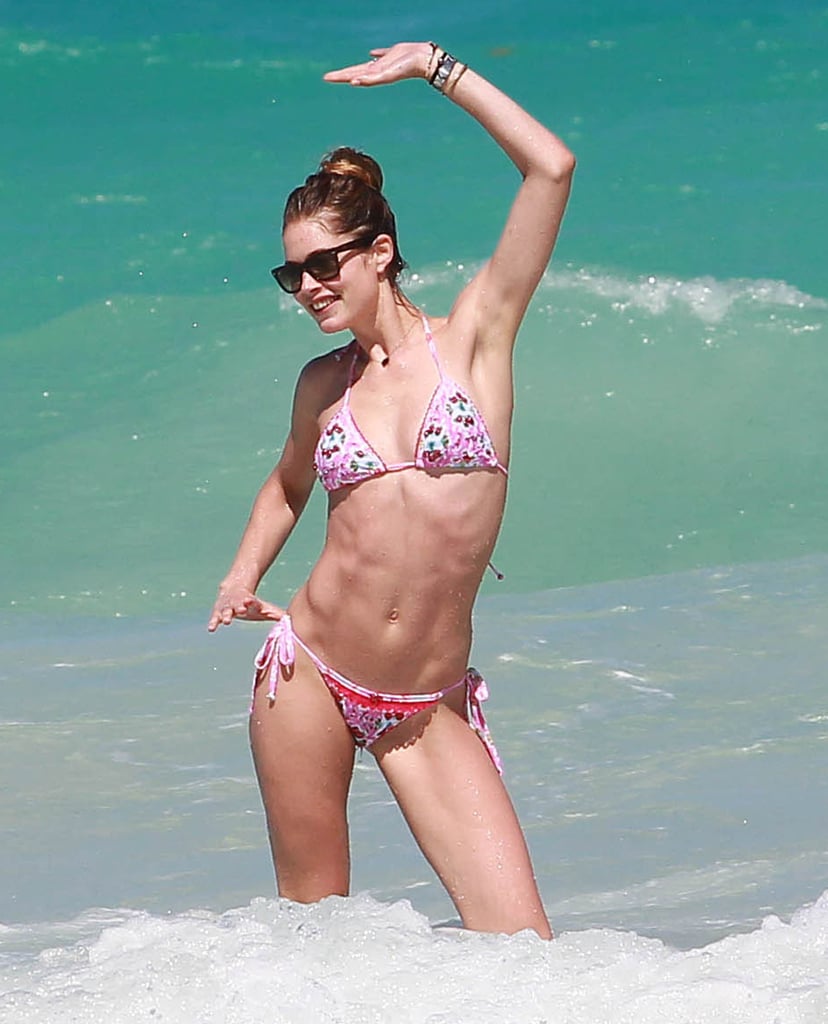 Model Doutzen Kroes was obviously having a good time in the surf with her hair pulled back into a wet topknot.
Hilary Duff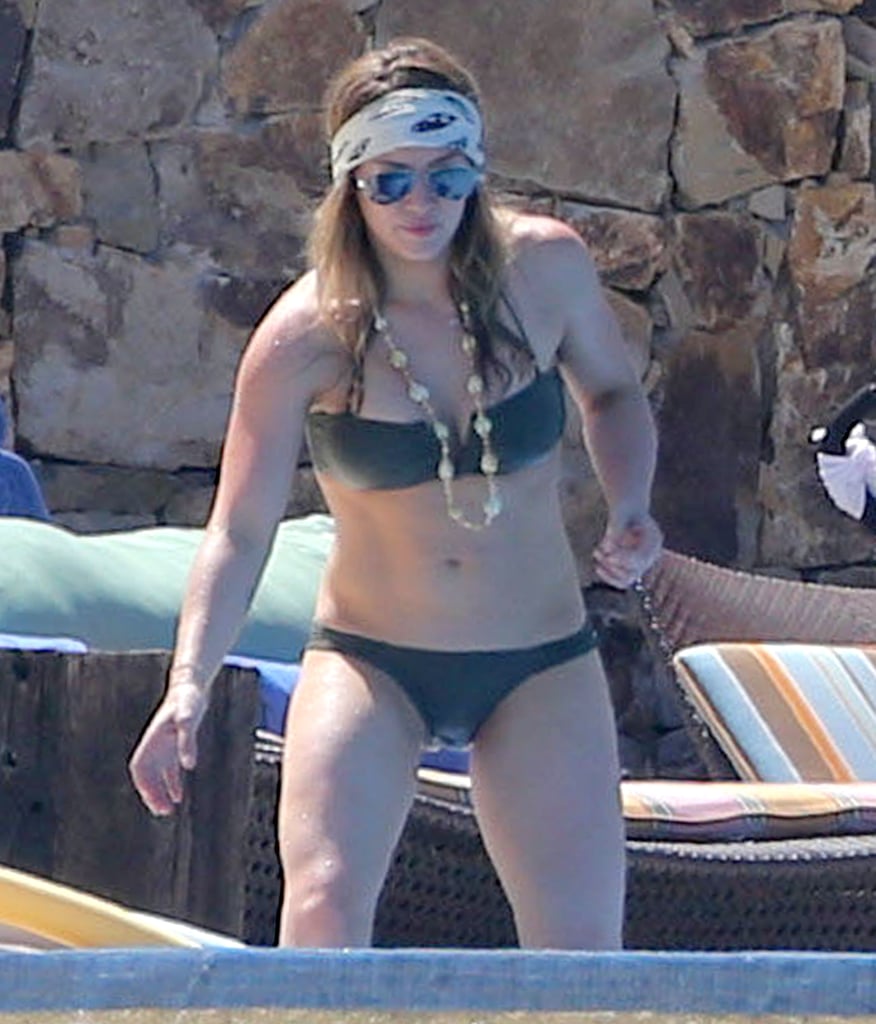 Hilary Duff [26] looked cool rocking a bandanna to keep from melting in the heat.
Erin Heatherton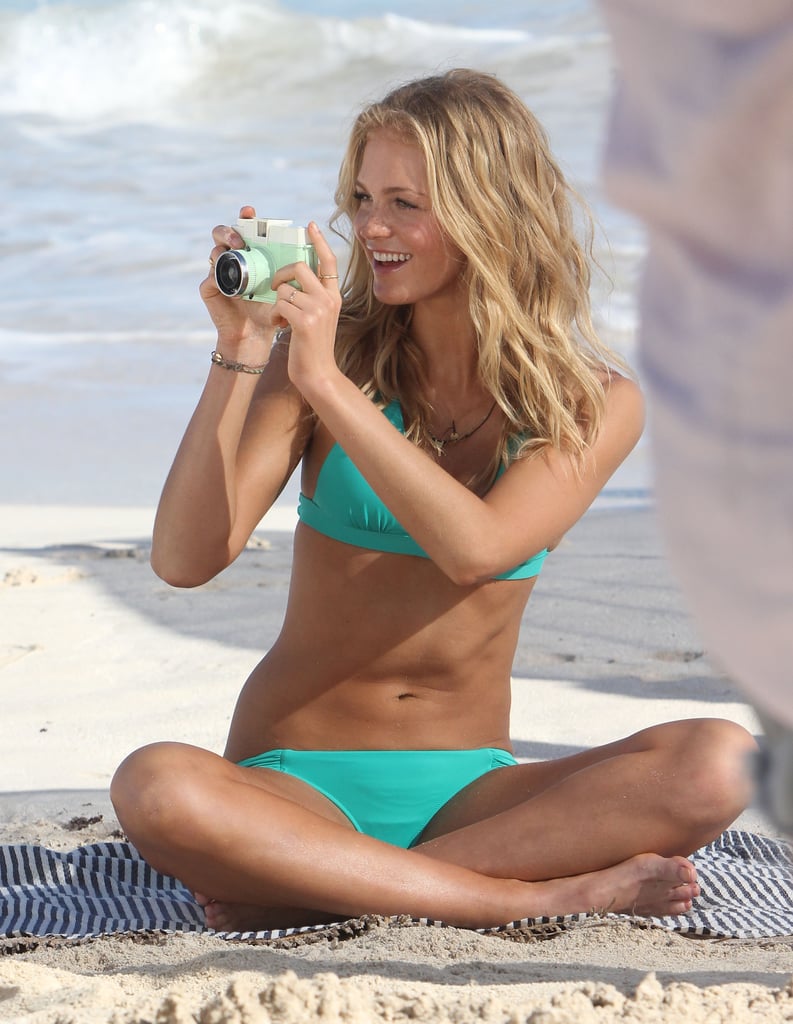 Make sure to steal some seawater for a easy DIY [27] salt water hair spritz, and you're sure to have effortless waves like Erin Heatherton's.
Katharine McPhee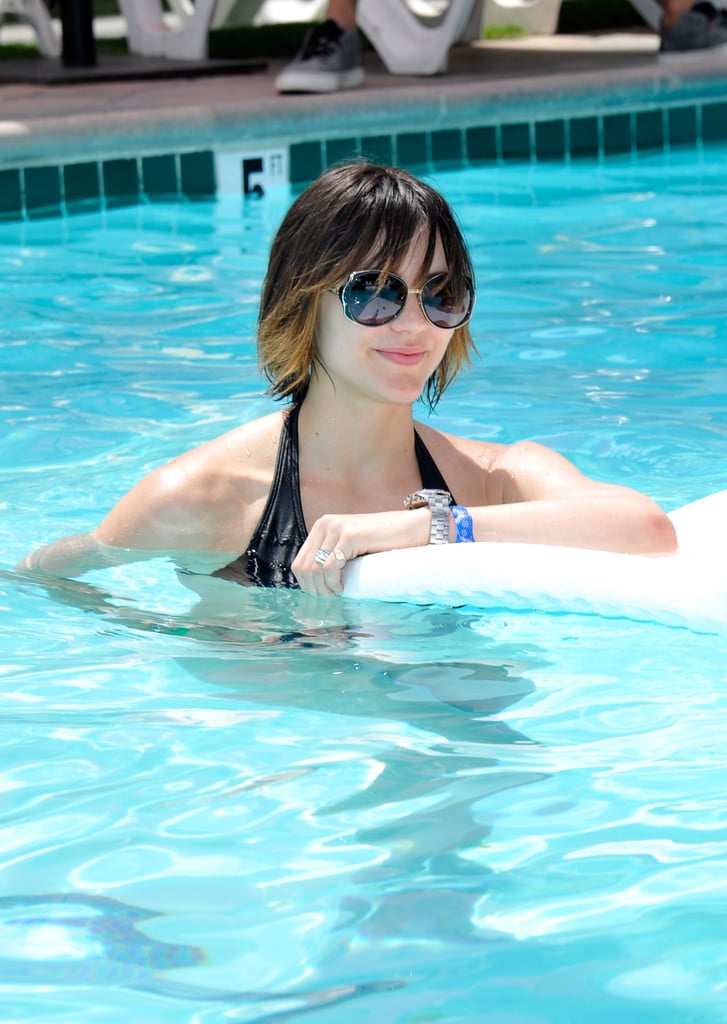 Katharine and her dip-dyed strands took a dip in the pool at a Coachella party in Palm Springs.
Molly Sims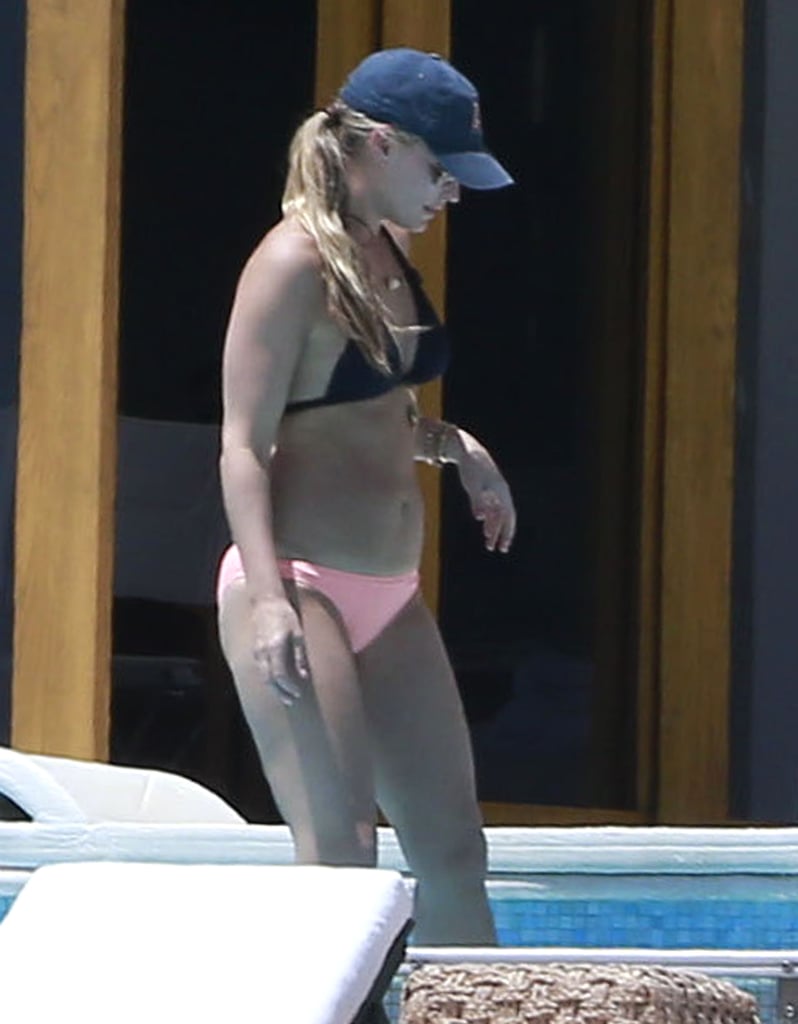 Molly topped her long ponytail with a classic baseball cap for a sporty style while lounging poolside.