Permanent ink makes as bold a beauty statement as a new hair color or red lip hue. Hot Hollywood starlets from Angelina Jolie [1] to Cara Delevingne have all flashed one (or more) tattoos during red carpet appearances. Really, no low-cut dress is complete without a chic beauty mark. So, we've rounded up the daintiest celebrity designs to inspire the tattoo of your dreams [2].
Kylie Jenner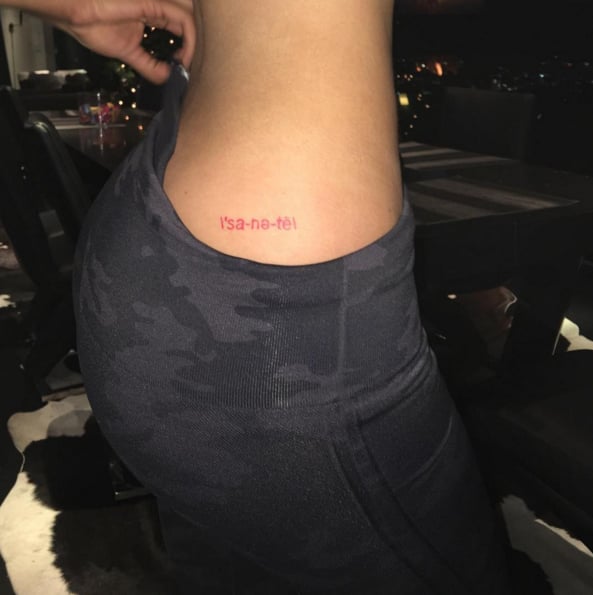 Kylie's new "sanity" tattoo [3] comes courtesy of NYC artist Bang Bang.
Jaime King
The actress visited tattoo artist Dr. Woo [4] to get this delicately inked rose. The tattoo is a tribute to her two children.
Ireland Baldwin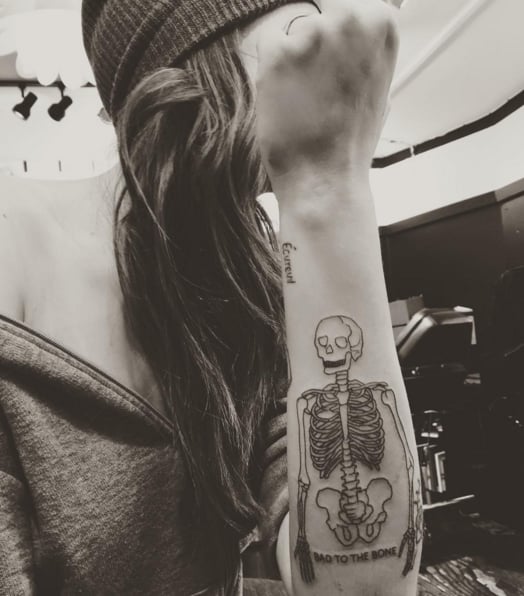 The model flashed this creepy skeleton tattoo on Instagram, captioning the shot "bad, bad girl."
Kylie Jenner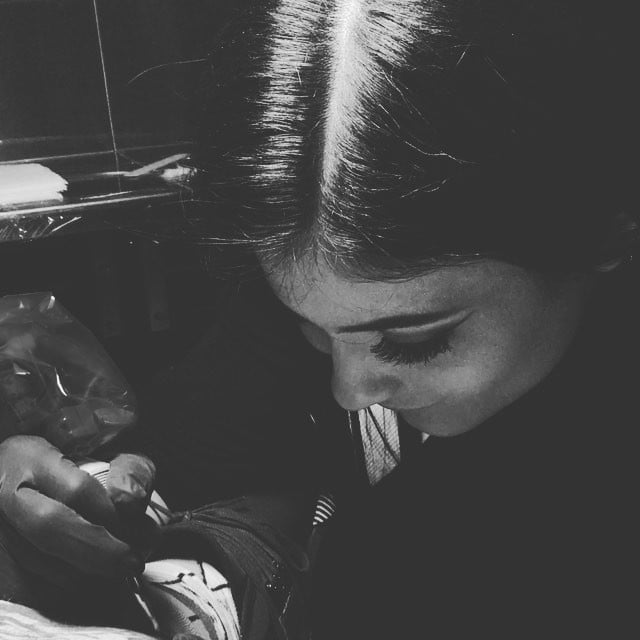 Kylie revealed a sneak peek of her new ink from NYC's famous tattoo artist Bang Bang. He shared on his Instagram account [5] that he and the star actually traded tattoos! Bang Bang let her ink a crown with a K underneath on his arm.
Selena Gomez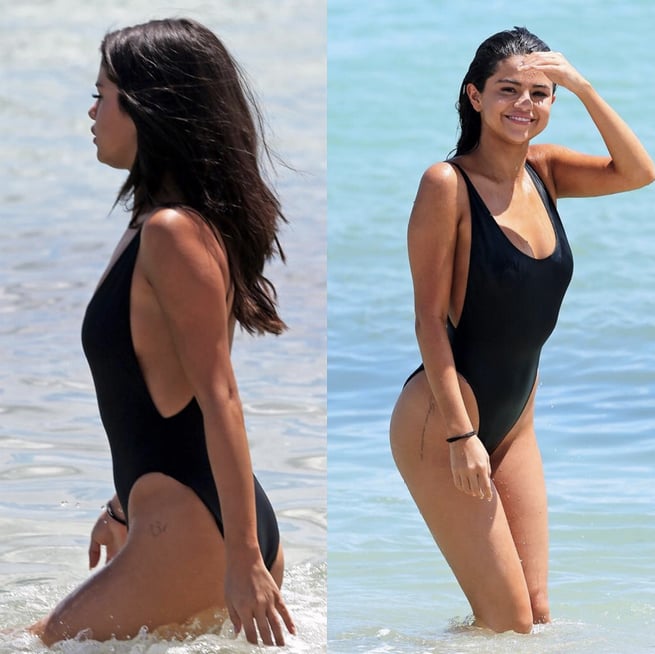 While on vacation with girlfriends in Miami, Selena revealed two tiny tattoos on her thighs. While we are having trouble reading the cursive ink, we're pretty sure that the other one is an Om mantra.
Kylie Jenner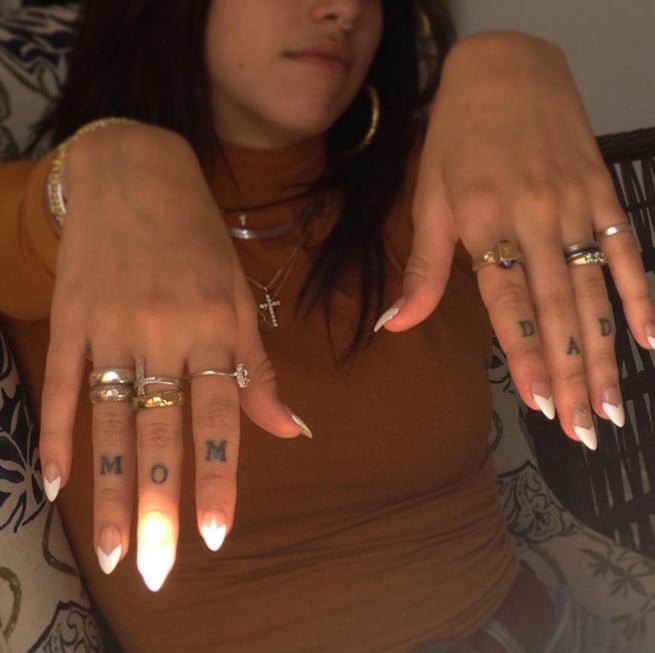 Kylie Jenner has her grandmother's name written in her grandfather's handwriting.
Kylie Jenner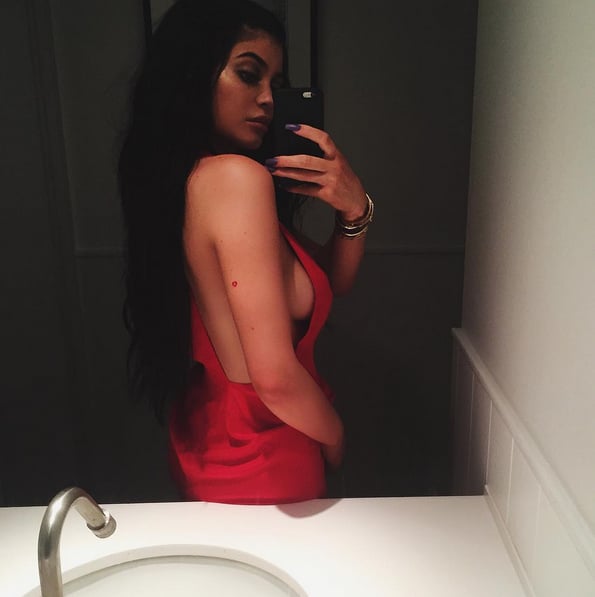 Look closely! While you might be inclined to ogle Kylie's flawless highlight, the teen star's sultry selfie shows off a tiny red heart tattoo.
Kendall Jenner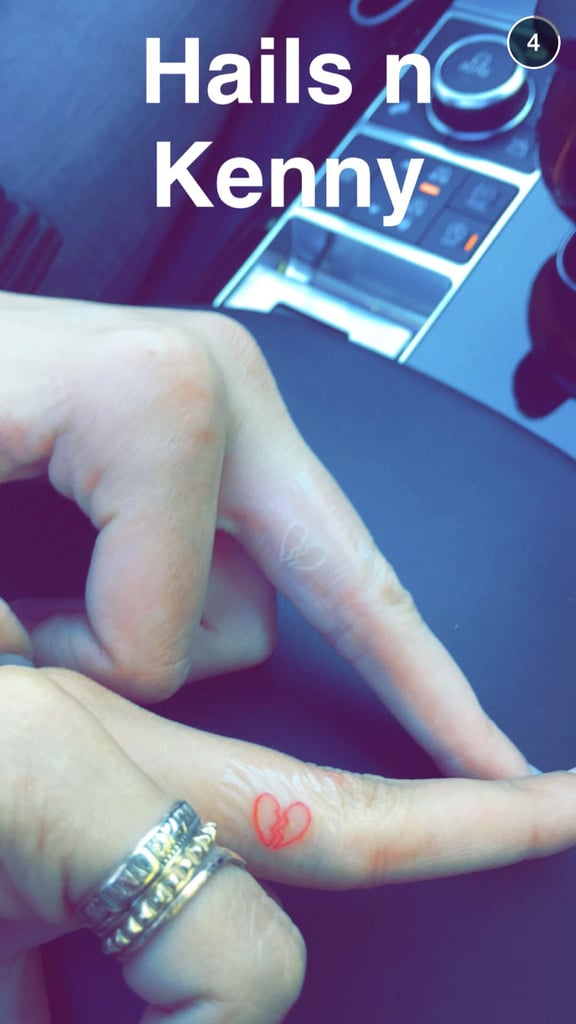 The model got a tiny matching tattoo with BFF Hailey Baldwin. They're in the shape of tiny broken hearts, like an old-school friendship necklace.
Jennifer Lawrence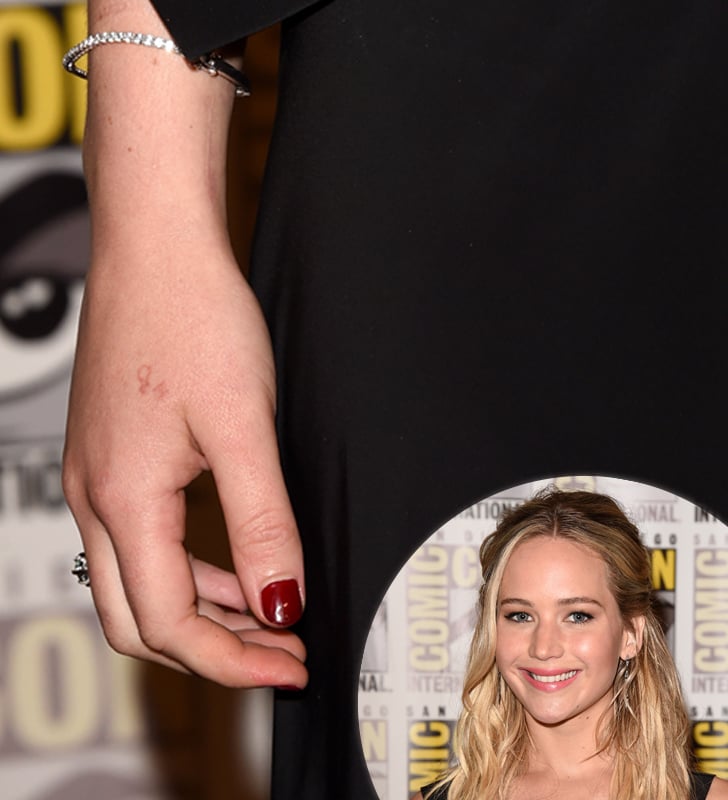 Look closely! The star has a tiny scar-colored tat on her hand that reads "H20." Jennifer confessed to E! Online [6] that she got the ink on a whim with costar Liam Hemsworth. "I'm always going to need to be hydrated," she pointed out. "It's literally the most unrebellious tattoo that anybody could ever get." You may have noticed that the 2 is superscript, not subscript — Jennifer knows she messed up. "I should've Googled it before I got it tattooed on my body forever," she remarked.
Kendall Jenner
Don't look away too fast! Kendall got this white dot tattoo with her friend Hailey Baldwin. It's her first time getting ink. Perhaps that's why she chose something so . . . discreet.
Sam Smith
Sam got an equal sign on his wedding [7] ring finger in support for equality for all.
Ariana Grande
Ariana has several small tattoos, but we're partial to this delicate crescent moon inked on her neck.
Katy Perry
In honor of her halftime show performance [8], Katy permanently added the Super Bowl's roman numerals to her inner finger. "I thought it would be appropriate to draw blood tonight," she wrote.
Selena Gomez
Selena stopped by Bang Bang NYC for a tattoo session and got the Arabic words, "love yourself first," on her back.
Iggy Azalea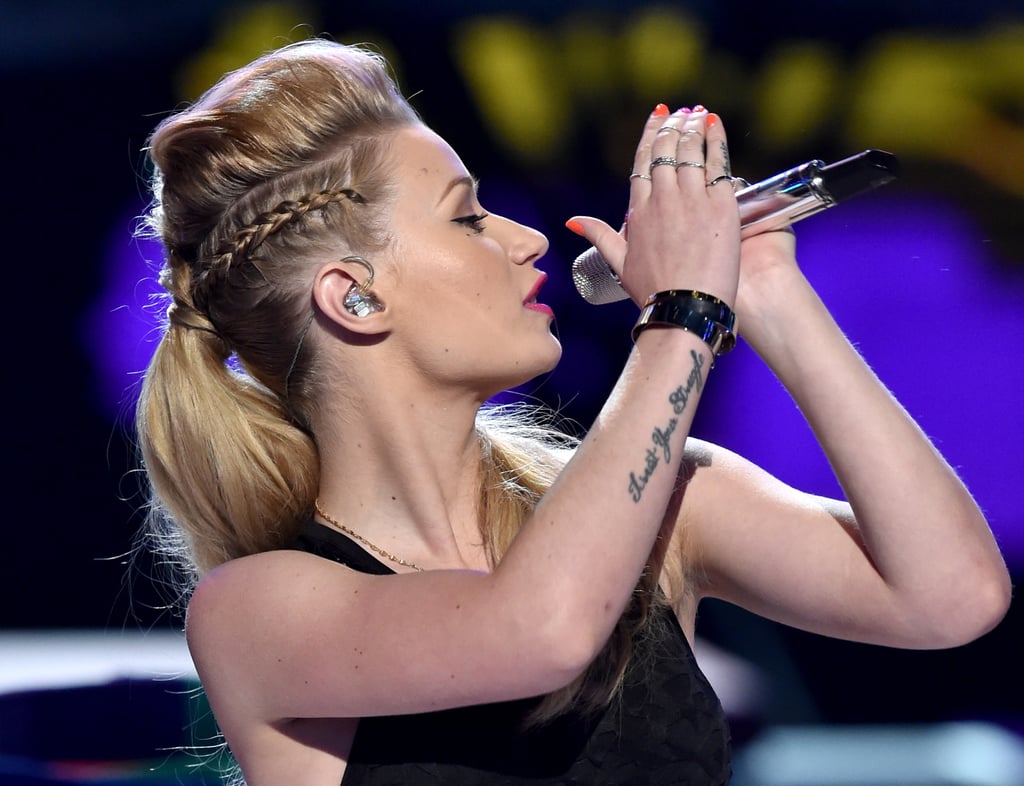 Iggy proves she can handle life in the fast lane with the quote "trust your struggle" inked on her right arm.
Miley Cyrus
Miley, still mourning the loss of her dog Floyd, got a memorial tattoo with her friends in his honor. The inscription reads, "with a little help from my fwends."
Source: Instagram user mileycyrus [9]
Cara Delevingne
This tiny (but fierce) lion head acts as a permanent statement piece on Cara's index finger.
Source: Getty [10]
Megan Fox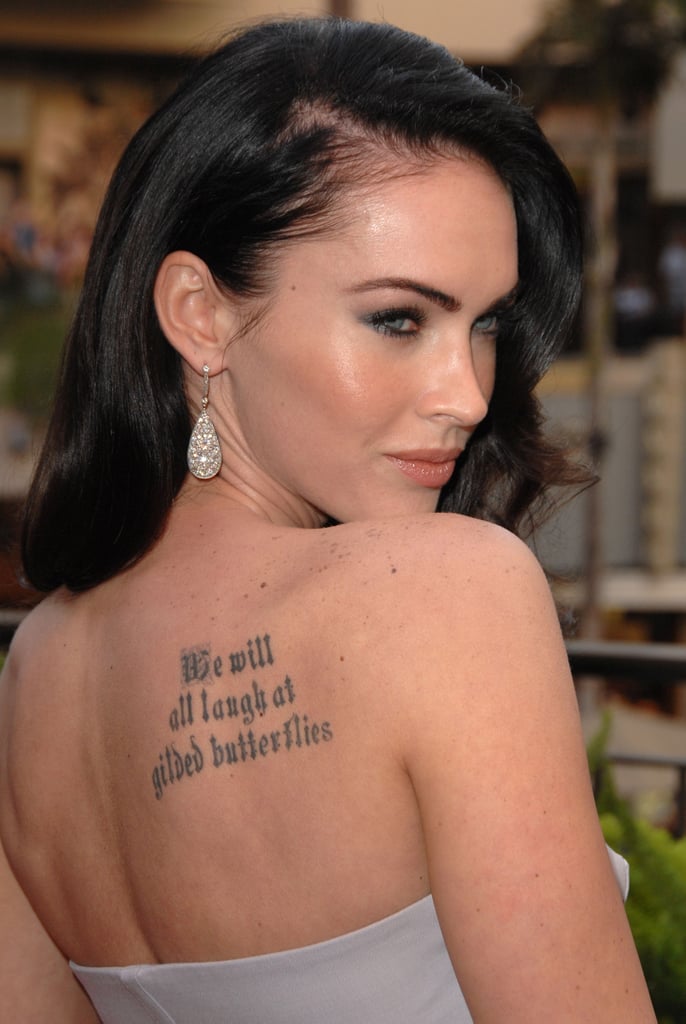 Megan revealed that this Shakespearean line is meant to keep her from getting too caught up in the Hollywood scene.
Kelly Osbourne
To add extra flair to her shaved hairstyle, Kelly had "Stories . . . " inked on her scalp.
Source: Instagram user kellyosbourne [11]
Emma Stone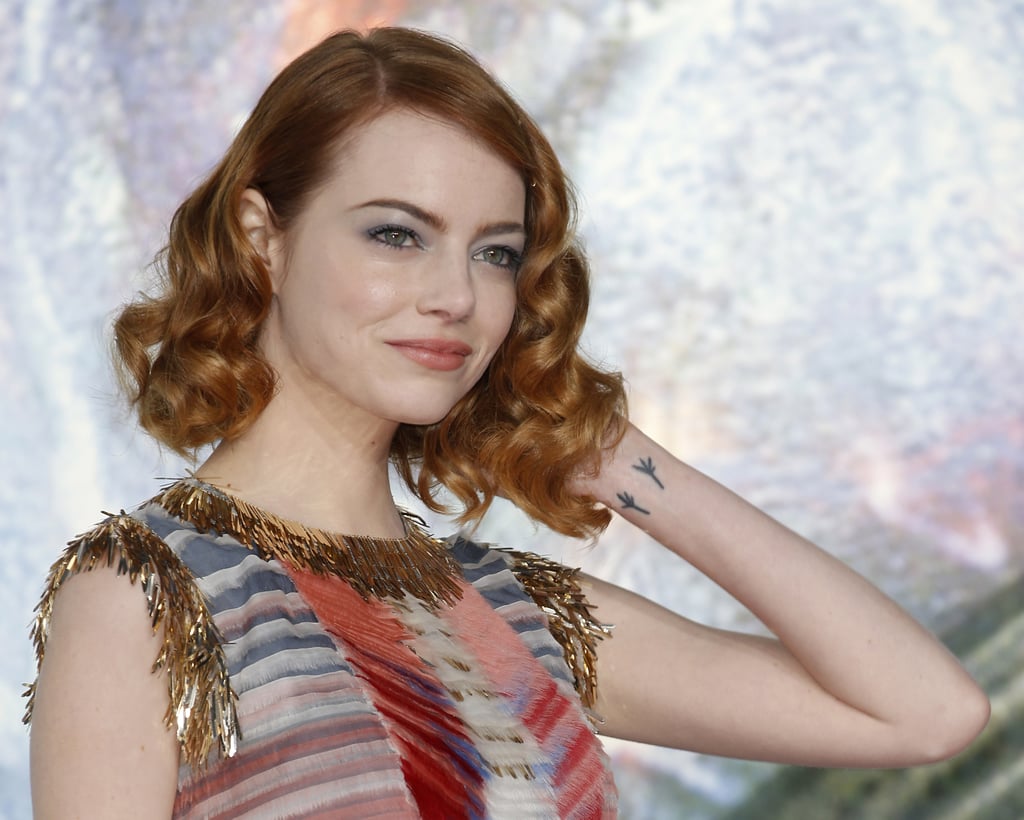 Emma and her mom got matching tattoos after their favorite Paul McCartney song "Blackbird" to celebrate her mom being cancer-free.
Lindsay Lohan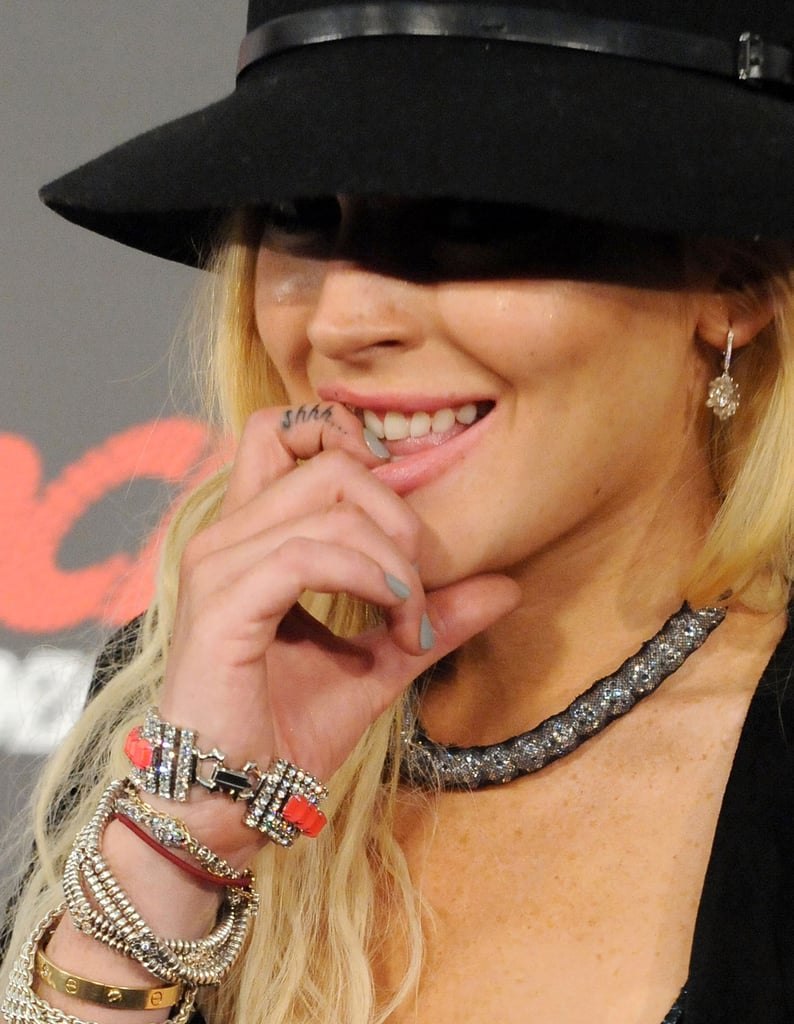 The "shhh . . . " tattoo is a popular choice for ladies in the spotlight. Rihanna [12] and Lily Allen [13] both sport the same script.
Demi Lovato
Demi got the roman numeral III on her wrist in June 2013 after her father passed away from cancer.
Source: Getty [14]
Jessica Alba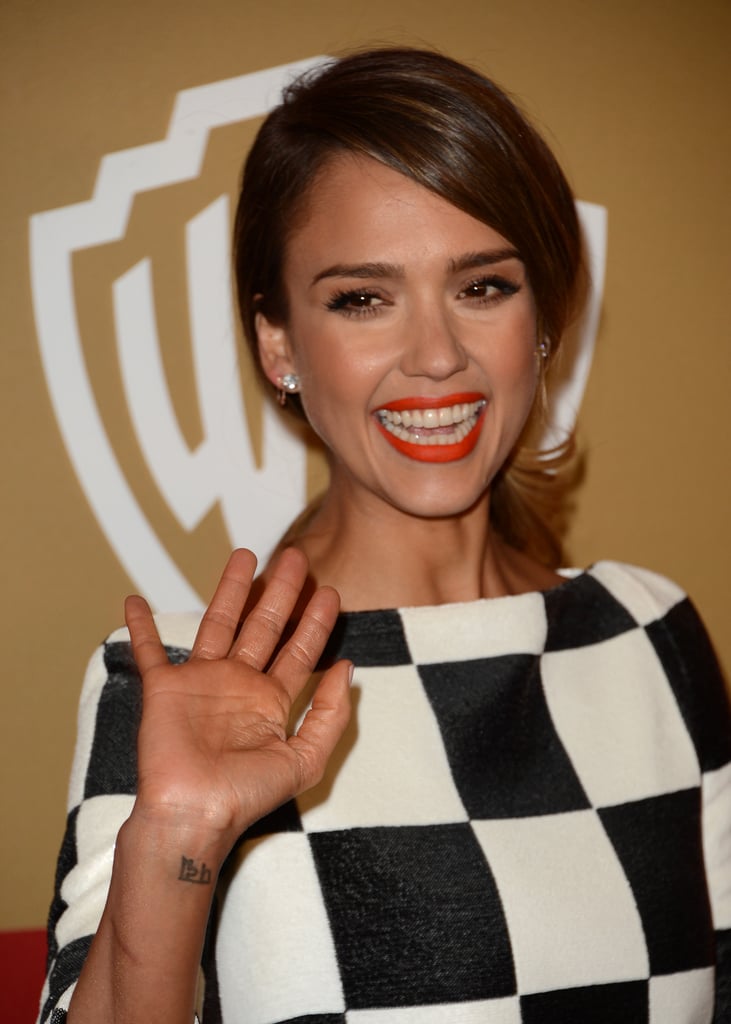 You can often spot Jessica's dainty Sanskrit wrist tattoo, which translates to "lotus flower."
Lea Michele
Lea has over 10 tattoos in all, but this music note on her shoulder is the most visible when she does her over-the-shoulder pose.
Adriana Lima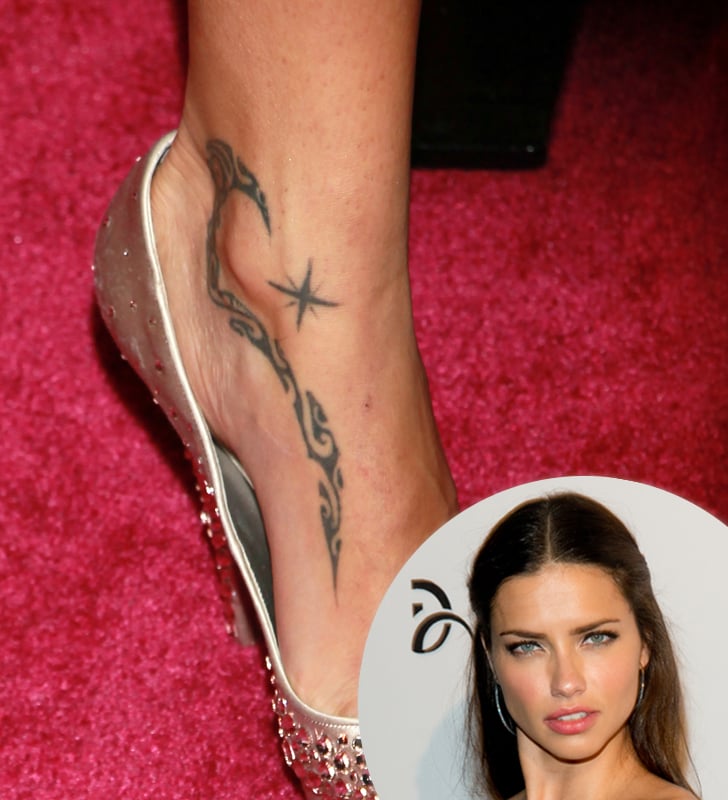 There's no better match for an amazing pair of heels than foot ink. Just take Adriana as an example.
Source: Getty [15]
Katy Perry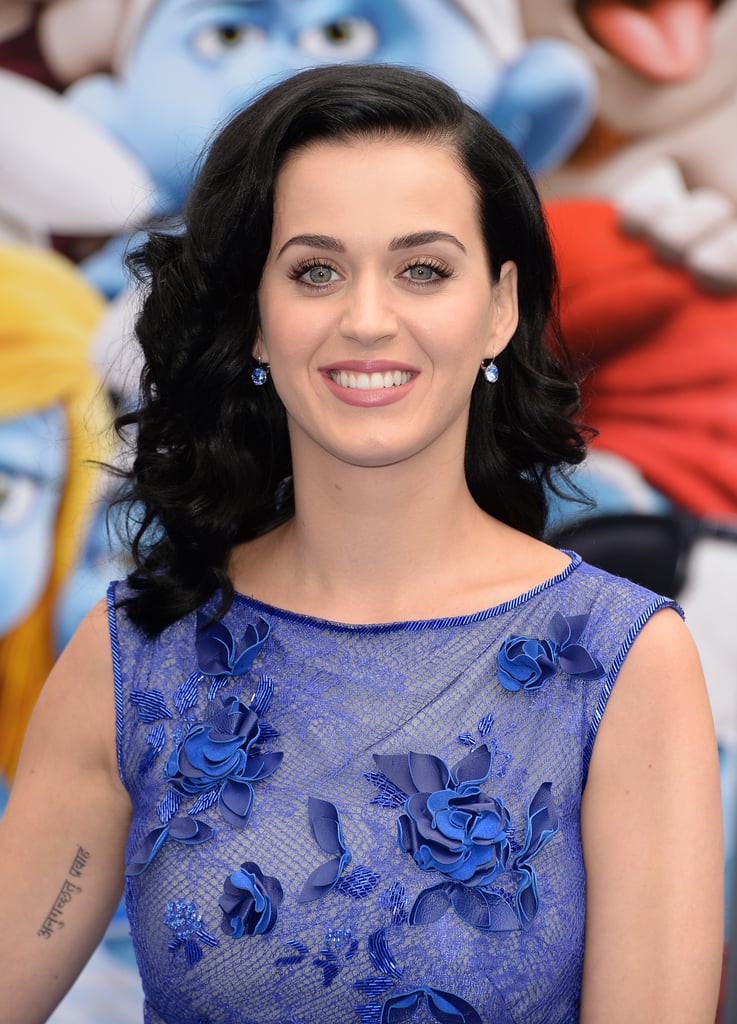 J
Katy got this Sanskrit tattoo to match her then-fiancé Russell Brand [16]. The ink says "anuugacchati pravaha," which means "go with the flow."
Sienna Miller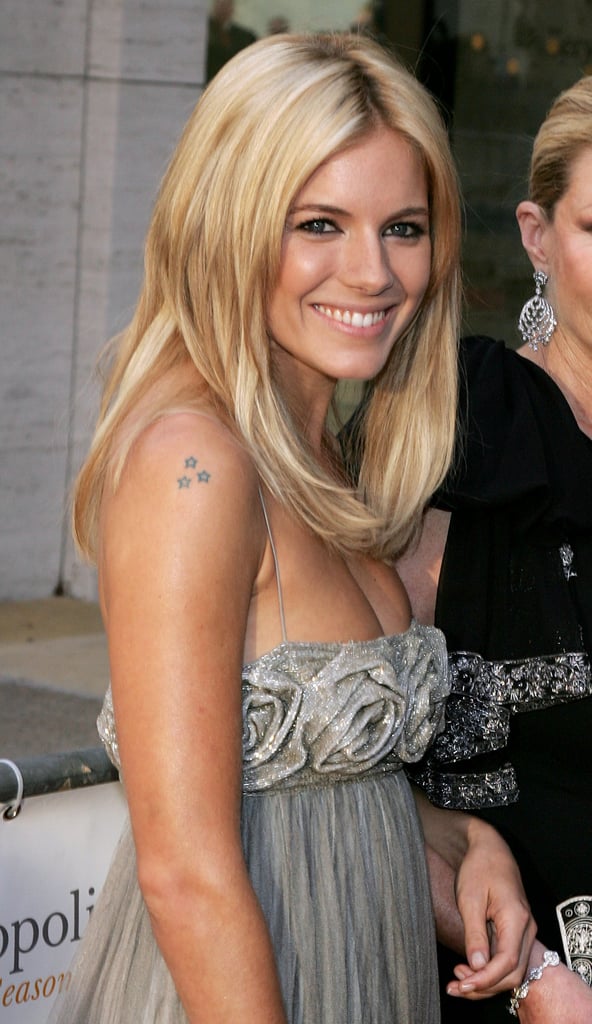 Stars are a popular choice for tattoos. Sienna went for not one but three on her right shoulder.
Zoe Saldana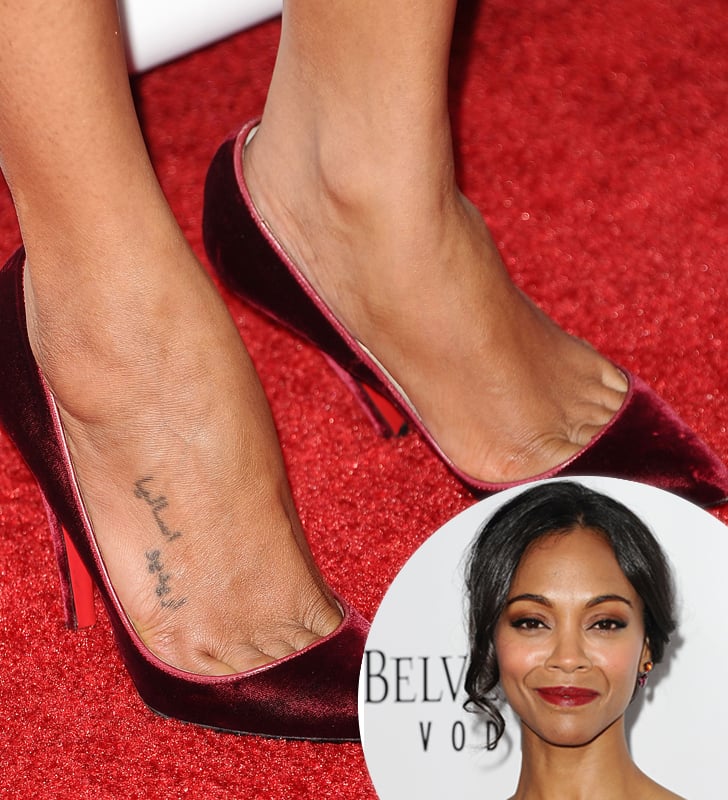 In addition to the star tattoo on her left ankle, Zoe also got the Arabic words, "I want to ask her," inscribed on her foot.
Source: Getty [17]
Rihanna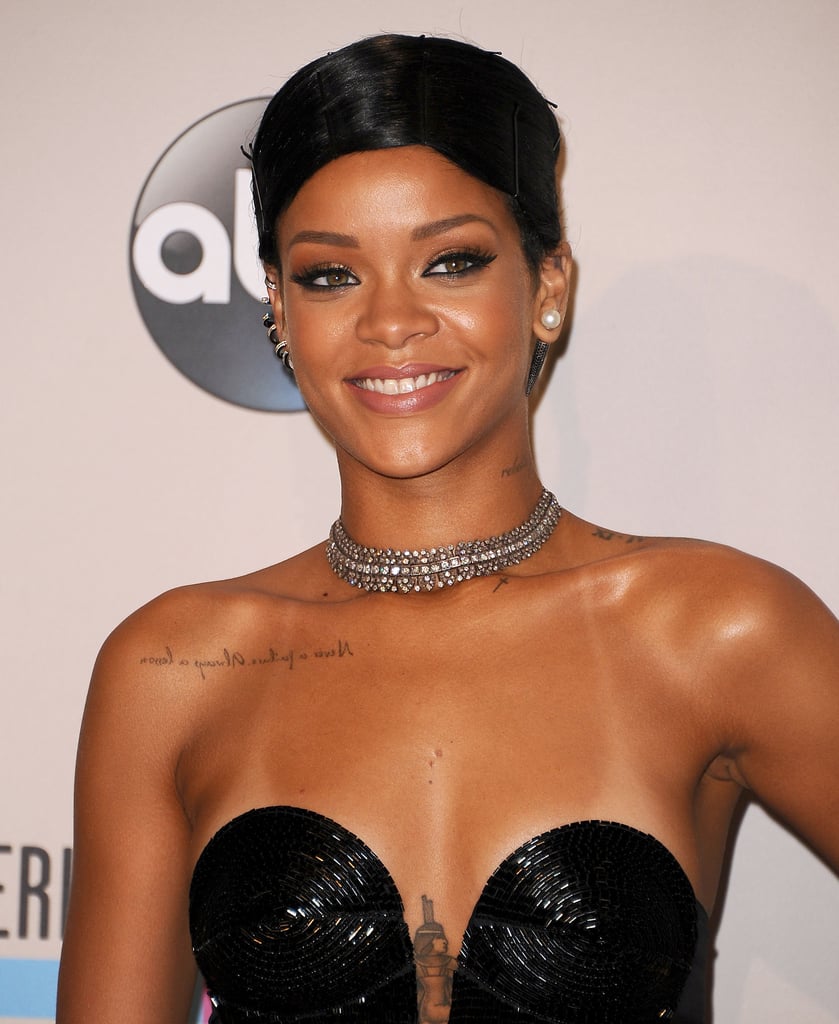 Rihanna [18] showed off her many tattoos in this revealing dress. The quote "Never a failure, always a lesson" is written backward on her chest.
Rita Ora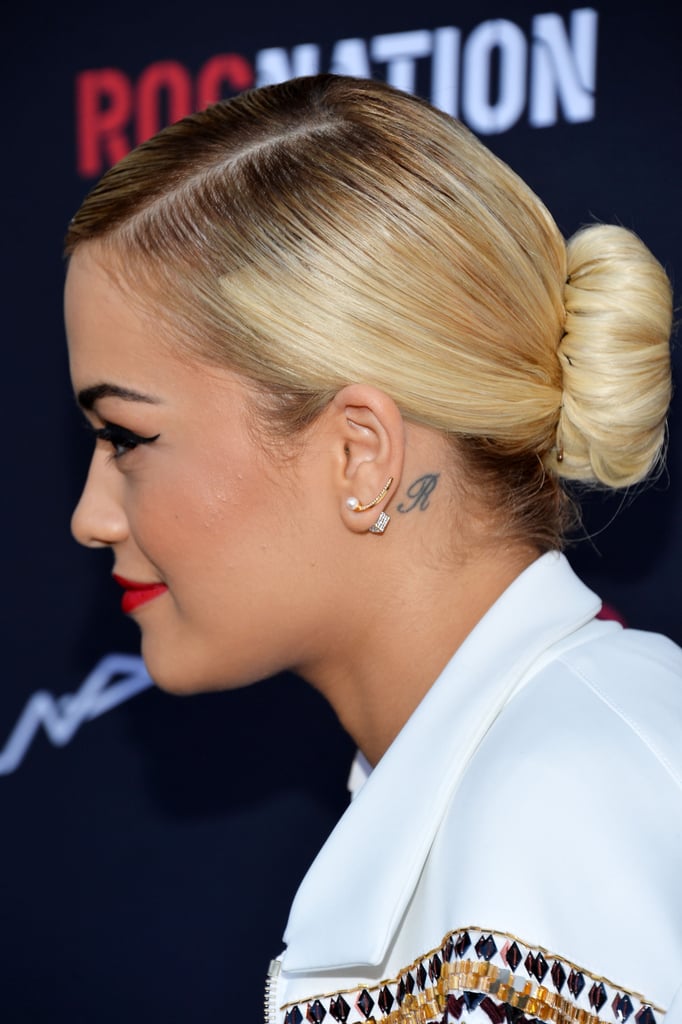 Similar to Adele, Rita has her first initial tattooed behind her ear.
Vanessa Hudgens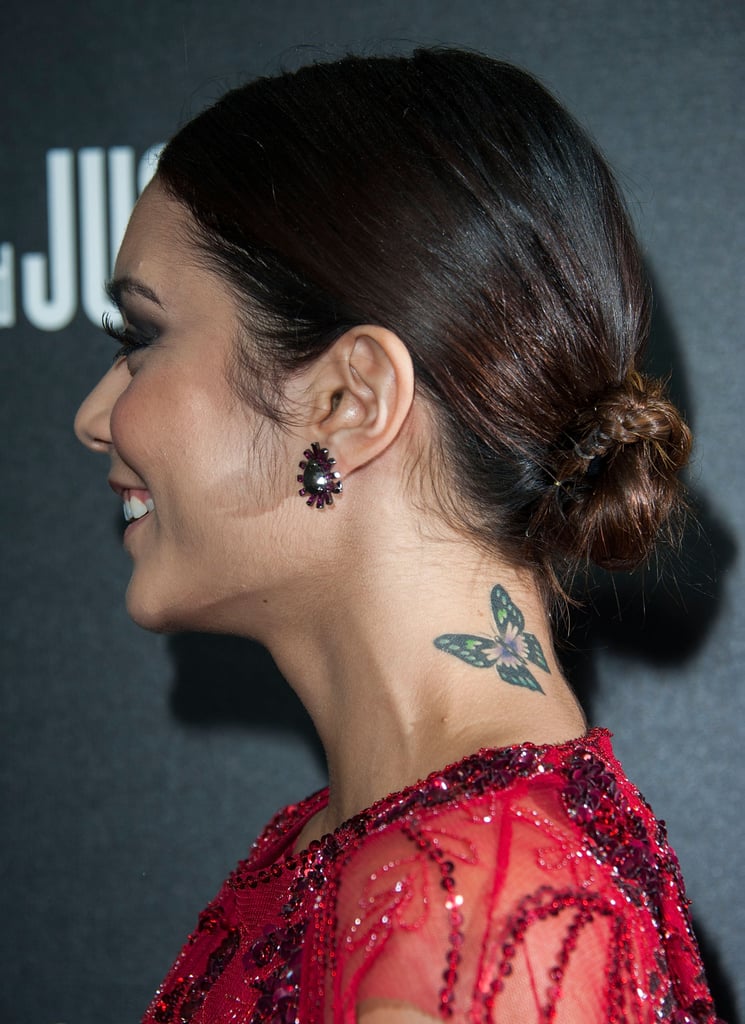 Vanessa flashed her colorful butterfly tattoo with this chignon hairstyle.
Scarlett Johansson
It might look like a cross, but Scarlett's wrist tattoo is actually a bracelet with "I Heart NYC" as a charm.
Source: Getty [19]
Angelina Jolie
We can hardly keep count of all of Angelina's tattoos, but this Buddhist Pali incantation meant to protect her and son Maddox from bad luck is the most recognizable.
Bar Refaeli
The model showed off her first tattoo, a white butterfly on her wrist, via Instagram and captioned the photo: "I finally did it. My first (and last) tattoo."
Source: Instagram user barrefaeli [20]