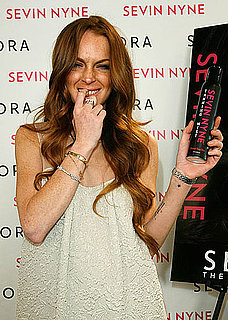 Unfortunately, sometimes part of being a celebrity is dealing with lawsuits, whether something goes awry with a beauty contract, as in the
case of Uma Thurman and Lancôme
, or questions arise over secret ingredients in the formulation, as in the
case of Kate Hudson
, who helped develop David Babaii for Wildaid. Now, it looks like
Lindsay Lohan
is the next star facing some legal issues of her own.
In a lawsuit filed in Tampa, chemist Jennifer Sunday claims that Lindsay and her business partner, Lorit Simon, stole the formula for Sevin Nyne, a Lohan-endorsed tanning spray which launched back in April. According to the suit, Simon and Sunday had been hammering out details of the tanning spray, but weren't able to agree on pricing.
"The next thing we know, Lorit Simon and Lindsay Lohan are partnering and Ms. Lohan is taking credit for developing this formula, which she indeed had no role in," Sunday's attorney, Marcia Cohen, told the St. Petersburg Times. Whether it's all a big misunderstanding or there is truth behind these allegations, one thing's for sure: there's never a dull moment when Lindsay's involved.