It's hot. You're sweating. And you need solutions. Frizzy hair? We got you. Makeup color slump? No problem. Travel problems? Easy. Scroll through to see our editor picks for the best new beauty products of August.
Kérastase Discipline Fluidissime Spray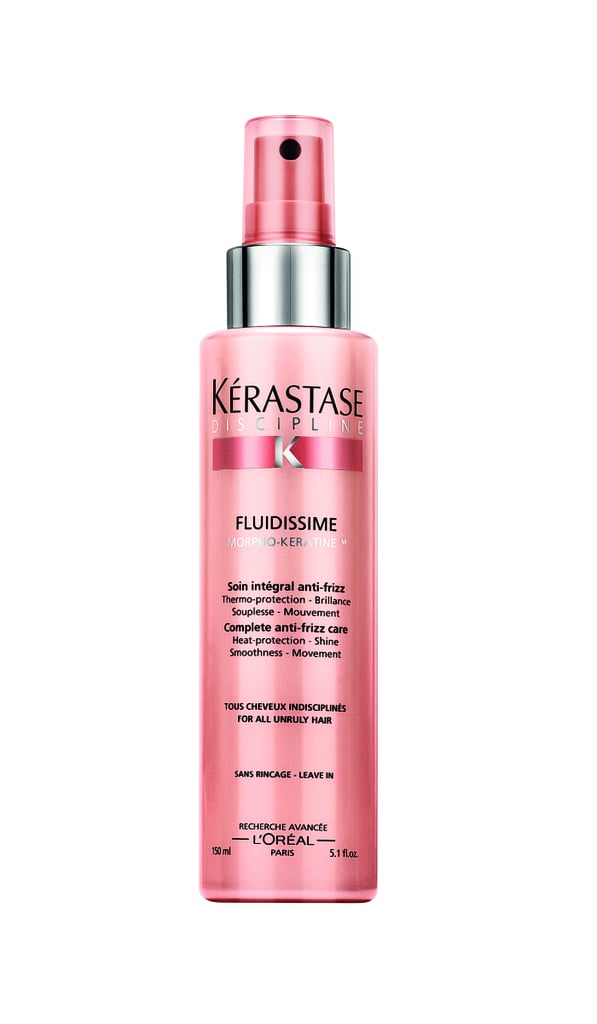 I have naturally curly hair, and I love beach towns. That means it's almost impossible for me to avoid serious frizz (ever heard the term Jew 'fro?) at those humid climates. Luckily Kérastase Discipline Fluidissime Spray [1] ($42) helps prevent the problem before it starts. I've been a longtime Kérastase fan as the brand's hair oils have done wonders to tame my locks. This hair serum is no different, offering a medley of benefits: heat-styling protection, static fighters, and patent technology to transform the hair fibers to be smoother and stronger. — Lauren Levinson, beauty editor
Lift Lab Lift & Fix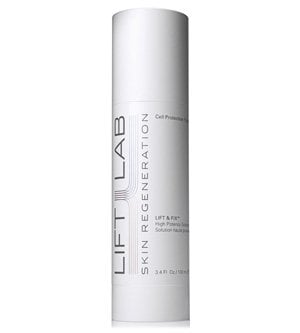 I may still be well under 30, but I'm trying to break my bad Summer sun habits and give my skin as much love as possible. Which is why lately I've been piling on skin-regenerating serum Lift Lab Lift & Fix [2] ($100). I slap on the clear solution after cleansing and let the special proteins work their magic, hydrating my superdry skin and helping to fight redness and skin irritation that I always get from Summer weather. — Aemilia Madden, editorial assistant
Rituals Himalaya Scrub in Sweet Almond Oil & Indian Rose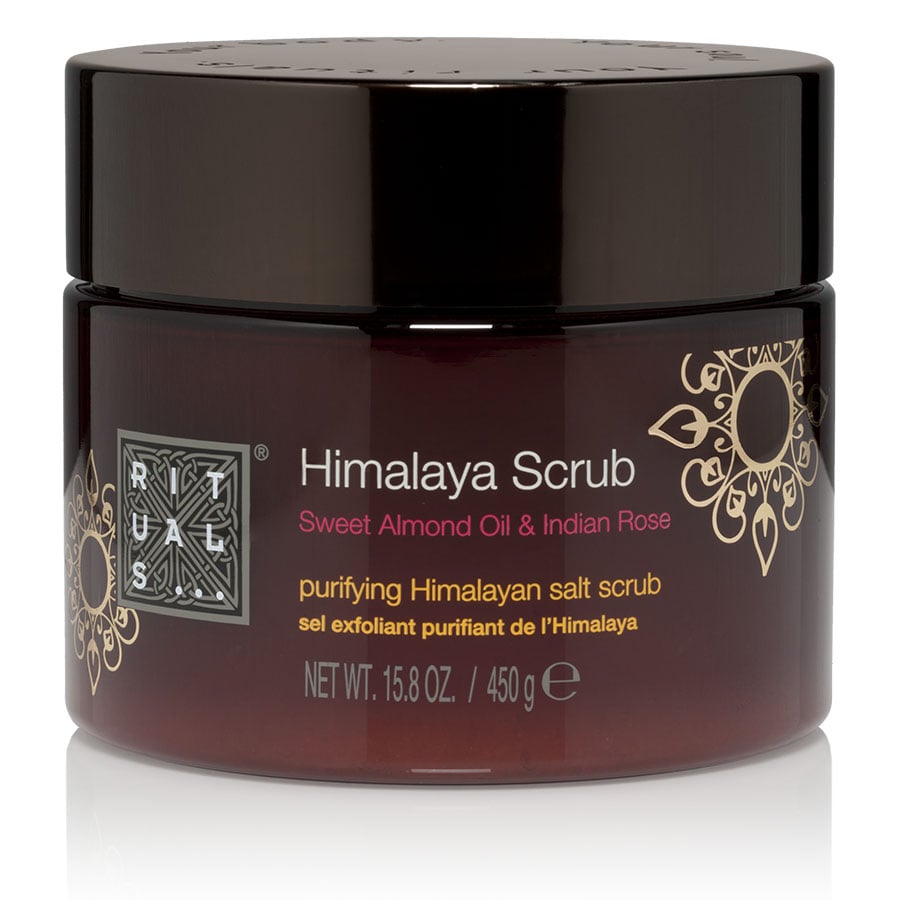 My newfound addiction to spray tans meant that I needed a quality body scrub that would slough off those gross flakes without drying out my skin. Thanks to the blend of Himalayan sea salt (the perfect balance between coarse and fine) and sweet almond oil in this scrub [3] ($29), my skin feels clean, polished, and protected after a shower. Plus, the addition of mint helps me feel refreshed right before bed. — Emily Orofino, beauty editorial assistant
Buxom Mascara Bar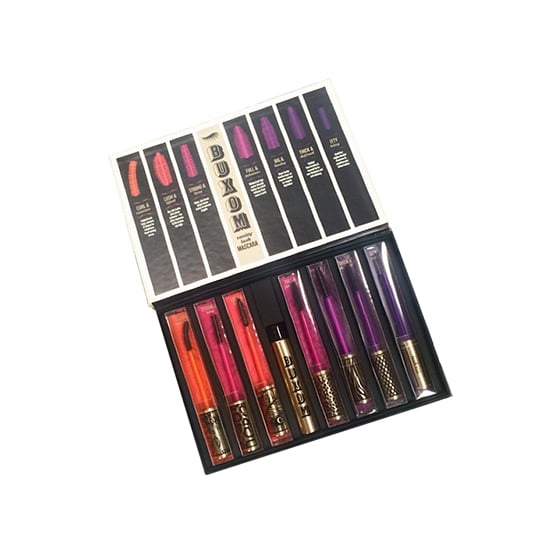 What if I told you there was a bar that promised no hangovers and left you looking bright eyed, not bloodshot and dehydrated?
No, I'm not drunk. It's the truth! This month, Buxom debuts its Mascara Bar ($18, exclusively at Sephora), featuring the new Vanity Lash mascara. Instead of being stuck with one wand, you get to pick your own! There are seven to choose from — my favorite is Full & Fabulous, which has tiny orbs at the end of the rubber bristles. It's not too wide, so it gets those baby lashes at the corners of my eye. — Kirbie Johnson, beauty reporter
Dial Acne Control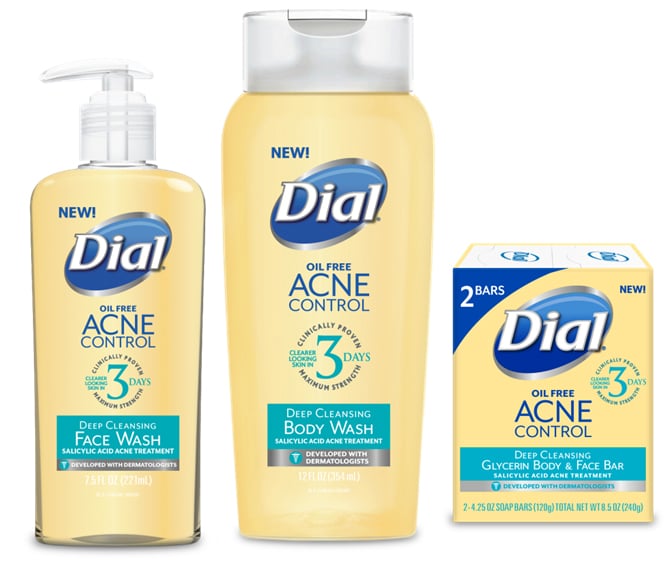 All Winter we pretend like back acne doesn't exist, but Summer is when the truth is revealed! The new three-piece collection [4] ($5-$6) from Dial is formulated with salicylic acid to remedy breakouts all over. The special deep-penetrating technology allows the active ingredient to get deep into skin, not wash down the drain. The product even comes in bar soap, meaning your boyfriend will finally get rid of those pimples on his bum. He won't mind the light grapefruit scent either. — Jessica Cruel, assistant editor
St Tropez Self Tan Express
I'm so excited that one of my go-to self-tanning brands has launched a new express formula that gives golden, glowing results without the weird smell and stained sheets. St Tropez's new formula [5] ($44) develops in as little as an hour (up to three for a darker tan) so you can shower it off before bed or tan in a hurry. I find a two-hour tan is perfect for my pale skin. — Gemma Cartwright, POPSUGAR UK fashion and beauty editor
The Body Shop Wild Argan Oil Body Butter
This fair-trade Moroccan argan-oil-infused body cream not only makes my sun-kissed sun feel smooth, but it also makes me feel emotionally good knowing the process of making it helped give women in Africa jobs. Plus, The Body Shop's Wild Argan Oil Body Butter [6] ($20) melts into skin, leaving long-lasting hydration and a sweet honey scent. Yum. — LL
Giorgio Armani Sì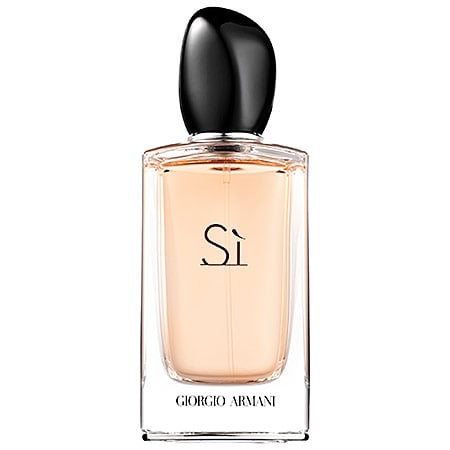 Earlier this year, I was lucky enough to check out Giorgio Armani's new Cate Blanchett-approved fragrance, Giorgio Armani Sì [7] ($90), before it was released, and ever since, I've been lusting over the scent. To me, it smells part woodsy and part sweet, and it makes me feel like a grown ass sexy woman when I wear it; need I say more? — AM
Boots No7 Youthful Eye Serum
I'll spend 45 minutes applying mascara to get each lash looking just right, but I am notoriously lazy when it comes to taking care of my skin. Unfortunately, the really thin skin around the eyes is the first area to show signs of aging, so any sexy smoky eye look will be all for naught without proper skin care. I'm now keeping this new serum from Boots No7 [8] ($22) on my night table to dab on before bed. It's clinically proven to reduce signs of aging in four weeks, so I figure if I just keep using it, I can bypass aging altogether. (Here's hoping!) — EO
Stila Ice Cream Eye Trio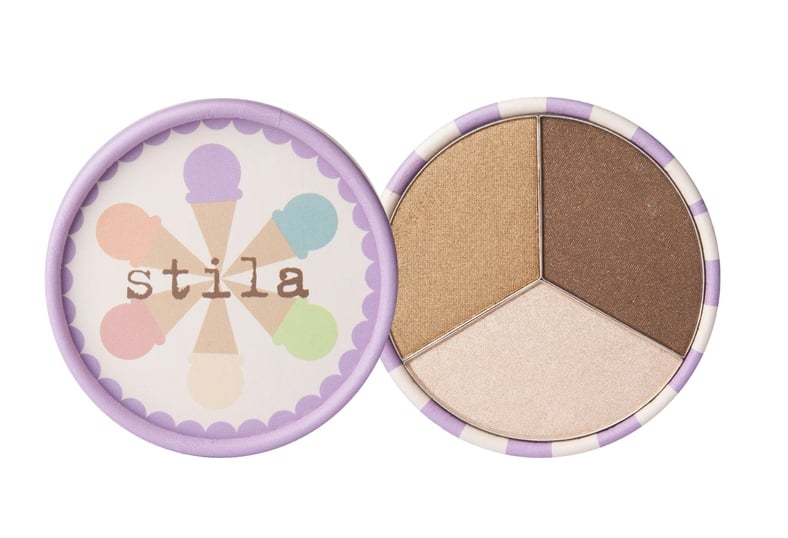 I am a massive Stila fan, and I'm particularly fond of the eye shadows, so this limited-edition eye trio [9] ($34) is the ultimate must have. It was created to celebrate the brand's 20th anniversary, and the cute cardboard packaging is a throwback to the products that made me fall in love way back when. As an added bonus, the three neutral shades are wearable classics that every woman needs in her beauty kit. It'd be rude not to. — GC
X Out Wash-In Treatment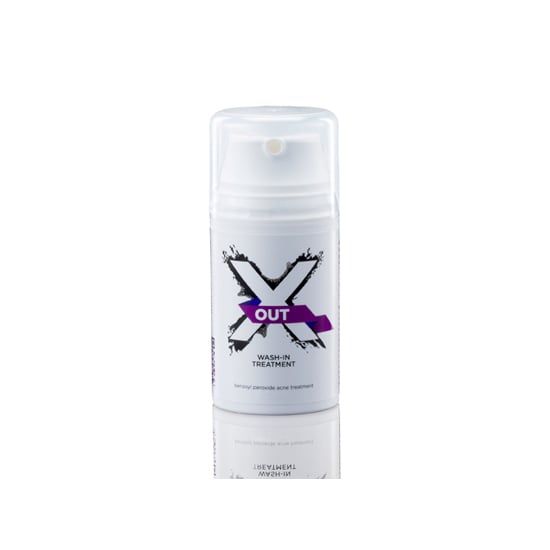 Yes, this is a face wash for teens. I am 27. Sue me!
I started using Proactiv when I was 15, and I've used it on and off since then because it actually does work to clear up my skin even if I don't necessarily use all three steps at the same time. Then I stumbled upon X Out [10] ($20), which is one product instead of three, and it's made by the same people who make Proactiv.
I wish I took before and after photos, because my face cleared up and the texture of my skin looked better after using it for two weeks. It's due to the combination of benzoyl peroxide (to eliminate the blemishes) and the moisturizing ingredients that help keep my skin from cracking like the thirsty desert ground. — KJ
Softsheen-Carson HydraSteam Masque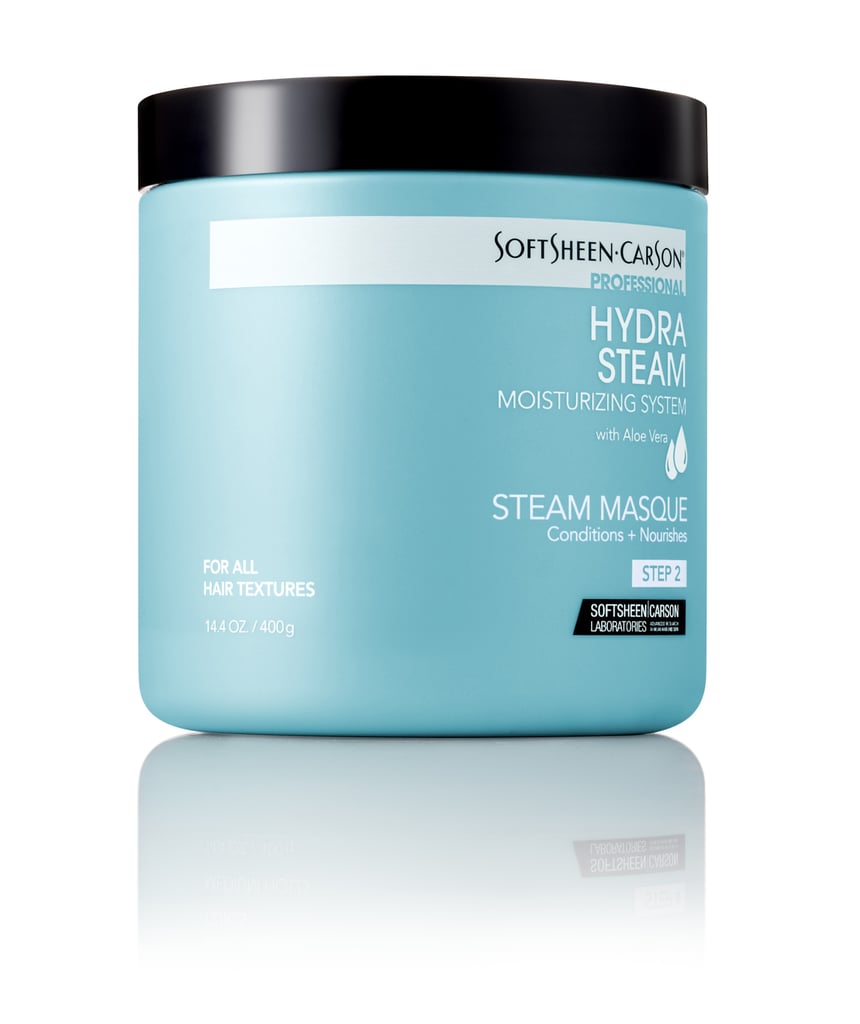 The steam machine is the latest trend in deep conditioning, and Softsheen-Carson has released a professional brand that complements the salon treatment. The HydraSteam Masque ($18, available at Sally Beauty this month) is packed with aloe vera and other ingredients that go deep into the hair shaft once steam is applied. If you don't have a portable steam machine at home, you can use it with a heated towel in your shower for strand-softening results. This is one salon line made with natural hair in mind. — JC
Jonathan Cohen For Shu Uemura Cosmetics Case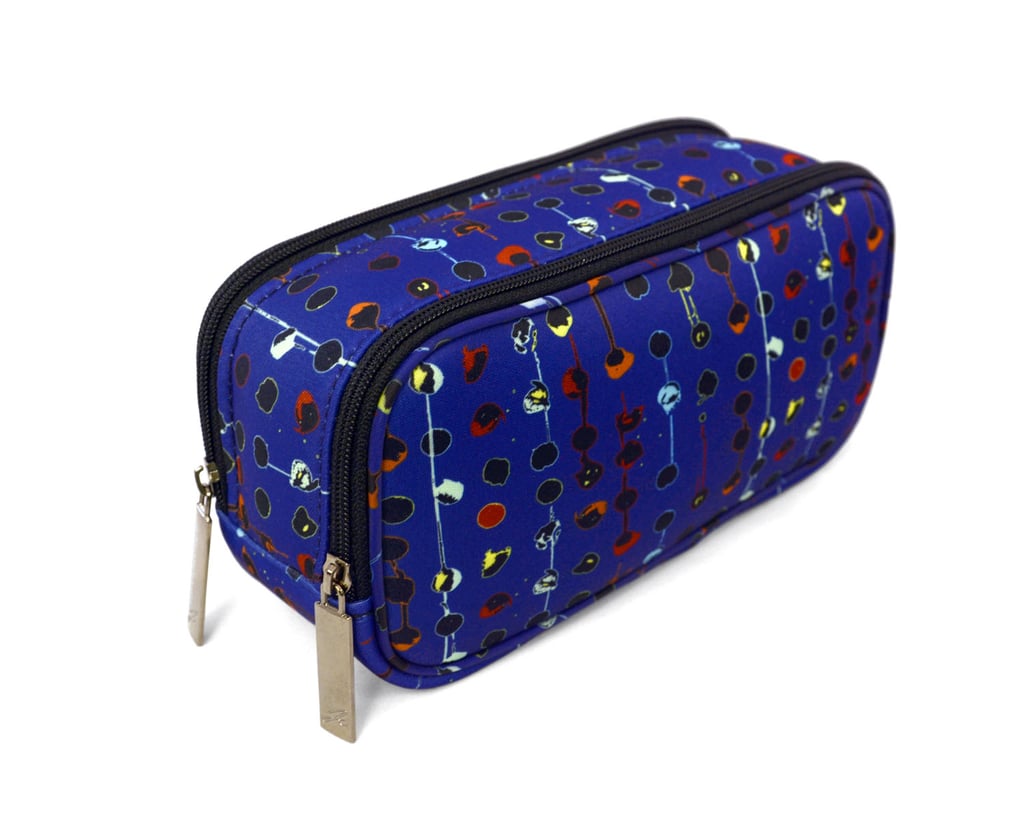 As I've mentioned, I spend my Summers traveling — sometimes even around the world [11]. So owning a lightweight, expandable makeup case is a must. This new abstract polka-dot print one from designer Jonathan Cohen for Shu Uemura does the trick. The "Dripping Dots" pattern was inspired by his Fall 2014 Ready-to-Wear collection and is made of Europrene water-resistant, canvas-lined material (read: you don't have to worry about spills). Snag the Jonathan Cohen for Shu Uemura Cosmetics Case [12] for $48-$98 or $162 with Shu Uemura Full Shimmer Shampoo, Full Shimmer Conditioner, and Essence Absolue in travel sizes. — LL
Demeter Virtual Scoop Shoppe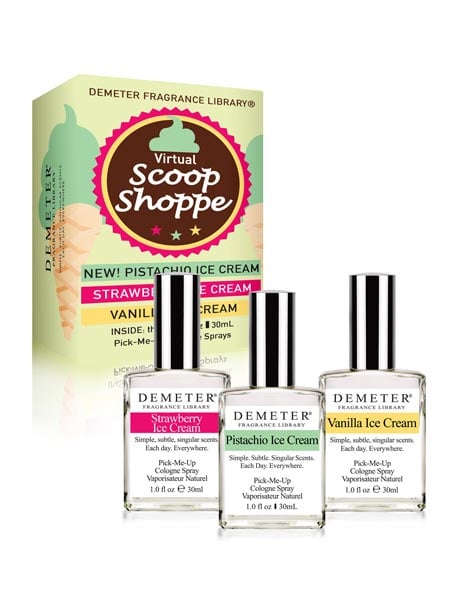 Believe it or not, I have been on the hunt for the perfect pistachio fragrance for over a year now. Demeter served it up in a bottle of nutty, sugary, smoky goodness that just makes you smile. If you'd rather smell like a sundae, layer it with the other two in this dreamy trio of ice-cream-inspired scents [13] ($45). Having my favorite Summer treat flavors available to wear all year makes the thought of another polar vortex almost tolerable. Almost. — EO
Katy Perry Royal Revolution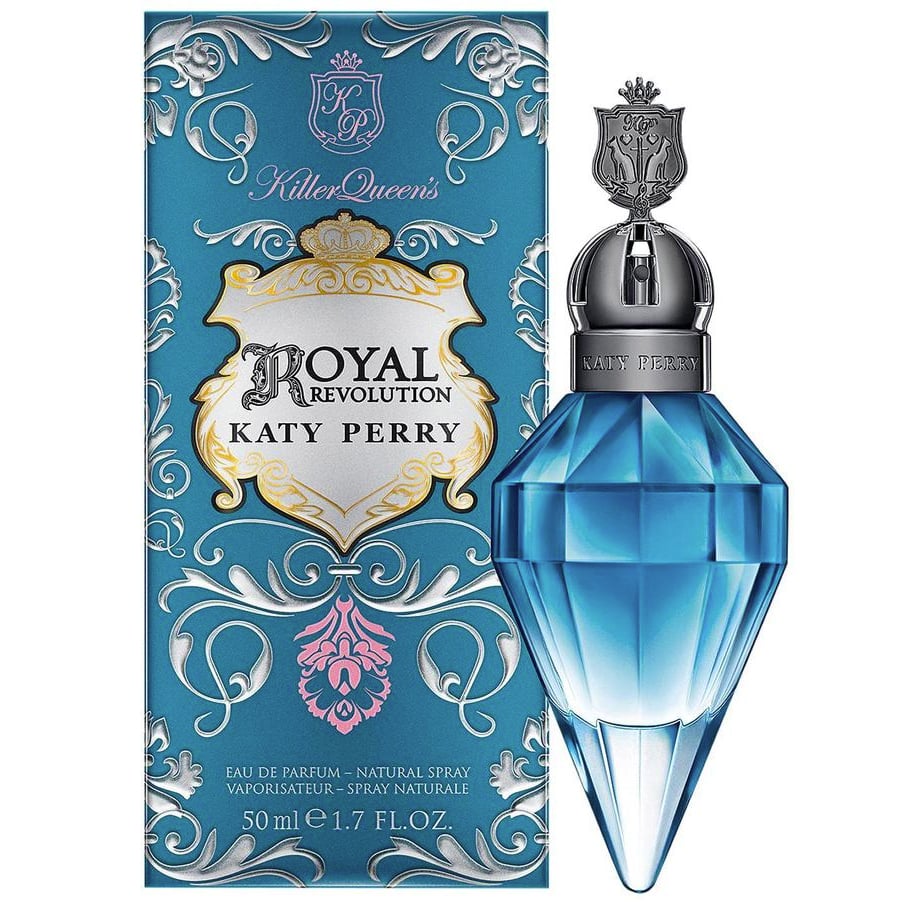 The latest addition to Katy Perry [14]'s growing fragrance range is the perfect late Summer scent. At first, Royal Revolution [15] ($49-$59) is fruity and fresh, but then the jasmine, leather, and sandalwood kick in, giving it a more sophisticated edge than a lot of celebrity scents. Katy's secret ingredient to give it an edge is blackthorn, which was used in spells in the Dark Ages. It's also the plant used to make one of my favorite tipples, sloe gin! — GC
Nars Blkr Langer Than Life Eyeliner
During the Summer, I tend to lighten up my makeup routine — goodbye, black line, and hello to alternatives like burgundy and charcoal — plus I keep my eye out for products that won't melt or flake in hot weather. So when I found out Nars is releasing a new charcoal-colored eyeliner, Blkr Larger Than Life Long Wear Eyeliner, I knew it was about to become my go-to for nights on the town. — AM
True Nature Botanicals Solid Perfume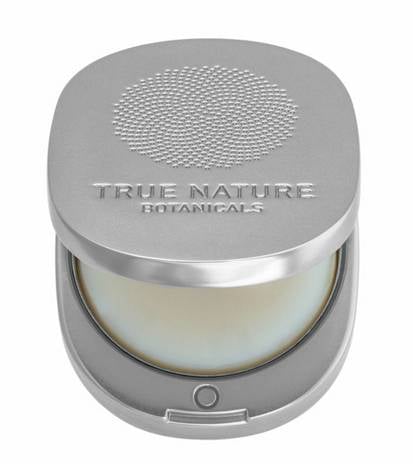 I have an aversion to strong fragrances, but this solid perfume from True Nature Botanicals is my new vacation favorite. I typically turn to scented body spritzes for fragrances, and this compact melts down into a sweet-smelling oil. The result is an aroma that doesn't overpower you. My top pick is the Noble Citrus [16] ($95) with natural notes of bergamot, orris, and cypress. — JC
Chanel Illusion D'Ombre Longwear Eye Shadow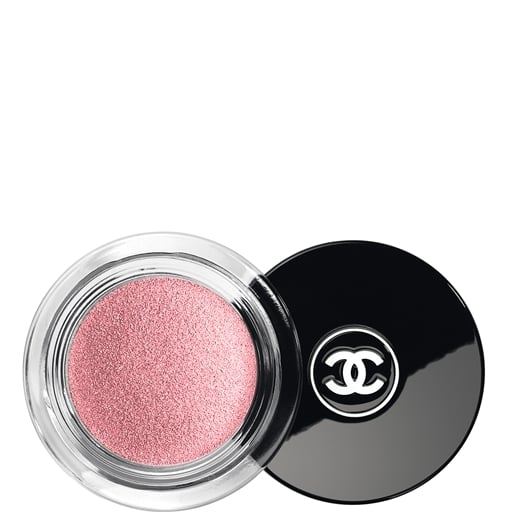 Rose gold is my favorite metal, so when Chanel released this stunning Illusion D'Ombre Longwear Eye Shadow [17] ($36) in the metallic hue, I was stoked. The texture is incredible — to the touch it's slightly spongy, but the powder comes off in the lightest shimmer dust. I like to apply it directly to my lids with my fingers. It adds the perfect didn't-try-too-hard illuminating pop with a Summer tan! — LL
Skindinavia Makeup Primer Spray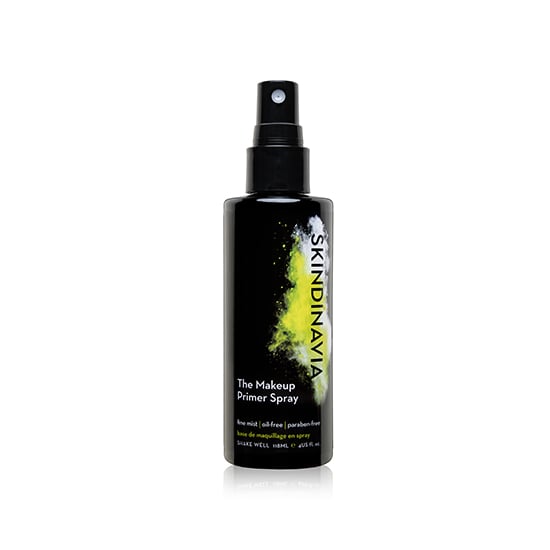 Lately, I feel like I'm back in Texas. The palm trees here in LA tell me otherwise, but the heat inside my apartment might actually bake me alive.
When I get ready for my shoots in the morning, I need something that will keep my makeup put all day, won't run off my face, and won't sweat off while I'm in the bathroom getting ready. Skindinavia's Makeup Primer Spray [18] ($35) actually cools my skin, which allows me to put my makeup on without the fear that it's going to slide off as I'm breaking a sweat while drying my hair. This primer is also silicone-free, so if you tend to break out by using a primer, you'll appreciate this one. — KJ
Skin Inc. Pure Revival Peel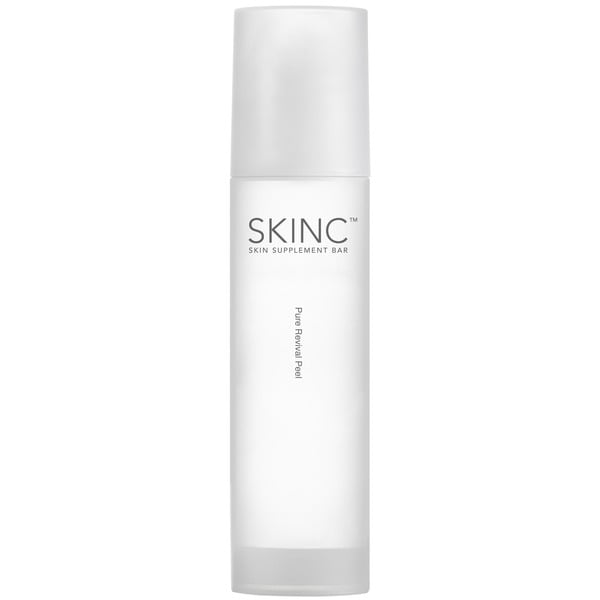 Popular Singapore spa brand Skin Inc. is coming to the US this month. The brand allows you to customize your serum regimen with the My Daily Dose questionnaire. But for me the star product is the Pure Revival Peel [19] ($55). You just apply a thin layer to your skin and wait for it to change into a milky consistency. Then you can actually feel the dead skin come away! I love a good exfoliator, and this one is actually fun to use. — JC
L'Oréal Professionnel Mythic Oil Seve Protectrice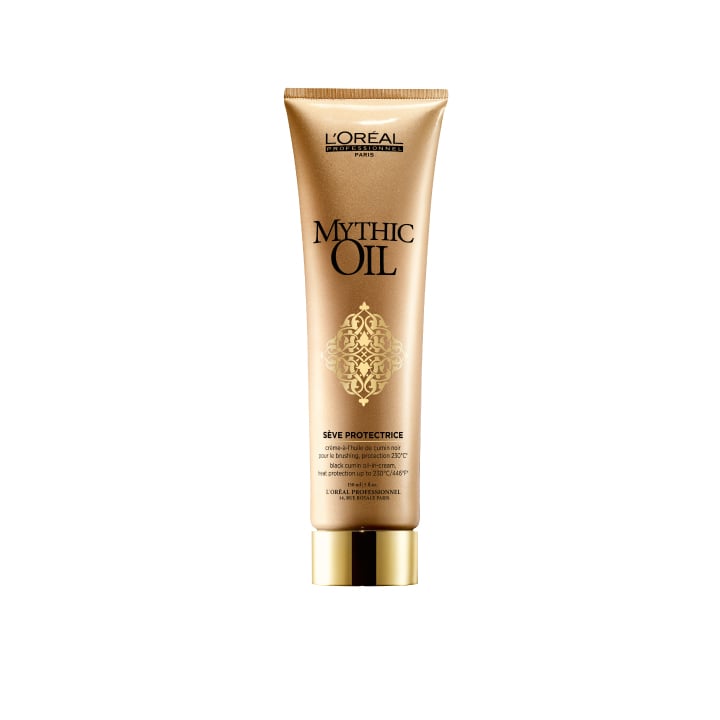 Last month, I finally chopped off my hair, and now a curling iron and straightener have become part of my morning routine. I've heard over and over again that hot tools ruin your hair, so I have been trying to stay ahead of the damage with L'Oréal Professionnel Mythic Oil Seve Protectrice($32). It's a primer that protects my strands from the scorching heat I subject them to. The black cumin oil and xylose help keep my locks sleek and damage-free. — AM
Lush African Paradise Body Conditioner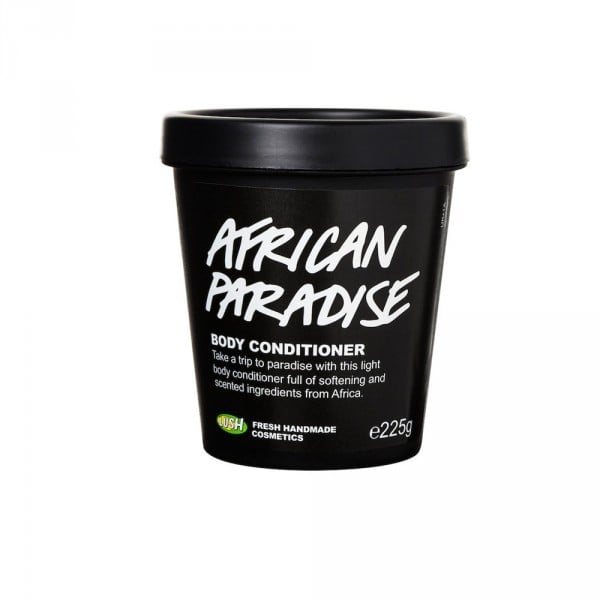 It's been so hot in the UK recently that I've had to give up on the idea of thick body moisturizers, because I end up feeling sticky and greasy all day long. Thankfully, Lush has the answer in African Paradise [20] ($40), which is like hair conditioner for the skin. Apply it in the shower, massage in well, then rinse off for supersoft skin without any stickiness. It works absolute wonders on sun-parched skin and also doubles up as a pretty good shaving cream! — GC
Fresh Sugar Lip Serum Advanced Therapy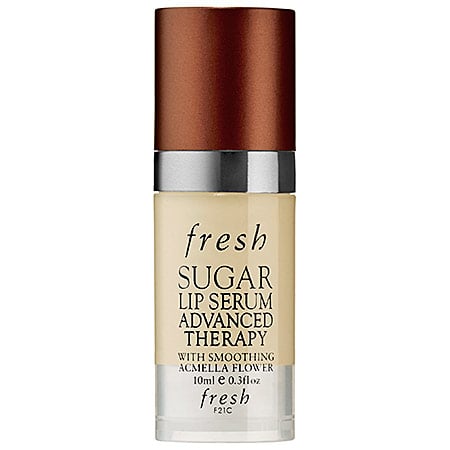 I've been on Team Fresh since those Sugar lip balms hit the market, and now the brand just released a genius serum [21] ($35) to go with them. This soothing balm works great as a night mask or for daytime under color (just give it 10 minutes or so to absorb). It works to reduce fine lines thanks to Acmella flower extract, improve elasticity courtesy of Kigelia africana fruit extract, and has sugar to moisturize. I also love it on long, dehydrating flights! — LL
Obsessive Compulsive Nail Polish in Pagan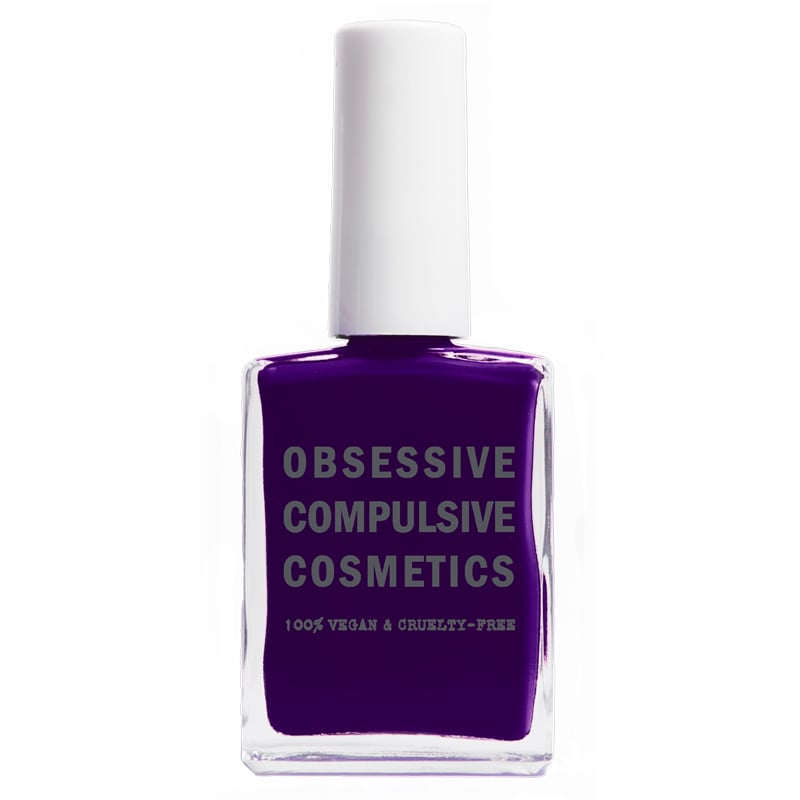 Fall is lurking just around the corner, so I'm getting excited about my triumphant return to vampy manicures. This moody dark indigo ($10, available Aug. 5 [22]) is just bright enough to not be mistaken for black. It'd really pop over a slick of white lacquer, but the squishy jelly finish of this polish is just enough fun on its own. — EO
Garrett Markenson Reverie Milk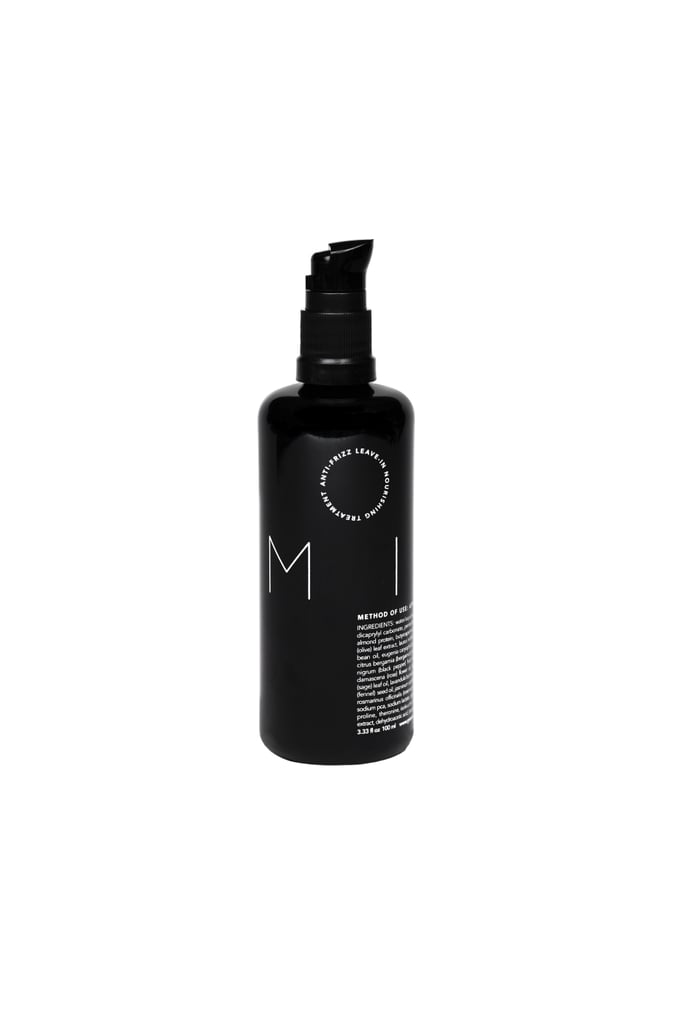 Even though I'm an only child, I have been known to share, especially when it comes to beauty products. This hair treatment [23] ($42) is no exception. The ingredient list is packed with tons of essential oils, including clove, jasmine, and vetiver. All those scents blend together for a sweet-spicy aroma that's sexy on both men and women, so I expect that my boyfriend will be borrowing it on the regular. It's formulated to protect your hair while promoting healthy growth, making our hair look as good as it smells. — EO
Sin-Min Horchata Lip Balm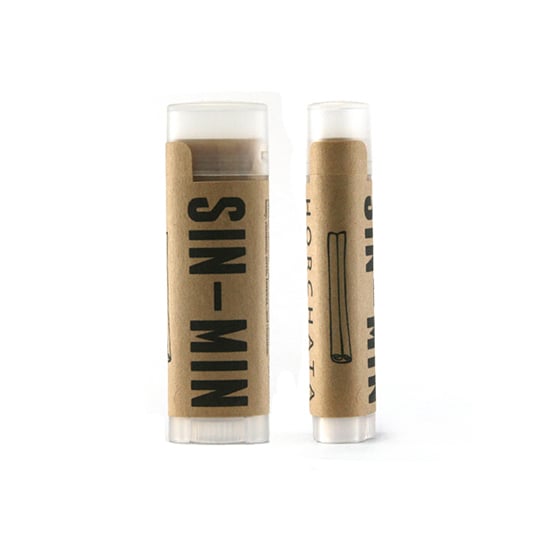 HORCHATA. LIP BALM.
I could leave it at that, because horchata is magical. (In case you don't know, horchata is a Mexican beverage made from rice, spiced with cinnamon plus sugar for sweetness.)
Sin-Min [24] ($8 for two) is made from organic ingredients like beeswax, honey, cinnamon, vitamin E, and jojoba oil. One thing to love, outside of its addictive cinnamon smell, is that the tube is made from recycled materials. This lip balm, in addition to making your lips absolutely intoxicating, gives them a little plumpness, too! — KJ