It's go time, folks! And by that we mean that it's the middle of Summer, so it's time to make sure you're in a warm-weather beauty groove. Whether you're searching for hair-frizz fighters, long-wear nail polish, Disney princess-worthy faux eyelashes (why not?), or an SPF-infused lip stain, we have you covered. Alas, we reveal the new July products we can't get enough of.
Elemental Herbology Macadamia and Papaya Body Scrub
I'm plagued by superdry skin, so I've come to appreciate a good body scrub, especially during Summer when I'm spending extra time out in the elements. Not only does Elemental Herbology's Macadamia and Papaya Body Scrub [1] ($72) help slough off my peeling skin (hello, rough elbows) with rich natural oils like buriti and macadamia, it helps my skin get the hydration it desperately needs. I like to start with a buffing brush before applying the scrub so that my skin is extra absorbent, and I can enjoy a radiant glow once I'm all done.
— Aemilia Madden, editorial assistant
Long by Valery Joseph Brilliance Hair Perfecting Oil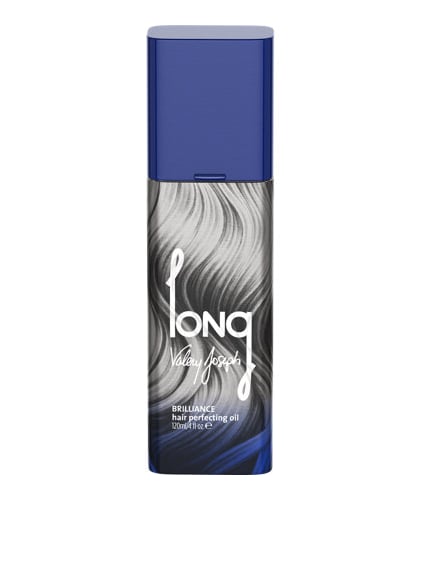 I have naturally curly hair, and I love beach towns. That means it's almost impossible for me to avoid serious frizz (ever heard the term Jew 'fro?) at those humid climates. Luckily, Long by Valery Joseph Brilliance Hair Perfecting Oil [2] ($45) just launched to help tame my mane. In case you're not yet familiar, Valery Joseph is a high-end salon chain in NYC with a chic blow-dry bar in Barneys New York's Madison Avenue flagship. The brand's founder, Valery Joseph, is an Israeli soldier-turned-beauty-guru (with seriously luscious locks of his own), and he's created a brand-new line of products for women with lengthy strands. This is one of my favorites from the range, as it contains an ingredient called "smart keratin," which finds your hair problems and fixes them with natural ingredients like organic baobab oil, artichoke leaf extract, rhubarb extract, and rice protein. Defined curls minus the flyaways can be yours, too.
—Lauren Levinson, beauty editor
Radical Skincare Skin Perfecting Screen SPF 30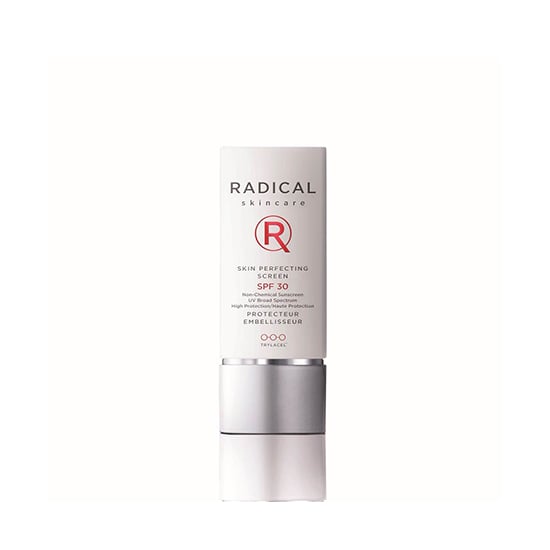 As a slave to SPF, I'm constantly pulling my proverbial hair out. Why must great nonchemical sunscreens come at the cost of a white, chalky cast upon my mug? It's irritating and frankly, a bit terrifying, too. So let me introduce you to your new sunscreen go-to: Radical Skincare's Skin Perfecting Screen [3] ($55). "Skin perfecting" is no joke, either: it's like Photoshop in a tube.
Let's break down why it's the best I've used in my 27 years: it has SPF 30. So you can stop worrying if it has high enough protection. It contains light diffusers, which act similarly to a lighting crew, so it helps conceal imperfections like uneven skin tone and fine lines. The consistency is lightweight, and because it's matte, you won't feel greasy.
If you need anything else to sell you, know that the sisters behind Radical Skincare are also the daughters of world-renowned professor of plastic surgery Dr. Richard F. Edlich MD.PHD — he was also a pioneer in burn care. Needless to say, these pros know a lot about skin rejuvenation.
— Kirbie Johnson, beauty reporter
Juice Beauty Eye Lift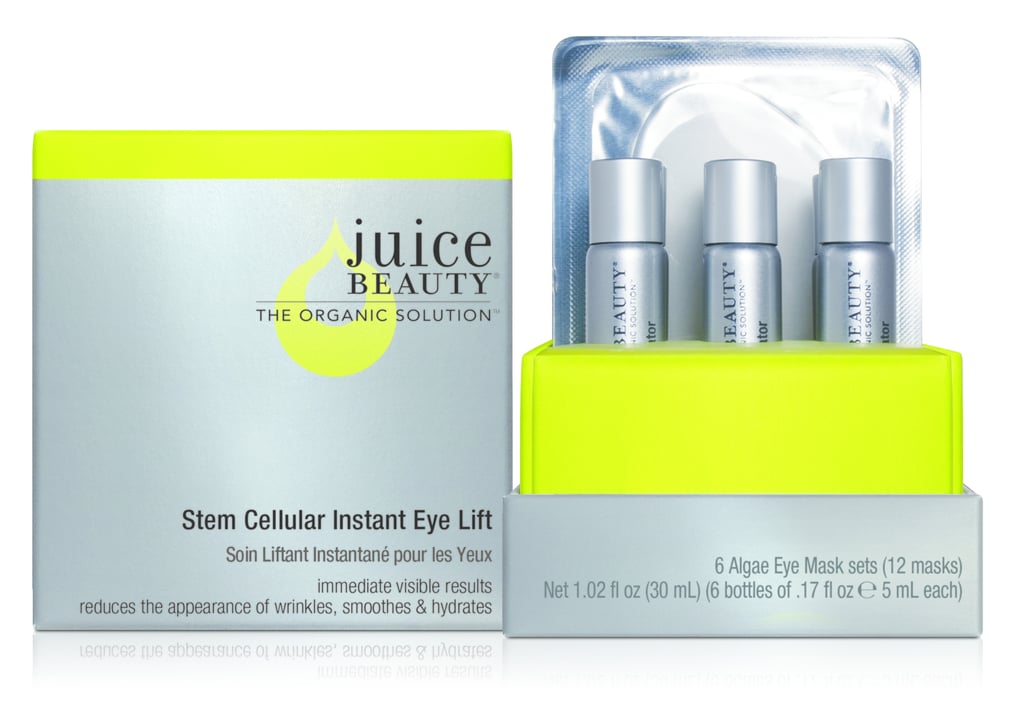 I spend a lot of time during the Summer months traveling cross country, and I don't care how chic you are — no one looks good after a red-eye flight. So my secret weapon is an in-flight under-eye treatment. Right now I'm loving Juice Beauty Eye Lift [4] ($75). While other cloth masks are made with cotton (that can be packed with pesticides). These are specially made with algae, making them both eye and environment friendly. In just 10 minutes, puffiness is obliterated, and the cooling cucumber almost tricks my body into thinking it's not tired after crossing time zones.
— Jessica Cruel, assistant editor
Coast to Coast Ultra Gentle Eye Makeup Remover

Though I always try my best to take good care of my skin, at the end of a long night my inner lazy girl often nudges me to skip the slew of products sitting on my sink. But even on the nights when I just want to pass out, applying a quick swipe of Coast to Coast Ultra Gentle Eye Makeup Remover [5] ($25) takes my makeup off in a flash, meaning I can skip those awkward raccoon eyes when I wake up in the morning.
— AM
Burberry Beauty Fresh Glow Blush
I find many cream blushes too heavily pigmented for my pale skin, and I often end up looking like a clown even if I apply sparingly. But with its 50 percent water content, it's almost impossible to overdo it with Burberry Fresh Glow Blush [6] ($38). The cooling gel-like feeling is also perfect for warm days, when thicker formulas can feel sticky and greasy.
— Gemma Cartwright, POPSUGAR UK Fashion and Beauty Editor
Anastasia Beverly Hills Contour Kit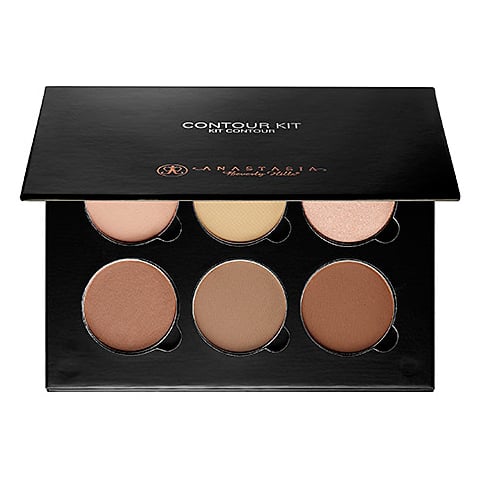 Makeup artists have proven that contouring is the fastest way to a narrower nose or chiseled cheekbones, but until now, I'd never had such universally flattering highlighting and shading colors. There's a reason this palette [7] ($40) is constantly selling out — the finely milled powders are both buildable and blendable. I can also use it as an eye shadow palette when I travel to help cut down on makeup bag bulk.
— Emily Orofino, editorial assistant
Nars Dual-Intensity Eyeshadow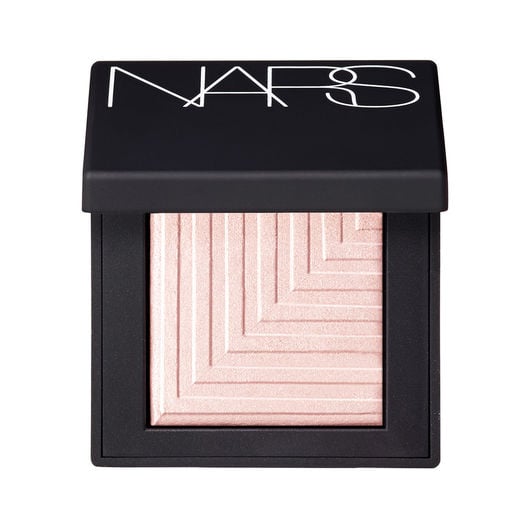 My go-to beauty trick for a night on the town is always a candlelit eye, so when I first tried Nars Dual-Intensity Eyeshadow [8] ($29) in Andromeda I felt like I finally found a shade that added just enough glow to create my signature look. I use my finger to dab the off-white shadow in the inner-corners of my eyes, making my baby blues really pop.
— AM
Shoshanna For Elizabeth Arden Makeup Bag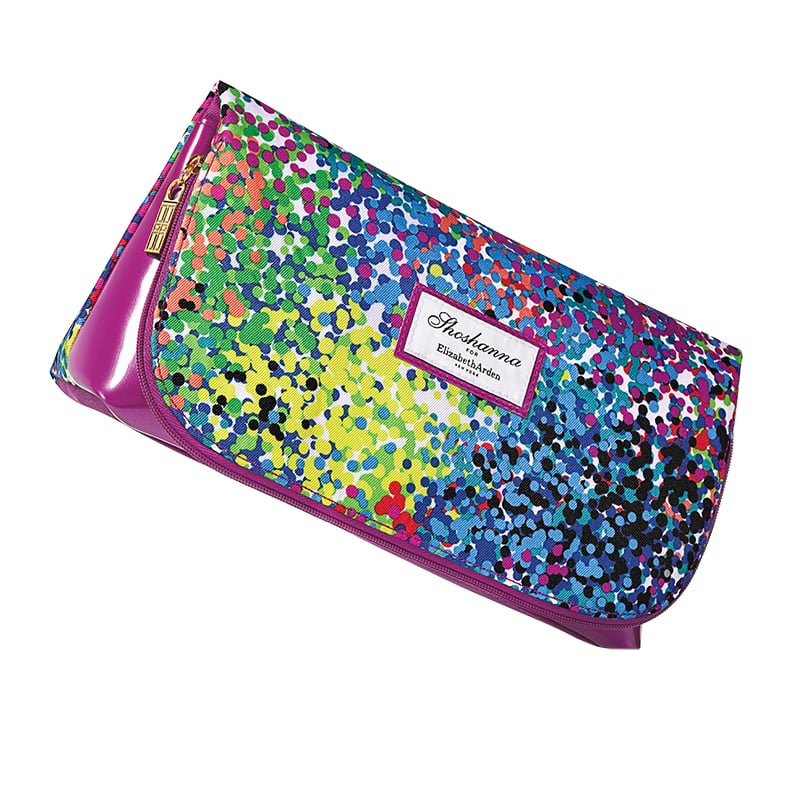 OK, technically this Shoshanna for Elizabeth Arden case is a gift with purchase bag, but it's so worth it for $32. There will be several variations of this bright, printed bag created by designer and Elizabeth Arden Style Director Shoshanna Gruss, and the first one rolls out at Macy's in July. It's lightweight, expandable, and has two pockets (one exterior folder and a zipped-up pouch). You can really stuff this thing — trust me, I did when I went away for seven days. But it also comes with a medley of travel-size products so you may not have to.
— LL
Revlon ColorStay Gel Envy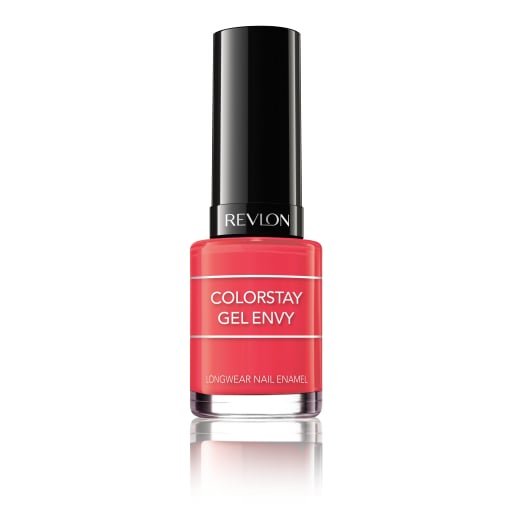 When you're going on vacation, a gel manicure is your best bet for chip-free fun. But on my toes, I prefer the Revlon ColorStay Gel Envy [9] ($8). After a week at the beach, the two-step system stood up to sand and seawater. The application is simple with no UV or LED light required, and it comes off easily with generic nail polish remover. The Revlon range also comes in stunning Summer shades like white, green, pink, and bright purple.
— JC
Ardell Lashes Limited-Edition Ariel Collection
Ariel was always my favorite Disney princess. Something about that long, siren-red hair and staying silent for an extended period of time — the complete opposite of me — was always so intriguing. (You can't shut me up for anything!) And Prince Eric was always the most handsome prince, if you ask me . . .
So when I received a package that included my own "dinglehopper" (that's a fork used as a hair brush to Ariel), I let out a little squeal, knowing a Disney-themed product was wrapped inside.
Ardell released three new limited-edition Ariel Lash Kits ($8) last week, which contain lash adhesive and two bestselling sets of lashes: Demi Wispies and a Double Up set in either 203, 204, or 205. Now's your moment, ladies, to be part of her world.
— KJ
Phytologie Phytoplage After Sun Mask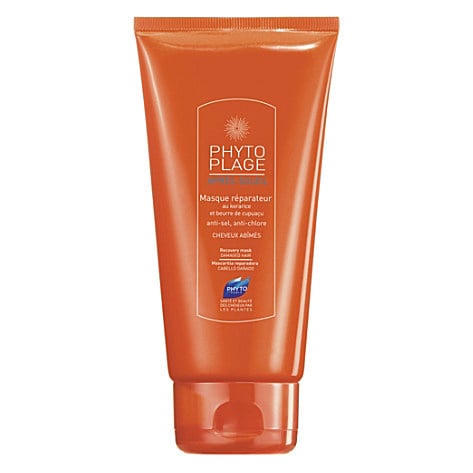 I notice a dramatic difference to the condition of my hair in Summer, and a change of routine is required to avoid having to cut it at the end of August. Bleached blond locks like mine can go dry and yellowy after prolonged sun exposure, and that's before you even consider the chlorine from pools and salt from the sea. A deep moisture mask once or twice a week is a must, and they don't come more luxurious than this after sun recovery mask [10] ($27).
— GC
Comptoir Sud Pacifique Vanille Abricot Eau de Toilette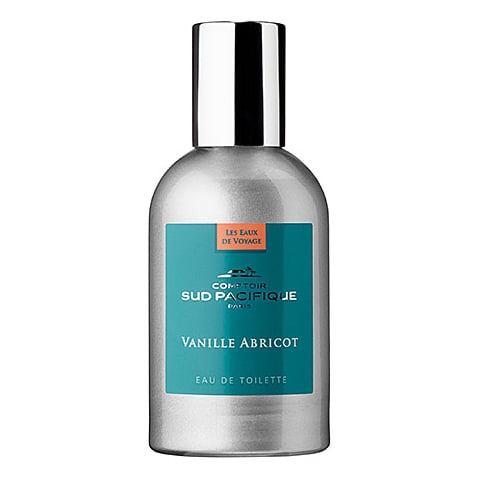 I actually squealed when I saw Comptoir Sud Pacifique returned to Sephora. If there's such a thing as a "comfort food" fragrance, this is it: The apricot-vanilla-papaya blend [11]($32) is sugary sweet without being sickening, and you'll find yourself spraying it on everything from your body to your throw pillows. Keep your ears open for people around you asking "who smells like dessert?"
— EO
BeautyBlender Sur.Face Pro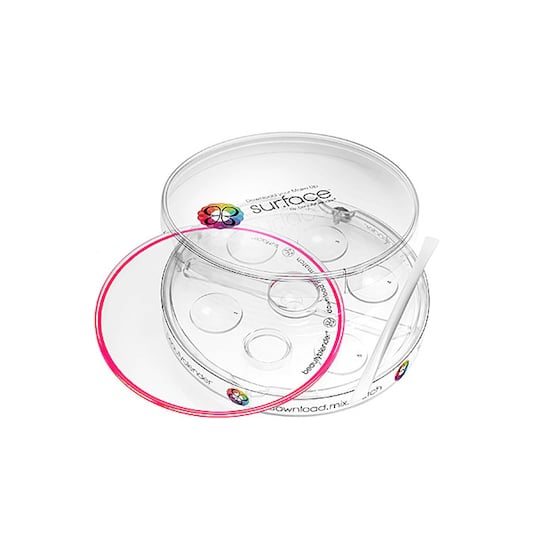 I love makeup because it allows me to unleash my inner artist. Some women roll their eyes at the thought of mixing BB cream with foundation to get their perfect shade; I revel in it. I love mixing bronzer into moisturizer, creating my own lip gloss, and adding SPF into my favorite tinted moisturizer. So, just like any other artist, I appreciate having the tools to create these makeup masterpieces.
BeautyBlender just debuted its sur.face pro palette [12] ($40), a workspace to remix your favorite beauty staples. Currently I have foundation, BB cream, highlighter, blush, and bronzer in my wells. It comes with a spatula so you won't use more than you need, a convenient place to rest your BeautyBlender, and you can even label each well with a dry erase marker.
— KJ
Kahina Giving Beauty Glow Box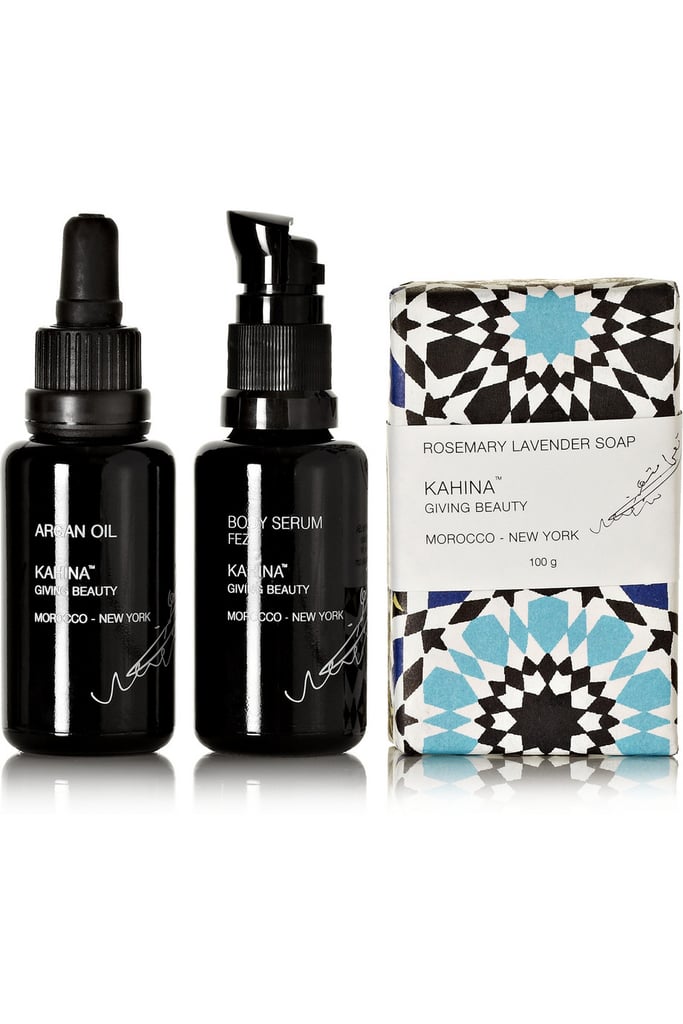 I'm a total sucker for beauty kits that curate products for you, and since I'm traveling fairly frequently this Summer, my current obsession is the Kahina Giving Beauty Glow Box [13] ($75). The set includes travel sizes of soap, serum, and argan oil, so my skin and hair can really shine no matter where I land my feet.
— AM
Clinique Smart Custom-Repair Serum

So if you only have enough dough to shell out for one big skin care purchase this season, Clinique Smart Custom-Repair Serum [14] ($60–$89) is a solid bet. The new serum does everything — seriously. It is cultivated in the Israeli desert with "super charged" potent red algae that helps soothe skin, making it more receptive to repairs. Other natural ingredients like licorice extract and caffeine optimize cellular efficiency and reduce irritation. On top of all of that, it also evens skin tone, fights wrinkles, reduces dark spots, adds firming properties, and adds luminosity. I love the way the light, hydrating formula feels against my skin. Just call it a beauty miracle!
—LL
Lush Cosmetics Parsley Porridge Soap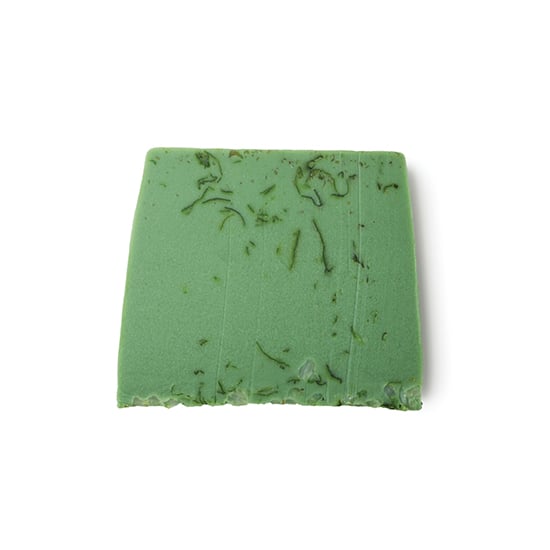 Summer is the worst time to experience body acne. Actually, bacne is pretty terrible to deal with in general, but when you're more likely to end up in a swimsuit than, say, an oversize sweater, you want your skin to look clean and clear.
Lush Cosmetics's Parsley Porridge Soap ($8, out July 3) should do the trick. Here's why it's become a fast favorite: instead of salicylic acid or benzoyl peroxide (which bleach my favorite nightshirts), I can use this in the shower and won't have to worry about my skin feeling parched and dry. The key acne busters here are tea tree oil and thyme, which are antibacterial, and ground porridge — yes, Goldilocks style — that gently exfoliate skin to keep pores from being clogged. And yeah, it's green because of the chlorophyll in the parsley, which calms inflamed skin.
– KJ
Imedeen Tan Optimizer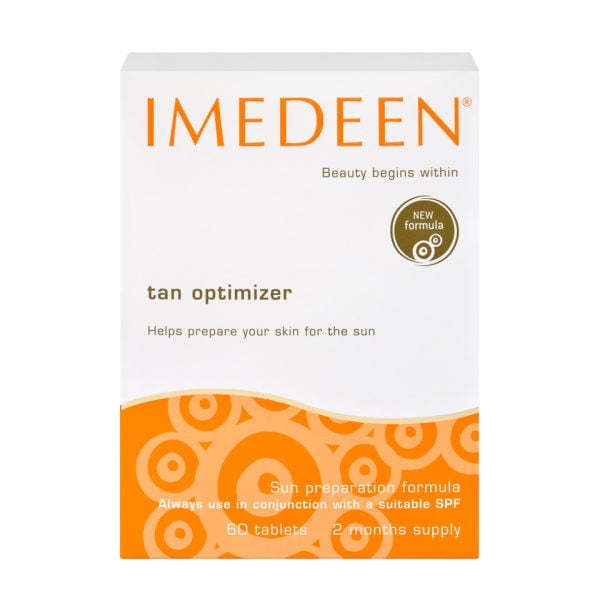 I gave up on ever getting a decent natural tan again when Imedeen Tan Optimizer [15] ($68) was discontinued a few years ago. So I was superexcited to hear that it's back for Summer 2014! The beauty supplement preps your skin before a beach vacation, and it helped me to develop a long-lasting golden glow, when usually I struggle to go any shade other than pink. Used in conjunction with a high SPF sunscreen, it's the perfect way for pale-skinned ladies to get in on the tanning game.
— GC
Tarte Lights, Camera, Lashes Precision Longwear Eyeliner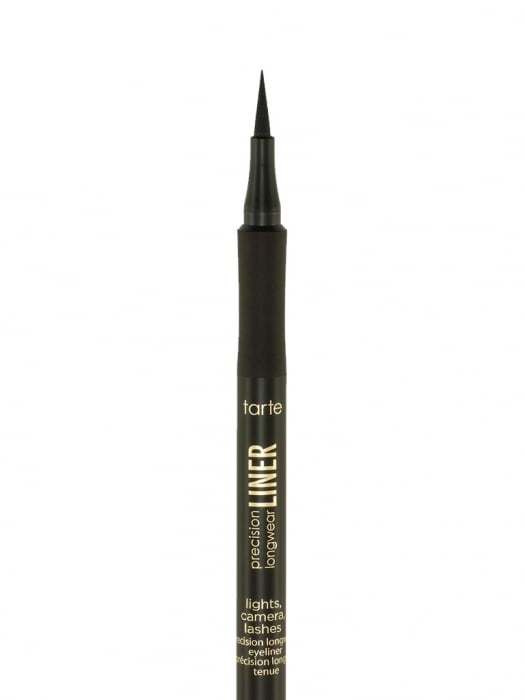 When I want a cat eye, it has to be carbon black — not gray, not charcoal, black. Tarte's new Longwear Lights, Camera, Lashes liner [16] ($20) stays dark and defined (even through my allergy-fueled eye rubbing). Even better, the formula contains provitamin B5 to help make my lashes look thicker.
— EO
Repetto Eau de Toilette Spray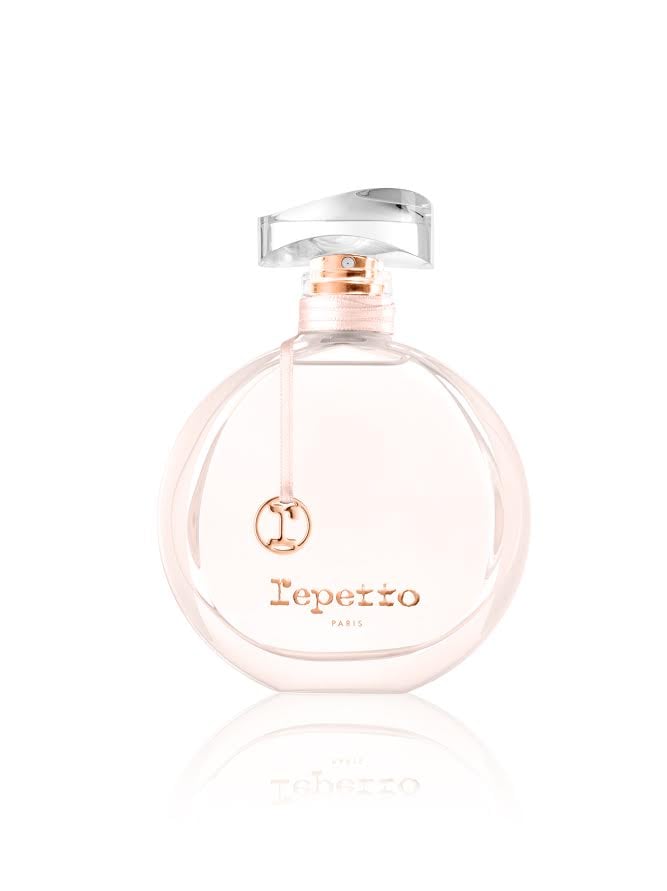 As a dancer, I was jazzed when I heard French ballet brand Repetto was launching its first-ever Eau de Toilette Spray [17] ($75). The fragrance is meant to capture that elegant moment backstage before a dancer goes out in front of the audience. And with musky rose notes balances with cherry blossom, pear, vanilla, and amber woods, it's über romantic and feminine. The decadent bottle is curved to represent the idea of motion and choreographed movement, while the pretty pink ribbon is a nod to ballet slippers. J'adore!
— LL
Fresh Sugar Lip Treatment SPF 15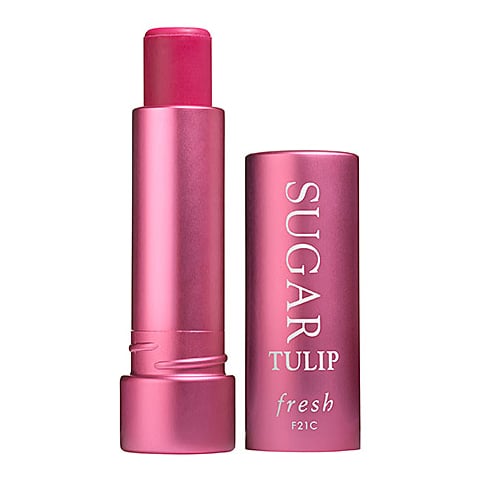 Even in the Summer, it's easy to forget to apply SPF on your lips — a common body part for skin cancer to appear. I don't want to sacrifice my health or my sense of style, which makes Fresh's Sugar Lip Treatment SPF 15 [18]($23) a great option. The latest addition is Tulip, a juicy soft pink that'll transition easily from lunch hour to happy hour.
— EO
L'Oréal Paris Miss Manga Mascara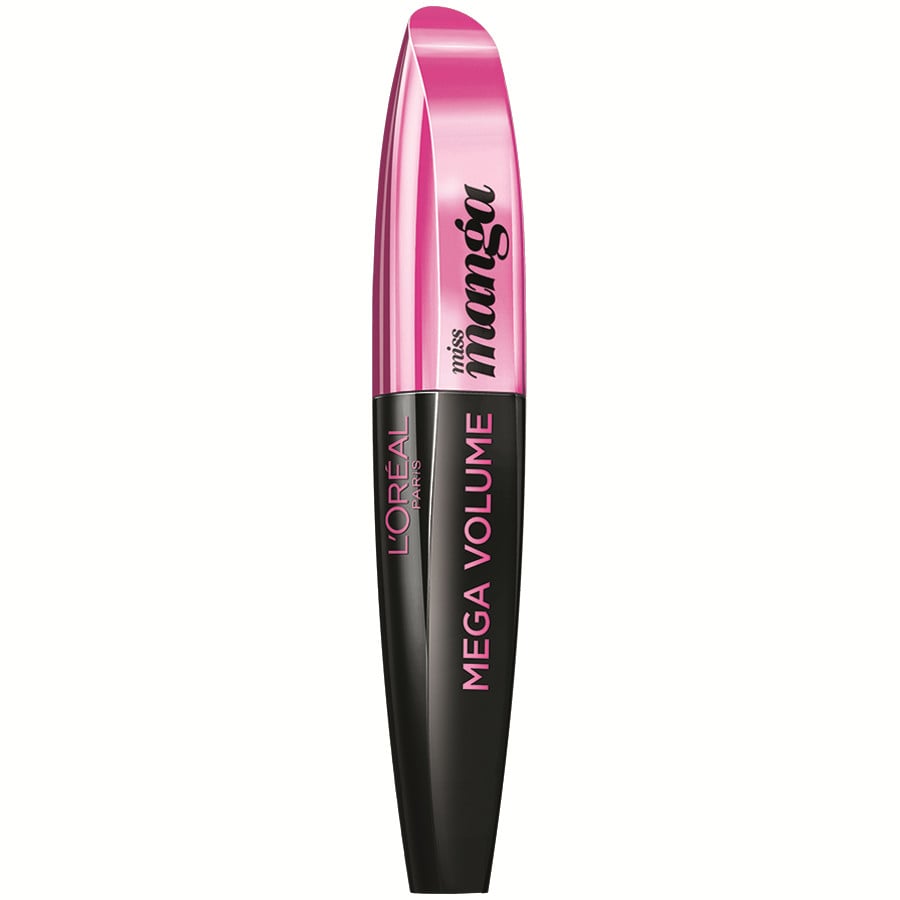 L'Oréal Paris Miss Manga Mascara [19] ($8) is like the bendy straw of the beauty aisle. Lately, eye makeup tools from brow spoolies to eyeliner brushes are being sold with a slight bend to improve application. This unique wand can be angled to help get those hard-to-reach inner lashes. Now you don't have to move like a contortionist to get voluminous lashes.
— JC
Kiehl's Micro-Blur Skin Perfector
Full disclosure: I hoard primers. I can't help myself. I love the way they smooth out my skin and keep my makeup put during long days of filming. And filling in those tiny lines around my eyes doesn't hurt, either. Admittedly, I am a huge Benefit Porefessional fan, and I never thought I'd try anything else. Until Kiehl's Micro-Blur Skin Perfector [20] ($35) came along . . .
Here's my biggest complaint with primers in general: it always feels balmy. Always. And I get that's the point of a primer, but I what I loved about Kiehl's is that it feels like my own skin. Just a whole lot better.
It also contains lipohydroxy acid, which is a less-irritating form of salicylic acid. So if you deal with uneven skin tone or blemishes, pat this on before your makeup and let it work its magic throughout the day.
— KJ
By Kilian Fragrance Jewelry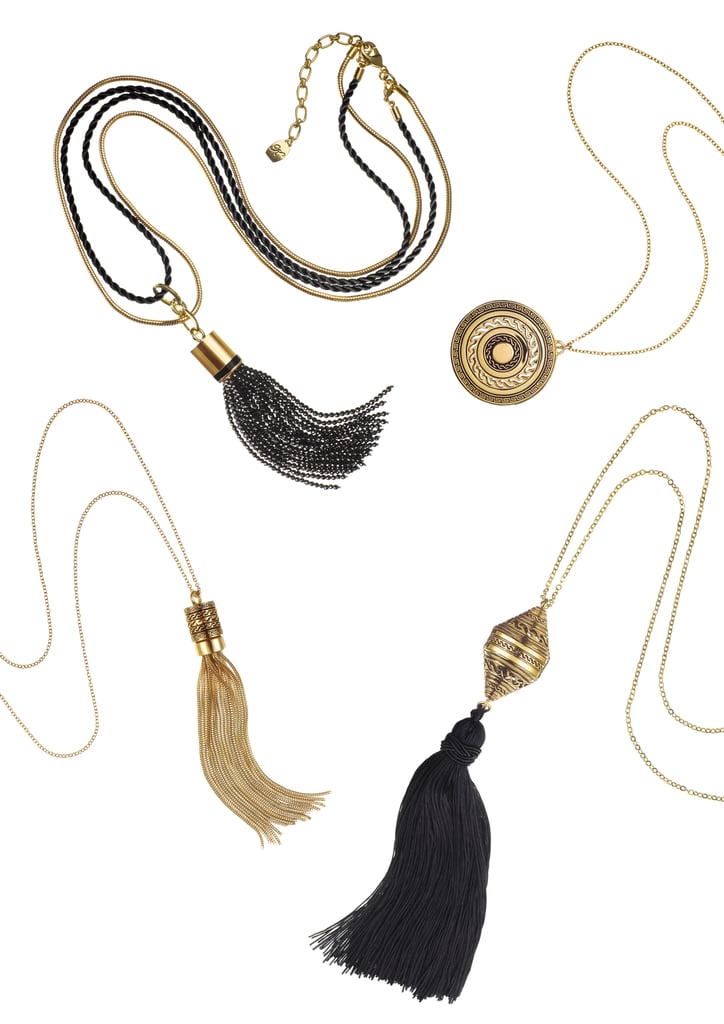 These By Kilian Hennessy fragrant necklaces [21] ($195-$465) are the ultimate luxury accessory. Each piece can be infused with the scent of your choice through the silk cords or a hidden ceramic plate. While I love the aroma they give off, it's the design of these baubles that draws all the attention. You can select between a tassel or locket look, and there are also leather bracelets for men. Any pick will make the perfect bridesmaid or groomsman gift this wedding [22] season.
— JC
Lorac Pro Matte Lip Color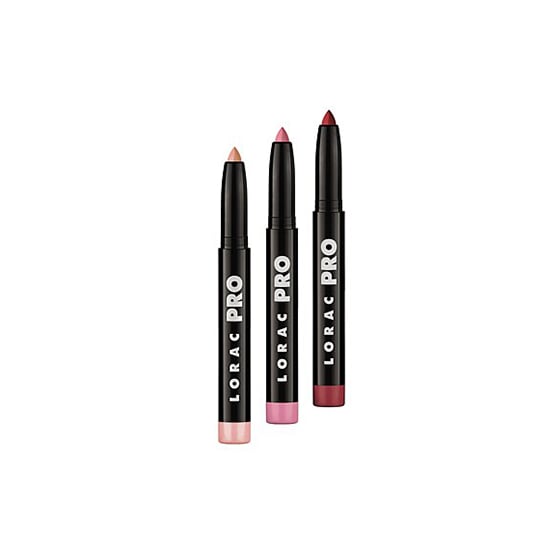 Summer isn't necessarily the time you think, "yeah, let's whip out that matte lipstick!" But Lorac made me change my mind. If your biggest complaint about matte lip color is that it looks too severe or pulls and tugs at your skin, prepare to have your mind blown.
The brand's new Pro Matte Lip Color [23]($16) feels like velvet on your lips because it's infused with antioxidants like grape seed extract. Read: no pulling and tugging. No flaking. Just beautiful matte color in 12 vibrant, youthful shades. And I love the smell of these — they have a bit of a vanilla scent. My favorites are Nude, Pink, Peach, and Coral.
— KJ
Sephora Luster Matte Long-Wear Lip Color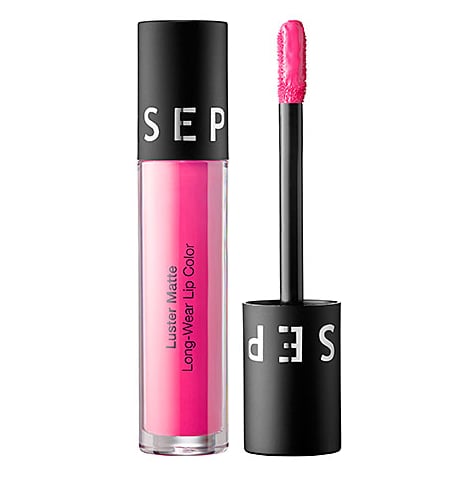 I am not afraid of rocking an insanely bright lip color, but I'm often hesitant of matte long-wear products. I won't be seen without lipstick, so I've experienced my share of glosses, stains, and sticks that dry out my lips to the point of cracking. This lightweight, creamy formula [24] ($16) contains nourishing rose hip seed oil to help ensure that my smile doesn't crack or fade. My favorite shade is Electra-Pink.

— EO
Napoleon Perdis Poolside Gossip Collection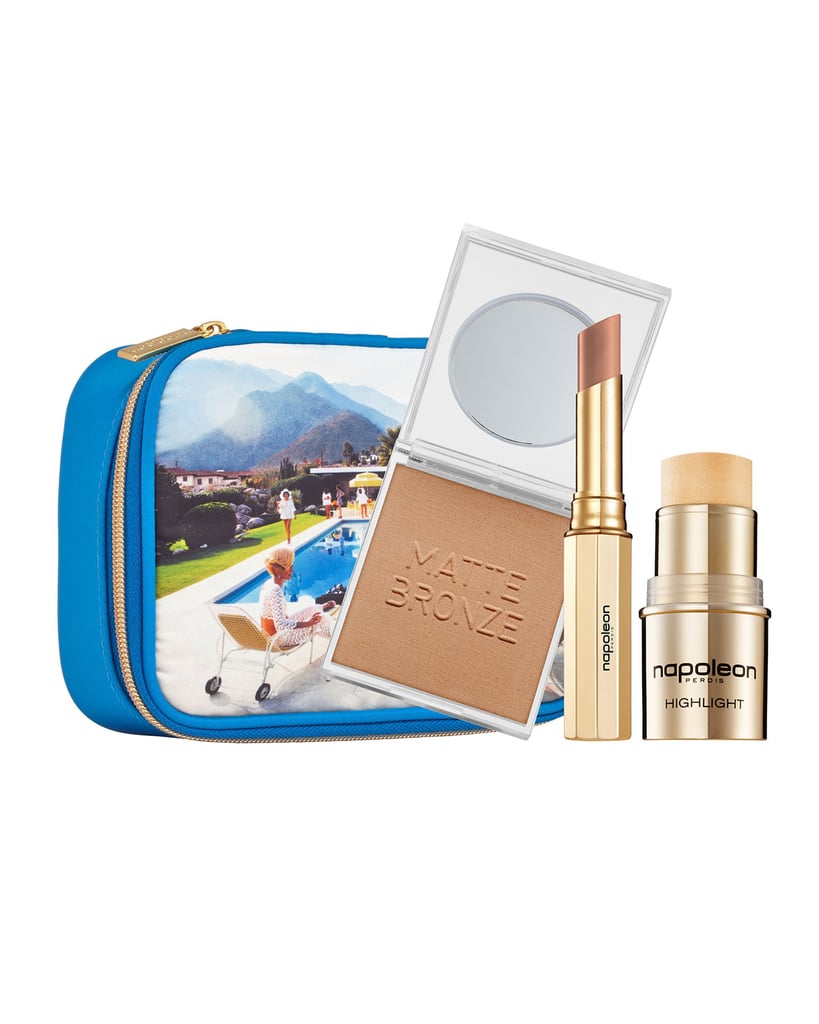 The Napoleon Perdis Poolside Gossip Collection [25] ($145) is a three-piece makeup kit that I gladly display on my vanity. The packaging was inspired by the photographs of Slim Aarons, and the pouch is a vibrant blue with a vintage summertime scene on the front. Inside, you'll find a neutral lipstick, a bronzer, and a highlighter. The only thing that's left is to throw in your other travel beauty essentials like sunscreen, salt hairspray, and mascara.
— JC
Charlotte Tilbury Beach Sticks
Over the years, I've whittled my travel makeup bag down from dozens of products to only a handful of old faithfuls. Charlotte Tilbury's new Beach Sticks [26] ($51) have helped me cut down that stash even more. The multipurpose sticks can be used on lips, cheeks, and eyes, and the more neutral shades can also be used to contour. They work just as well at home as they do away, giving a "just-been-outside" glow that's great if you're spending most of your summer stuck in an office!
— GC