June brings the beginning of lazy Summer days, the heart of warm-weather weddings, and stronger sun. To get prepped for the beach and beyond, our editors are sharing exactly what products we are buying and using over the next four weeks. Read on to discover the brightest new nail hues, best frizz-fighting hair creams, and more.
Ciaté Beach House Collection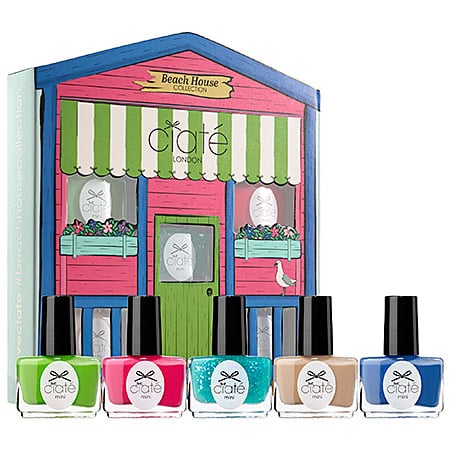 The five mini nail polishes of Ciaté's Beach House Collection [1] ($25) come in an adorably chic beach-shack-inspired package. Two of the shades are brand-new — Beach Bum (a sandy taupe) and Surf's Up (a aqua-tinted topcoat with chunky iridescent confetti). I plan to mix, match, create nail art, and feel festive all season long.
— Lauren Levinson, beauty editor
he-shi Rapid 1 Hour Liquid Tan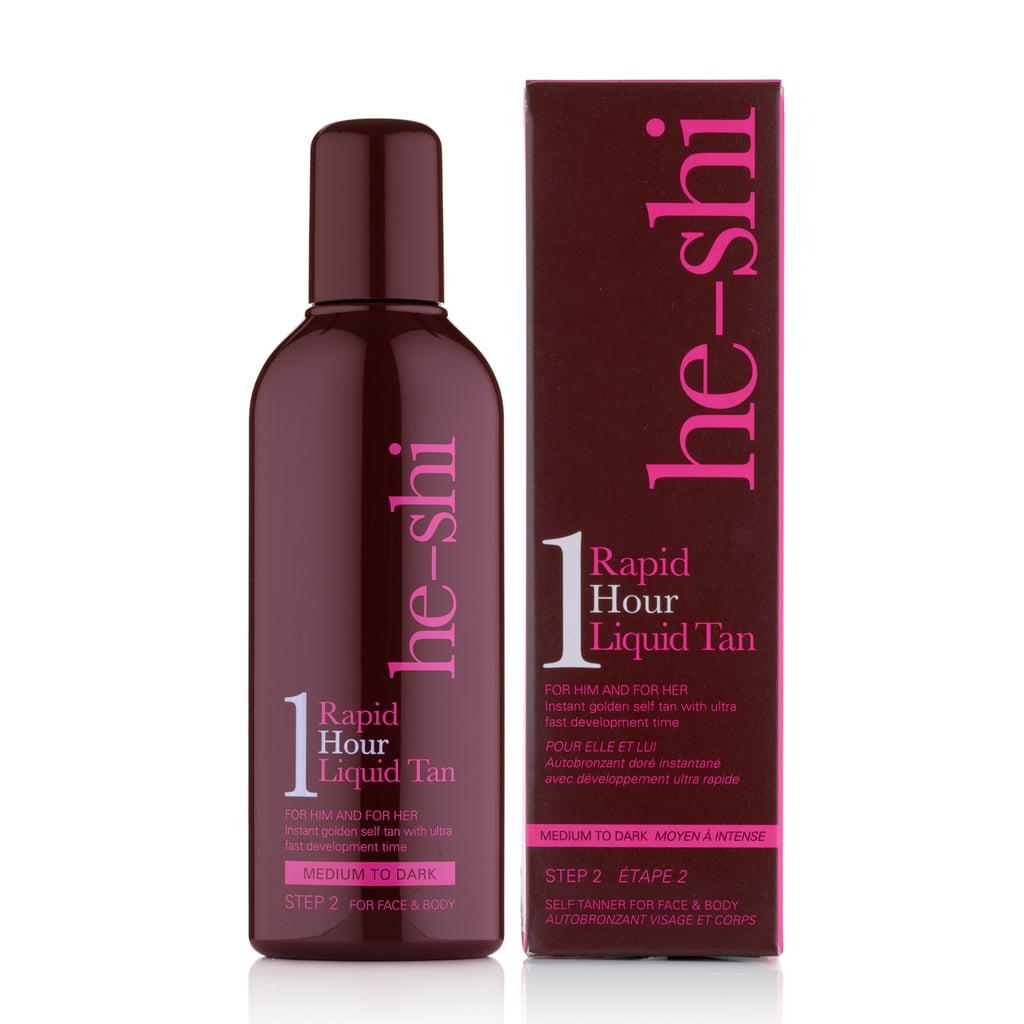 I am naturally very pale skinned, but I never seem to plan my self-tanning properly and end up leaving it too late to apply the product before a party or wedding [2]. So this new launch from he-shi [3] is a godsend. It develops in an hour, so it can be quickly applied and rinsed off in the time it takes me to decide what I'm wearing. Finally, Summer pastels are no longer off-limits!
— Gemma Cartwright, UK editor
Sexy Hair Frizz Eliminator Smooth and Sleek Serum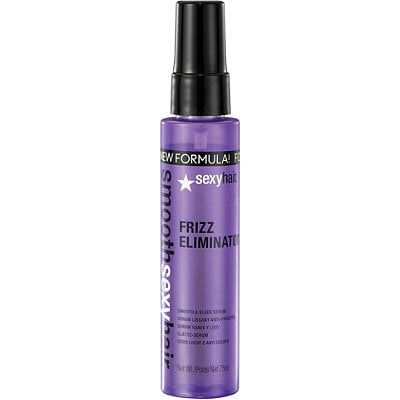 As a recent transplant from the West Coast, I find that one of the biggest adjustments to life back East has been the hot and sticky weather. My normally straight hair seems to now fly out in every direction. On the days I attempt to do a sleek blowout, my styling work has been undone by the afternoon. But since trying out Sexy Hair Frizz Eliminator Serum [4] ($10), I'm starting to think my strands can stand a chance in a hot and humid climate. Infused with coconut oil and vitamins K and E, this serum makes my hair shine bright like a diamond and tames my seriously fly-aways. New York Summer, here I come!
— Aemilia Madden, editorial assistant
Obsessive Compulsive Cosmetics Tarred + Feathered Lip Balm Duo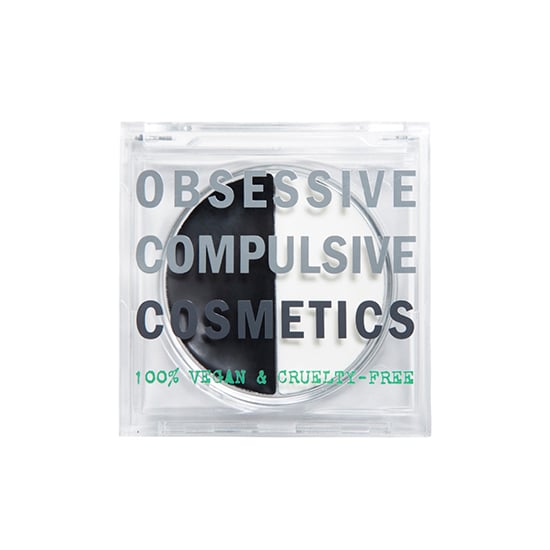 We all hoard Lip Tar (or maybe that's just me?), the product responsible for putting Obsessive Compulsive Cosmetics on the map. The Tarred + Feathered Lip Balm Duo [5] ($18) is the original hydrating duo that the brand launched 10 years ago, and it's back!
I know you're scratching your head: who wants to wear black or white lip balm? Allow yourself to explore your artistic side when playing with these unexpected hues. It moisturizes your lips, but also adds a little somethin' when your normal lip color isn't doing the trick. The black, Tarred, adds depth; the white, Feathered, saturates your favorite shades.
To wear it, use your finger, and lightly dab it on your lips. Tarred is transparent and creates dimension and definition — try it with your favorite red for a moody finish. Feathered creates a blank canvas with a muted effect, so it works if you're looking to wash out your natural lip color. Use it under a coral lipstick to pack a punch of color.
— Kirbie Johnson, beauty reporter
Shiseido Face Color Enhancing Trio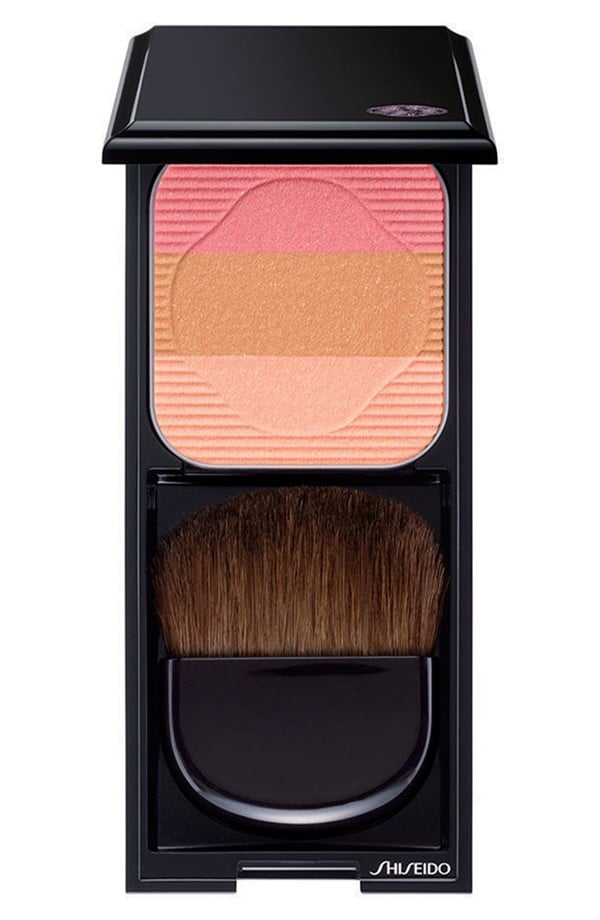 I'm crisscrossing the continent this Summer from San Francisco to Tennessee to Boston, so my travel makeup case is permanently packed. This Shiseido Face Trio [6] ($37) is a must have. It's blush, highlighter, and bronzer all in one. Since I like to keep my makeup minimal, I just sweep the brush in all the shades for a rosy glow on my cheeks and eyelids.
— Jessica Cruel, assistant editor
Wen Hair Care Deluxe Kit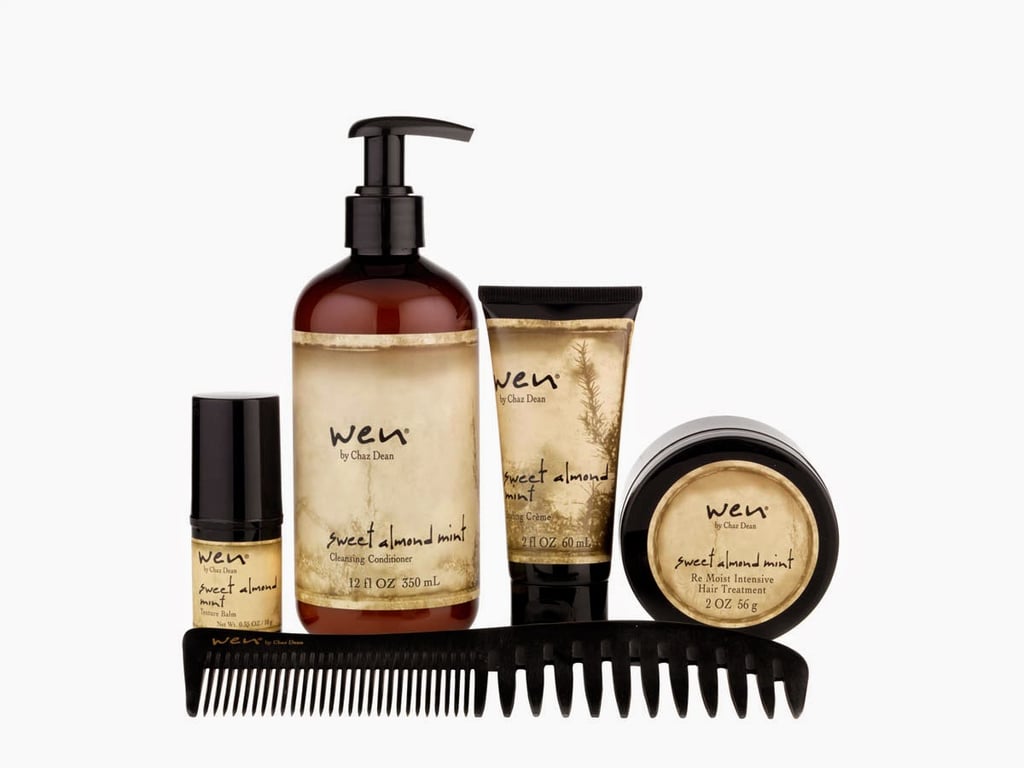 Sure, this Wen Hair Care Deluxe Kit [7] ($40) contains everything you may need to make your mermaid-hair dreams come true, but what I'm really impressed with is its Cleansing Conditioner and Re Moist Intensive Hair Treatment. Although it took a couple washes to get used to the sulfate-free Cleansing Conditioner's zero lather, I couldn't deny how easily it washed out of my hair and how impeccably shiny it made my strands. What's more, the Re Moist Intensive Hair Treatment made my waist-length mane so soft and silky, I didn't have to use a detangling spray afterward for the first time ever.
— Christiana Molina, beauty contributor
Aveda Smooth Infusion Naturally Straight
I barely blow-dry or flat-iron my natural curls Memorial Day through Labor Day. But Aveda's new Smooth Infusion Naturally Straight cream [8] ($26) is making me rethink that choice. The lightweight curl relaxer loosens coils every time you use it. Plus, plant fibers help it smooth out strands. I tested this on a rainy day, and my pin-straight blowout last for two days!
— LL
Nails Inc Floral Nail Polish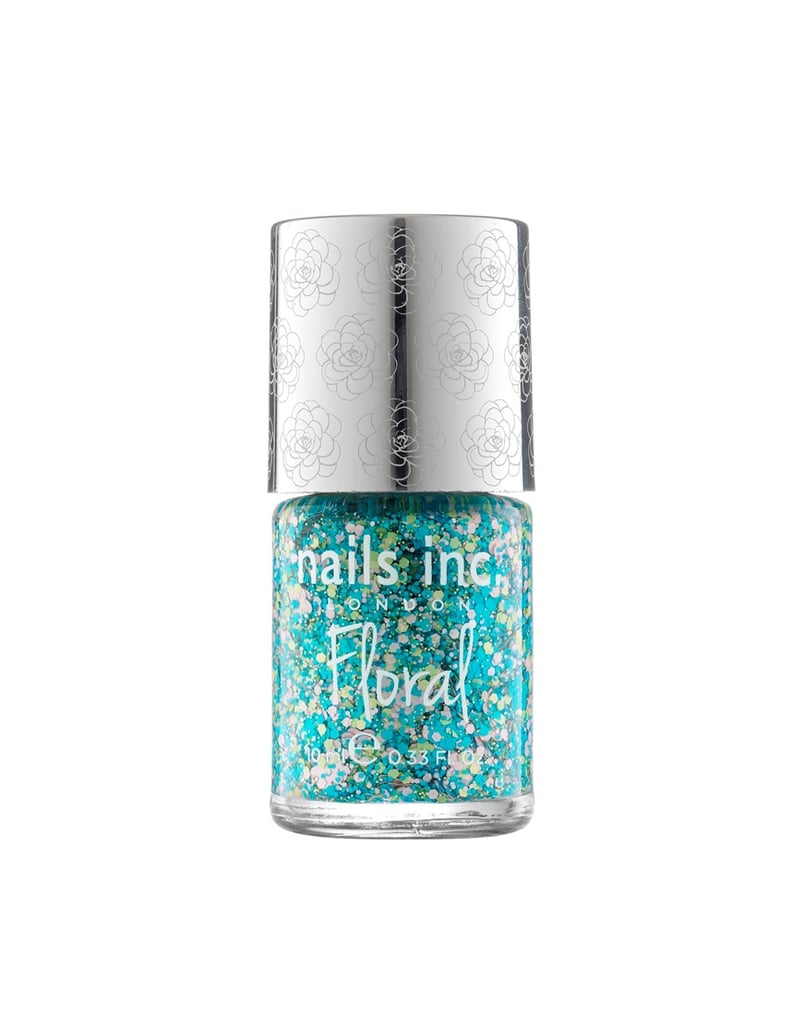 I've always been a fan of Nails Inc polishes, and the brand's latest is like nail art in a bottle [9]. It contains floral-shaped matte glitter, which, after a few coats, will give you garden-party nails. My color of choice is Richmond Gardens, a fresh green-and-yellow mix that reminds me entirely of its namesake. Plus, it happens to be a favorite Summer haunt of mine!
— GC
Illamasqua Matte Lip Liquid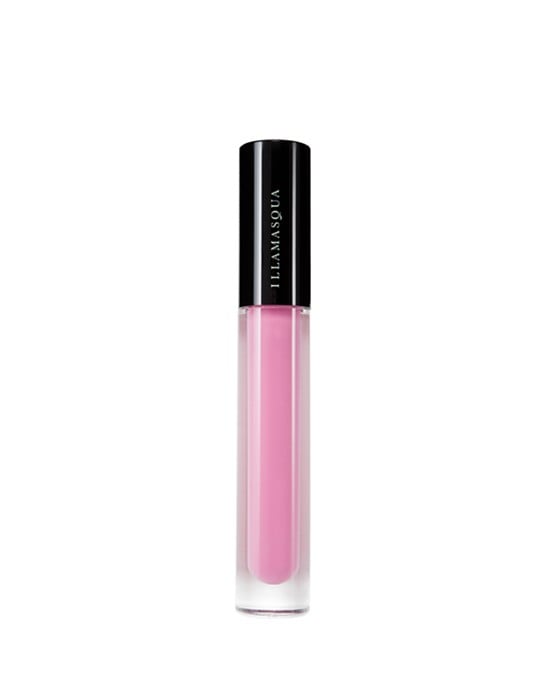 A bold lip is my go-to look when I head out for a night on the town. My new Saturday night go-to is
Illamasqua's Matte Lip Liquid in Forbidden [10] ($26). The light pink goes on like a lip gloss but has a matte finish and bright color that makes my lips pop, making it perfect for places with mood lighting. The formula has a slight vanilla scent and contains vitamin E, so I can look good, smell good, and actually take care of my lips, too!
— AM
Kakora Gradual Tan in Golden Girl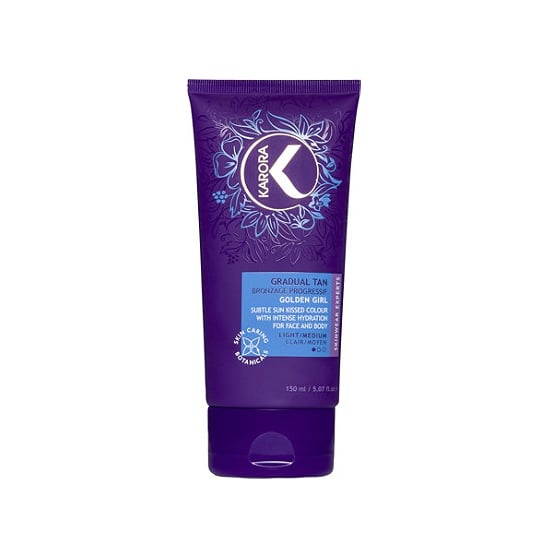 I'm one of those gals who can't resist a good tan. Because I'm also slightly neurotic about protecting my skin, I revel when I find a great self-tanner! Kakora Gradual Tan [11] ($25) is, essentially, a body butter that moisturizes your skin while gradually adding color, so it's impossible to mess up. (A lot of self-tanners leave your skin looking reptilian-esque.)
The self-tanning glove is better than any other I've tried, and the best part is that this gradual bronzer does not have that typical tan smell. I repeat: no cringe-worthy, BO-esque fragrance. In fact, it's the most pleasant scent I've experienced with at-home tanning.
Be sure to apply this at night before bed, and if you have white sheets, know that a little bit of the cosmetic bronzer might come off during your slumber — but it comes out in the wash.
— KJ
CoverGirl Bombshell Mascara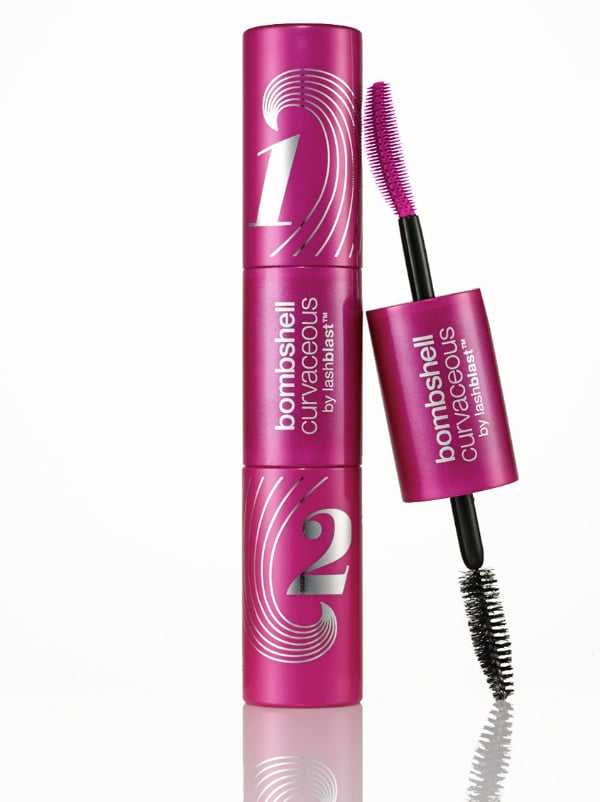 When it comes to mascara, half the battle is in the brush. Well, CoverGirl Bombshell Mascara [12] ($12) has two (and double the product)! The first step is a volumizing brush that has extremely close bristle to grab every little hair. The second brush has extrathick bristles to help deepen the black color.
— JC
Russie Blanche Banya Detox Bath and Shower Oil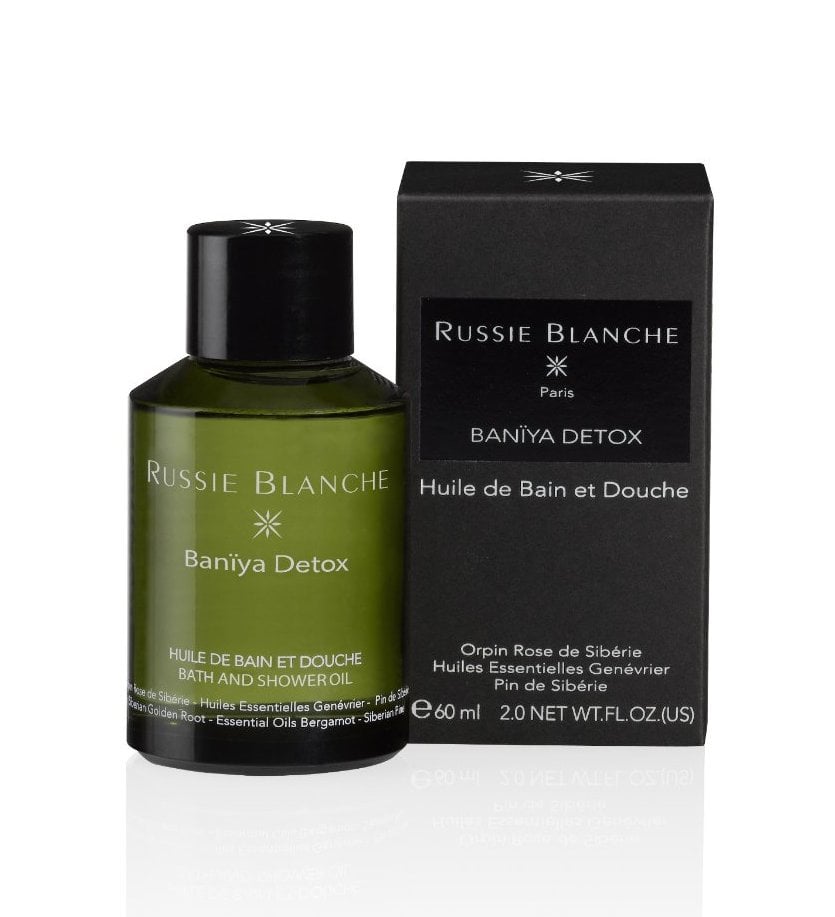 The heady cocktail of mandarin, juniper, and pine in this Russie Blanche Banya Detox Bath and Shower Oil [13] ($95) takes aromatherapy to a whole new level. I swear, I feel like just a few drops of this elixir into a bath is strong and revitalizing enough to align all my inner chakras! Afterward, I can't wait to massage this essential oil blend onto wet skin, not only to prolong the fragrant experience, but to also make my body feel velvety soft.
— CM
Dr.Jart+ Bounce BB Cream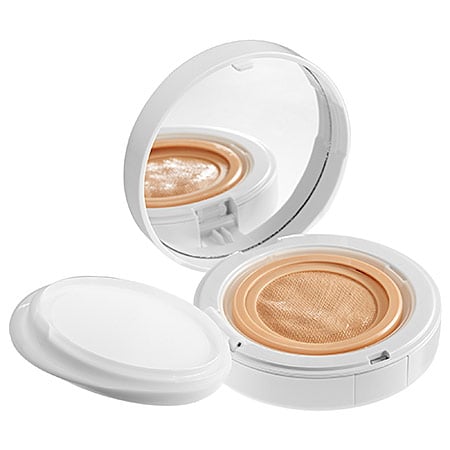 Instead of elegantly dusting my nose with powder, I will be touching up my face with Dr.Jart+'s New Bounce BB Cream compact [14] ($48). The puff applicator is meant to mimic the feel of fingertips and is superb for blending the formula. The two shades Light-Medium and Medium-Dark even out skin tone, while ingredients like hyaluronic acid, marine collagen, pomegranate extract, and grape seed oil offer skin care benefits. Plus, SPF 30 makes it a Summer must!
— LL
Tarte The Sculptor Contouring Face Slenderizer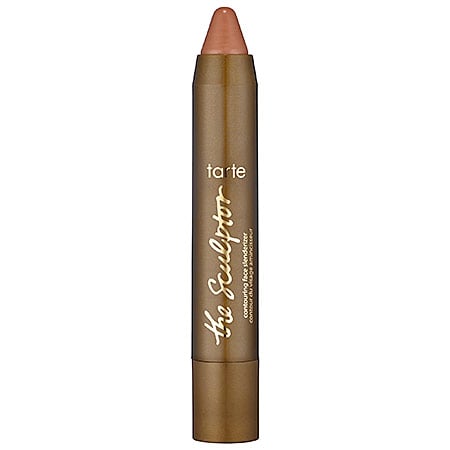 Contouring with powder can look a little fake on my pale skin, but this creamy stick [15] allows me to add subtle shadows in the required areas (cheekbones, down the side of the nose, under the chin) without going over the top. It's easy to blend and fairly difficult to get wrong. Just go easy on your first try!
— GC
Wilma Schumann Normal/Combination Skin Kit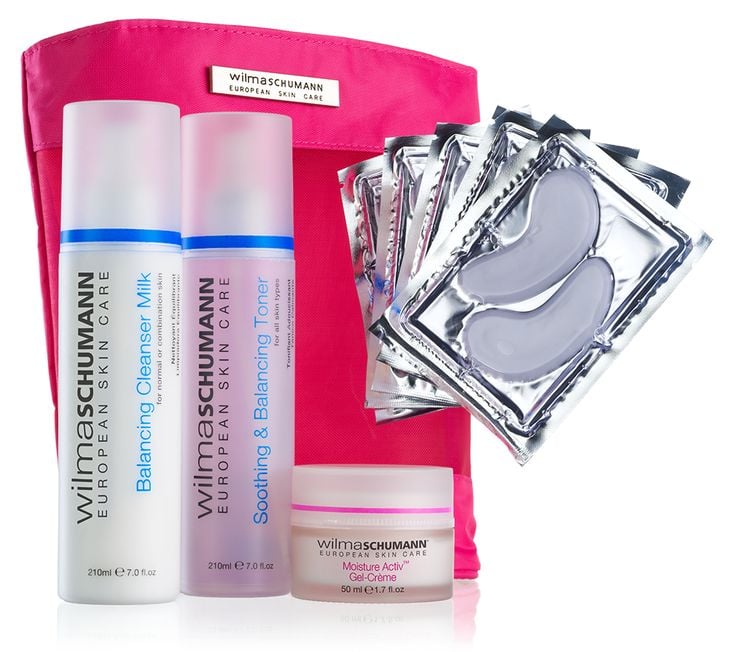 When it comes to skin care, I'm a basics girl — until recently, my routine consisted of a simple wash with water and a cloth. Seriously, that's it! So when I was introduced to the Wilma Schumann Skin Kit [16] ($99), it felt like a legitimate lineup of products that was simple enough for me to actually use. The kit comes with a cleanser, toner, gel creme, and eye pads, and is all packaged together, totally doable for a lazy beauty girl like me.
— AM
Estée Lauder Clear Difference Targeted Blemish Treatment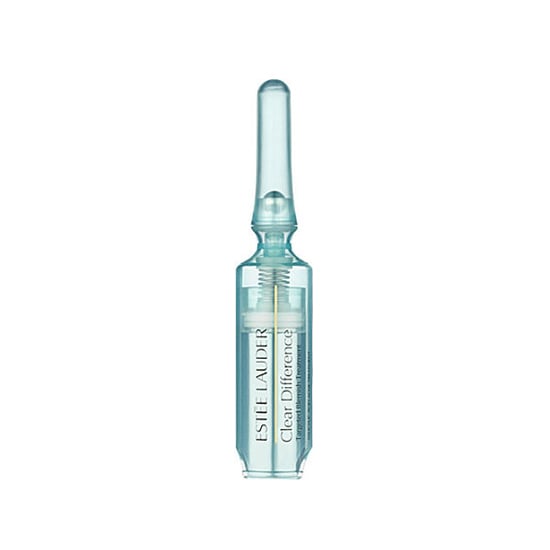 I've used my fair share of spot treatments, from creams to drying potions. Therefore, I'm a connoisseur in this area. (Self-proclaimed, clearly.) Estée Lauder Clear Difference Targeted Blemish Treatment [17] ($35) currently tops my antiacne list because of how fun it is to use and how well it works.
It's a rollerball, which adds an element of fun to the application process and feels refreshing to boot. Unlike some treatments, it makes sure you only use it on the inflamed area — we all know we like to go crazy and overapply at times. And the brand's tri-blend mix of acne-fighting ingredients (including salicylic acid) controls oil, calms, and clears the pore of debris.
— KJ
OPI Coca Cola Collection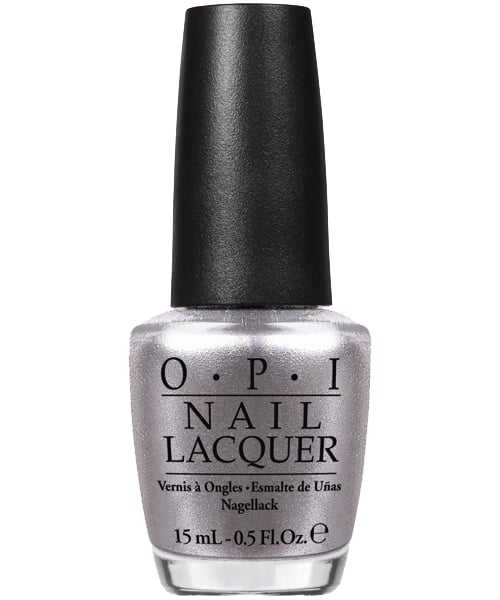 Typically I steer clear of sparkly nail polishes because they're just too hard to take off. But OPI's nail polish "My Signature Is DC" ($9, available later this month) from the OPI Coca Cola Collection has become an exception to my rule. The metallic silver polish is opaque after just two thin coats and comes off easily with nonacetone nail polish. It doesn't hurt that the color is inspired by one of my favorite soft drinks.
— JC
BH Cosmetics Eyes on the '80s Eyeshadow Palette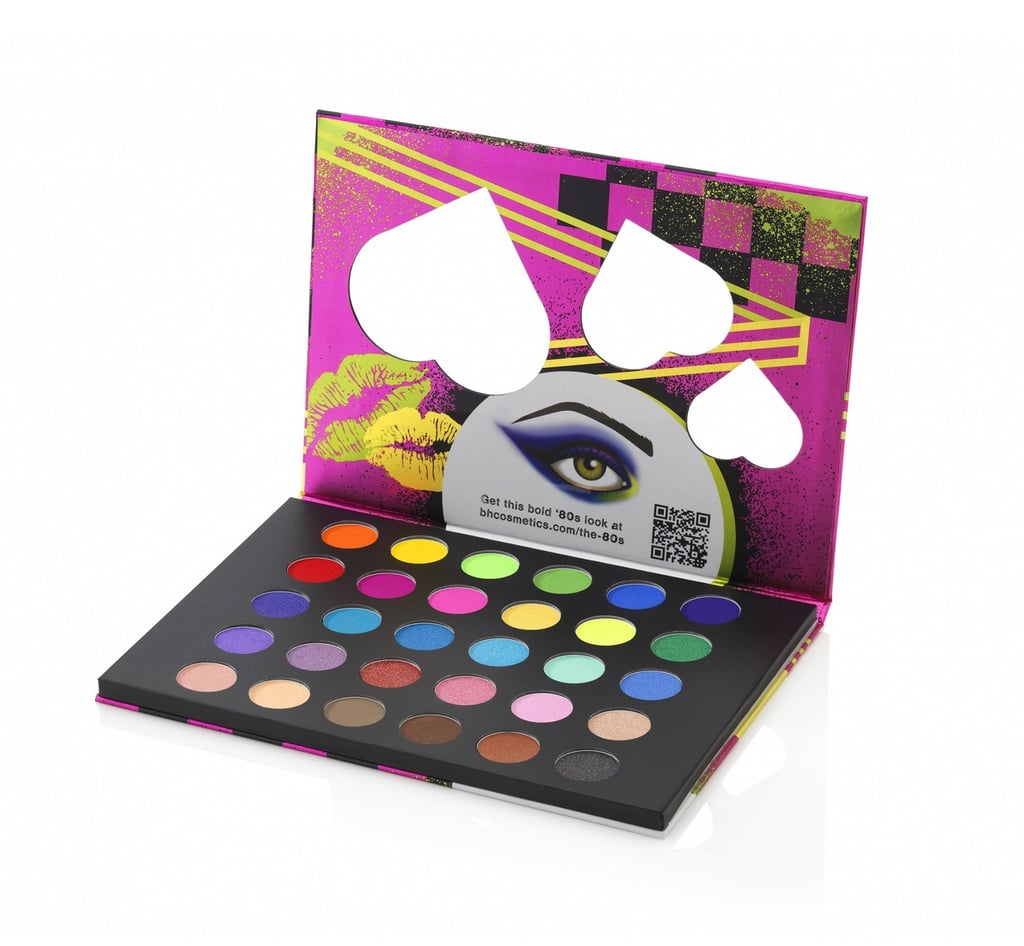 Long live the '80s! As a child of that decadent decade, I have a soft spot in my heart for '80s-tastic trends. And today's neon craze seems to bringing it all back again. This BH Cosmetics Eyes on the '80s Eyeshadow Palette [18] ($10) is chock-full of electric shades in a myriad of finishes that's got me giddy with glee. To keep the vibrant palette wearable, just sweep one hue across the lids only for everyday. But the best part? You can get all 30 colors for just a measly Hamilton buck! Totally tubular!!
— CM
L'Occitane Jenipapo Face Veil SPF 30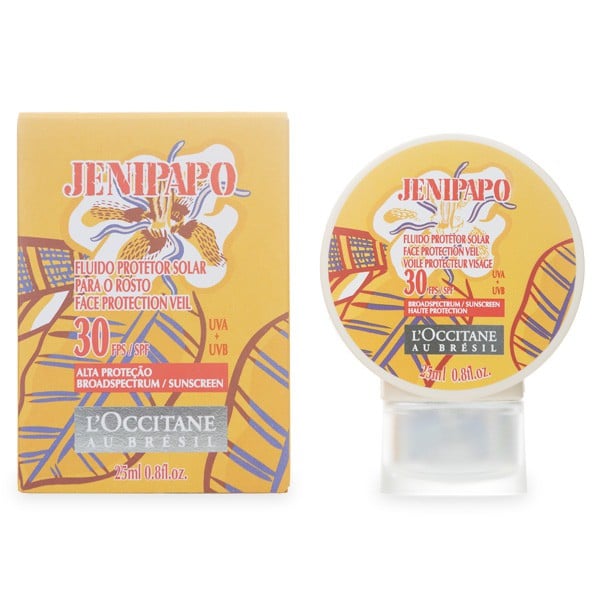 As a beauty editor who is approaching 30, it is simply not acceptable to skip wearing sunscreen on my face. I am in love with this easily packable, sweet-smelling formula from L'Occitane's new Au Brésil collection. L'Occitane Jenipapo Face Veil [19] ($28) has a velvety, lightweight finish with a lovely floral-fruity smell, thanks to ingredients garnered from the Cerrado region of Brazil. You can bet it won't be leaving my beach bag all season.
— LL
Diptyque Eau de Lavande Spray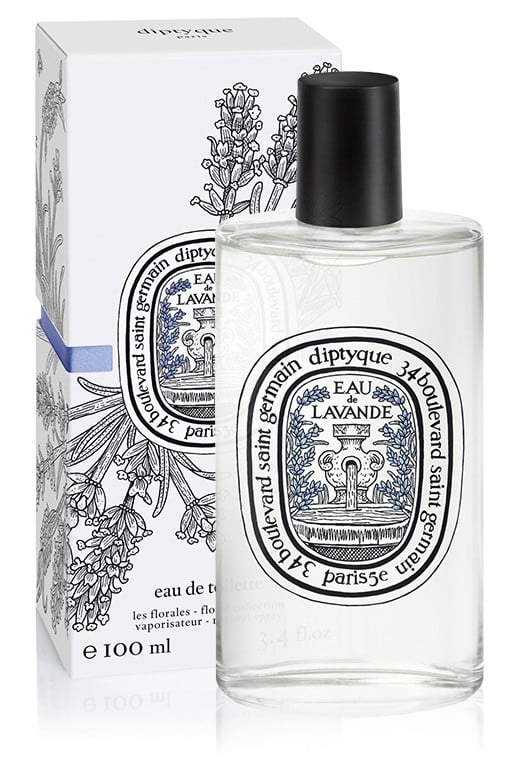 Last Summer, I was lucky enough to take a trip to Paris, and in between my strolls through the Marais and my visits to touristy spots like Notre Dame, I managed to fall in love with the delicious smells of Diptyque candles. Now my obsession has grown to include the brand's eau de toilette spray. Seriously, who doesn't want to smell like a chic Parisian dame? The
Eau de Lavande [20] ($98) is an herbal scent that also has notes of coriander, cinnamon, and nutmeg. The scent is muskier than your normal "soapy" lavender, and that's why I can't get enough. When I spritz it on, I find myself imagining that I am running through a French field of the purple flowers. A girl can dream . . .
— AM
NEW Too Faced Country Nashville Nudes Eye Shadow Collection, $35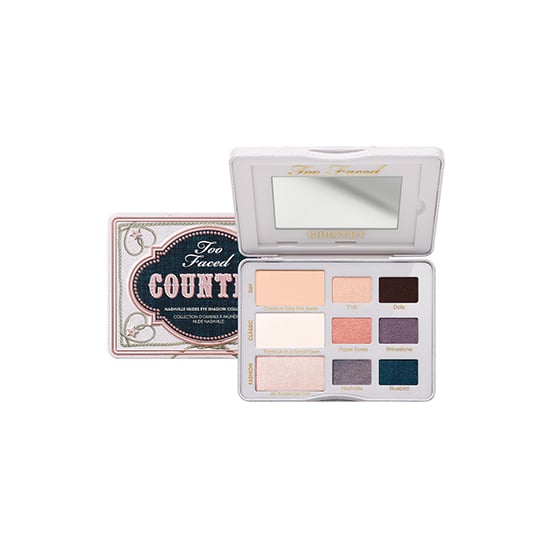 Saddle up and get your shadow brushes ready, partner! Too Faced Country Nashville Nudes Eye Shadow Collection ($35) embraces your inner Carrie, Miranda, or Shania. With this palette full of sensational nudes, you'll be set no matter where you're headed. (A rodeo? The CMAs? The Wild West we like to refer to as the 405 freeway here in LA?) My favorite detail about this collection are the labels for each row of shadows: day, classic, and fashion. And try this tip: use All American Girl as a highlight for your nose and cupid's bow.
— KJ
Urban Decay Bronzing Beauty Balm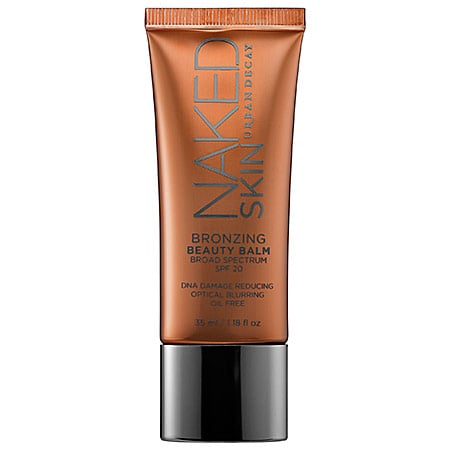 BB cream is already a major multitasker, but now it's got bronzing powers, too. This Urban Decay Naked Skin Bronzing Beauty Balm [21] ($34) has luminizing particles that give you an instant glow. I like to mix a pea-size drop in with my foundation for a brightening boost. It's also packed with SPF 20, so your face is protected from wrinkle-inducing UVA and UVB rays.
— JC
Bioré Self Heating One Minute Mask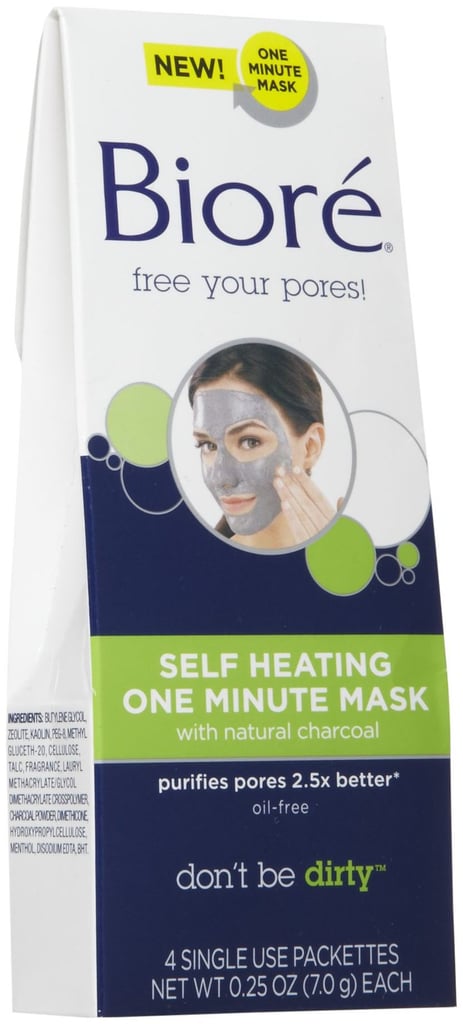 My skin is bound to get congested with the humidity and sweat from this Summer season, so I'm counting on this Bioré Self Heating One Minute Mask [22] ($7) to unclog me on the monthly. Not only does its star charcoal ingredient clear out pores more than two times better than a basic cleanser, its ability to actually impart plenty of soothing heat when you rub it on your face is totally thrilling. I just can't get enough!
— CM
Kérastase Densifique Masque Densité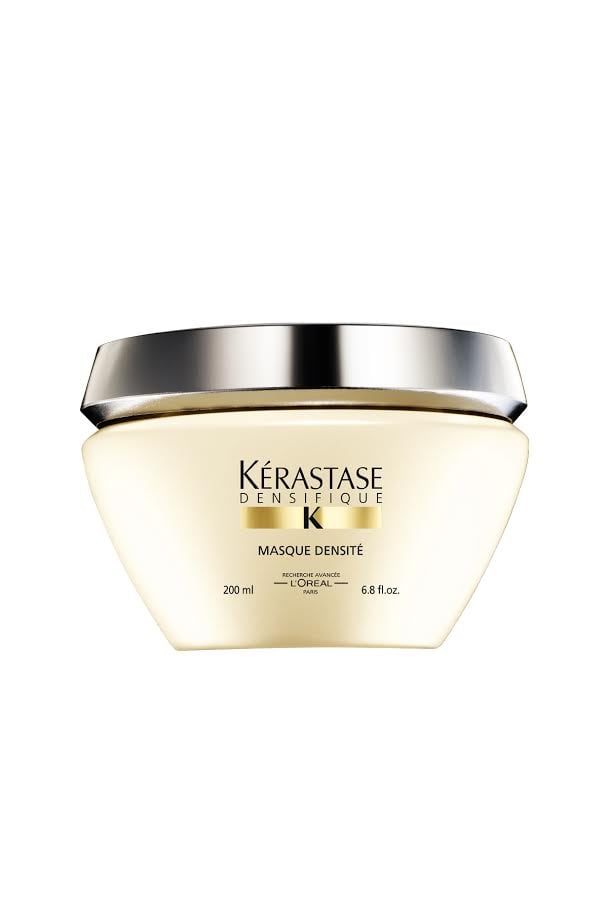 After a weekend by the beach, I always treat my hair to a Sunday-night mask to revive my strands and add in moisture. If you have long locks, like mine, this is especially important because ends can get dry. Kérastase Densifique Masque Densité [23] ($63) is a new gel-textured formula that contains glucopeptides and hyaluronic acid to deal with "life-stressed hair" (yeah, that's a thing now). If those terms sound like jargon, then all you really need to know is that the product makes hair feel smoother and lighter.
— LL
Caudalie C15 Polyphenol Protect Fluid SPF 20

Even though I know the damage the sun can do to my skin, I sometimes forget to apply it every morning. This Caudalie C15 Polyphenol Protect Fluid [24] ($49) has convinced me to stick to a regular regimen. It may come out of the bottle white, but there is no ashy residue left behind on my face. Plus, it smells like citrus!
— JC
Laura Mercier Radiance Baked Body Bronzer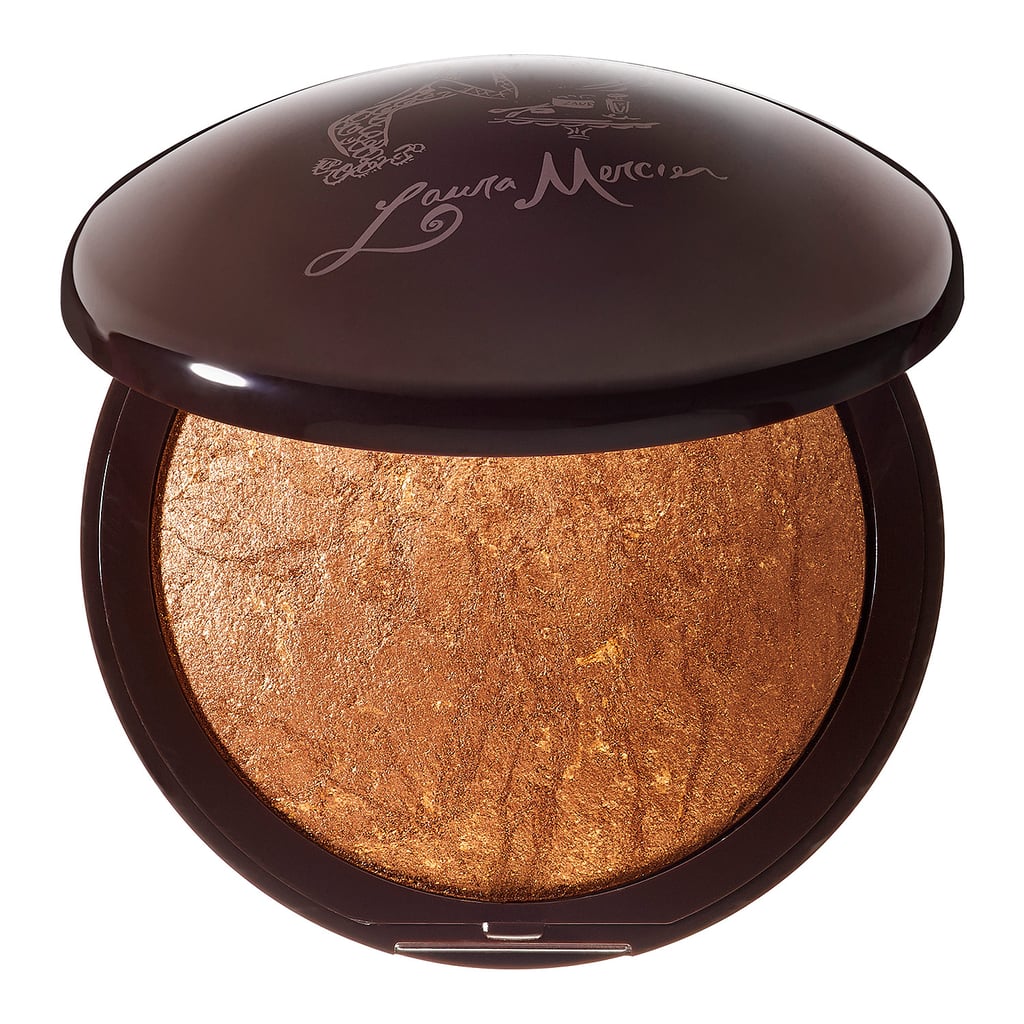 I generally tend to stay away from sparkly bronzers for my face, but when it comes to my body, the more shimmer the better! Luckily, this Frisbee-size Laura Mercier Radiance Baked Body Bronzer [25] ($55) is filled with the most beautiful swirls of gold and copper that are not too orange, perfectly sheer, and totally glitzy. The only thing I love more than the glowing formula? The charming vintage packaging that's just too pretty to hide.
— CM