Sure we've seen just-rolled-out-of-bed hair on the red carpet before, but Emmy Rossum's teased and tousled style makes us think that perhaps she wasn't lounging alone! At the Whitney Art party, her voluminous waves were full of flyaways (but in a purposeful way). To take her sex kitten look a step further, Emmy wore a smudged smoky eye. This is one sultry look we'd be happy to test out with the help of our own, um, "stylist." Below, discover more of the best celebrity beauty from the week, including the looks from the Godzilla and Maleficent red carpet.
Taylor Swift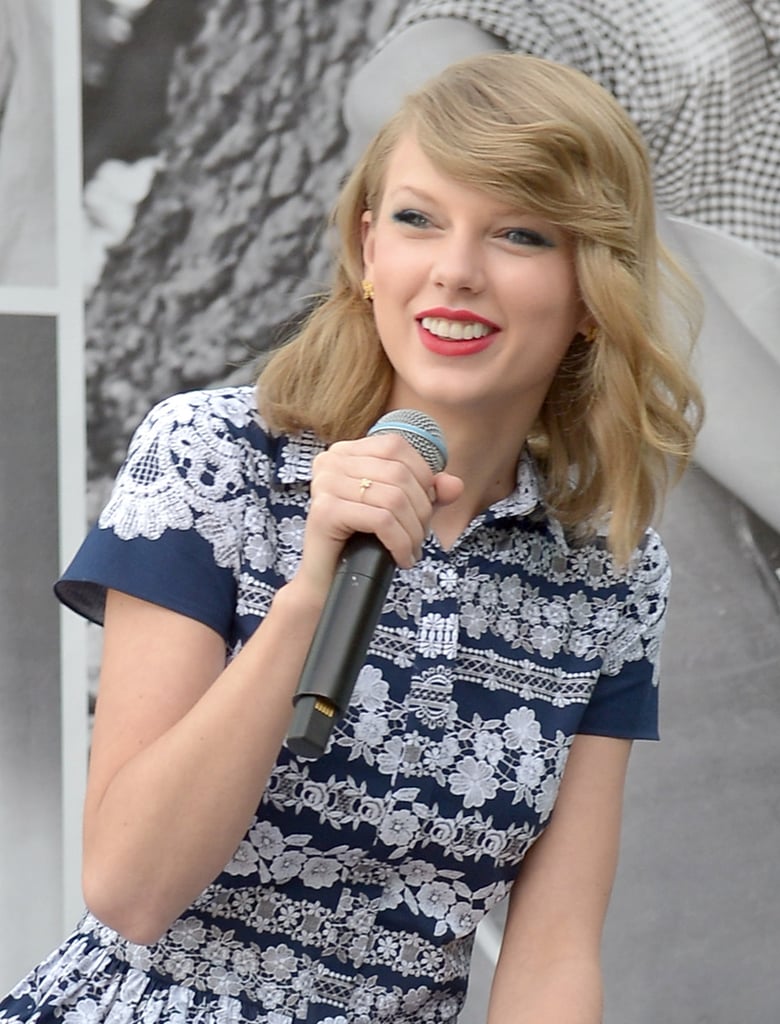 Red lip, winged eyeliner, soft waves: Taylor didn't stray from her beauty formula for her Keds event.
Kristen Bell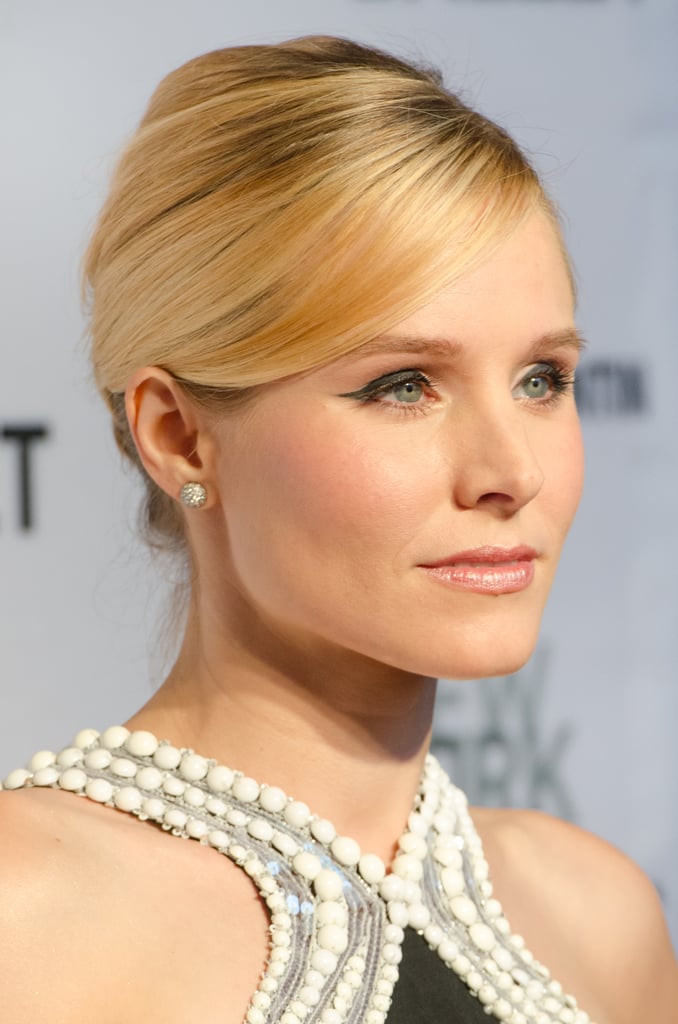 At the NYC Ballet Spring Gala, Kristen smoothed her hair bang back into a sideswept style to make room for her cat eyeliner.
Kristen Bell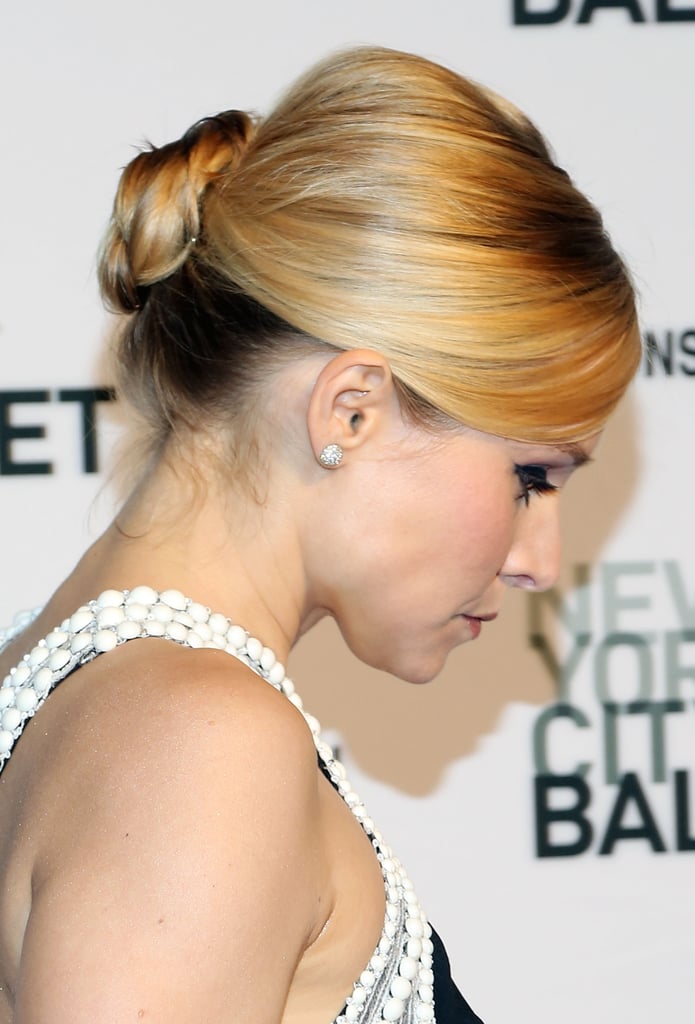 The side shot revealed a classic chignon in the back.
Angelina Jolie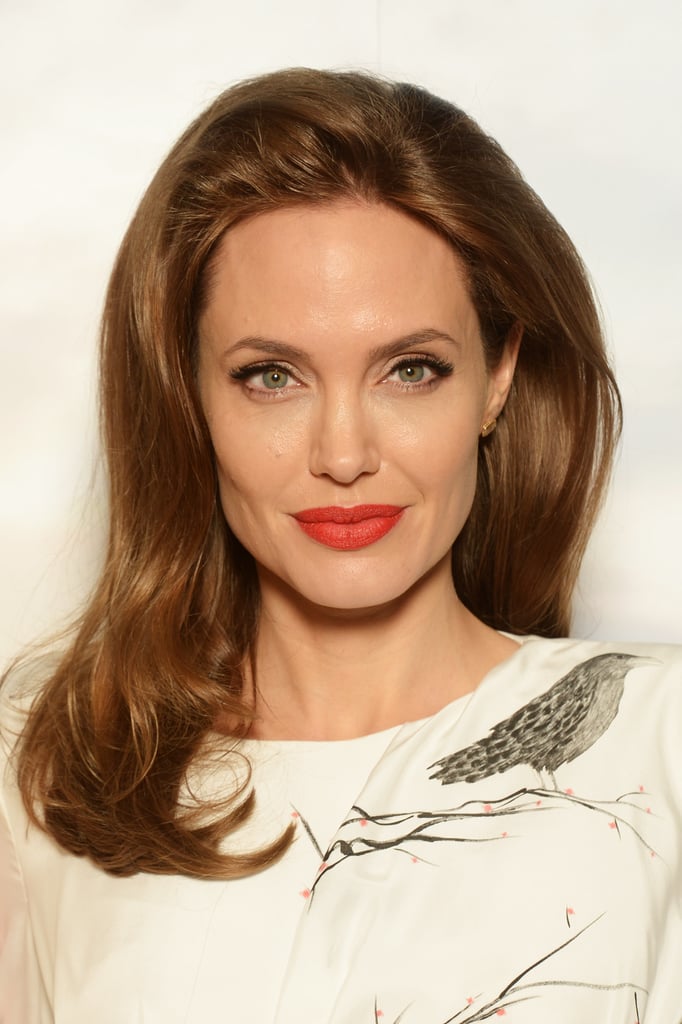 At a Maleficent photocall in London, Angelina swiped on a cherry-red lip color to match her signature brunette blowout.
Emmy Rossum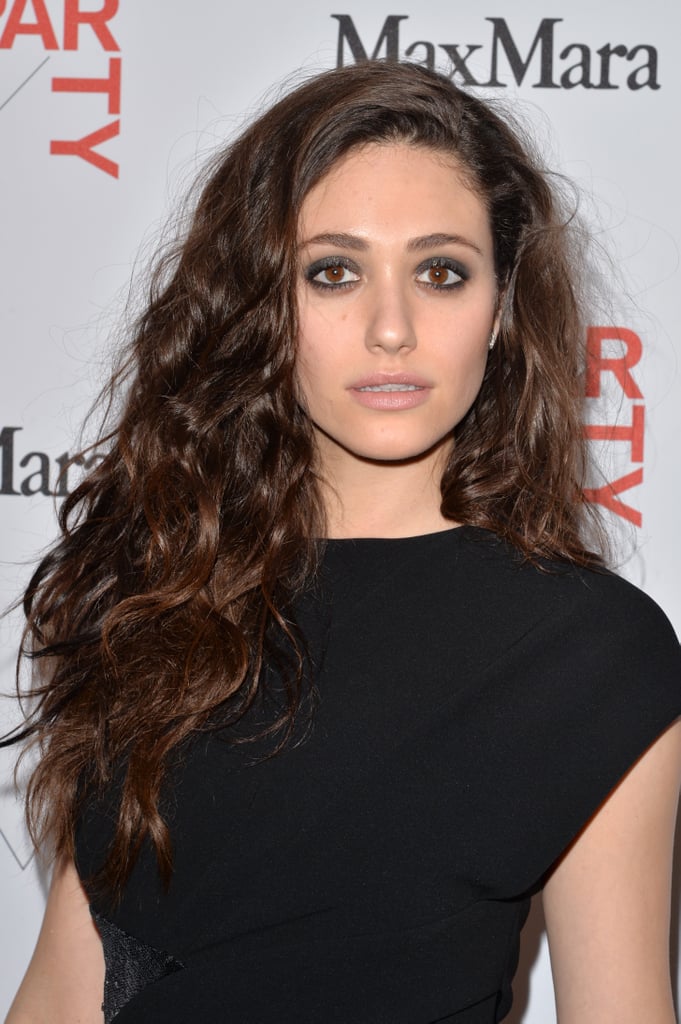 Emmy mastered the art of bedhead hair at the Whitney Art Party, and the smoky eye was a the ideal complement for the dramatic hairstyle.
Jamie Chung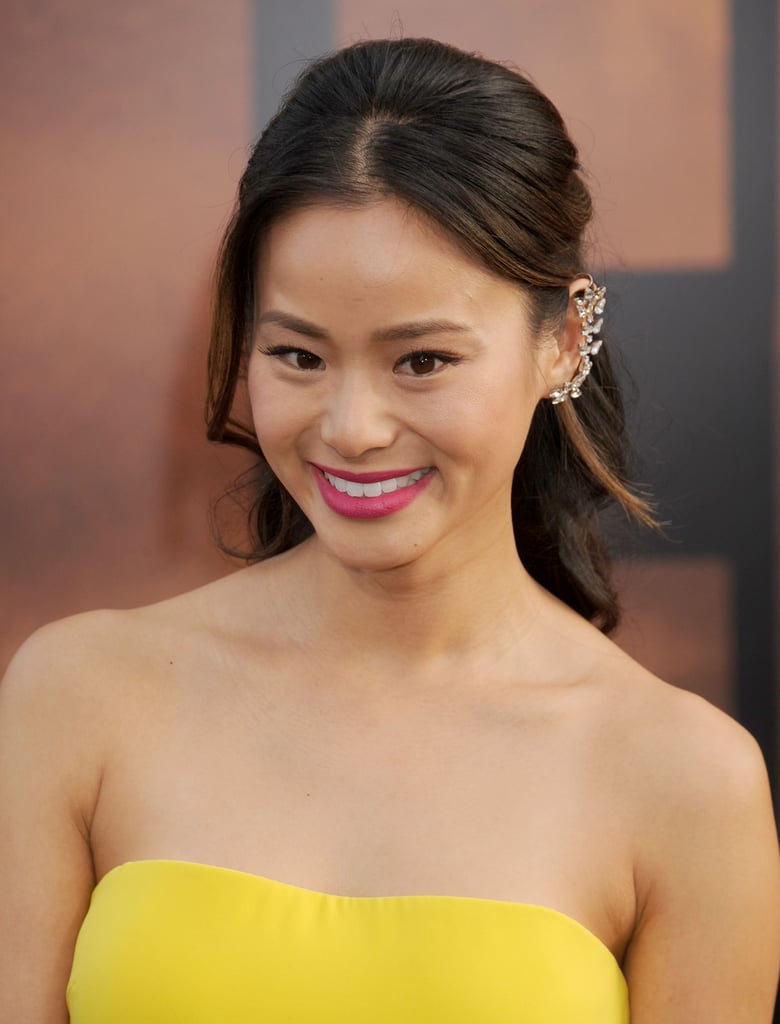 At the Godzilla premiere, Jamie paired her yellow dress with a hot pink lip. Her half-up hairstyle was the perfect pick to show off her edgy ear cuff.
Elizabeth Olsen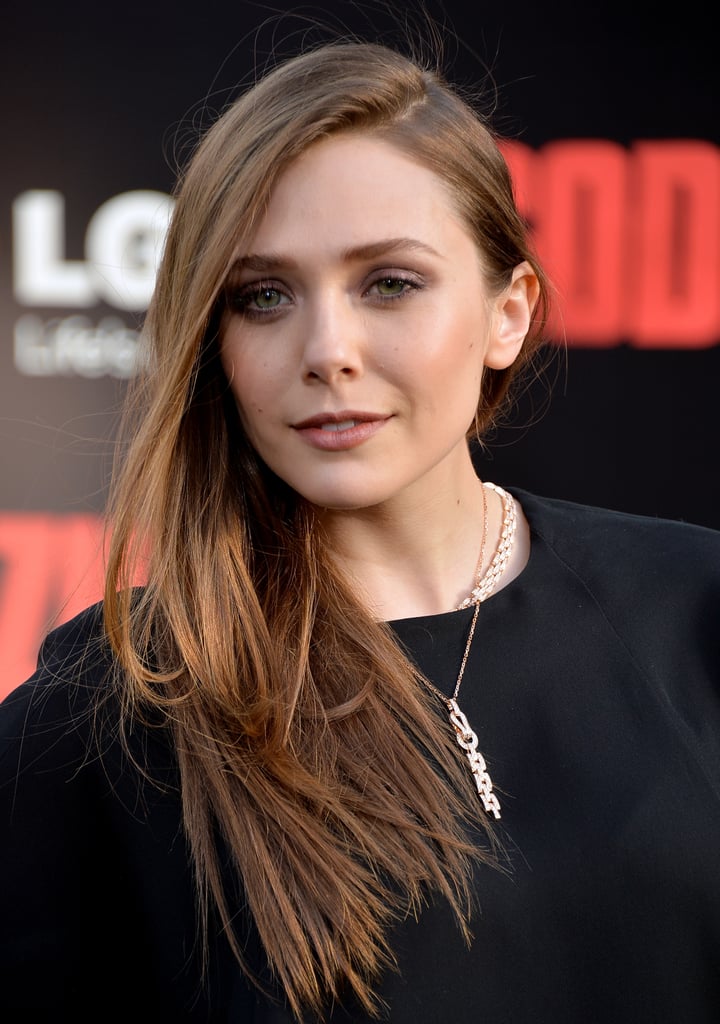 Elizabeth attended the debut of Godzilla with her straight hair flowing over one shoulder. The makeup was a mix of neutrals with a metallic brown smoky eye.
Kim Kardashian
Kim went for a more natural look with luminous skin and a sleek low bun at the USC Shoah Foundation's 20th Anniversary Gala, but what we love most is that her sheer pink lip gloss had an opalescent quality that added to her overall glow.
Dita Von Teese
Dita stayed true to her '40s pinup look at the 2014 Delete Blood Cancer Gala at Cipriani with her signature Veronica Lake waves, glamorous cat eye, and classic scarlet pout.
Gisele Bündchen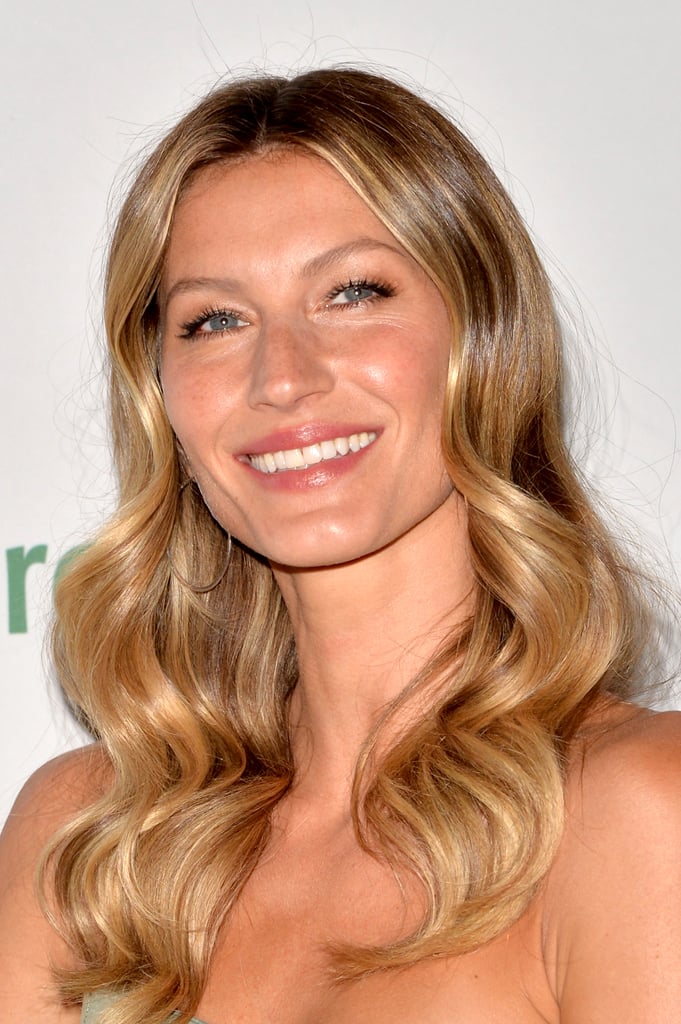 Gisele appeared at the 2014 Rainforest Alliance Gala with her trademark tumbling waves and a dewy just-came-from-yoga-class complexion.
Marion Cotillard
At the Christian Dior Cruise 2015 Show, Marion looked youthful with her Audrey-esque pony and salmon-tinged lip.
Margot Robbie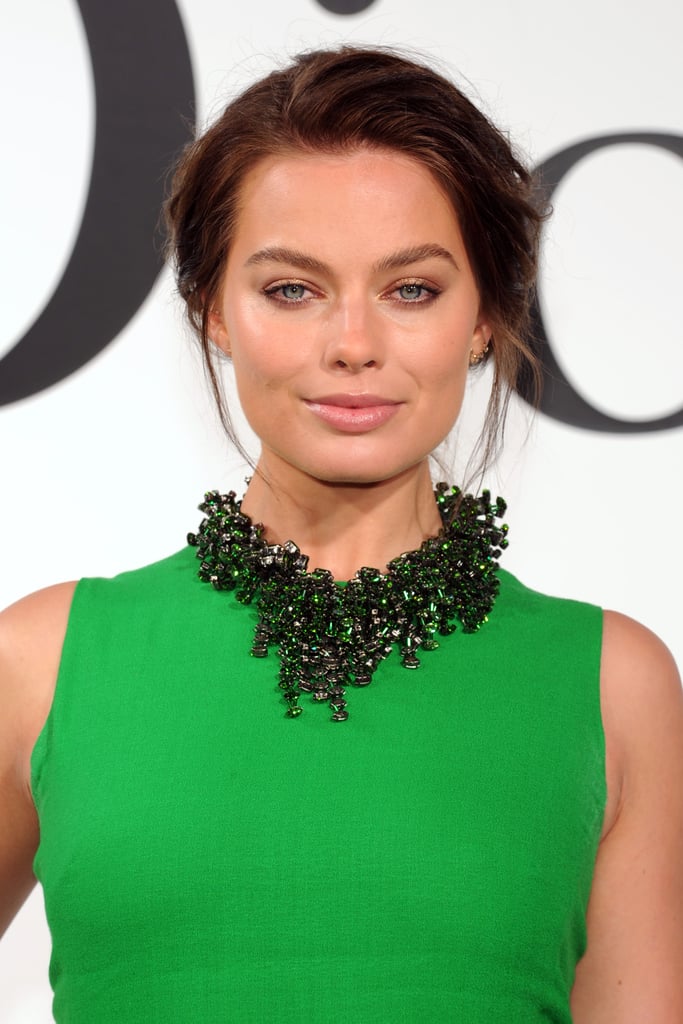 Margot was the epitome of natural beauty at the Christian Dior Cruise 2015 Show with her nonchalant updo and clean complexion.
Allison Williams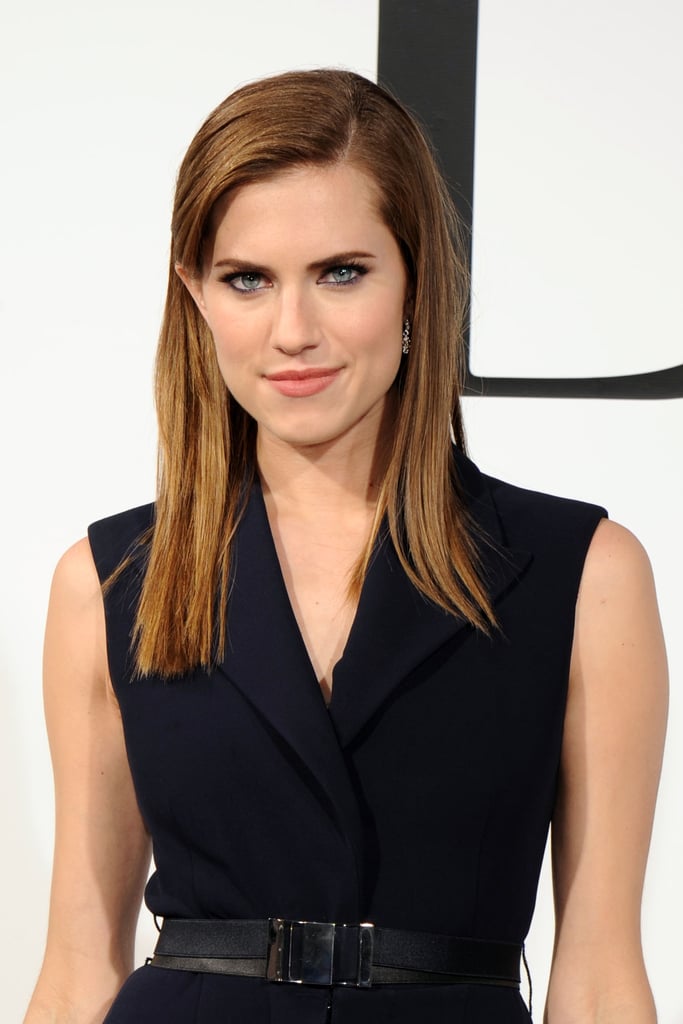 Allison's kohl-rimmed eyes and stick-straight hair gave her some tough-girl edge at the Christian Dior Cruise 2015 Show.
Rihanna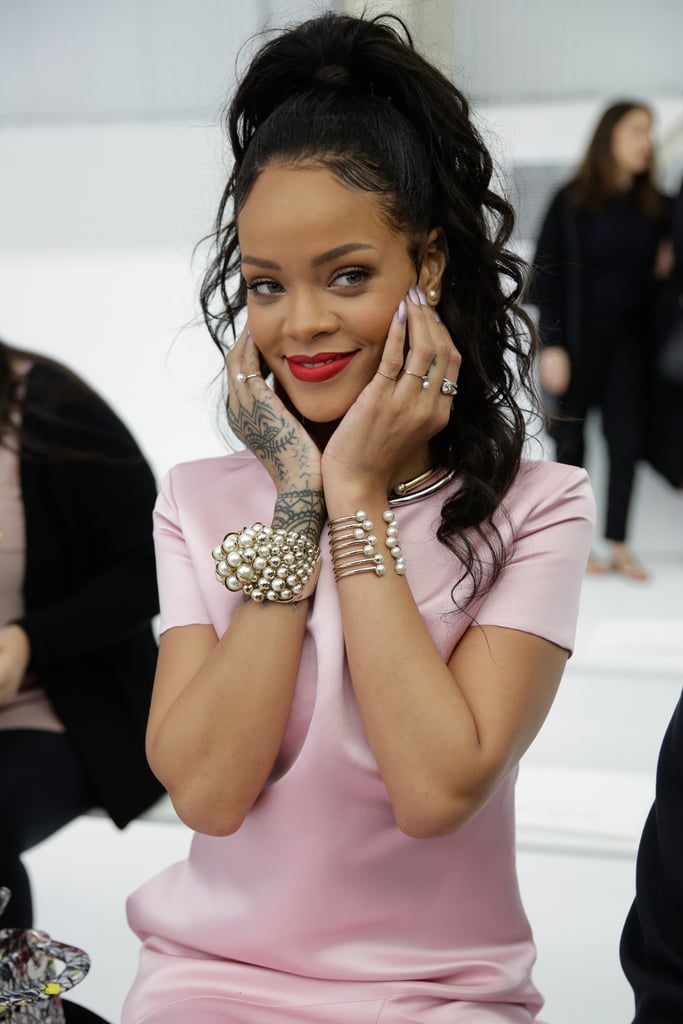 At the Dior Cruise Show, Rihanna [1] softened her retro '90s pony with clean mascara-rimmed eyes and time-honored red lips.
Coco Rocha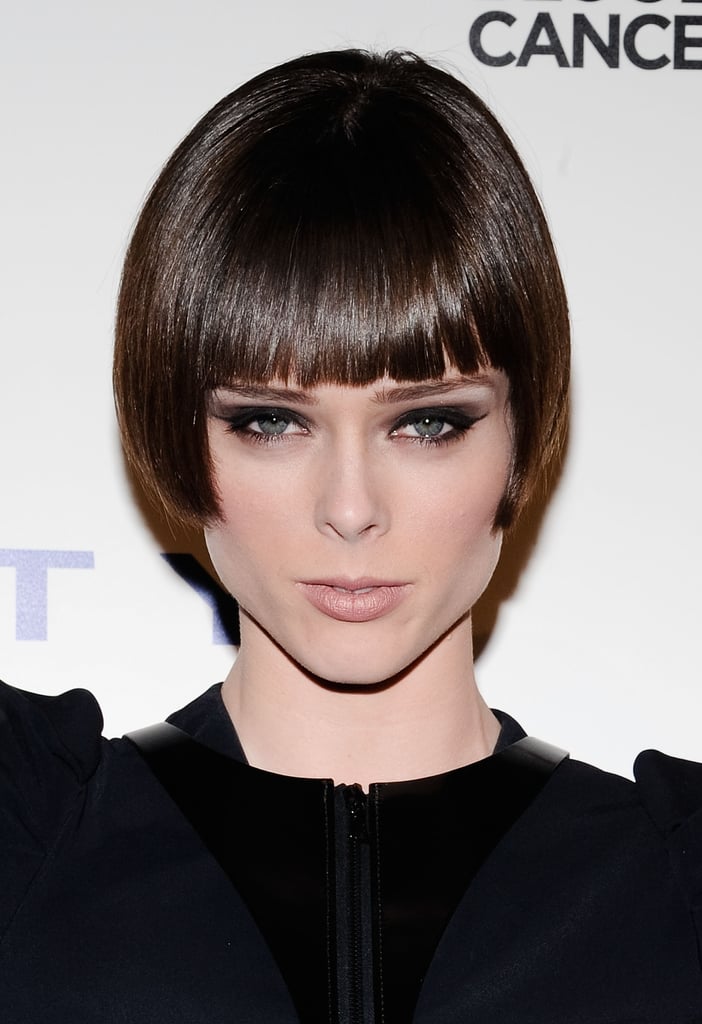 At the 2014 Delete Blood Cancer Gala at Cipriani, Coco sourced Louise Brooks with her blunt and graphic '20s-era bob and brooding stare.
Zoe Saldana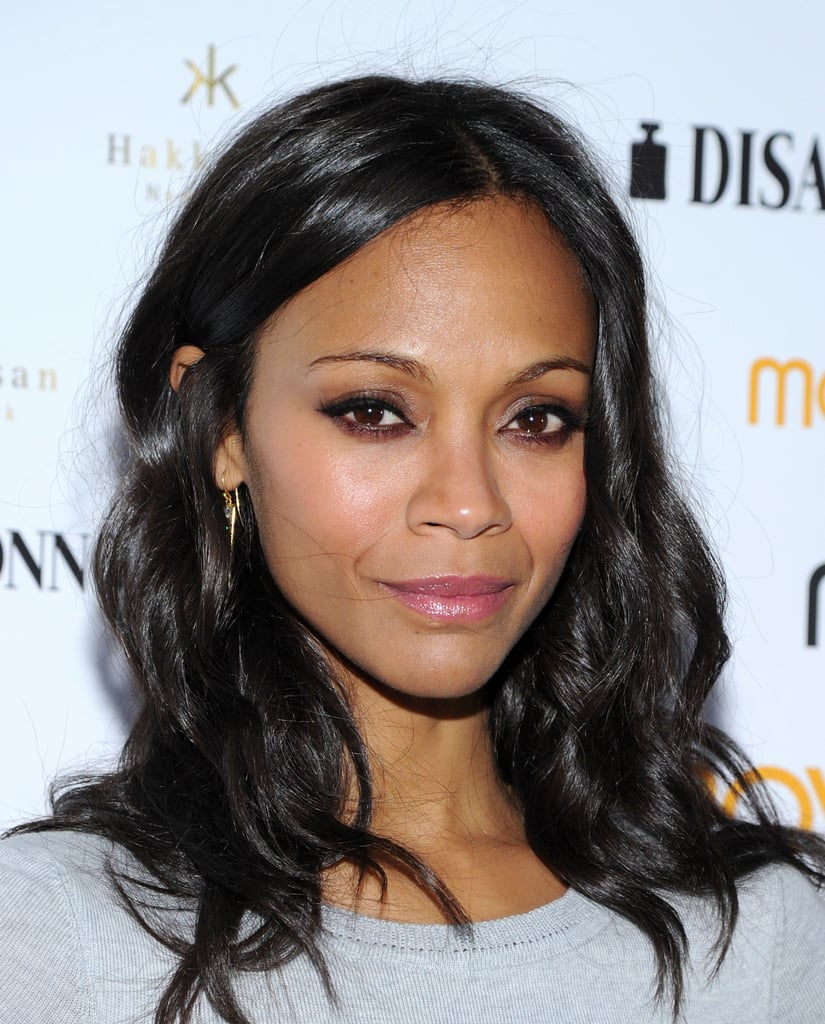 Zoe taught a lesson in daytime beauty done right at the Moves 2014 Spring Issue Cover Party with her ever-so-soft smoky eye and petal-pink lips.
Rita Ora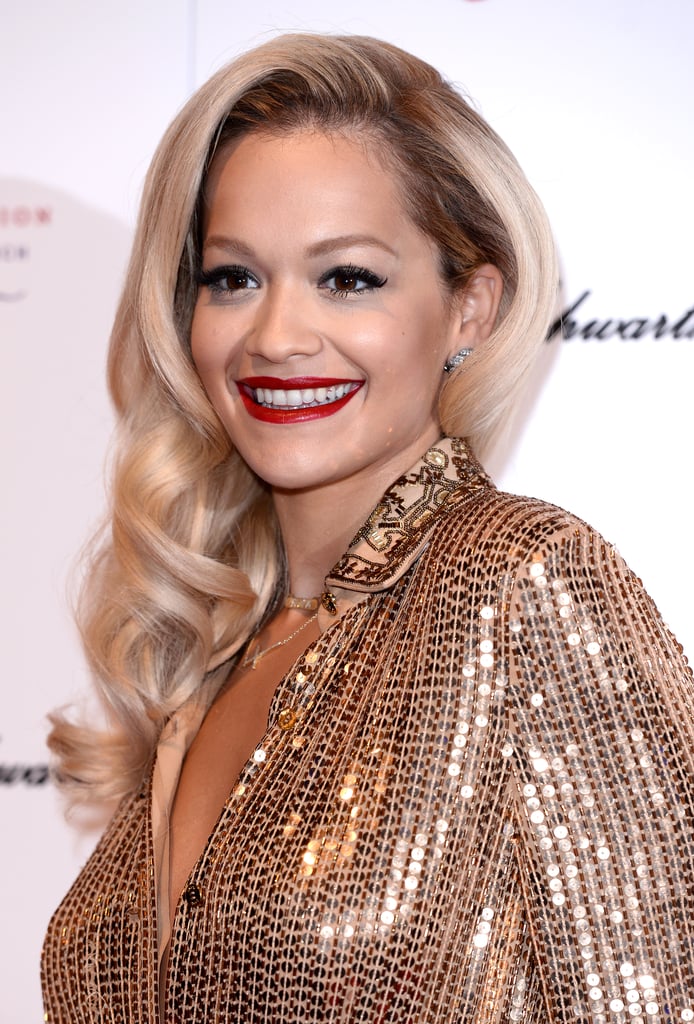 Rita gave Dita von Teese [2] a run for her money with her vintage-inspired waves and crimson mouth at Gabrielle's Gala.
Selena Gomez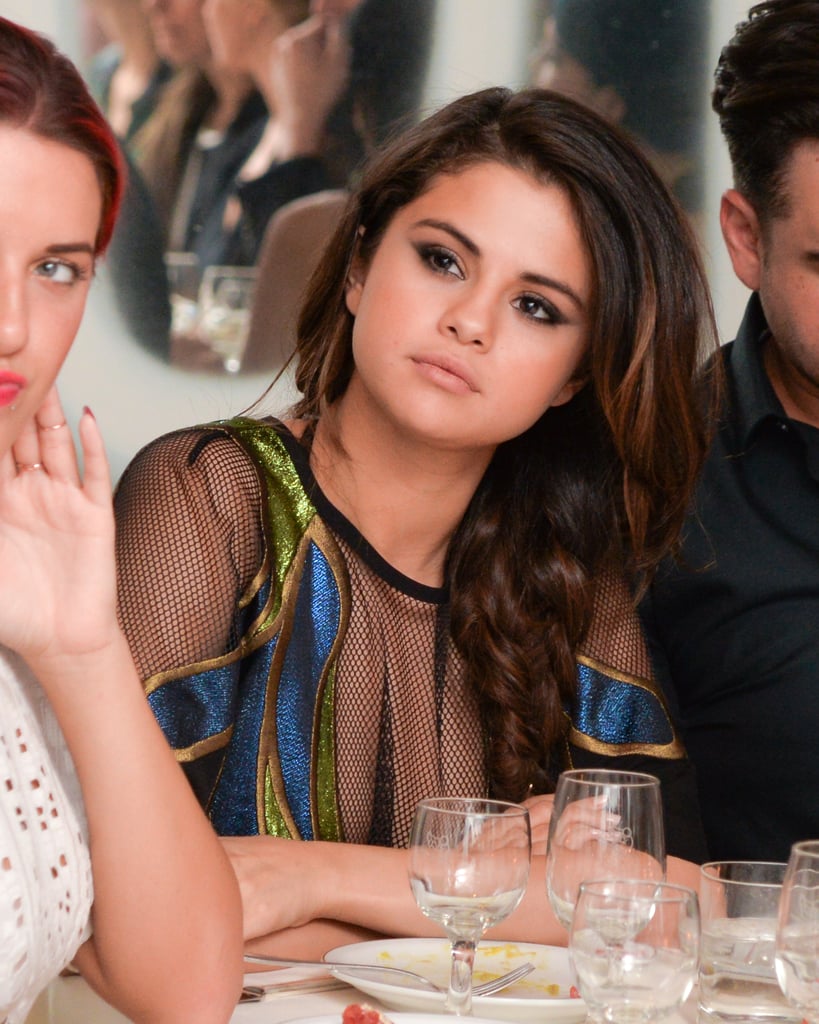 At a private dinner for Letters, to the Men I Have Loved, Selena wore her signature smoky eye with a loose side braid.
Angelina Jolie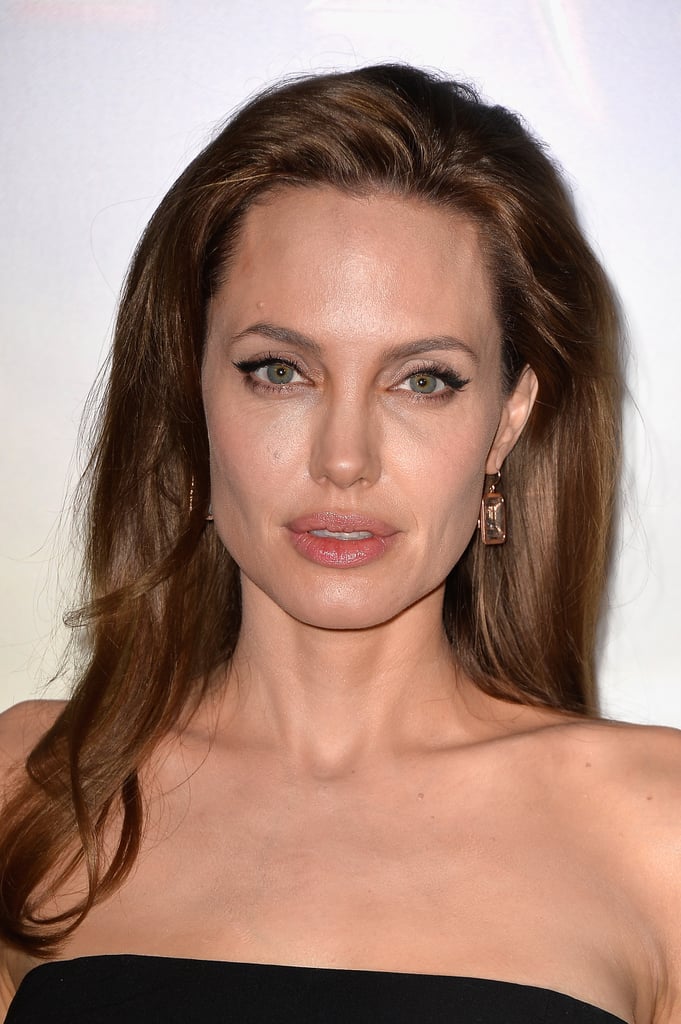 Angelina went with a simple winged eyeliner look and nude pink lips for the Maleficent photocall in Paris.
Elle Fanning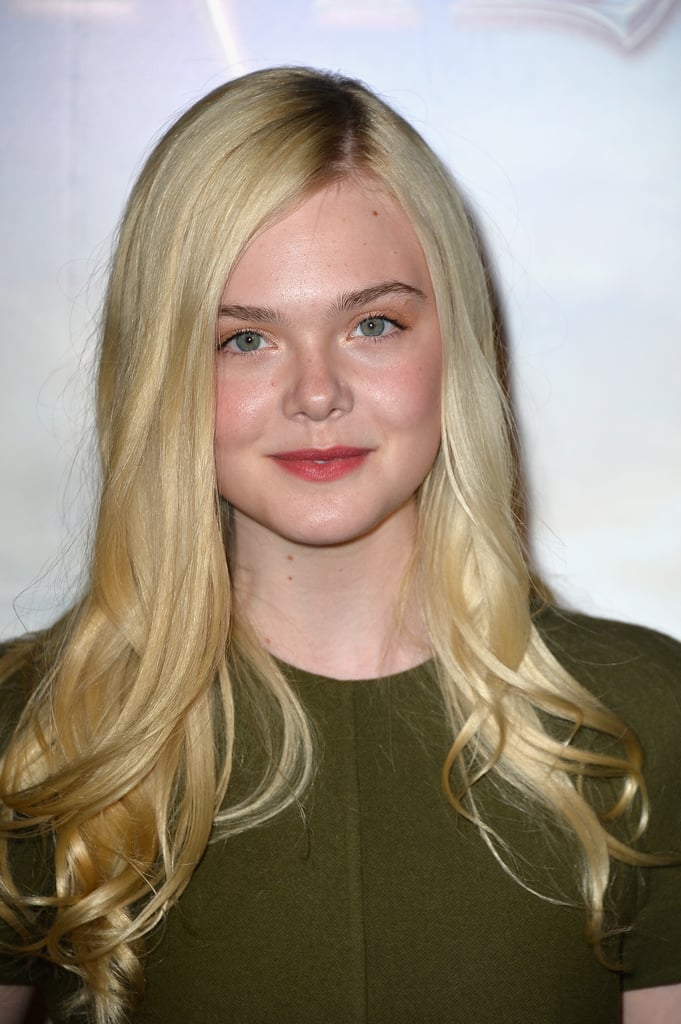 For the Maleficent Parisian premiere, Elle played up her pout with a rosy lip stain plus rosy cheeks and loose curls.
Liv Tyler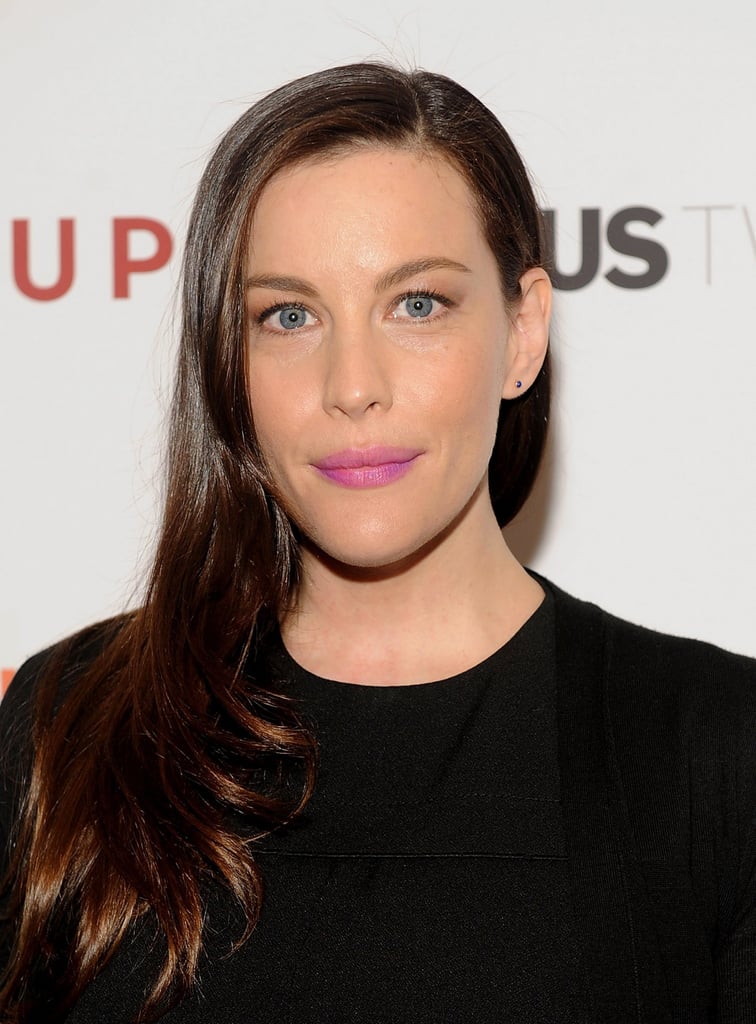 Liv embraced the radiant orchid trend with this pastel purple lipstick at the premiere of Fed Up.
Blake Lively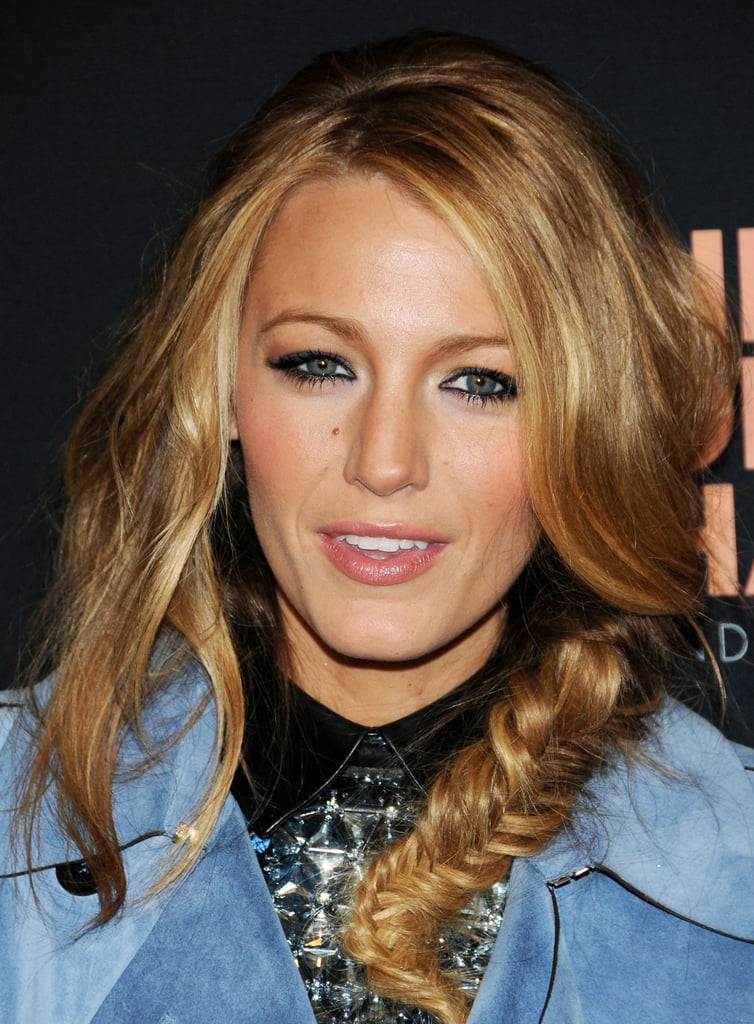 At a New York appearance for Chime For Change, Blake went with a side fishtail braid with loose long layers around her face.
Michelle Obama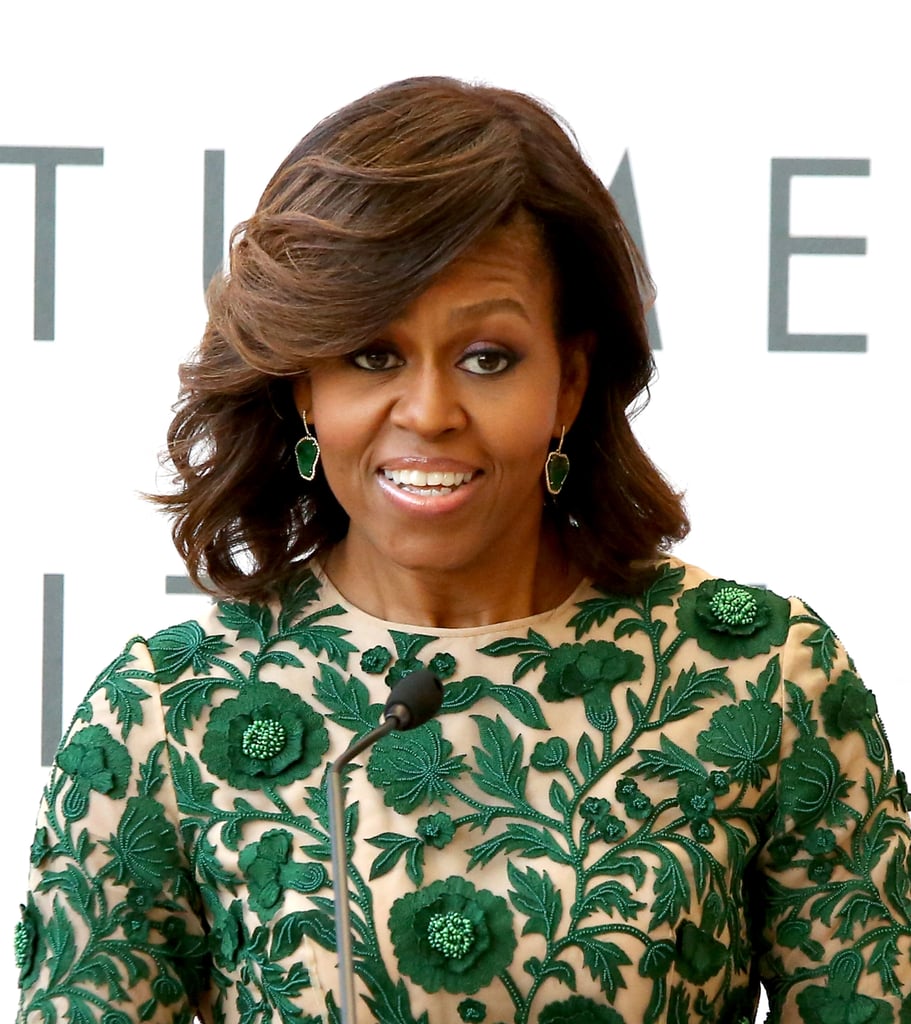 For the grand opening of the Anna Wintour Costume Center, Michelle channeled Farrah Fawcett with her feathered bangs and highlights.
Kiernan Shipka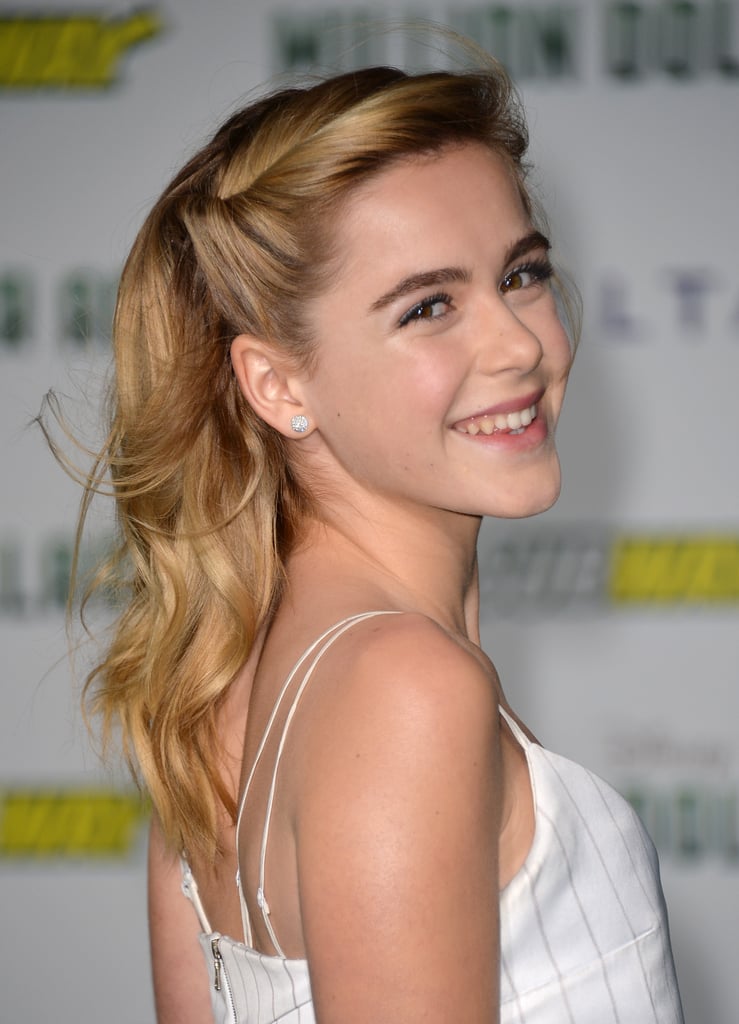 How cute is this twisted style on Kiernan? She wore the half-up hairdo for the premiere of Million Dollar Arm.
Emma Roberts
Emma pulled her shoulder-length bob into a chic updo with beachy waves at the Palo Alto premiere and accented her eyes with smoky, smudged eyeliner.
Amanda Seyfried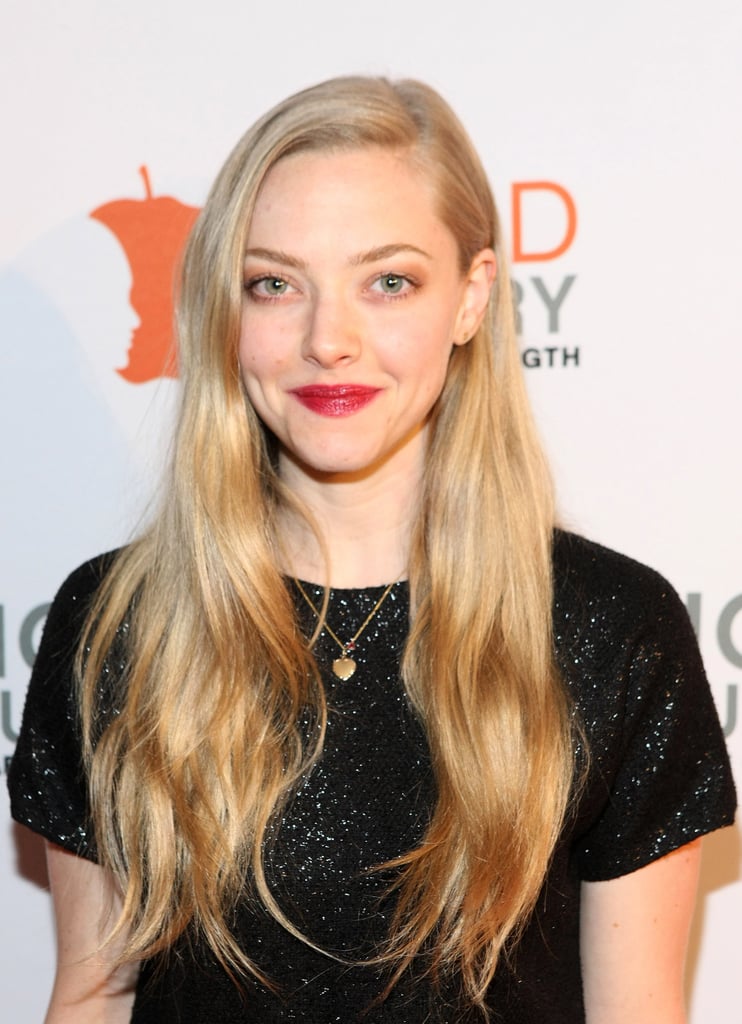 Amanda kept it casual with her red lip and boho waves at the No Kid Hungry Culinary Benefit dinner.
Marion Cotillard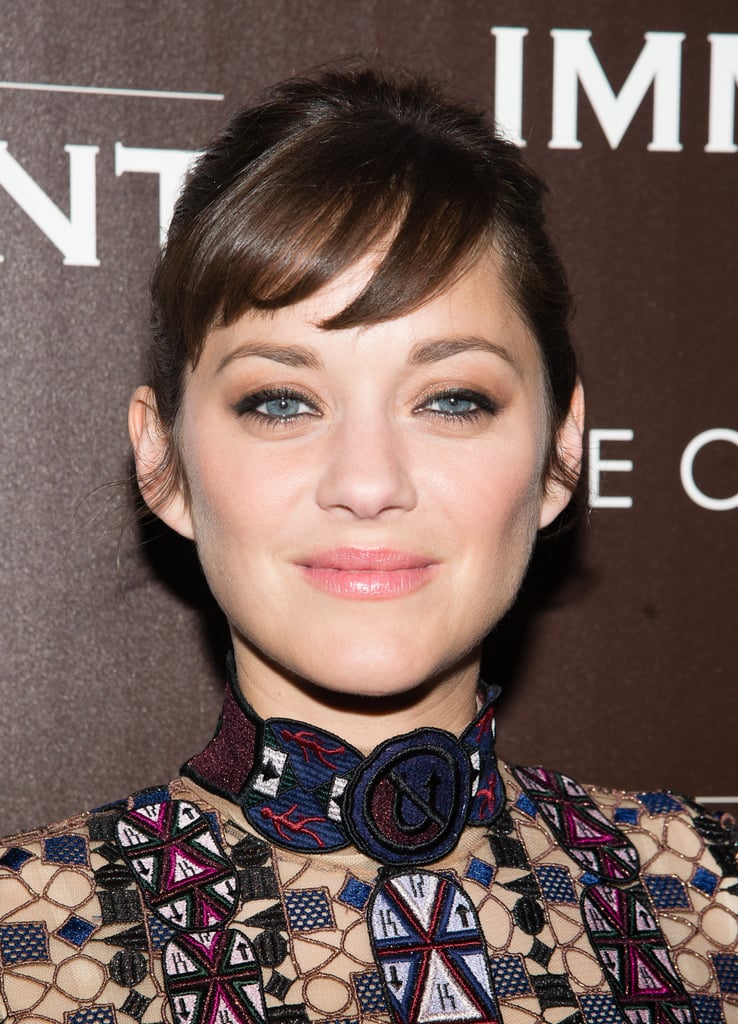 At the premiere of The Immigrant, Marion gave us new inspiration for styling blunt bangs.
Zoë Kravitz
Zoë obviously has a love of dramatic eye shadow. She rocked this muddy under-eye look at the launch of Ryan Korban: Luxury Redefined.
Hilary Duff
Hilary wore a vampy purple lip with extra lashes at the ASPCA celebration in LA.
Candice Swanepoel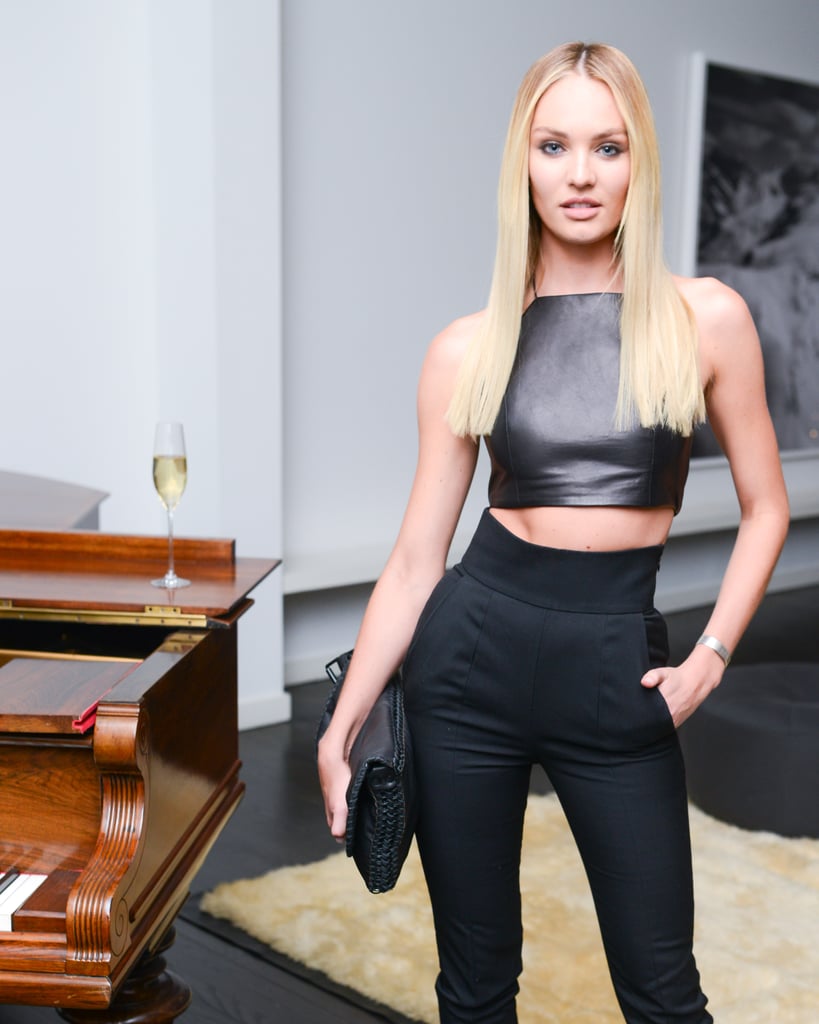 Candice channeled her inner dominatrix with this superstraight hairstyle and severe middle part.
Kirsten Dunst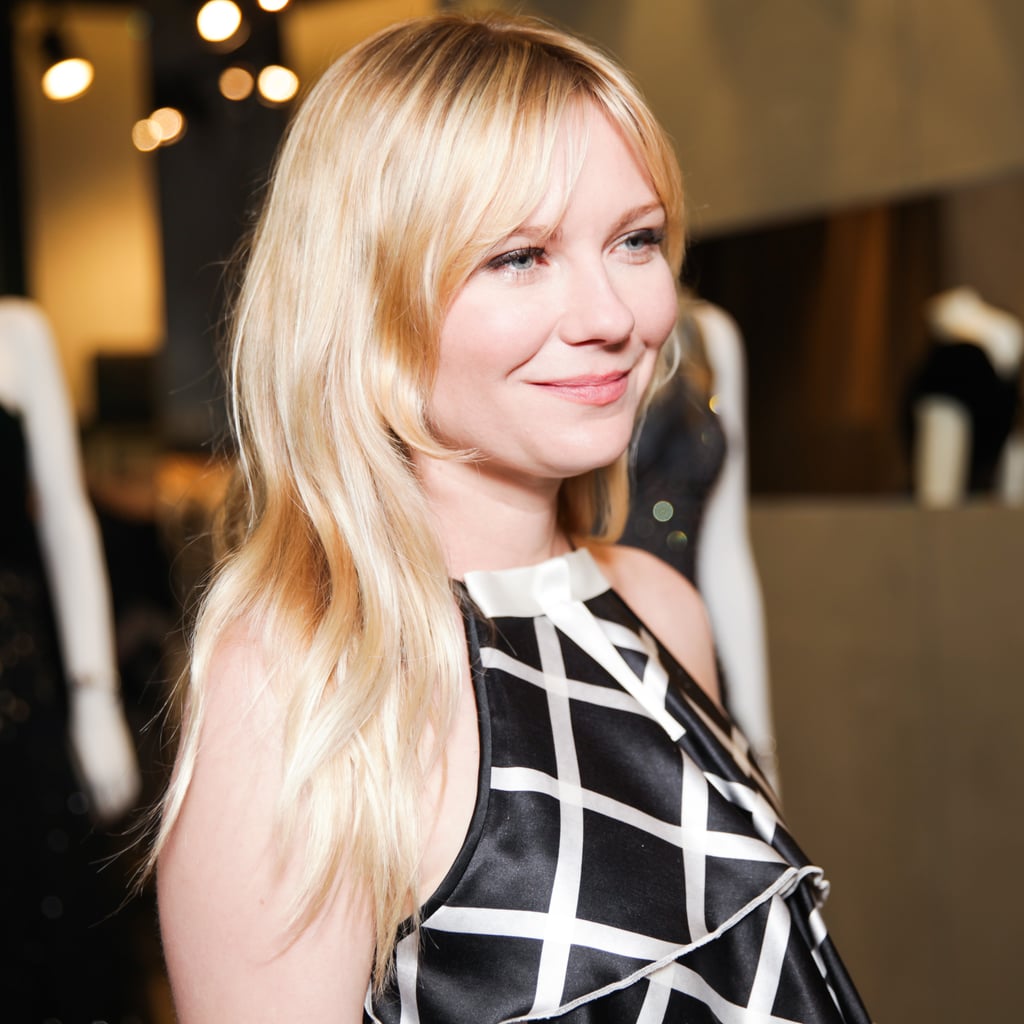 Kirsten glowed at the Rodarte book signing this weekend. Her makeup was minimal, but her hair was blown out to perfection.
Lea Michele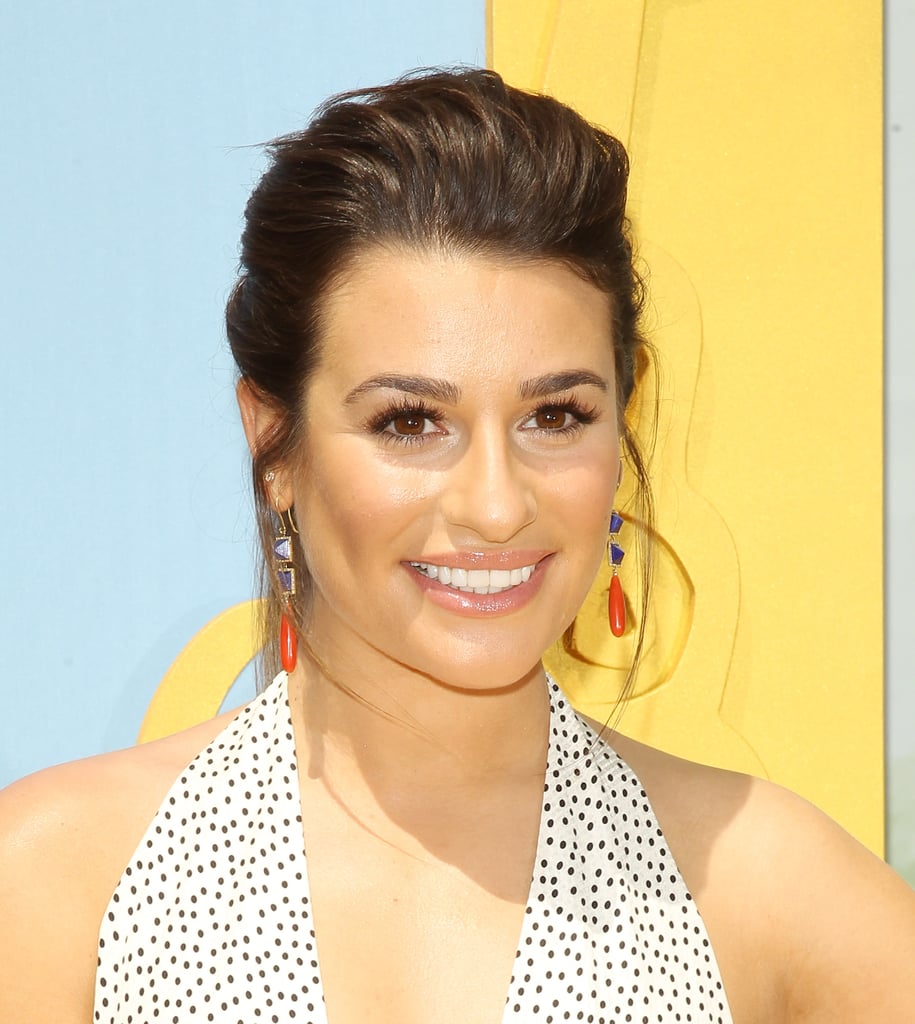 At the premiere of Legends of Oz: Dorothy's Return, Lea pumped up her hair into a pompadour-ponytail combination.
Emma Roberts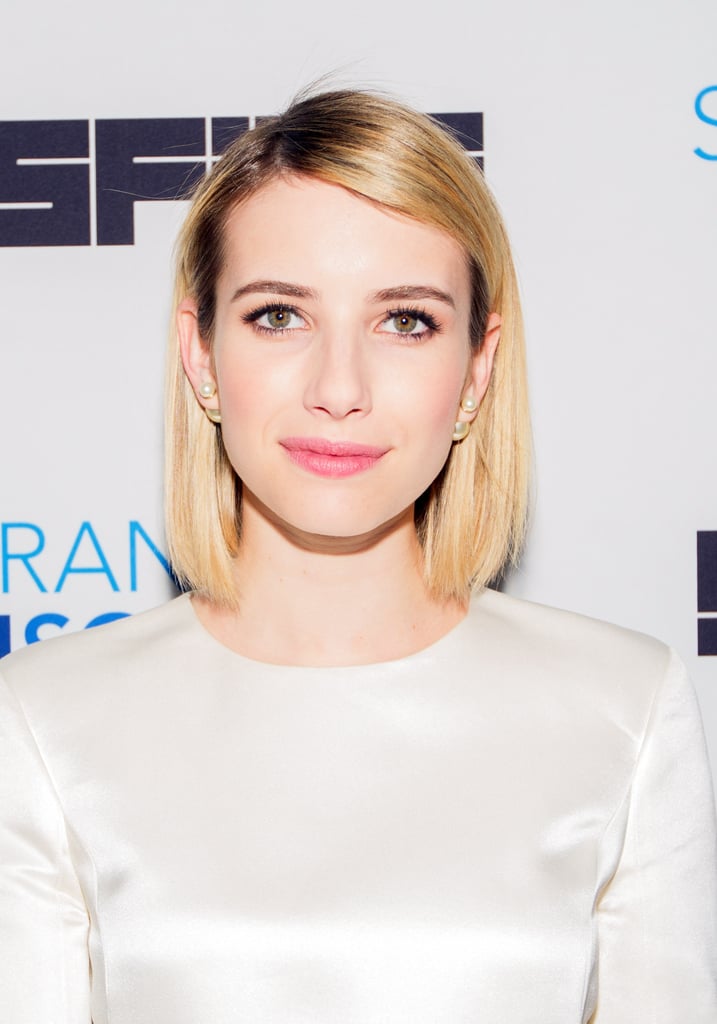 Emma attended the premiere of Palo Alto wearing her shoulder-length bob superstraight and her lips stained with a touch of pink.
Sofia Vergara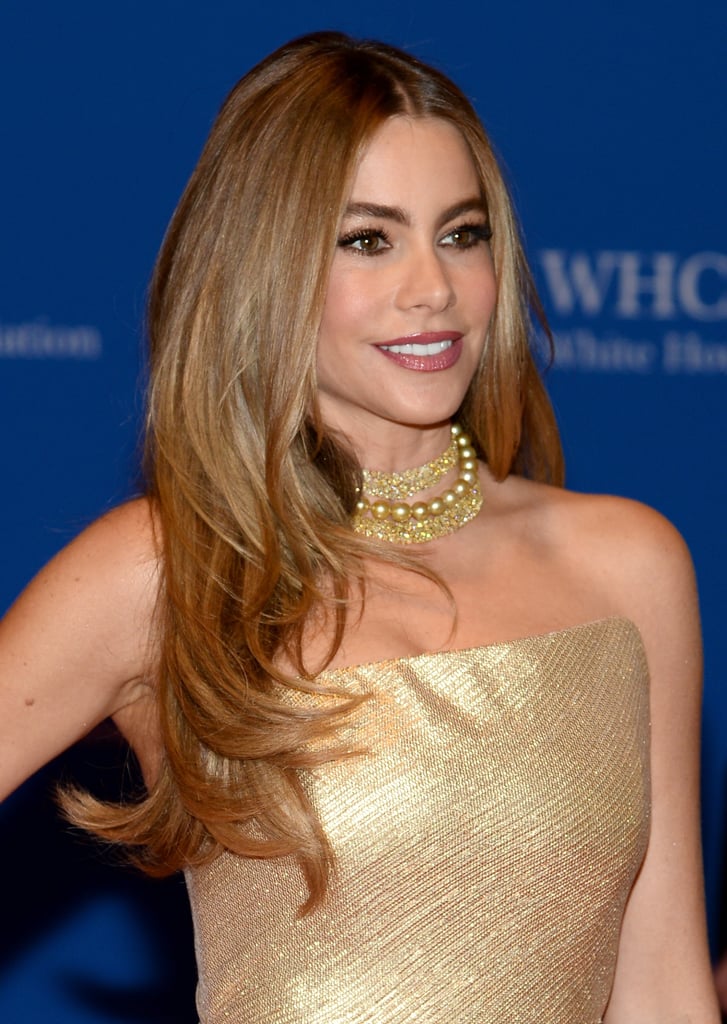 At the White House Correspondents' Dinner, Sofia's gold eye shadow picked up the caramel highlights in her hair, while her lip was the ideal mix of plum and pink.
Lupita Nyong'o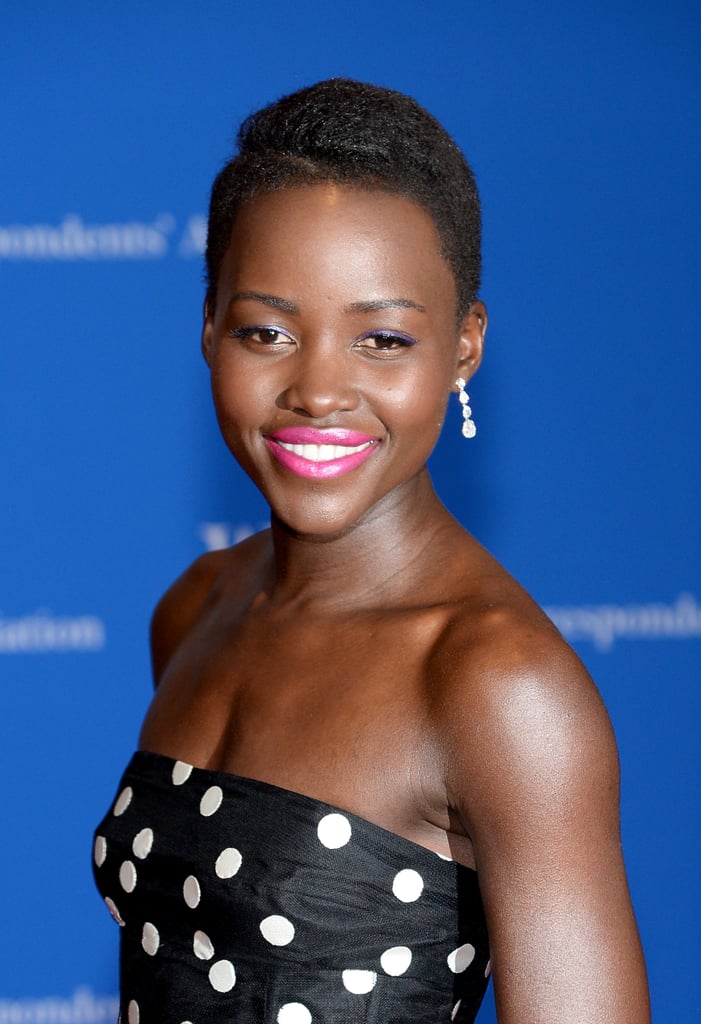 Lupita didn't tone down her bright makeup style [3] for the White House Correspondents' Dinner. She swiped on a bold fuchsia lipstick and purple eyeliner, while her hair was accented with a deep, diagonal side part.
Olivia Munn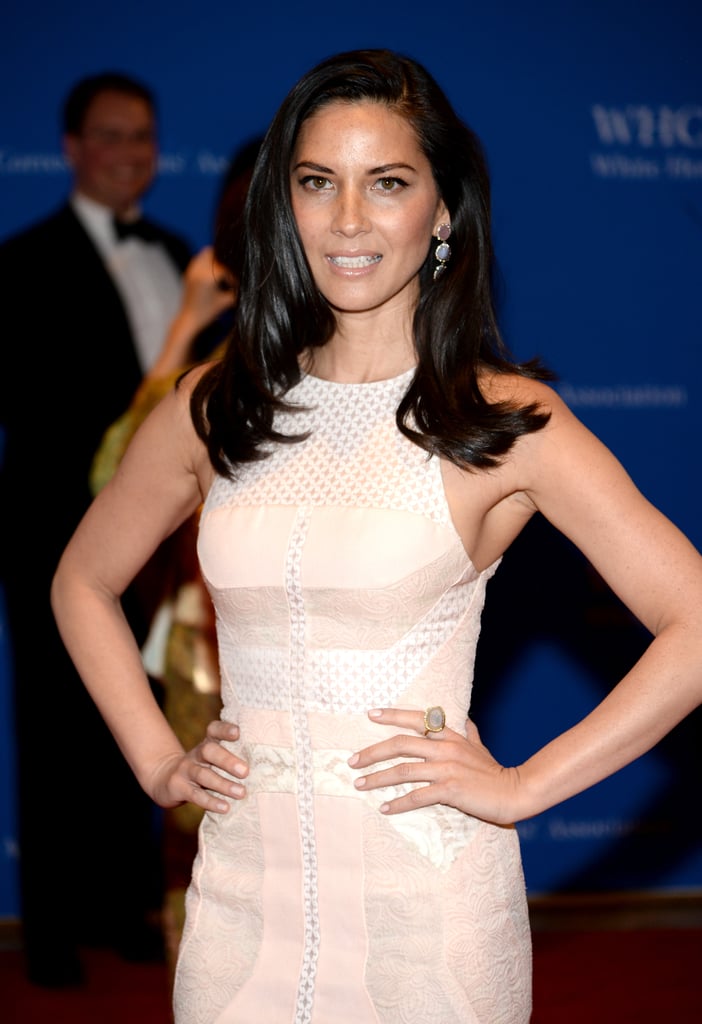 Did Olivia just come from a beach vacation? She was toned and tan at the White House Correspondents' Dinner.
Kristen Bell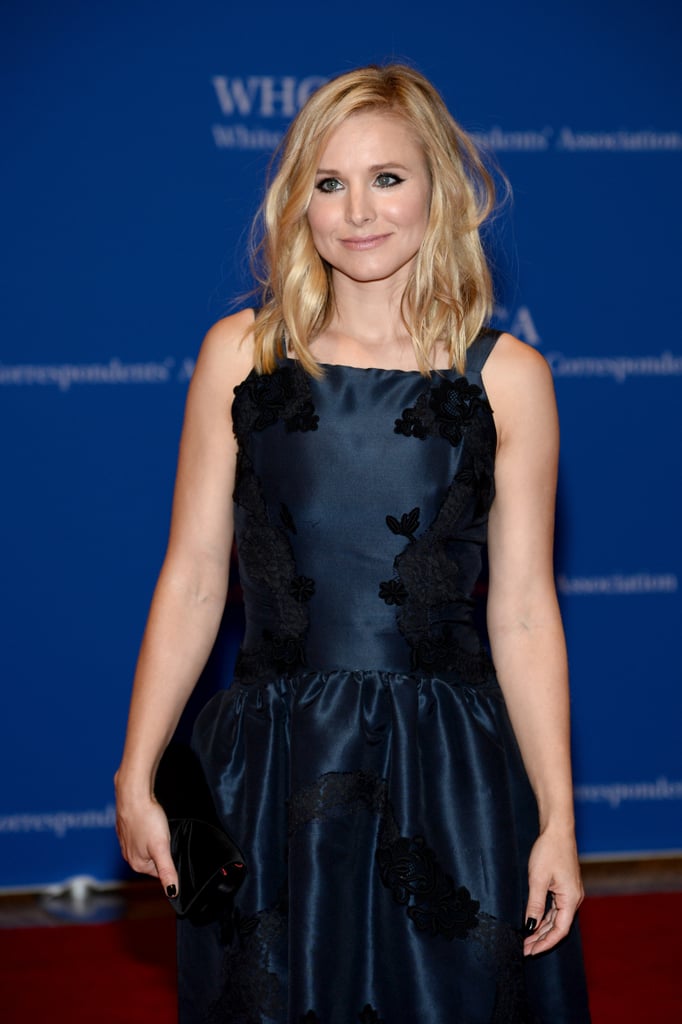 Kristen opted for tousled waves and fully rimmed eyeliner for the White House Correspondents' Dinner this weekend.
Miranda Lambert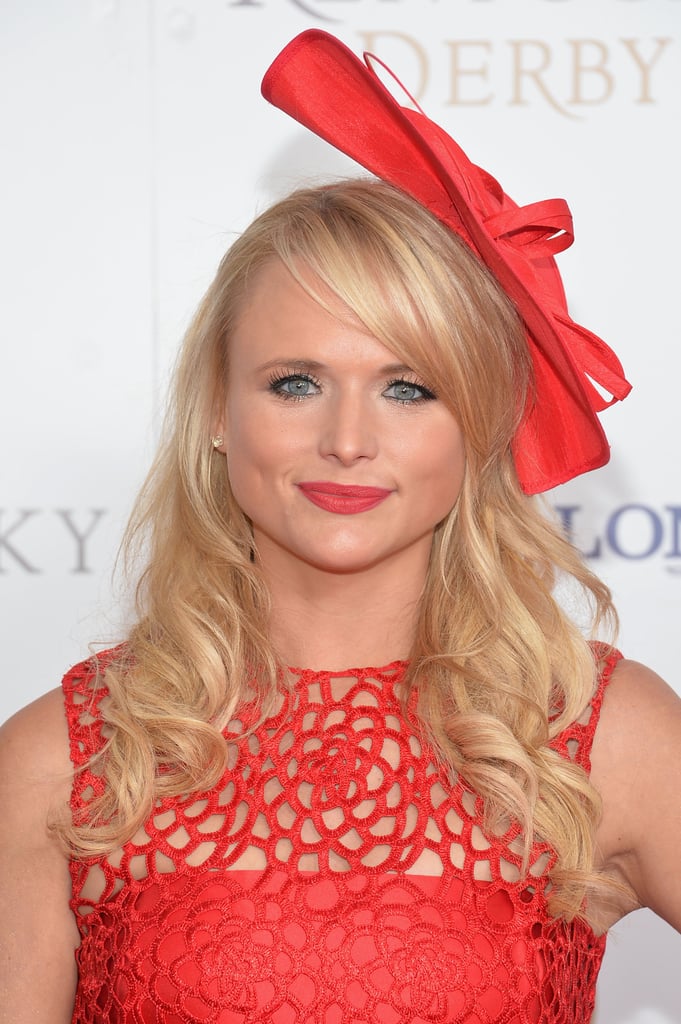 At the Kentucky Derby, Miranda paired her blond curls with a bright red fascinator and matching cherry-red lip color.
Jamie Chung
At the Olevolos Project Brunch, Jamie chose a Spring-ready color combination of royal blue and red.