It's no secret that our readers love nail polish [1]. And while we offer you endless ideas on ways to decorate your digits [2], we want to make sure you also have creative solutions to take the polish off [3]. Without further introduction, we present the most innovative nail polish removers on the market — from chocolate-scented concoctions to formula-fueled pens, there's something for everyone.
For the Lazy Girl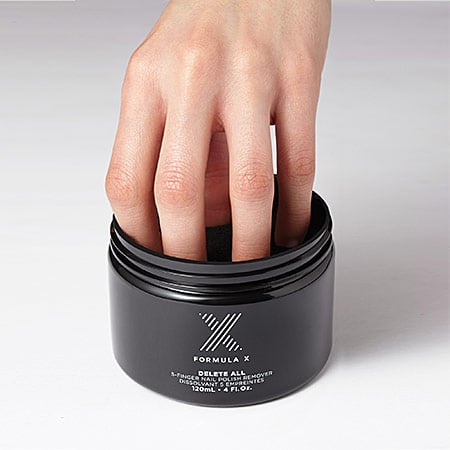 If dealing with cotton balls and loose-liquid acetone is too messy for your liking, then you'll love this pot. Just dip all five fingers into the holes of the presoaked sponge, wiggle them around, and take them out to reveal polish-free digits. It's magically easy.
Formula X Delete All 5-Finger Nail Polish Remover [4] ($15)
For the Product Snob
Drugstore beauty may not be your thing, and that's OK — we still have a product for you. Dior's high-end nail polish remover is acetone-free and works to whiten and brighten nails.
Dior Dissolvant Abricot Nail Polish Remover [5] ($20)
For the Klutz
If you can't paint between the lines for DIY [6] manicures, then this pen will be your BFF. Use it on your skin to take off excess polish mistakes. So smart!
Essie Corrector Pen [7] ($14)
For the Spa-Lover
Those who favor essential oils over traditional perfumes will like this sweet almond oil remover. It smells as tasty as it sounds, and the nourishing product leaves nail beds feeling hydrated.
The Body Shop Sweet Almond Oil Nail Polish Remover [8] ($10)
For the Foodie
Inhaling acetone can be pretty disgusting — plus it leaves your nails with an alcoholic scent. That's why we're obsessed with Ciaté's line of chocolate-fragranced removers. Choose from the four "flavors:" dark chocolate, white chocolate, mint chocolate, and orange chocolate. After we tested the white chocolate, our digits were left with a clean, sweet aroma. Dare we call these yummy?!
Ciaté White Chocolate Nail Polish Remover [9] ($16 each)
For the Francophile
Often, removers are relegated to the back corner of your bathroom cabinet. You'll be eager to display this Parisian-inspired pink bottle, which looks more like an eau de toilette. Plus the product is formulated with nourishing sweet almond and jojoba seed oil.
Paul & Joe Nail Polish Remover [10] ($22)
For the Nail-Art Aficionado
Going to the salon to have your gel manicure removed can be pricey and time-consuming (most spots charge at least $5 extra for the removal service!). We know our nail-art girls will be thrilled about these easy-to-use kits: Simply saturate a cotton ball with remover, apply it to the top of your nail, wrap foil around it, and let it sit for five to eight minutes. The gel polish should slide right off your nail with a swipe or two of the cotton ball.
ASP Gel Polish Soak Off Nail Foils [11] ($5)
For the Beauty Insider
You know who you are, and you're the queen of DIYs. Hey, you may even have a YouTube page. Make your at-home space even more salon-like with this bottle that features a professional pump-action dispenser. Bonus point for the fact that it has a spa-like lavender scent.
Julep Acetone-Free Nail Polish Remover [12] ($14)
For the Space and Money Saver
You already spent $10 on that manicure, and now you can take it off for less than the price of a latte. These wipes are just $2 for 24 presoaked, citrus-scented pads, which is an awesome deal. Plus the container is smaller than your palm, so it can fit in any mini bag or travel case when you're on the go.
Elf Nail Polish Remover Pads [13] ($2)
For the Boho Babe
Eco girls will love these 100-percent biodegradable, nontoxic wipes packaged in a muslin bag. The ingredients hail from farm crops, so you don't have worry about putting harsh chemicals on your fingers. Plus the smaller packets make them superb for jet-setters.
Priti NYC Soy Nail Polish Remover Wipes [14] ($10)
For the Girlie Girl
You may never outgrow a glittery nail polish, and we're all for it. But taking sparkles off your nails can be pain due to their sticky nature. This milky topcoat (that dries clear) is applied over your spangly lacquer, and then it peels everything off at once, so no shiny flake is left behind.
OPI Glitter Off Peel-Able Base Coat [15] ($13)
For the Younger Ones
Whether you're pregnant or just trying to make sure you daughter uses eco-safe formulas, you'll be a fan of this low-odor, hypoallergenic, acetone-free, and biodegradable pick. It contains skin-soothing aloe vera and vitamin E as well.
Piggy Paint Nail Polish Remover [16] ($9)