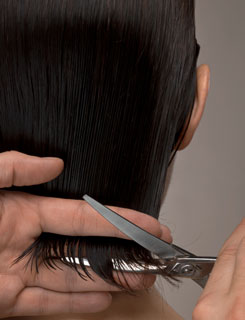 If you're a hairstylist, scissors may not be the workplace hazard you should be most concerned about. Recently,
a British stylist's septum actually collapsed
from infection created by years of constant exposure to hair. Apparently hair fragments can lodge themselves inside your nose, causing irritation and eventual infection. And if you're a stylist, the daily irritation can prevent any wounds in your nose from healing, leading to painful long-term injuries and eventually necessitating surgery.
Stylists can avoid the problem by wearing masks, but salons often won't let them do so, fearing it'll scare customers off. Would you be OK with your stylist wearing a mask, or would it just creep you out too much?