Celebrity endorsements are big overseas — just ask Angelina, Anne, Jennifer, or any of the other famous people who've appeared in beauty ads in Japan and Korea. For a day or two of work, these stars can earn more than $2 million by endorsing lipstick, mascara, or shampoo. Read on to see who's raking in the bucks (and who's hoping you won't have to see her practice her swordsmanship).
Charlize Theron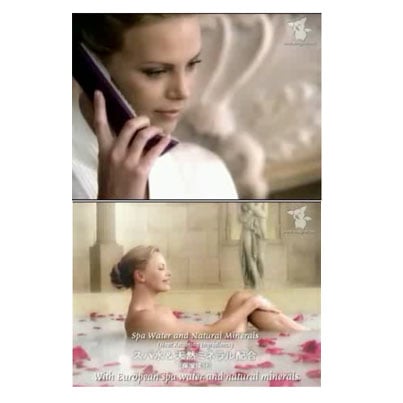 Charlize's life is tough! When she's on the phone, another phone rings! Fed up, she tosses both phones on the bed and takes her Lux Spa Moist [1] into the bathtub, where roses surround her. Much better.
Angelina Jolie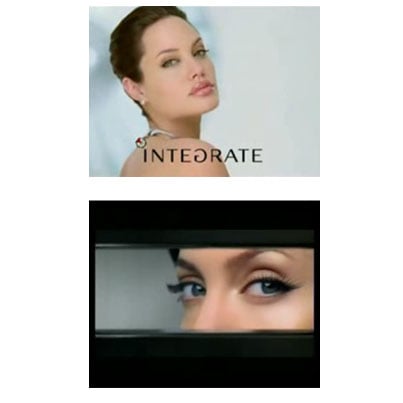 As the face of Shiseido's Integrate line [2], Angelina didn't have to do much more than gaze seductively into the camera.
Anne Hathaway
In this Japanese commercial for Lux [3], Anne discovers that she can have it all. Unfortunately, what awaits in another commercial is not as lovely.
Anne Hathaway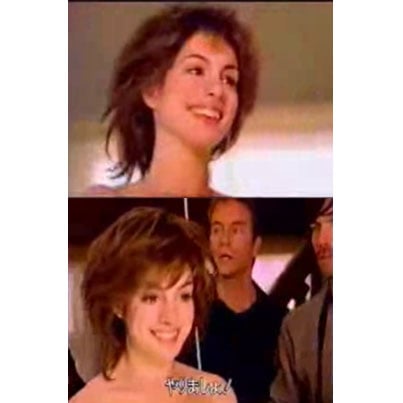 In another ad for Lux [4], Anne displays a forced, "No, I really love this hairstyle," smile.
Brooke Shields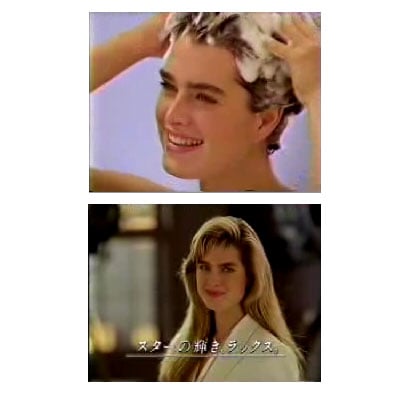 Back in the '80s, Brooke lathered it up for a Lux shampoo spot.
Jennifer Lopez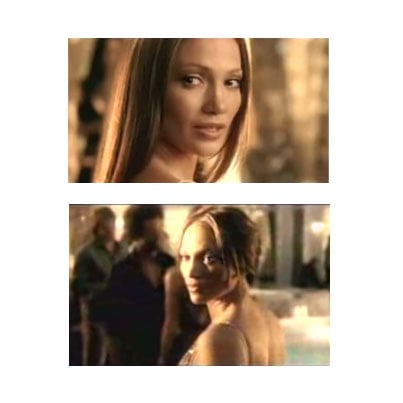 In Jennifer's Japanese ad for Lux [5], she's the life of the party.
Jennifer Connelly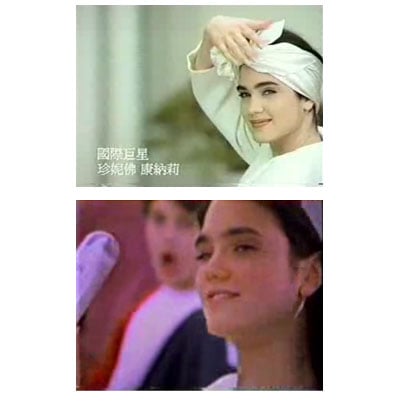 A young Jennifer Connelly struts her stuff [6] in this hair care commercial.
Jodie Foster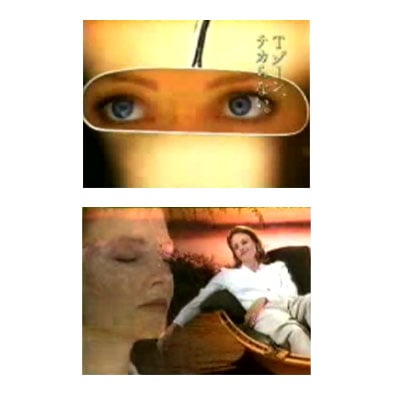 Jodie's diverse when it comes to selling Keri. After looking at her eyes in a rear-view mirror [7], she likes to unwind in a papasan [8].
Alyssa Milano
In this Korean ad for DeBon cosmetics [9], our hero passes through a security scanner, then breaks into an office to — you guessed it — hack into a computer. When the phreaking is complete, she removes the wig and changes her lipstick, bypassing the fuzz undetected.
Kate Beckinsale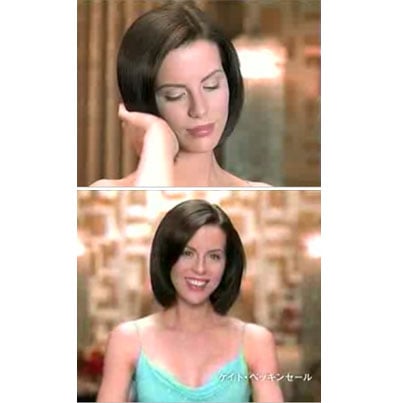 Kate's looking great (and shedding some clothes [10]) in a series of Lux shampoo spots.
Penelope Cruz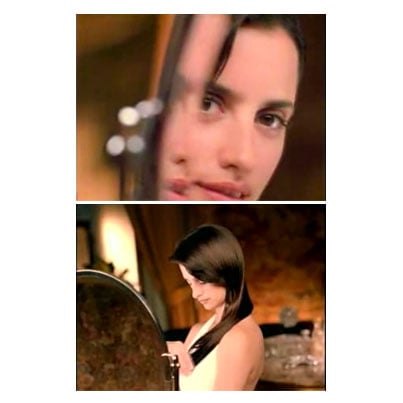 Poor Penelope! After meekly peeking at a mirror, she's horrified to discover split ends. Fortunately, Lux is there [11] to save the day.
Catherine Zeta-Jones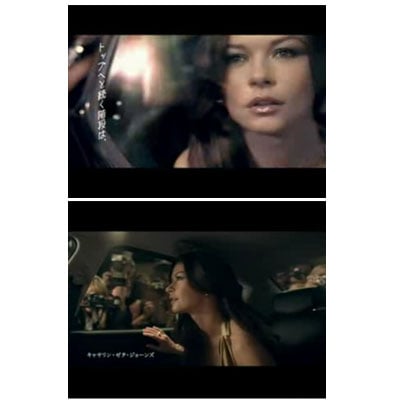 Catherine stars in a Japanese commercial for Lux [12]. Are you sensing a pattern?
Keira Knightley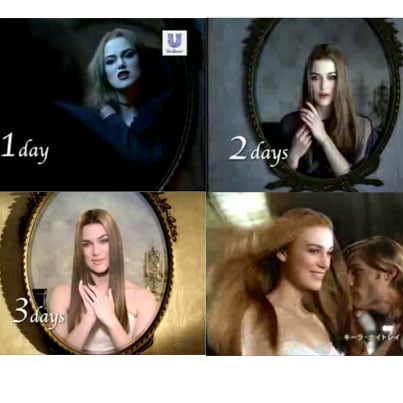 Fairy tales do come true: Lux helps transform Keira [13] from a blue-faced witch to the fairest of them all in this Japanese ad.
Sharon Stone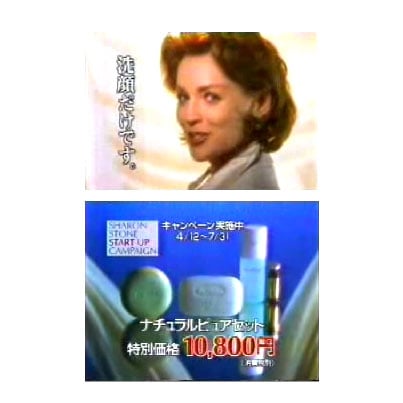 Sharon promoted a skin care collection in Japan; the Sharon Stone Start-Up Campaign gave you all of this for about $100.
Natalie Portman
Engarde! Natalie Portman is so not messing around. In this series of commercials [14], the beautiful swashbuckler practices her swordsmanship. But if they're meant to be believed, it's her shiny hair that gets her the acting roles.
Victoria Beckham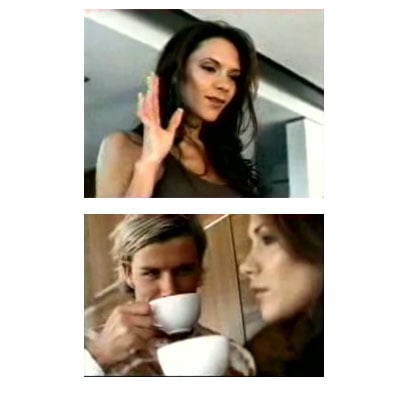 Posh and Becks let the cameras into their lives to promote TBC [15], a beauty line in Japan.
Rachael Leigh Cook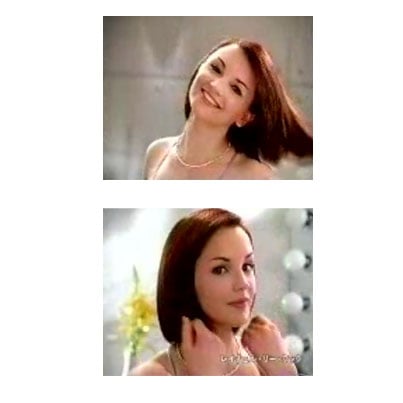 As she was becoming famous, Rachael Leigh Cook smiled for — you guessed it — Lux hair care [16].
Rick Astley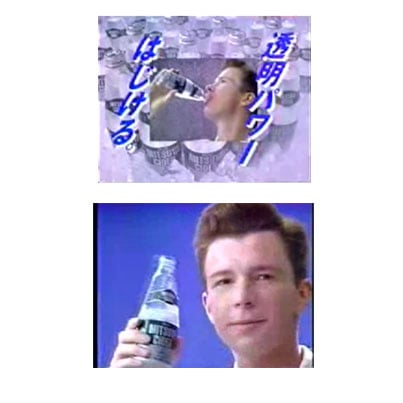 Huh? What's Rick Astley doing here? Is Mitsuwa Cider a beauty drink [17] or something?
Shannen Doherty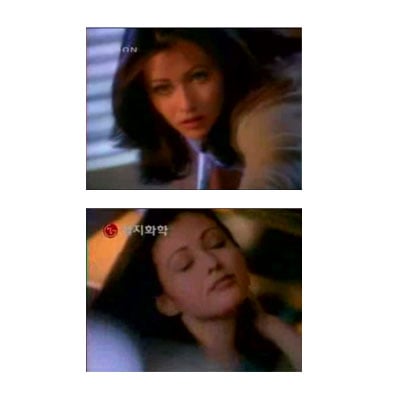 Team Brenda! In 1995, Shannen Doherty shot pool like she meant it [18], all to promote lipstick in Korea.