All of us get scissor-happy at one time or other. You see a great haircut on someone else and think, "I could totally pull that off!" Then, you're in the hairdresser's chair before you can say, "wrong face shape." But not every dramatic cut goes terribly wrong. Some of us are born to wear our hair short, and plenty of celebrities have seen their careers skyrocket after chopping off their long locks.
Long hair will always be beautiful, but there are loads of great short 'dos that prove there is more to life than Rapunzel lengths (at least for some of us). For a bit of haircut inspiration, take a look at our gallery of celebrities who've gone for the chop. We've decided which ones we think look best with long hair, those who rock a short cut, plus the lucky souls who can pull off any length they like. Keep clicking to see if you agree with our verdicts.
Jennifer Lawrence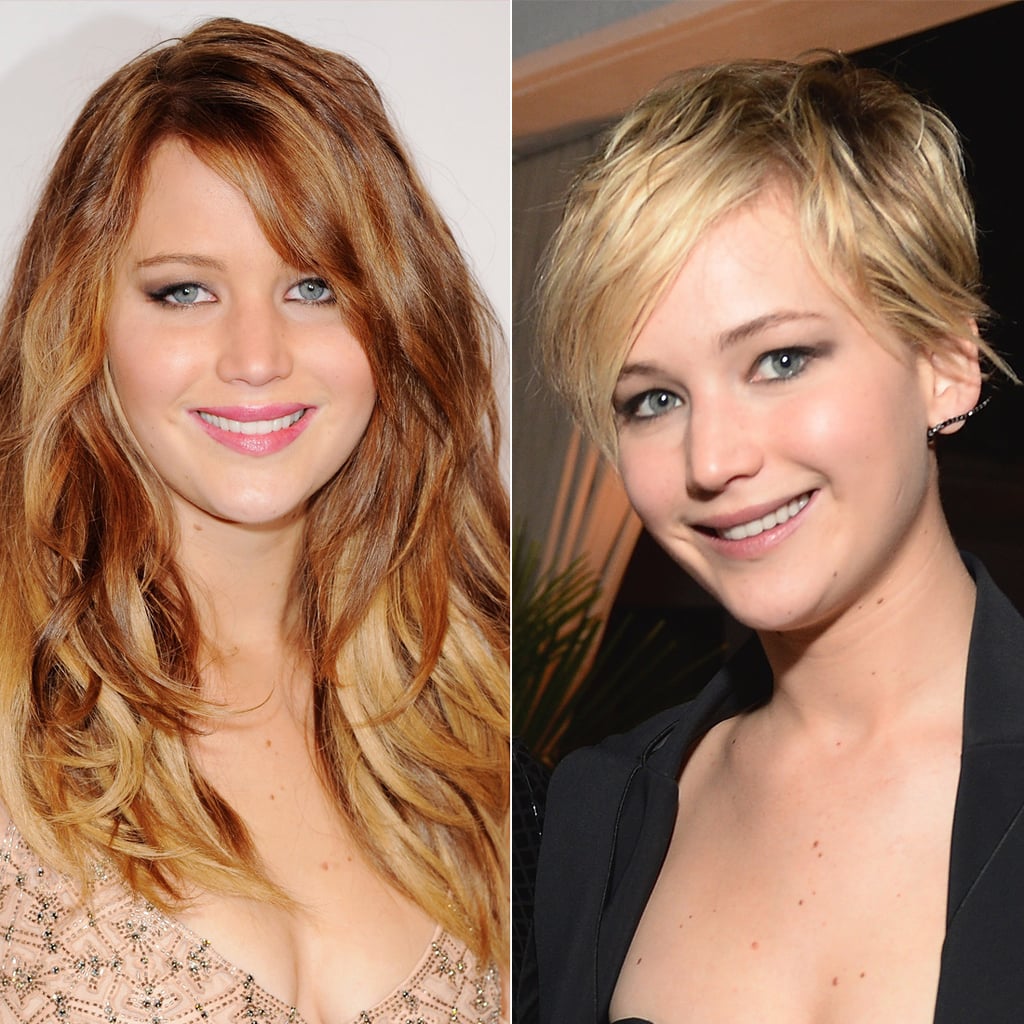 Early in her career, Jennifer was known for her long, blonde hair. She experimented with color, and eventually a shorter clavicut, which allowed her to have more fun without the length weighing her hair down. Then she surprised us all with a choppy, sideswept pixie cut. Unsurprisingly, Jen's been able to pull off every length she's tried so far, though we do have a soft spot for the long Katniss locks.
Verdict: Both
Shailene Woodley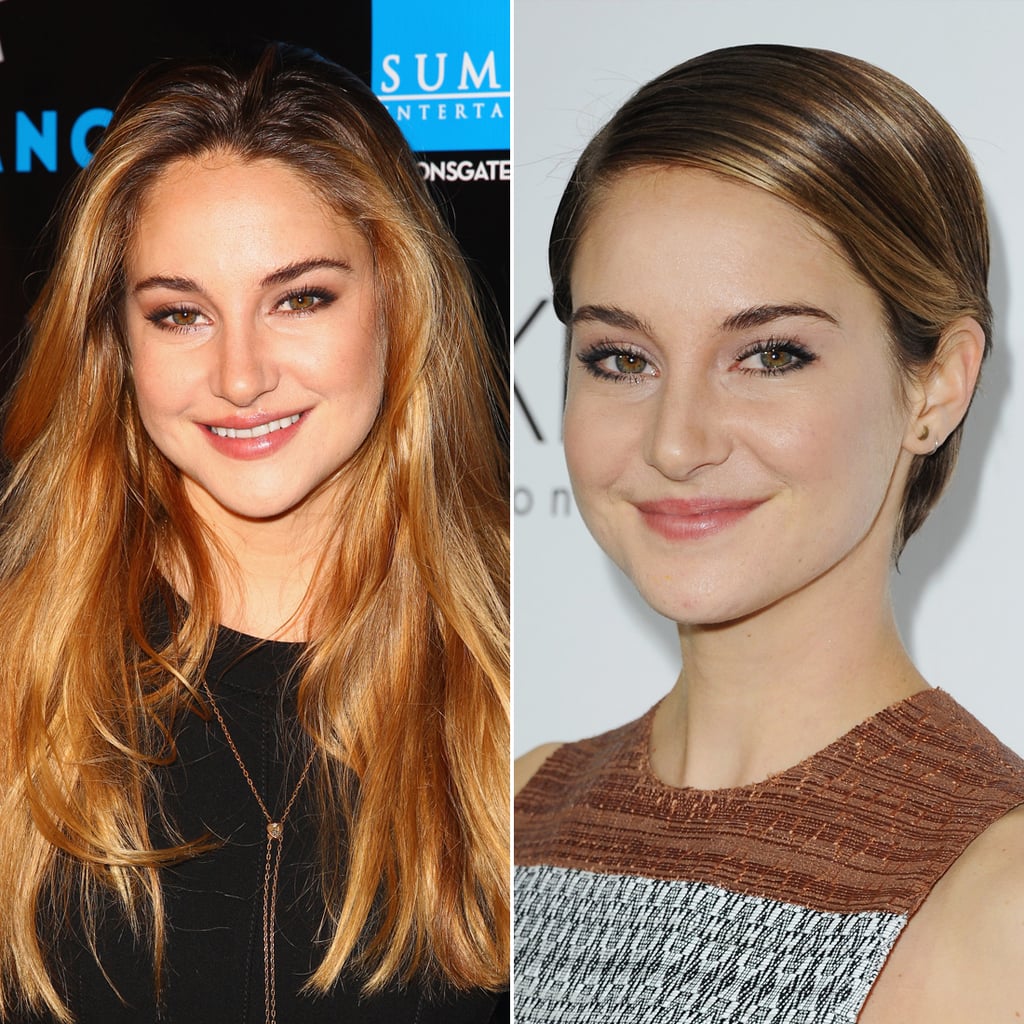 Debuting a new slicked-back short cut at Elle's 20th annual Women in Hollywood Event, Shailene surprised us all. Her long, thick hair was beautiful, but unsurprisingly, this rising star can pull off a short cut, too.
Verdict: Both
Vanessa Hudgens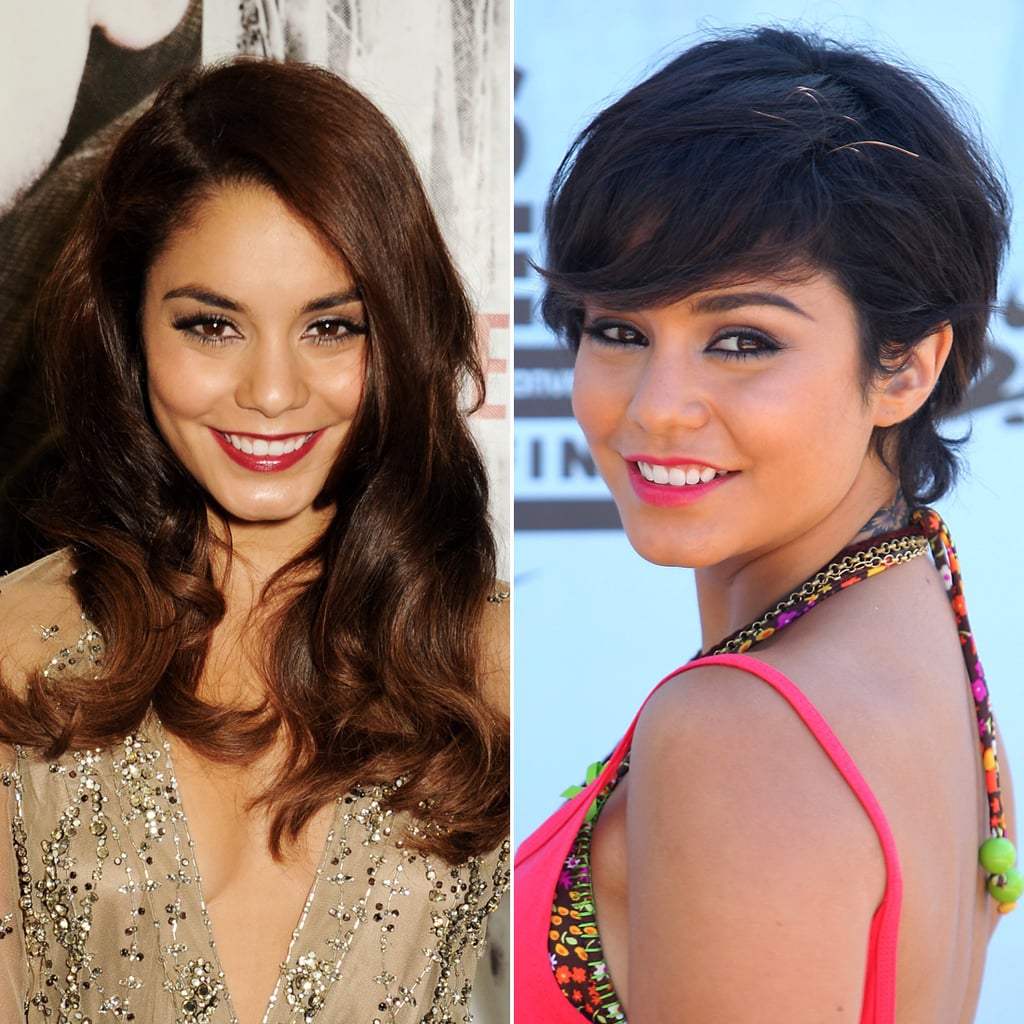 When Vanessa cut her long hair into a boyish short cut for a film role, even she wasn't convinced by the results. That thick hair proved difficult to style, and her crop didn't last very long at all. Almost as soon as filming finished, out came the extensions. Vanessa now sports a shiny, wavy, dip-dyed style that suits her perfectly.
Verdict: Long
Zooey Deschanel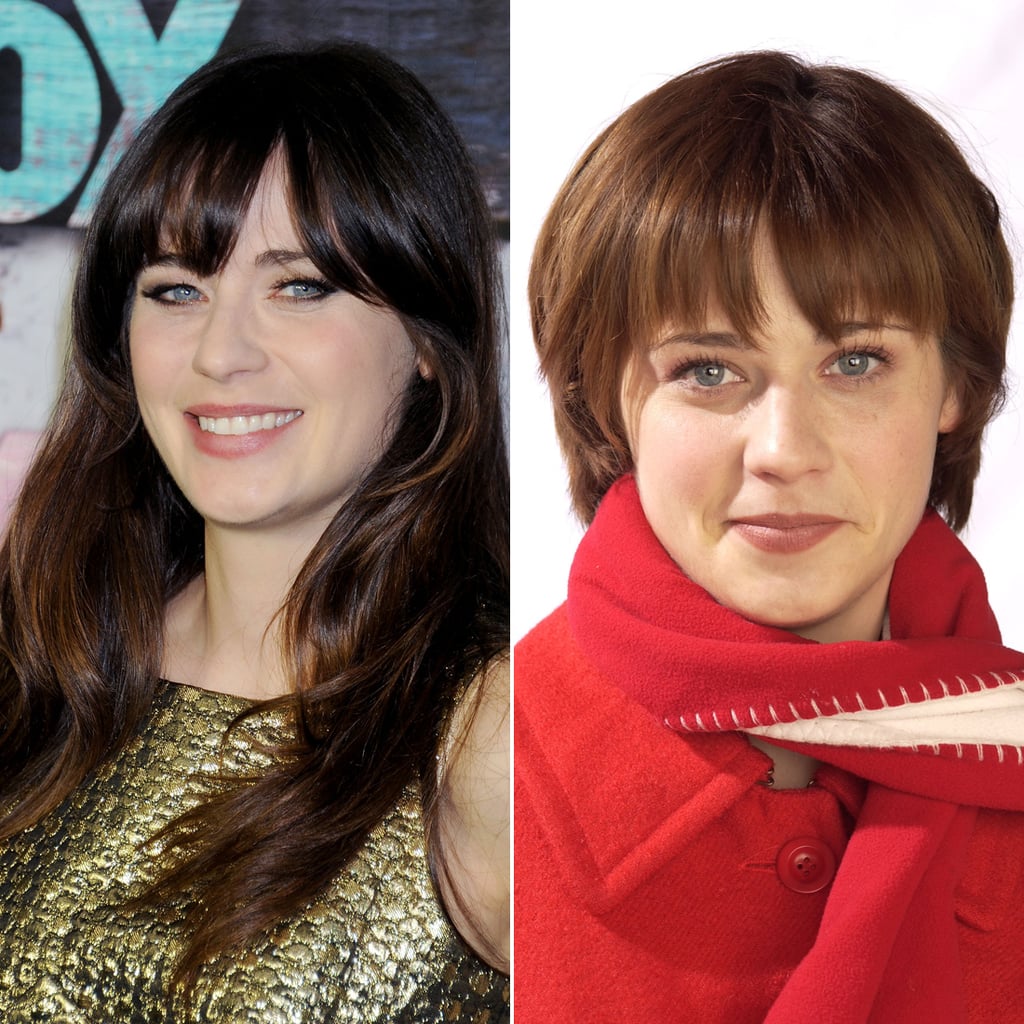 A young Zooey experimented with blonde hair (see Elf for details) and various short cuts before she settled on the long, dark locks with heavy fringe that she's now made her own. Some worked better than others — she's barely recognisable with her boyish bowl cut!
Verdict: Long
Kelly Rowland
There's not a long, dark weave that Kelly hasn't tried and loved, and she can definitely pull off mermaid lengths . . . but a part of us will always miss those Destiny's Child flicked-out red streaks!
Verdict: Both (just!)
Kirsten Dunst
Kirsten's definitely got the features to pull off a short cut, but her fine hair often fell flat when she wore it in a pixie. A good blow-dry (and probably some carefully concealed extensions for volume) mean her longer looks often end up looking better.
Verdict: Long
Emma Watson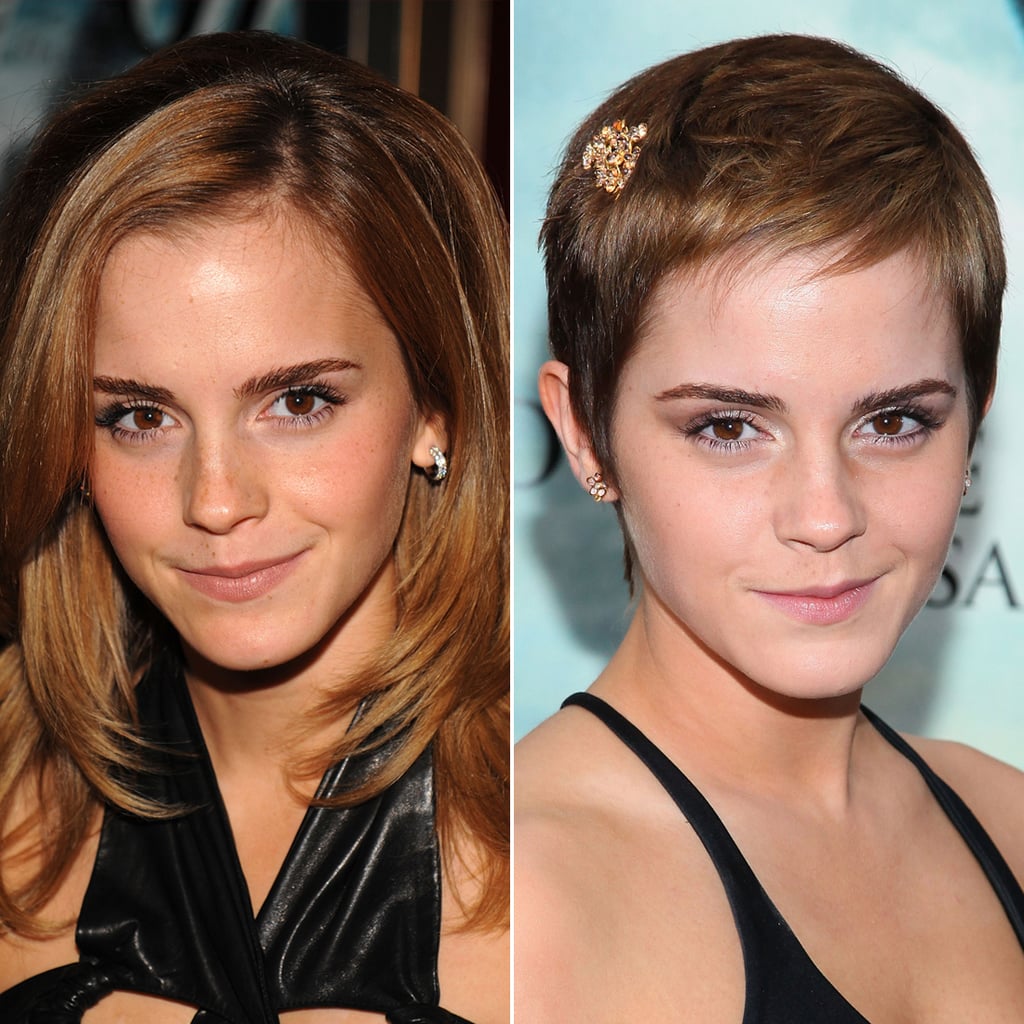 Emma's long hair was vital when playing Hermione Granger, but once the Harry Potter films wrapped, she chopped that role right out of her hair with a dramatic pixie cut. She may have slowly grown it back, but we loved her cute crop. She almost always wears her long hair slicked back and tied up anyway!
Verdict: Short
Charlize Theron
Haircut chameleon Charlize has gone from long to short many times in her career, both for film roles and because she knows the short cut works brilliantly with her striking features. Not many women can pull off both looks so perfectly.
Verdict: Both
Jessica Alba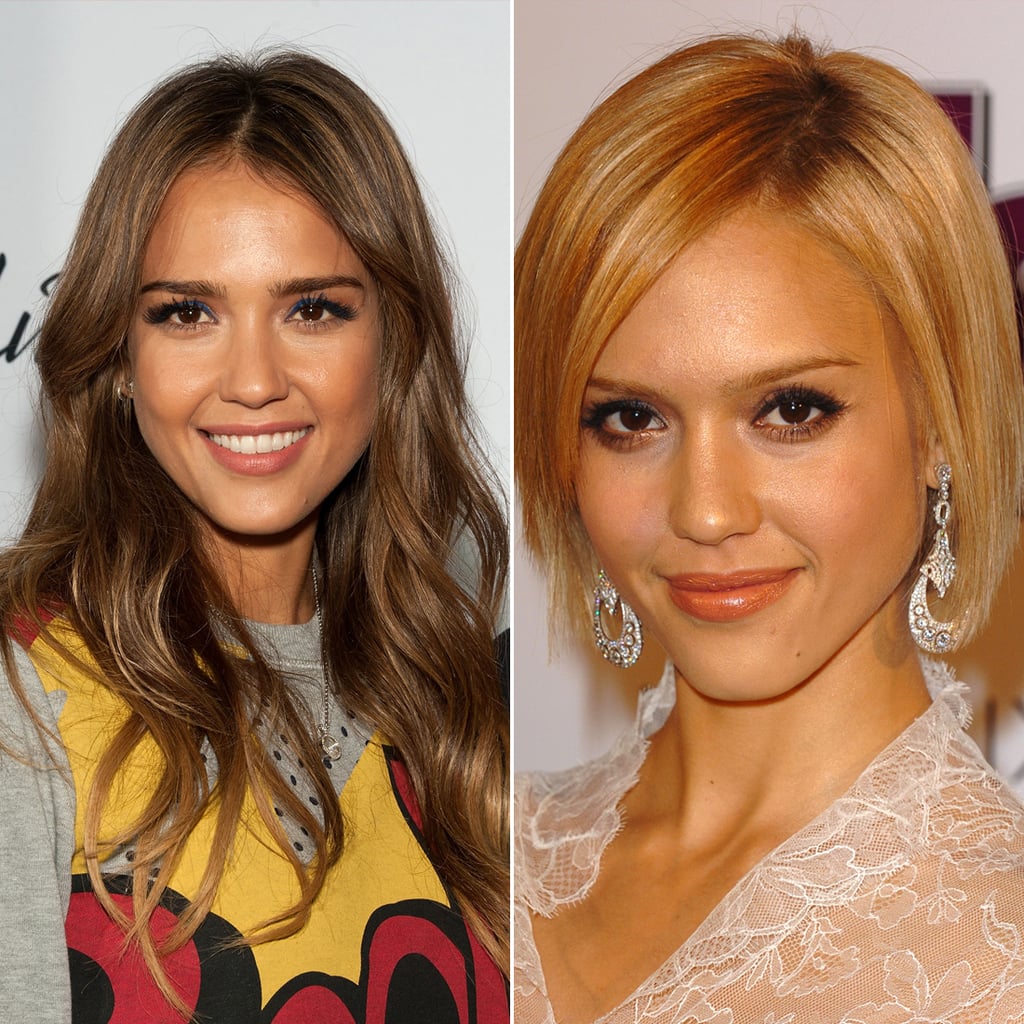 Jessica may be best known for her long, shiny locks, but she's tried all kinds of looks in the past, including a short blond bob. Luckily, she knows now that nut-colored, long hair suits her best.
Verdict: Long
Natalie Portman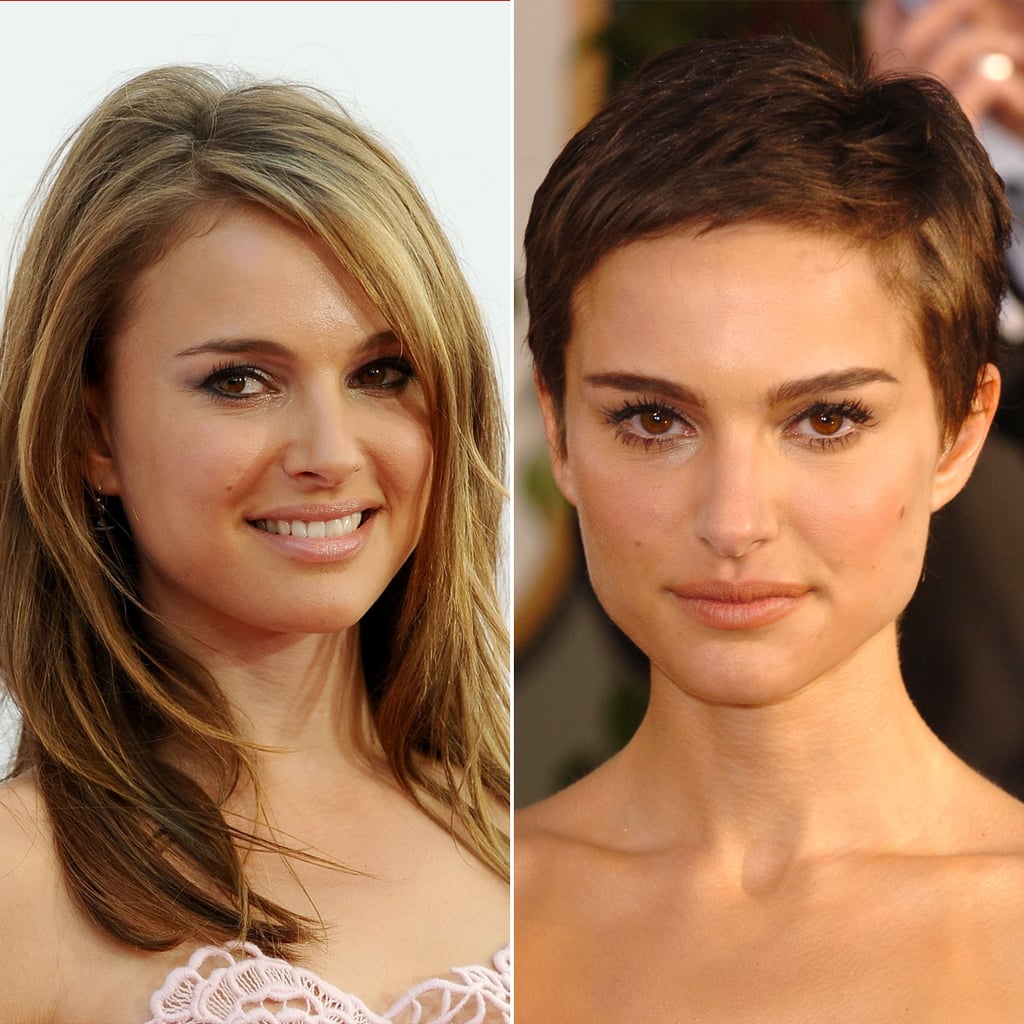 Natalie Portman [1] shaved her hair off for her role in V For Vendetta and proved that with her bone structure and incredible eyes, she can pull off anything. Long hair looks pretty on her, but we can't help but miss that dramatic short 'do.
Verdict: Short
Reese Witherspoon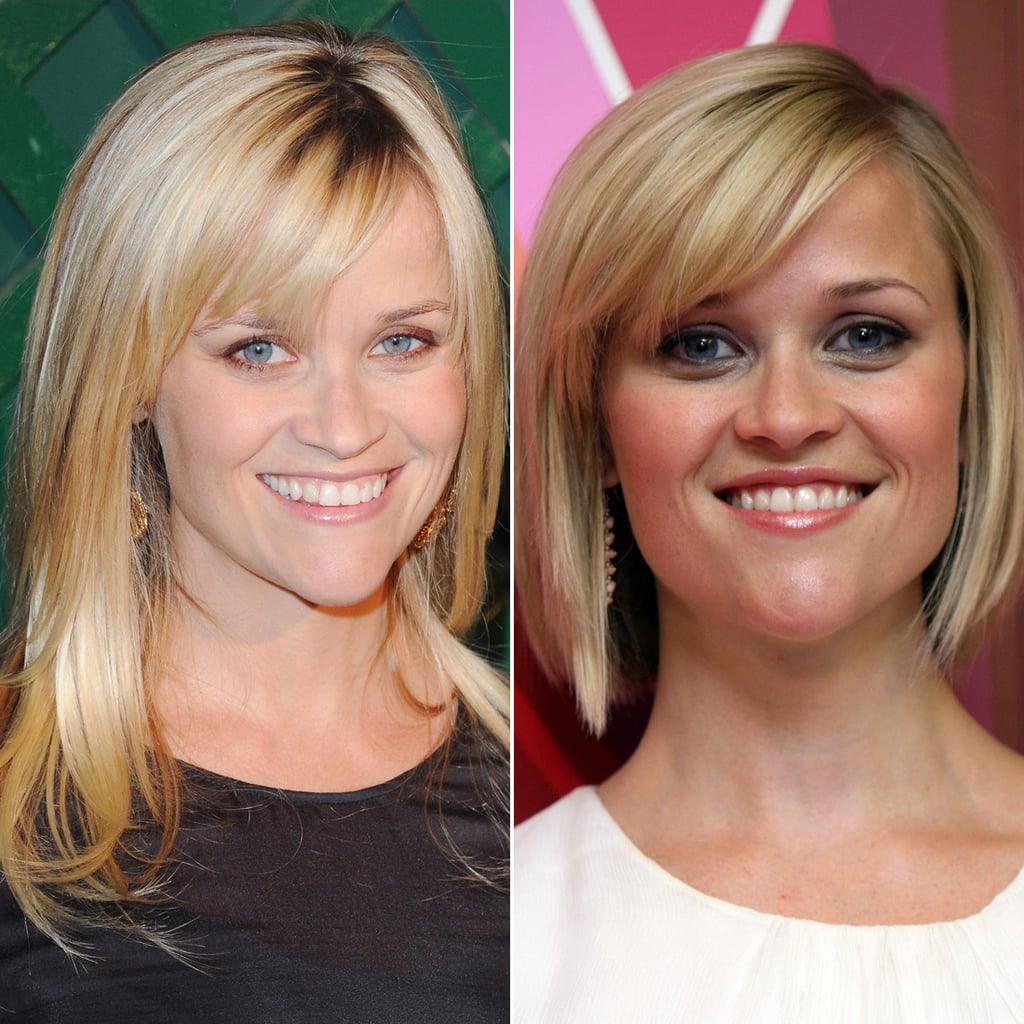 Long or short, the one thing that Reese keeps is that sweeping side fringe. Her short and spiky bob meant business, but for us, the girl who became a superstar for playing Elle Woods will always be best as a long-haired blond bombshell.
Verdict: Long
Rihanna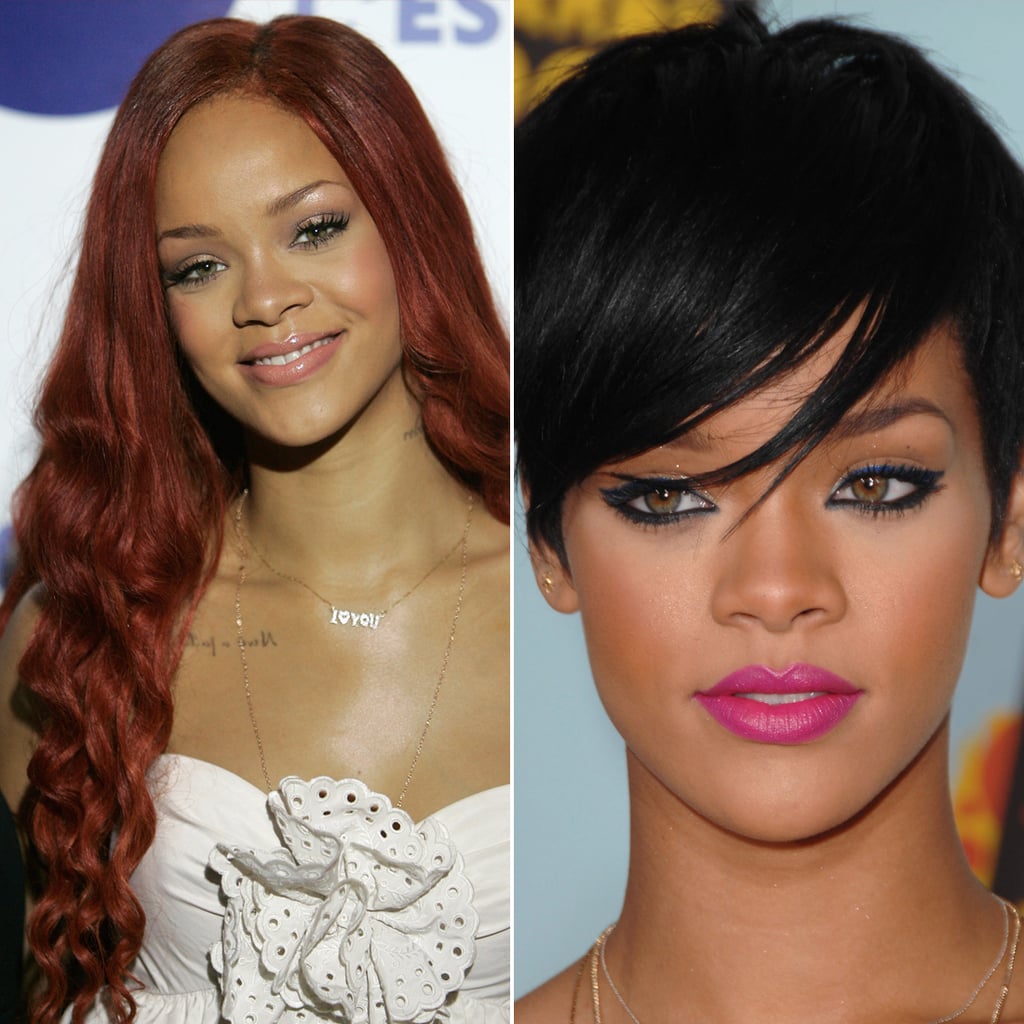 Rihanna [2]'s tried every weave going, from Little Mermaid long locks to jet-black short styles. She can pull off just about everything, but for us, less is more. A sweeping black cut and bold makeup looks incredible on her.
Verdict: Short
Drew Barrymore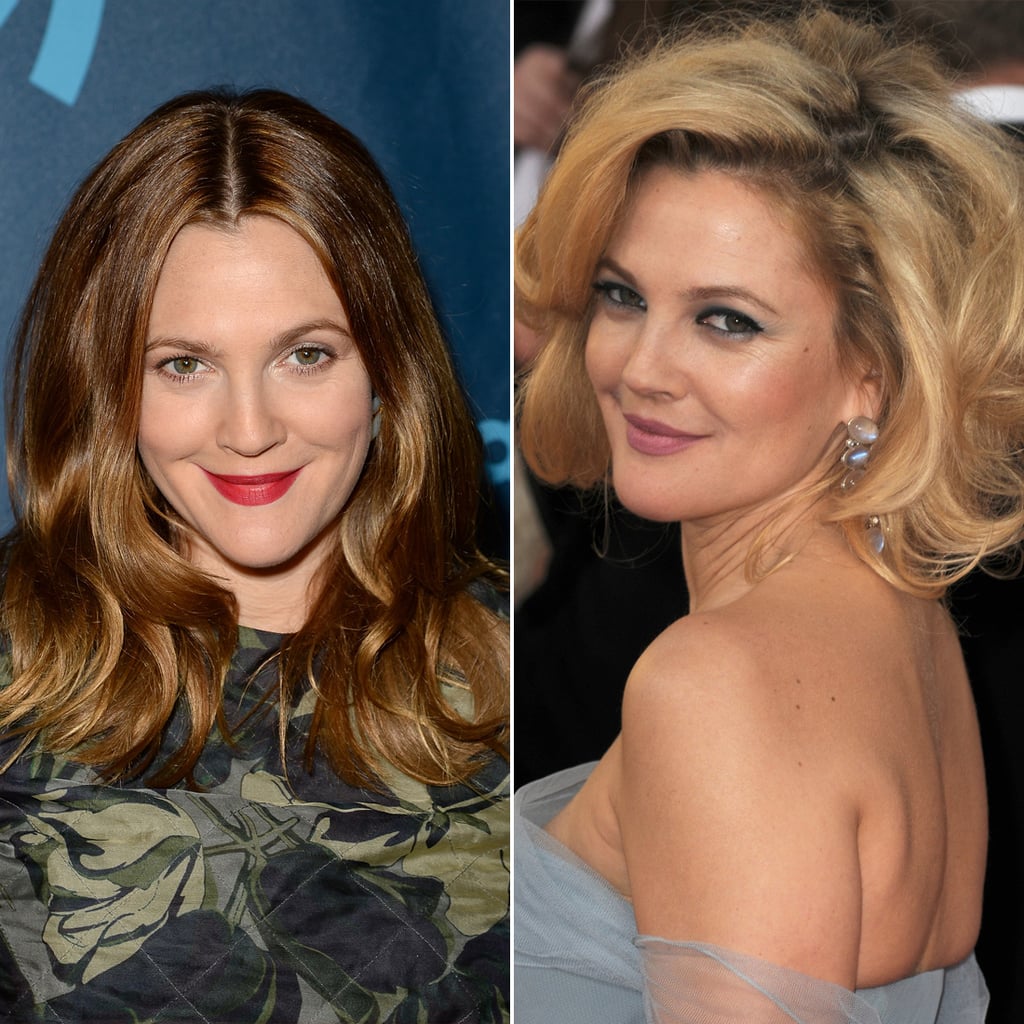 The ultimate hair chameleon, Drew is never loyal to any one style. She's been superblonde, brunette, ombré . . . once she even dip-dyed the ends of her bob black. Long or short, she manages to pull off just about every look due to her thick, wavy hair that will take any style.
Verdict: Both
Jennifer Aniston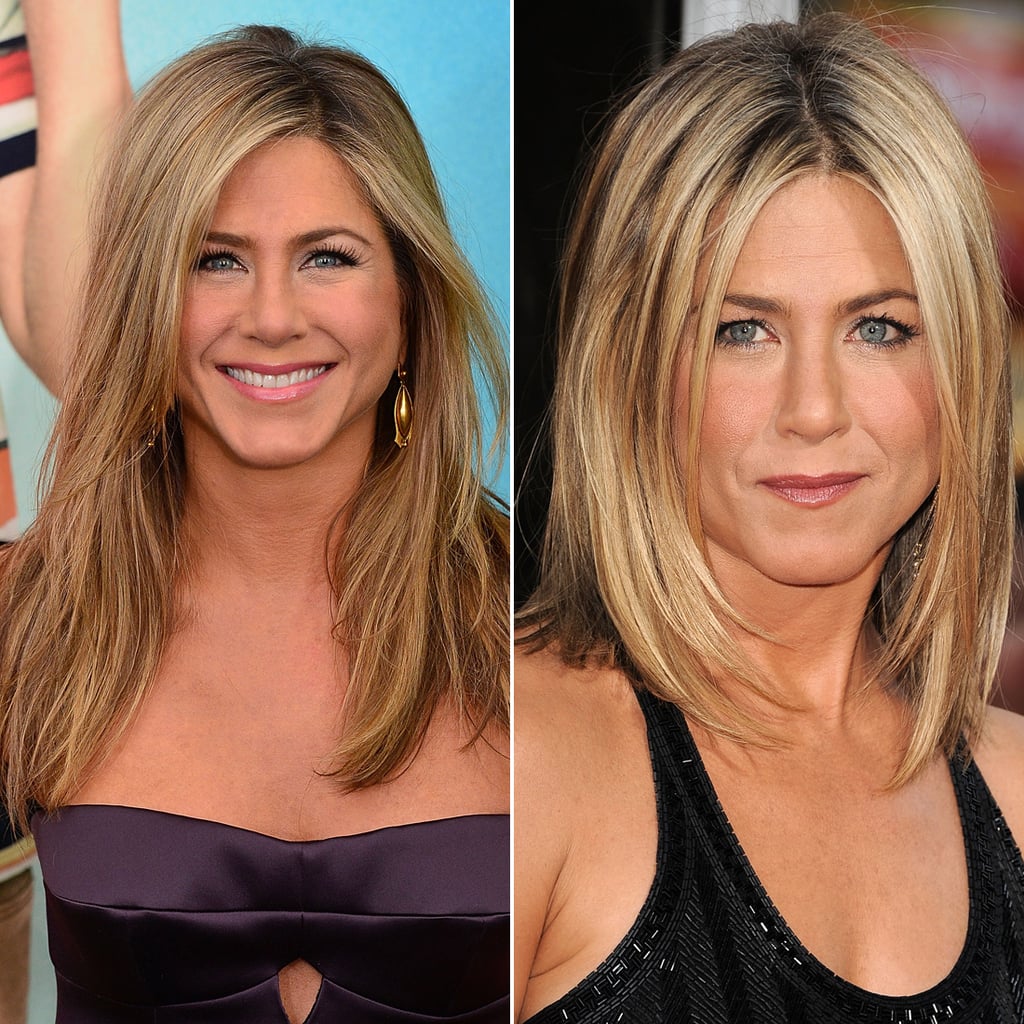 Jennifer is her haircut, and it doesn't matter how she wears it, people will covet it! We sway slightly towards her longer locks, but that long bob is a much-copied cut across the globe, too. And she recently returned to shorter lengths when she went for a choppy bob [3]. Let's face it, whatever she does, we'll learn to love it.
Verdict: Both
Evan Rachel Wood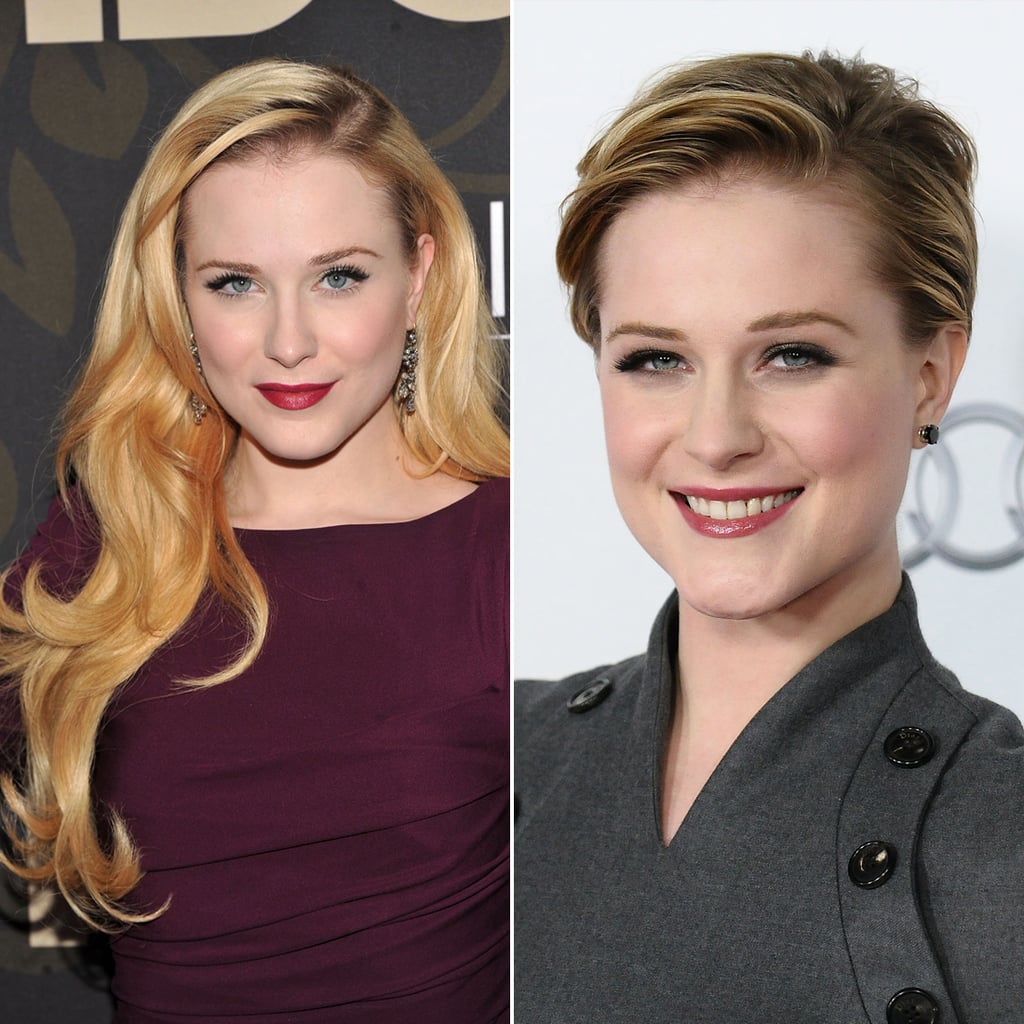 Perhaps one of the most dramatic chops, Evan Rachel Wood went from superlong golden locks (we suspect there are a few extensions in there) to a short, sideswept crop. It's hard to pick a favorite from these — she manages to pull off both extremes!
Verdict: Both
Miley Cyrus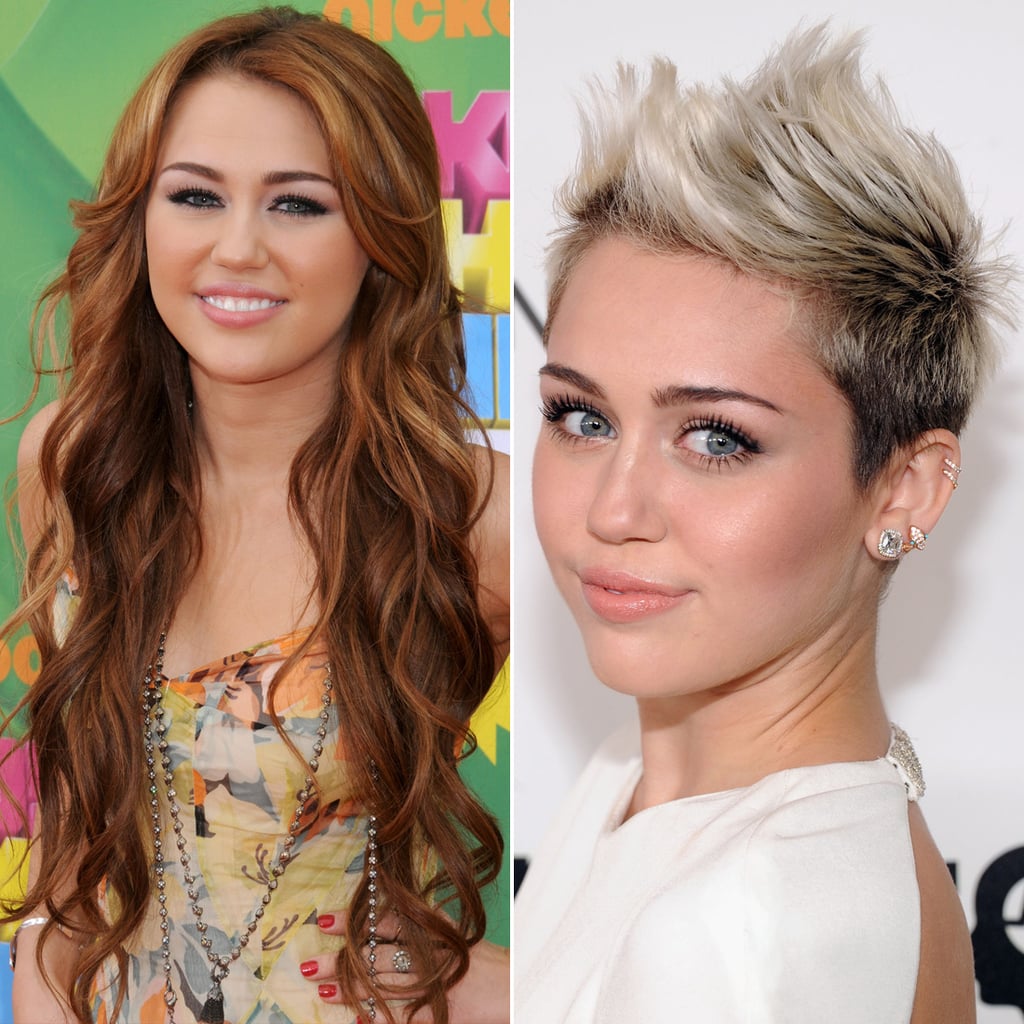 Her recent onstage antics aside, there's no denying Miley's dramatic cut worked wonders for her. Ditching those teen star extensions for an edgy platinum crop was a risky move that paid off. It may have taken a bit of getting used to, but we can't imagine Miley without her short cut now.
Verdict: Short
Anne Hathaway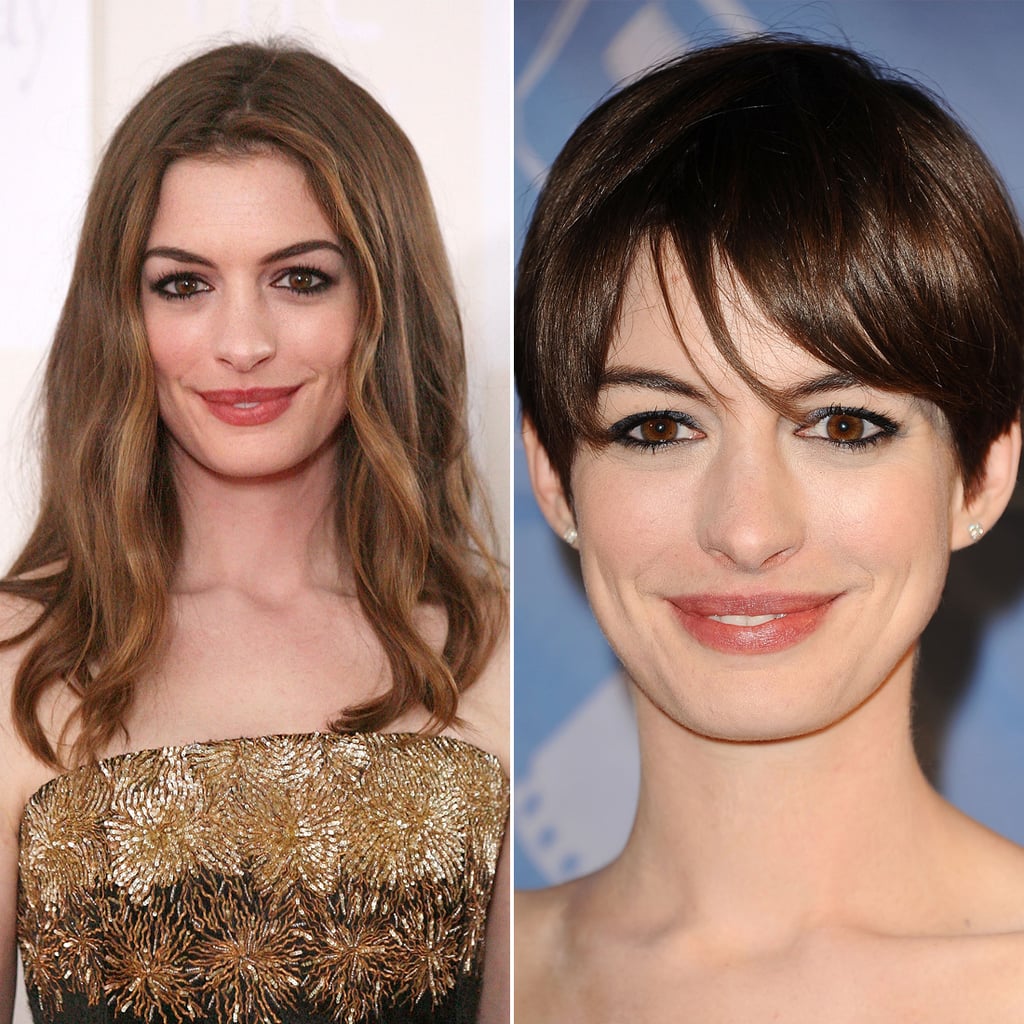 Is it any surprise that Anne Hathaway [4] can pull off long and short hair? When she shaved it short on screen for Les Misérables, she committed to years of growing out, but she's working that short cut like a pro.
Verdict: Both
Halle Berry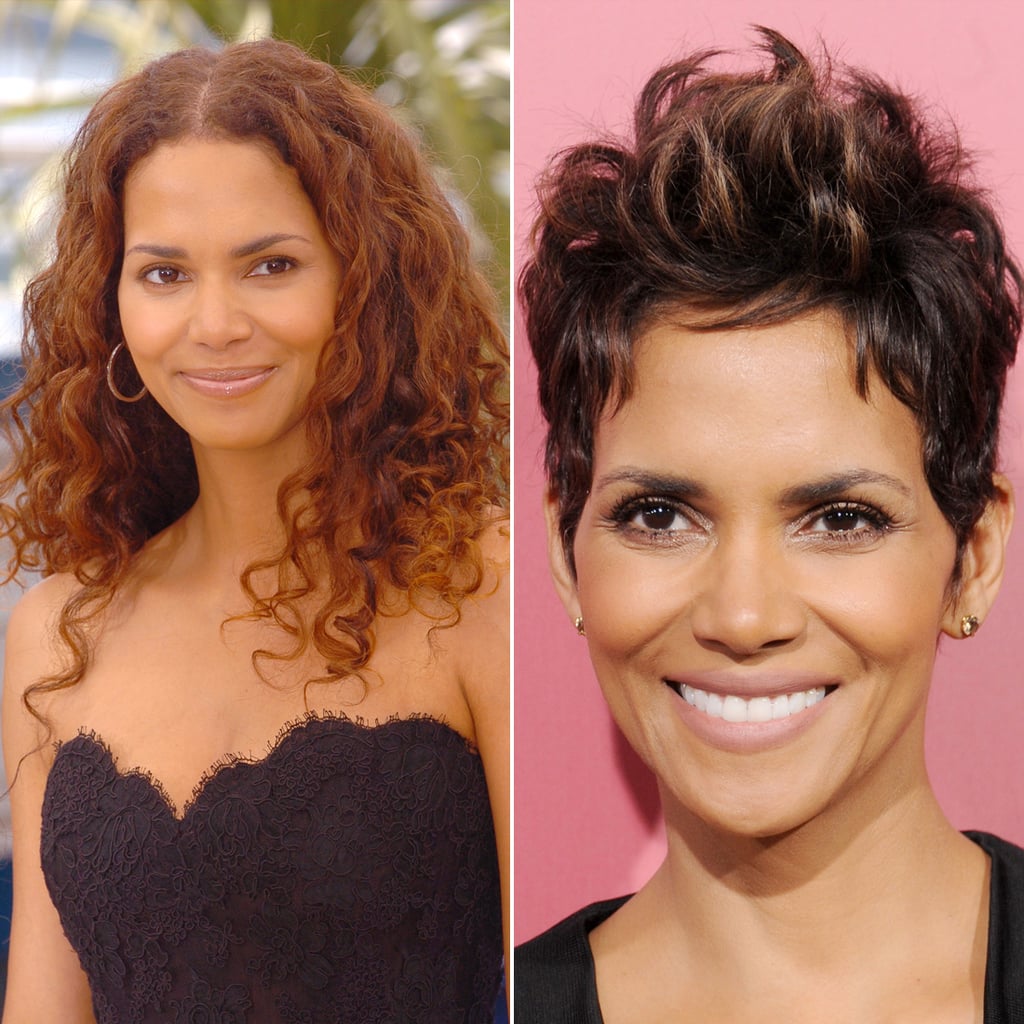 Halle's best known for her short, spiky cut and perfectly placed highlights, but she's worn her hair superlong in the past, too. Those thick, luscious curls are beautiful, but the short cut works so well she doesn't need all the volume and drama.
Verdict: Short
Ginnifer Goodwin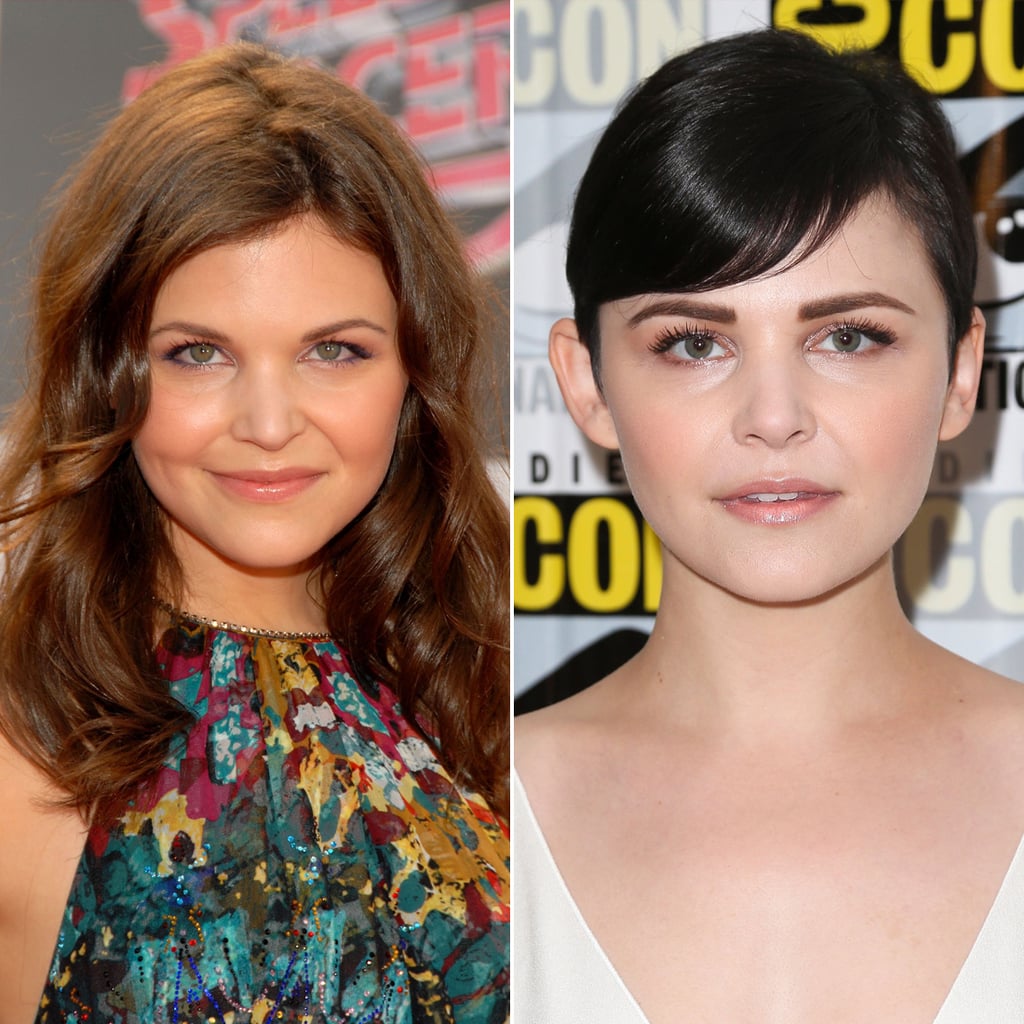 From warm and wavy to short and striking, Ginnifer's slowly gone shorter over the years, ending up with a dramatic pixie cut. The darker color is for her role as Snow White in Once Upon a Time and looks really great against the pale skin and strong brows, but we loved her softer, longer hair, too.
Verdict: Both
Julianne Hough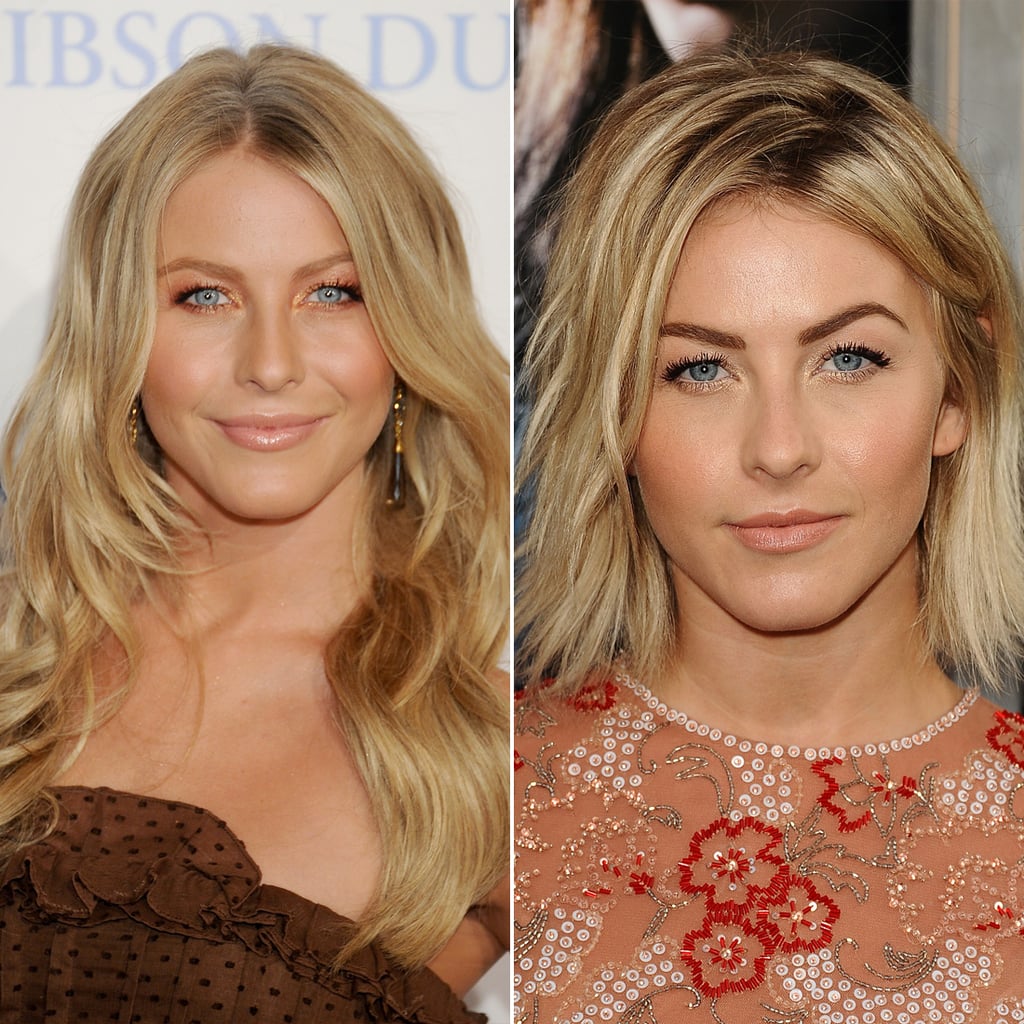 With a head full of long, wavy extensions, Julianne was just another face in a sea of pretty blondes. When she cut her hair for Safe Haven, a new, edgier Julianne was born, and suddenly we all took notice. We love her shorter cut, and we're glad she shows no signs of growing it out any time soon!
Verdict: Short
Cameron Diaz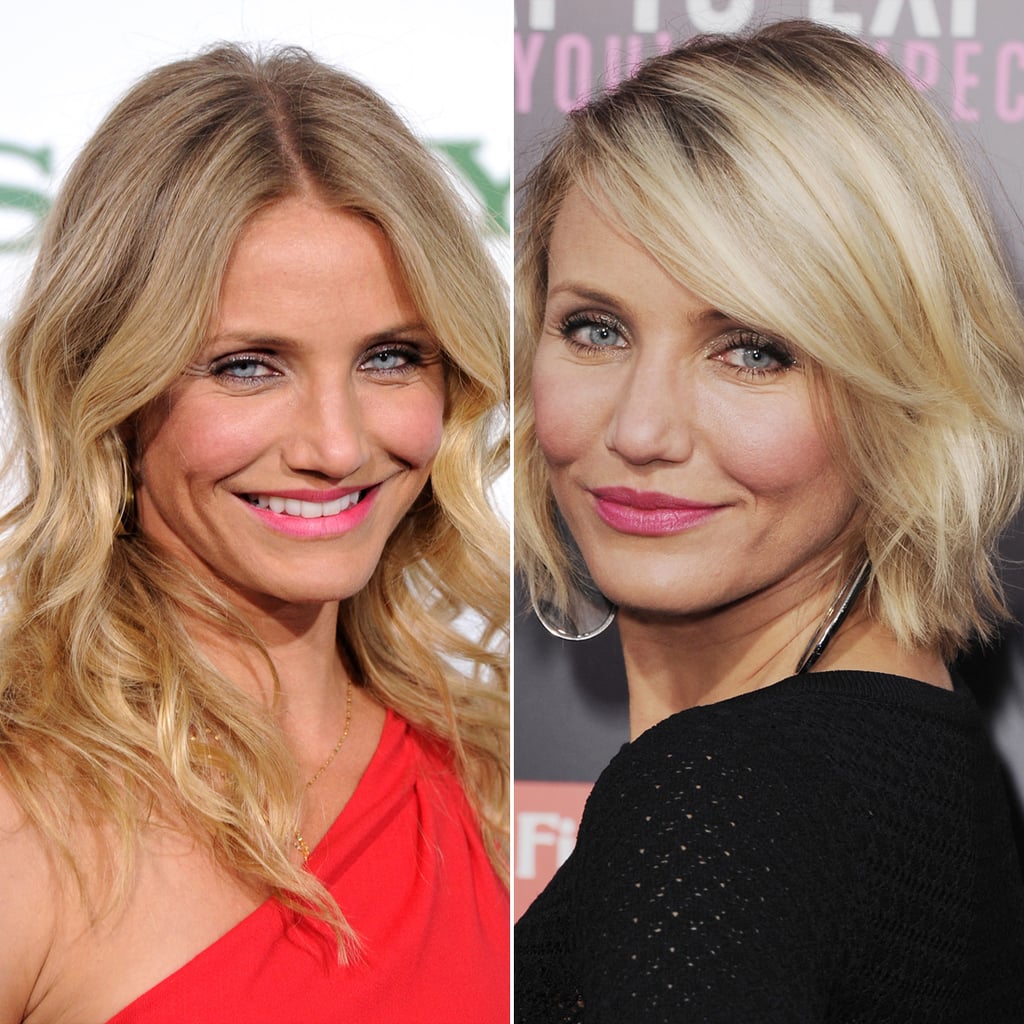 A short cut in the '90s was Cameron's trademark, but over recent years she's favored longer, wavier looks. When she cut it back into a choppy bob on a whim (and apparently by accident) we weren't convinced, but the look has grown on us since. The truth? With those baby blue eyes set off by perfect beach blonde highlights, the length really doesn't matter!
Verdict: Both
Mandy Moore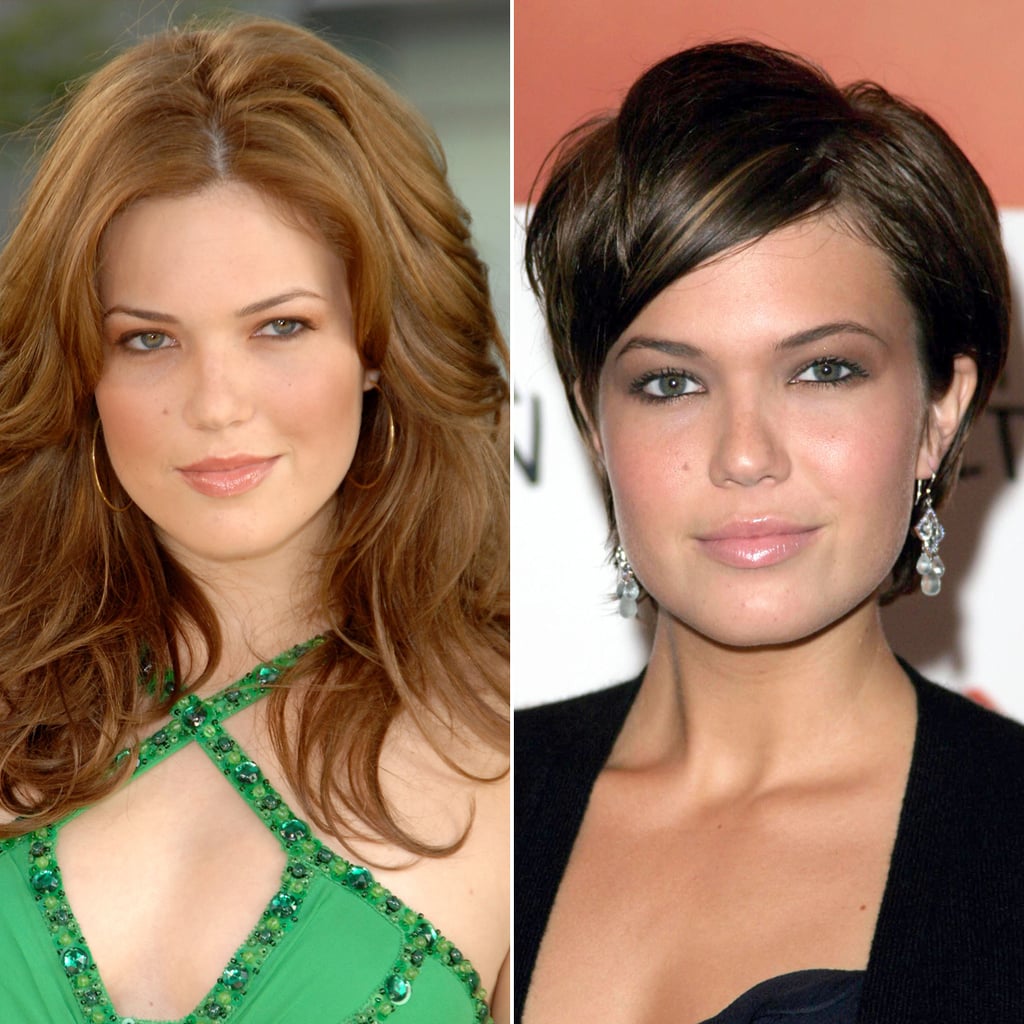 Mandy's been wearing her hair smoother and flatter recently, but we loved her when she was a big fan of clever layers, loads of volume, and impossible-to-detect hair extensions. With clever styling, she can wear her hair long, short or in-between, and it works. Jealous? Us?
Verdict: Both
Carey Mulligan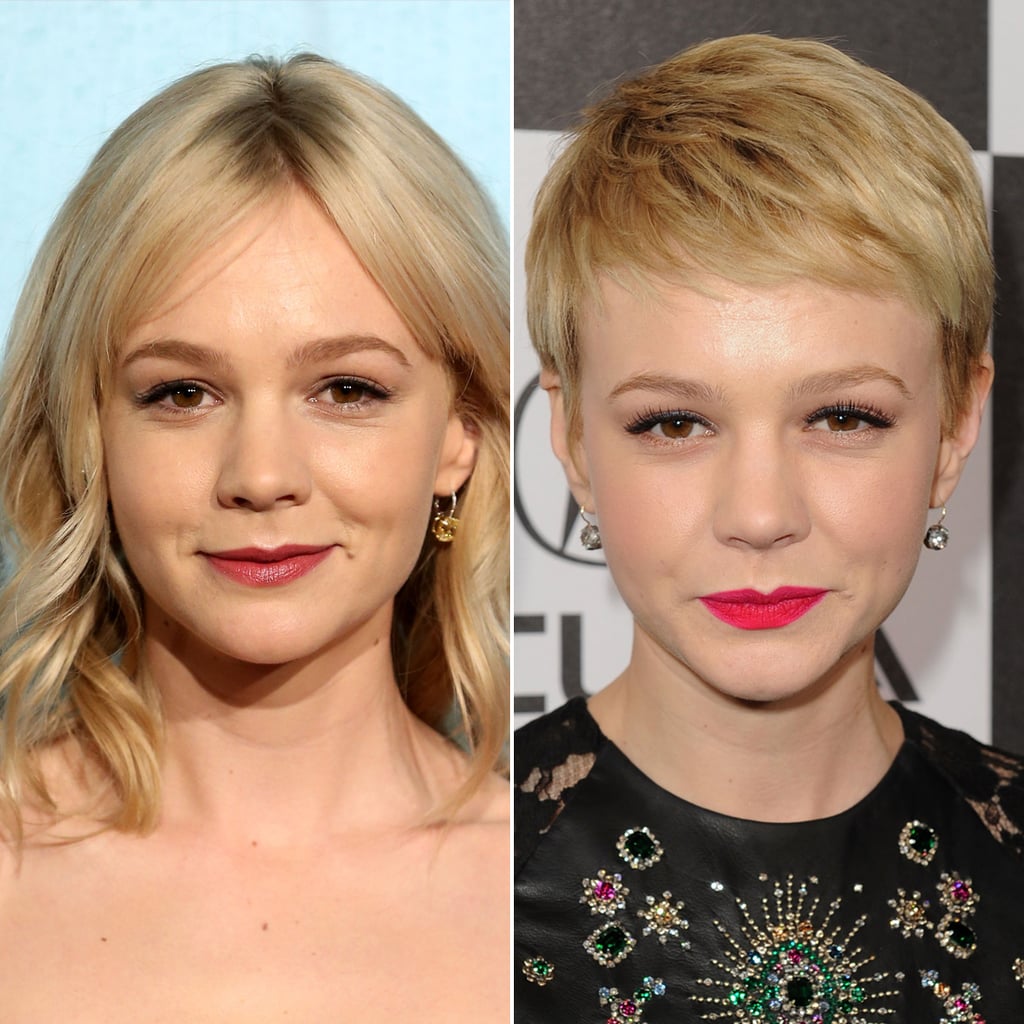 Carey and short hair go hand in hand, but she's recently been sporting a longer, grown-out cut that hits her shoulders. Carey has fine hair, and the shorter cut gives the illusion of thickness, which is why, for us, a cropped Carey is always number one!
Verdict: Short
Victoria Beckam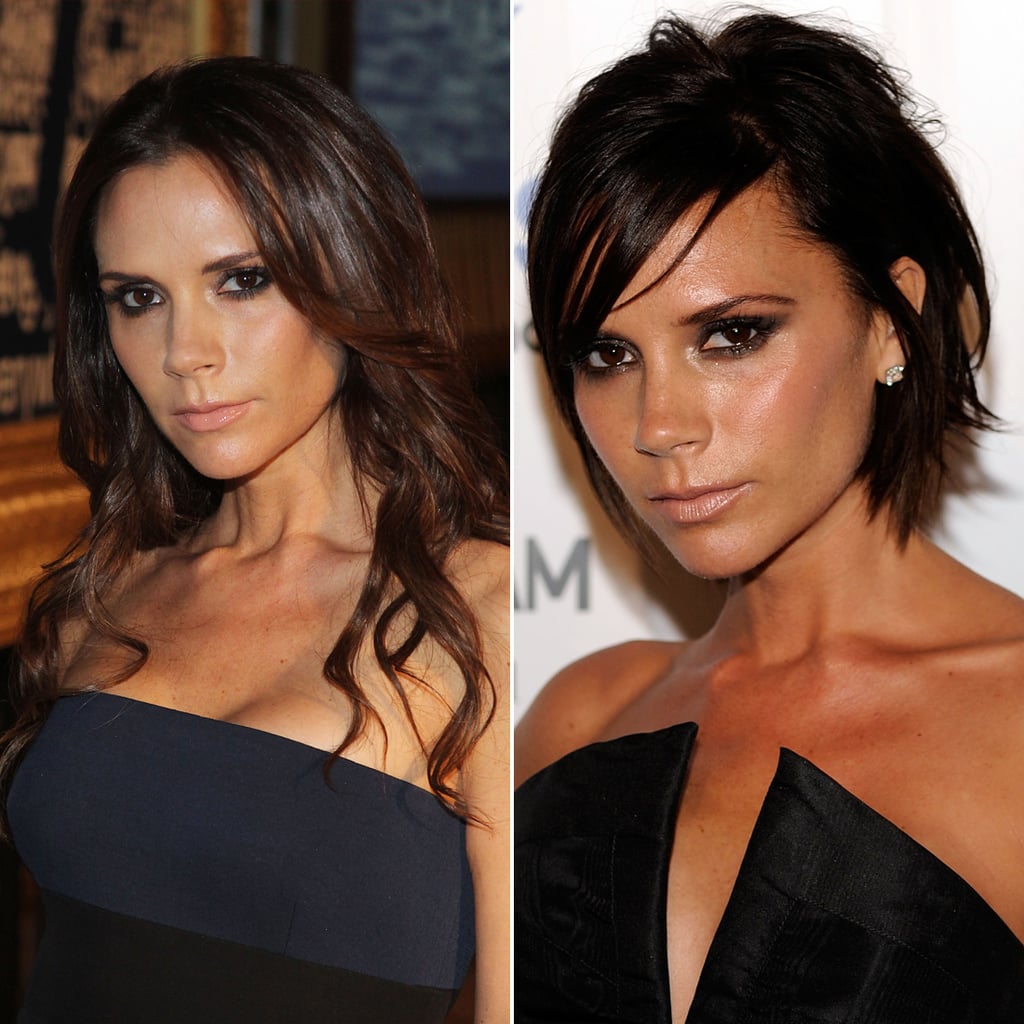 Victoria wears her hair longer now, but it took us ages to find a picture where she doesn't have it tied back! What's the point in all those extensions if they're hidden in a bun or ponytail? Mrs. Beckham can pull off any length, but as far as we're concerned, the lady who bought us the Pob was born for shoulder-skimming hair.
Verdict: Short
Sandra Bullock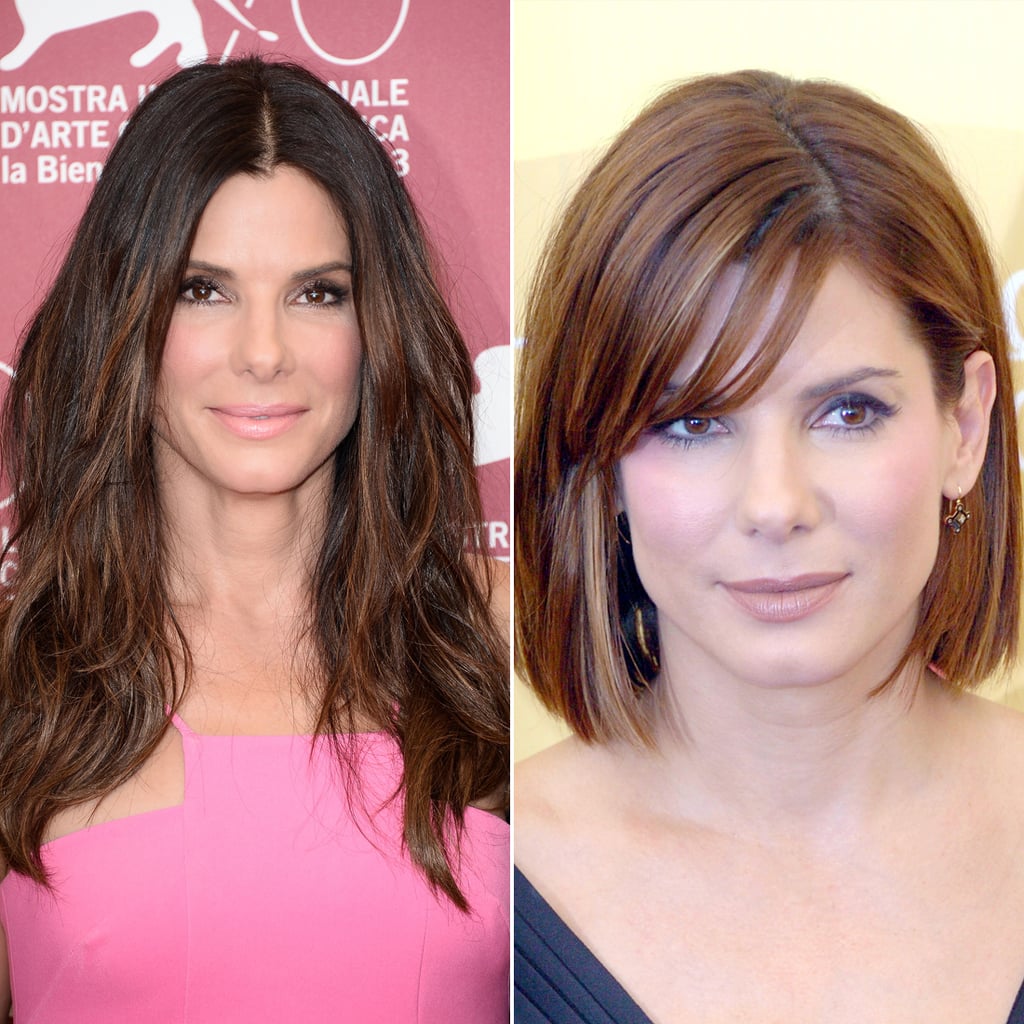 Sandra has switched from long to short and back again a few times over her career. Those long, shiny, beautiful lengths are faultless, but we also like her simple, sharp bob from back in 2006 (circa The Lake House). It seems for Sandy that any hair is good hair!
Verdict: Both
Sienna Miller
The queen of boho shocked everyone when she chose to cut her hair short rather than wear a wig for her role as Edie Sedgwick in Factory Girl. The risky cut was a bold move, but for us Sienna is best with slightly messy long hair and an ever-changing fringe.
Verdict: Long
Hayden Panettiere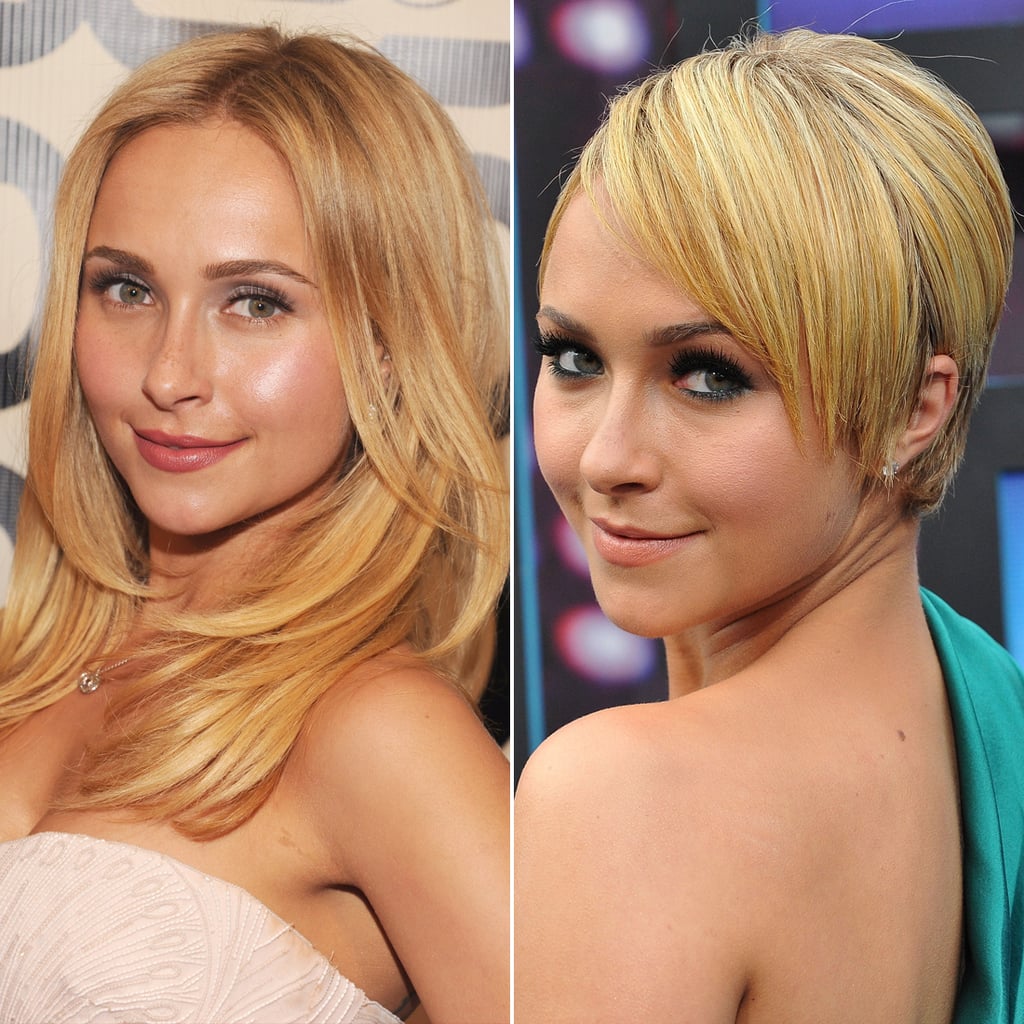 It's easy to forget that long-haired Hayden had a quick flirtation with a sleek, short style with a sideswept fringe back in 2010. It looked cute, but it didn't feel like her! Now when she wants a change, she opts for a fringe instead . . . the commitment level is much lower!
Verdict: Long
Keira Knightley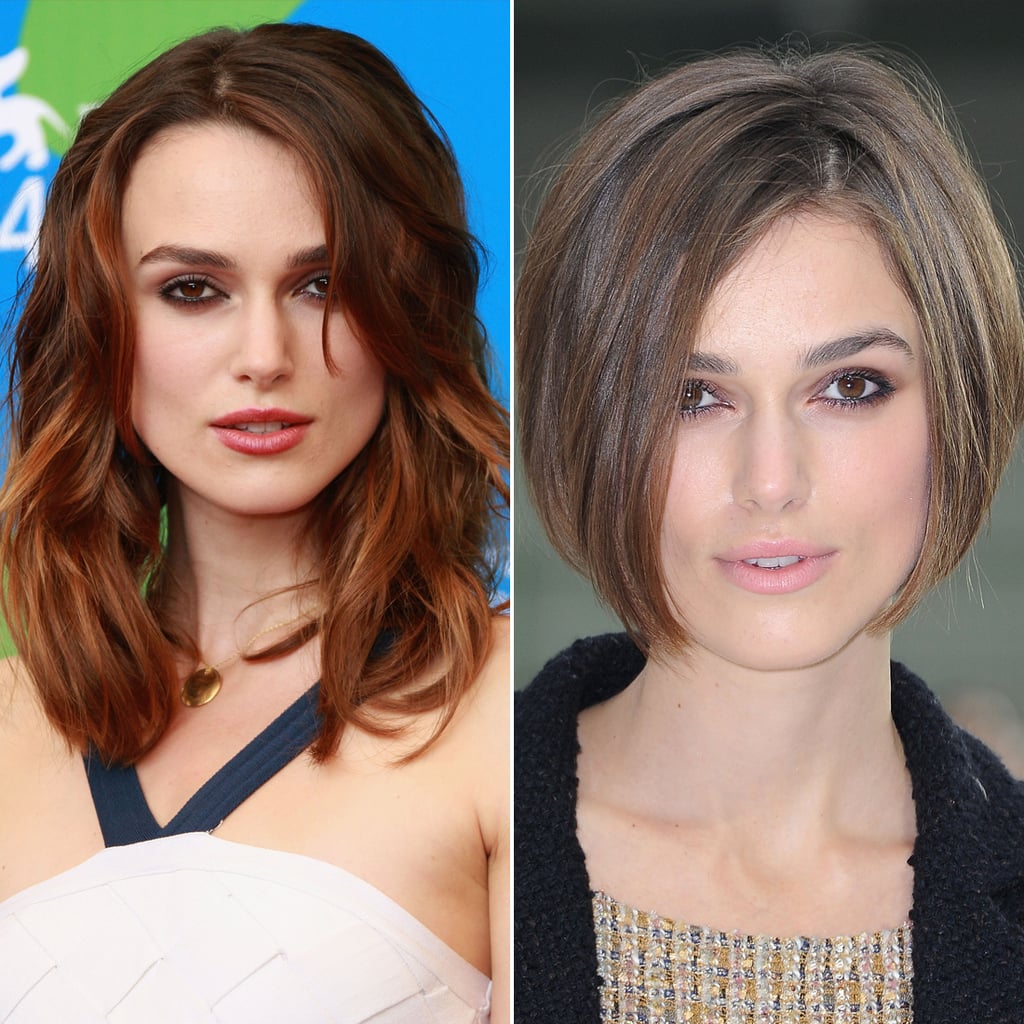 Keira's hair's been all lengths, but she inevitably returns to a versatile midlength cut of some kind. Collar-skimming lengths look great with warm ombré color, but there's no denying how well a short asymmetrical bob works with her bone structure. Sometimes, less is more.
Verdict: Short
Rachel McAdams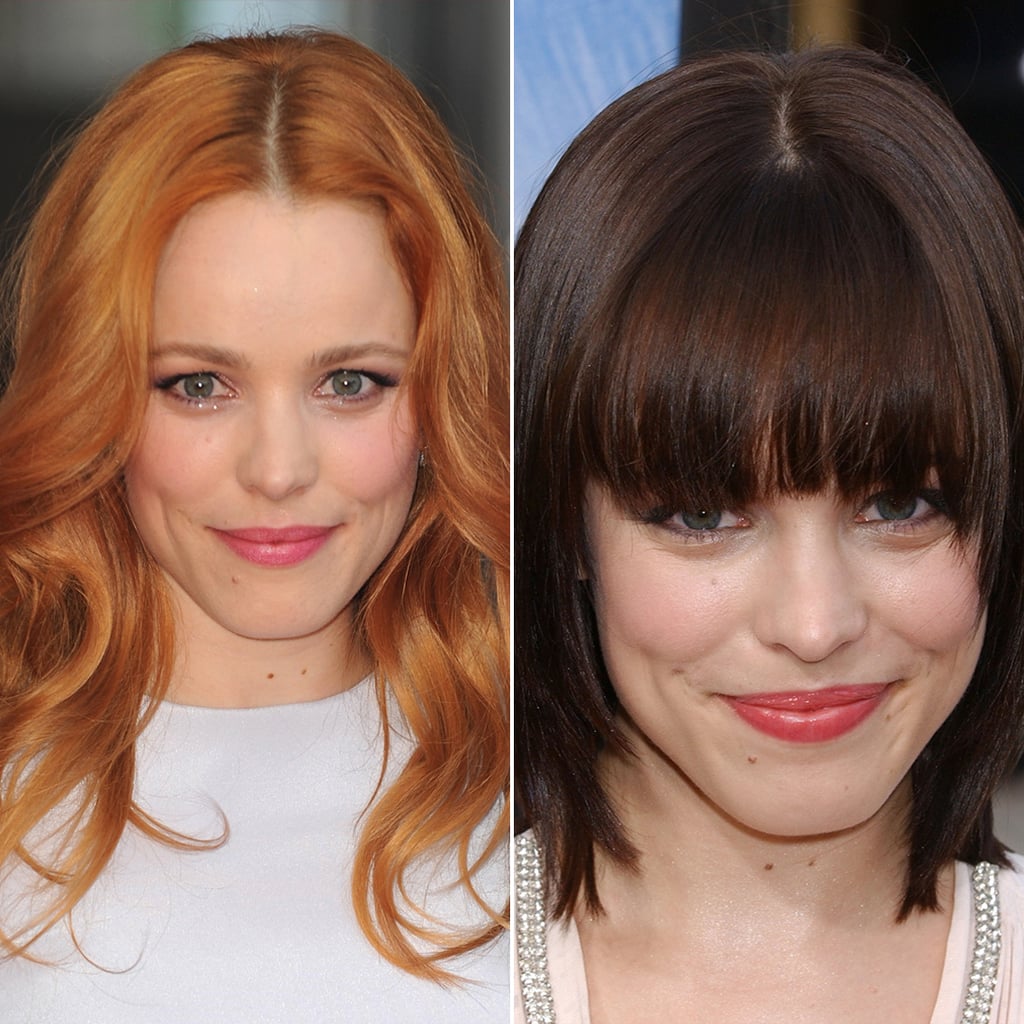 Color chameleon Rachel is not afraid to take hair risks. She's been platinum blonde, chocolate brown, and everything in between. The same goes for length . . . and it's led to some near misses. A chocolate brown bob with a heavy fringe was a risk we wouldn't advise she take again. Longer and softer looks best on Rachel, especially in her latest bold ginger hue.
Verdict: Long
Gwyneth Paltrow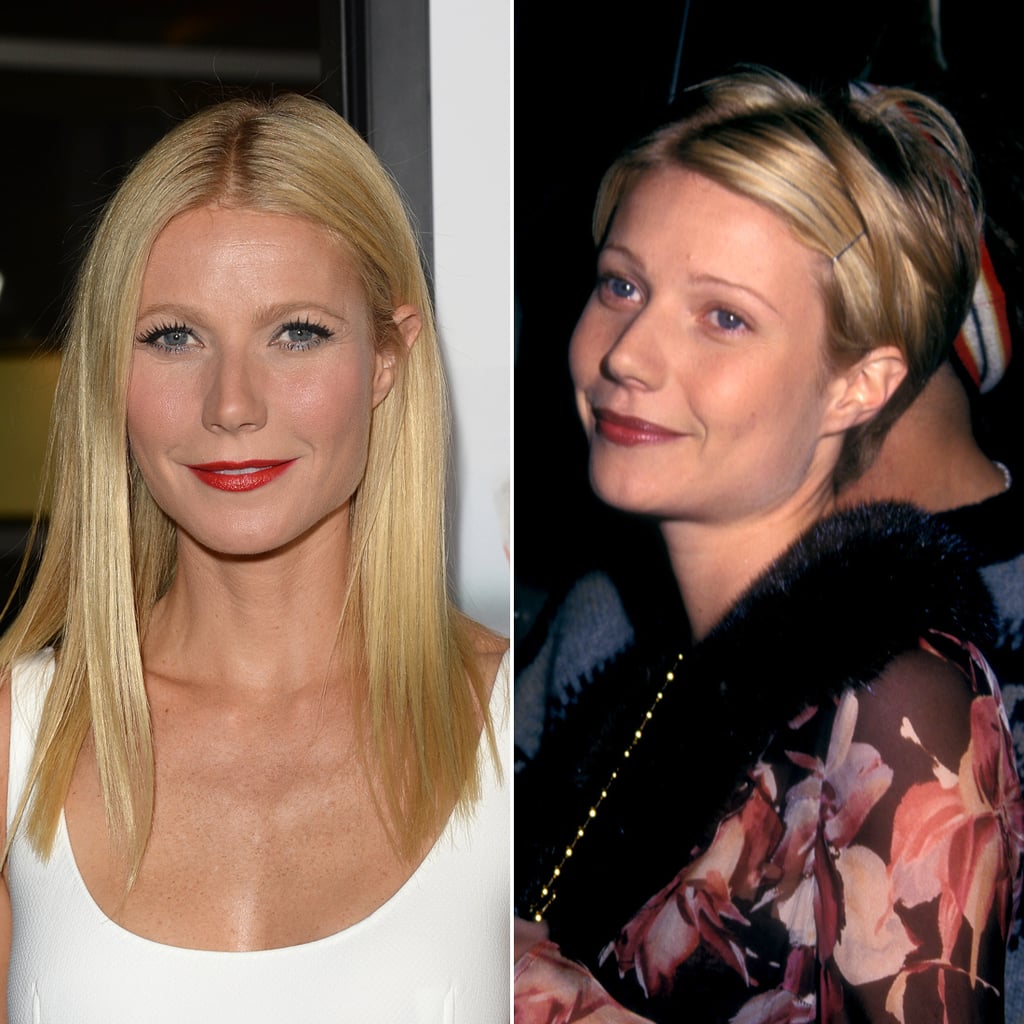 Gwyneth's poker-straight, slightly severe cut and color give her that ice queen quality for which she's famous. But we'll always have a soft spot for her Sliding Doors short cut, too. This is another lady who can work any length.
Verdict: Both